Cassandra - Wednesday Diversion: More Analysis for Sync Problems on iPhone 11 Pro
By Graham K. Rogers
---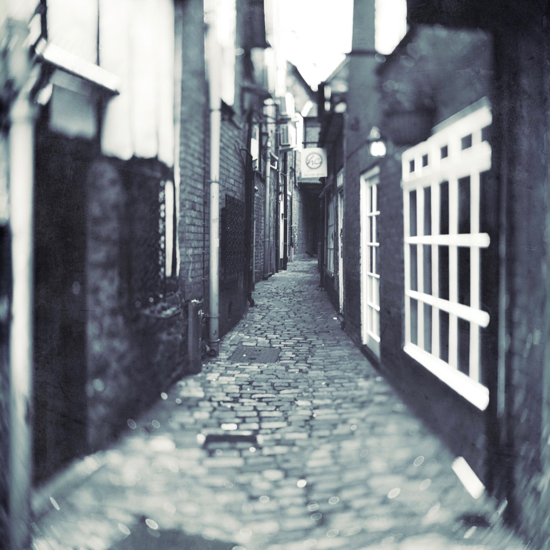 It is now almost 3 months since iOS was updated to version 13.2 and the photo synchronisation on my iPhone 11 Pro stopped. I tried a few things to kick-start the process, but ended up visiting a genius at the Apple Store here. A follow up by phone (from Australia) was escalated and I have been working with a Helper for a month or so, but the actions have been mainly diagnostic.

If anyone has been reading about my adventures with the photo synchronisation on my iPhone 11 Pro they will be aware that I was asked by the Apple Helper to back up my Library on an external disk, and then create a second backup of exported photographs (around 18,000) on the disk, so I now have everything safe. This will allow Apple engineers to play about with my iCloud Photos and hopefully track down the reasons behind the cessation of synchronization to the iPhone 11 Pro: there is no simple switch that Apple can throw to turn it all on again. Although the problem began with iOS 13.2, the iPads were not affected, so I am doing some photo work on the iPad Pro. This limitation on my iPhone is like working with one arm tied behind my back.
I have believed for years that backup is essential. I was converted when a PowerBook was stolen and all my photos (1,700 then) were lost. I did manage to recover some, but the lesson was learned. With 10 times that number of images now, I back up often. Having created a folder with all the images on an external hard disk, it is a perfect opportunity for me to use that as another backup and run a process every couple of weeks. Serenity Caldwell on iMore explains in some useful detail about the processes of backing up iCloud photos. Most of her suggestions need a Mac, although she does have some suggestions about online backup.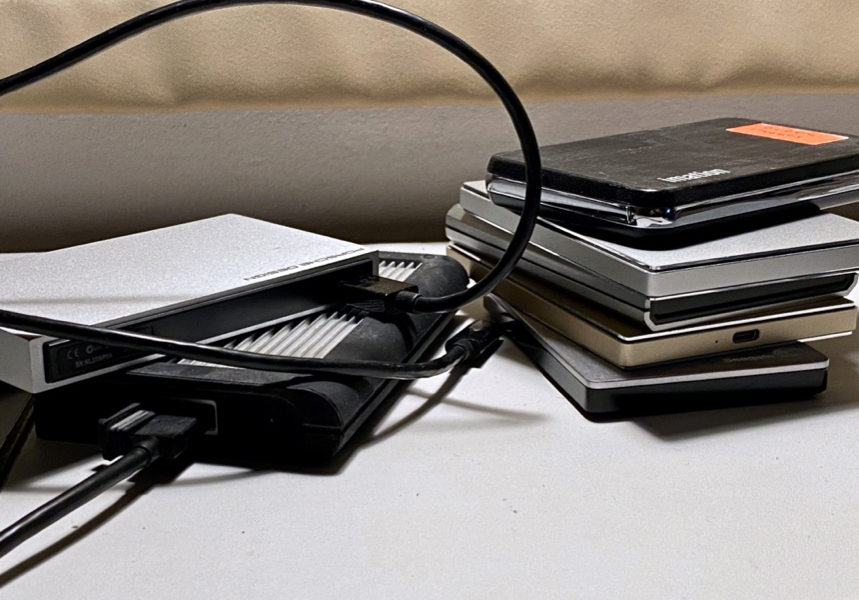 External hard disks - Essential backup devices

I wondered about the iPad Pro and selected a few images for export to an external disk. This recently-added ability to work with external drives is a boon to productivity, but this was not as successful as I wanted. Two of the images were from the iPhone (it will sync outgoing images) and one was a scanned file (TIFF). The export was straightforward but when I checked the scanned image that was shown as JPG, so this is not an original image. I can only export originals from the Mac (so far) although I do save originals anyway when first scanned or before removed from the DSLR.

Apple made a surprise call to me on Thursday afternoon and I was talked through another couple of processes. First of these was the installation of a logging facility for Photos on the iPhone. It took a while and failed to download initially as Safari reported too many redirects. It has been doing that a lot lately, with several links to Apple failing because of this. My own theory is that because the IP (True) link makes so many jumps before it even leaves Thailand, then dances around Singapore, before entering cyberspace for real, the browser reacts to this and puts up a red flag. The helper made some suggestions, with suitable warnings, about clearing History and Website Data, and that did the trick.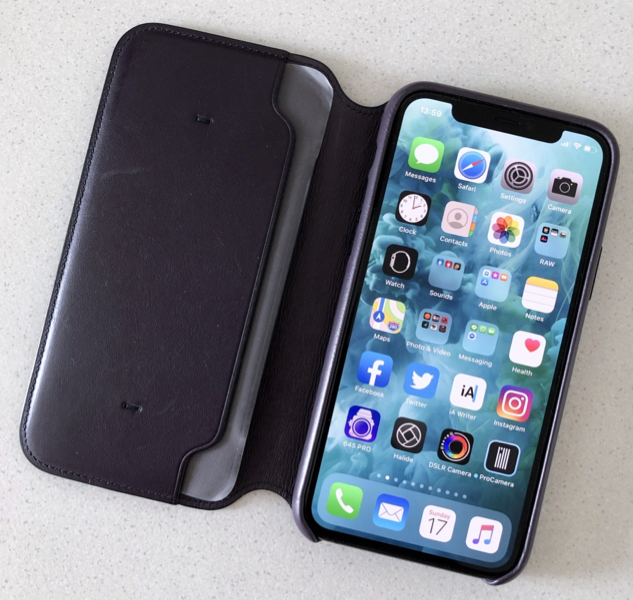 The logger was installed and the Helper was keen to record the exact time of this and each subsequent action that took place. I was asked to take photos (rear and selfie camera) and screen shots. We also noted the time it took for these to sync to my other devices. Once this was done, there was some data to send to the engineers. To do this I had to synchronize the iPhone with the Mac.
I had tried this last week and backed out when asked to install an update. I thought this was Catalina and I am not ready for that. However, the Helper told me this was a specific iTunes update, so once that was dealt with, I was able to start the sync, download the analytical file and (once that was identified in the Finder), compress that and send (with a screenshot) to Apple. While the cable was linking the iPhone to the Mac, I tried a backup, but a panel reported that there was not enough space.

A further call from the Apple Helper this Monday outlined some of the analysis that is taking part, and there was some mention of the large library, which may be part of the problem. I would accept that in part, although this does not affect the way the library synchronizes on the Mac, the iPad Pro or the Gen 7 iPad. The iPhone 11 Pro also has more memory (256GB) than the latter two devices, and my iPhone X with the same memory (and iOS 13.1) was synchronizing right up to the day I gave it to a friend. I can clearly mark the date this all stopped on the iPhone 11 Pro as 1 November.
Photos I scanned the next day are on all devices except the iPhone and any subsequent additions (DSLR, scans, images from other devices, like screenshots) have not been made available on the iPhone. Any photos I edit on the iPhone 11 Pro do not appear on other devices in the edited form, nor are iPhone photos edited on other devices transferred back to the iPhone. I should note too that the iPad Pro is running iPadOS 13.3 now and photo syncing was unaffected by the 13.2 update (or since).
It looks as if the short log gathering (above) needs to be supplemented and so this weekend a second and longer log session of 24 hours will be run. I have also been asked to keep the iPhone connected to a power cable as much as possible (so much for battery life). I do note that the last photo I took on 1 November moves its position in the library on the iPhone bit by bit, so I presume some updating is going on, although it is painfully slow.
iPhone images - The last image from 1 November moves slowly

I had a reply from Nikon on my query about tethering with the iPad Pro. It might have been crafted by Apple. This is an area that would be covered by research and development departments. While they appreciate my enquiry, they are unable to discuss future product development. There was a little more but they were giving nothing away. I have done my part and put the idea in front of the company and if they are not already working on this, they now know that one user would be interested in this feature. I have done my part.
The other main feature that is missing from the iPad Pro is the ability to scan using a flatbed scanner. There is software for the all-in-one printer-scanners, but I am not convinced of the scanning quality of such devices for negatives (or slides). Although tethering and proper scanning are two things I would want, there may be features other users need for their full professional use. As much as I have switched a fair proportion of the work I do to the iPad Pro, a Mac of some description is still needed.
I am going to keep on chipping away at these missing features, because Apple can hardly call this a pro device if some of the essential tasks are missing. Editing software for photos has made great strides in the last couple of years and this is quite strong. The ability to connect cameras and download images directly to the iPad Pro is a real advantage. It has of course been possible to put images onto an iOS device using an SD card adapter for a long time. The direct connection via cable now possible is a real boost to efficiency, although there seems to be a limit on my device and a shoot of 200 images would not work. But without scanning and tethering this device still falls short of what a pro device could and should be.

I was sent email by DHL in the middle of the week about the InCase backpack I had ordered from B&H, to tell me that extra charges had been incurred and would I please click this link. Not a chance. Even if it was genuine (it was) there is risk involved, so I took another tack. I had had tracking messages from B&H and DHL which I had used to open a page in a browser.
InCase backpack

Using that, I reloaded the page and used the link there to show the message about these extras: Duty, 890.70 baht (20%); Customs service VAT (7%), 374.09 baht; Disbursement, 214 baht. What the last one was, is a mystery to me (oiling the wheels?), but I paid the total of 1478.79 online and the package was delivered Thursday. With those additional costs, I might just as well have bought it locally, although that 20% duty is heavy. Actually, so is the bag when I have it loaded. It may be good for travelling, but for day to day use I have switched back to my two-bag solution: the old backpack and a tote bag for the cameras.
See also: