Cassandra - Tuesday Diversion: iOS Unpredictability and More Catalina Questions
By Graham K. Rogers
---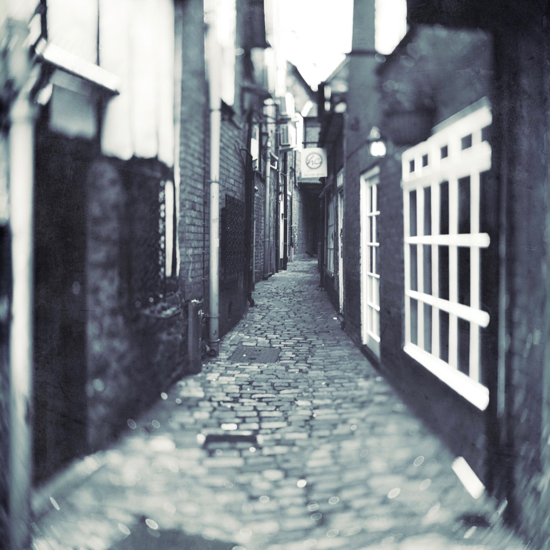 I am not the only one that has continuing problems with Catalina, although my extended photo-sync problem has me reaching for help. A damaged iPad also figures in the picture this week, but this is not mine fortunately. Apple may have a solution to that too.

At the weekend I took a rare trek to Icon Siam which becomes worse and worse every time I make the journey. The only reason I go to this eyesore on the Chao Phraya river is to visit the Apple Store - the only one in Thailand at the moment - and I only go there when I have something wrong. I have run out of patience with the non-syncing of photos on the iPhone 11 Pro since the 13.2 upgrade. It is time for me to enlist Apple.
Apple Store, Icon Siam

All my other devices, including the iPad Pro, now running 13.3 (see below), synchronize any of the images from all my other devices (including the iPhone 11 Pro), but the iPhone stubbornly remains with over 6000 images unavailable (outgoing only, not incoming). They are on all my other devices: the iPhone X, which I have avoided updating from 13.1.2; my MacBook Pro (10.12.7); and my Mac mini which is running Catalina, although that needed several hours work on the photo library before we were back to square one. They are also on the Generation 7 iPad, but as that is running beta software, I don't talk about it.
A friend was having problems with his own Generation 7 iPad, but this was nothing to do with Apple. His uncle had borrowed it and dropped it, cracking the screen. Instead of taking it to an Apple agent, he had had it fixed in some back street shop and within a short time, it cracked again. And again. Watching my friend attack the screen because touch would only work intermittently was funny at first, but I ended up helping. As the damage was so severe, I guessed it was unrepairable, but was aware that Apple has a trade-in scheme. I guess they want to keep the bad devices off the street: this one is a definitely a bad advertisement as an Apple product. My iPhone 11 Pro is not too good either.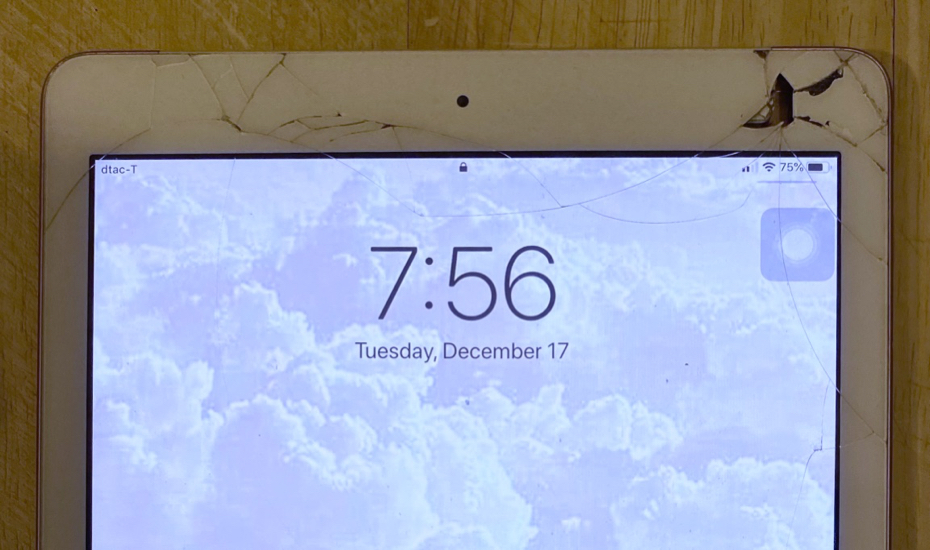 Damage to Generation 7 iPad

As it was Sunday, I did not expect an instant solution to the problems, although an Apple assistant did take several minutes to run through the options on the iPhone and found out about the iPad (8,200 baht for a replacement device). We could have waited for an appointment that day at 1615, although anyone who has experienced Bangkok traffic, especially when major construction (the Gold Line train) is taking place, will understand my reluctance. What I really wanted (and was offered) was an appointment later in the week: Thursday afternoon. More on this later, I expect.
Apple Store, Icon Siam


When I woke on Tuesday morning, I saw a red dot on the Settings icon of the iPhone. iOS 13.3 had arrived overnight and was waiting to be installed. It took me ten minutes trying to have the download authorized, but each time I was told that Verification had failed because I was no longer on the Internet. As I tried the browser, app updates and other checks, this was not true. My frustrations included a restart of the iPhone In the end, I switched to 4G and the verification worked. When the upgrade was done, the WiFi was on. I later found that my Nokia scales did not send the morning weight check to the phone. I tried to work on that in the evening, but I may have to delete the device and setup from new: Bluetooth again. I found no other problems, although even after a hard reboot of the phone there was still no Photos synchronization.
As the iPhone had an update, I also guessed there would be one for the iPad Pro and this downloaded fairly quickly. When it came to verification, that too failed. However, when I pressed the Retry button, the installation began. There are no apparent problems with the iPad Pro: that has been solidly reliable through all the updates. However, I did notice that a screen shot I had taken on the iPhone 11 Pro had appeared in the library on the iPad, showing that as before synchronization is still a one-way process with that device.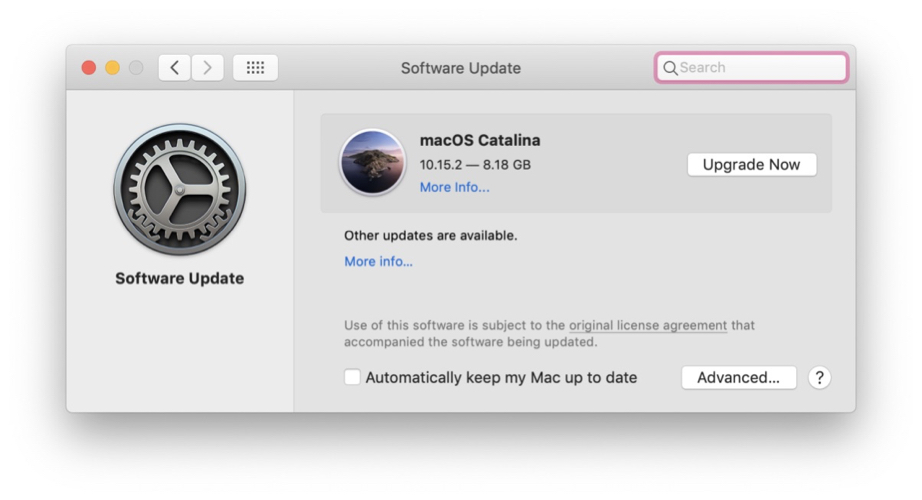 A local user sent a message at the weekend that with the 10.15.2 release of Catalina, he had relented and finally upgraded, with no immediate problems, although he seemed to lose a few gigabytes of disk space and has not yet figured out where it went. Another user was not so happy and mentioned that with 10.15.2 for him, Apple Music was still buggy. When he clicked play on one track, nothing happened - it just seemed to be loading. When he clicked again, it played the next track. I would again refer users with questions on Catalina to the Eclectic Light Company site where there are several analytical articles.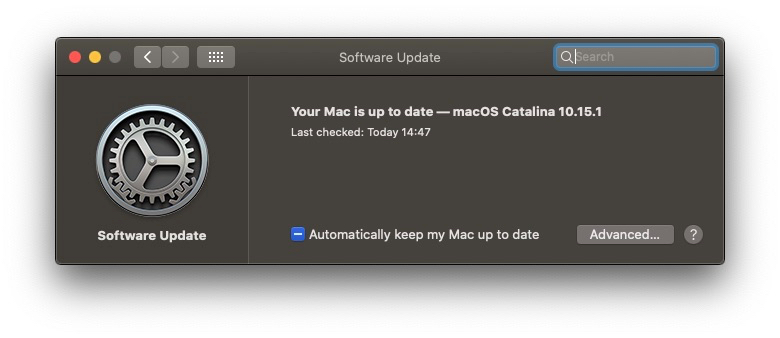 I tried the Mac mini at my office where all photos were correctly synchronized and the text I was writing in Notes on my iPad Pro was also up to date. I added some more text to see how well it sent the content back. I saw that there were several updates to apps, but when I tried for an OS update, I was told that it was up to date with 10.15.1. I quit System Preferences and tried again, only to be told (while downloads were taking place) that I was not on the Internet. I tried several more times only to be informed that either the computer was not online or that it was up to date. Spare me. . . .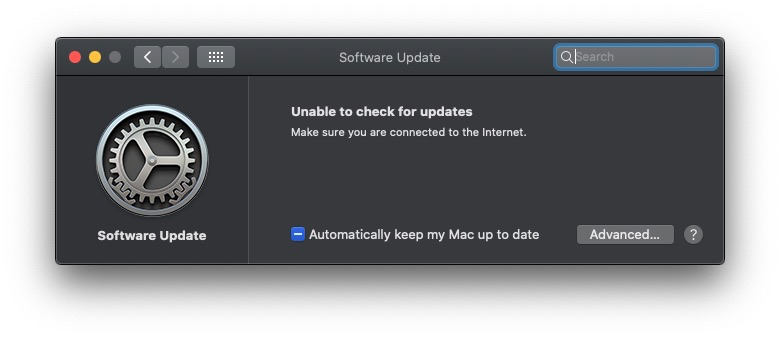 Endnote
As well as the occasional notes here, I have been doing some with with film cameras too. Last week, the Emulsive site put my 5 Frames With. . . KOSMO FOTO MONO 100 (EI 100 / 120 / HASSELBLAD 500CM). By coincidence that day I had two more rolls of Kosmo Foto Mono 100 developed: one with my Agfa Record III, and the other with a Voigtländer Perkeo, which I may send to Emulsive too. I have other photo content I am working on currently, including a look at iOS, DSLR and Film use.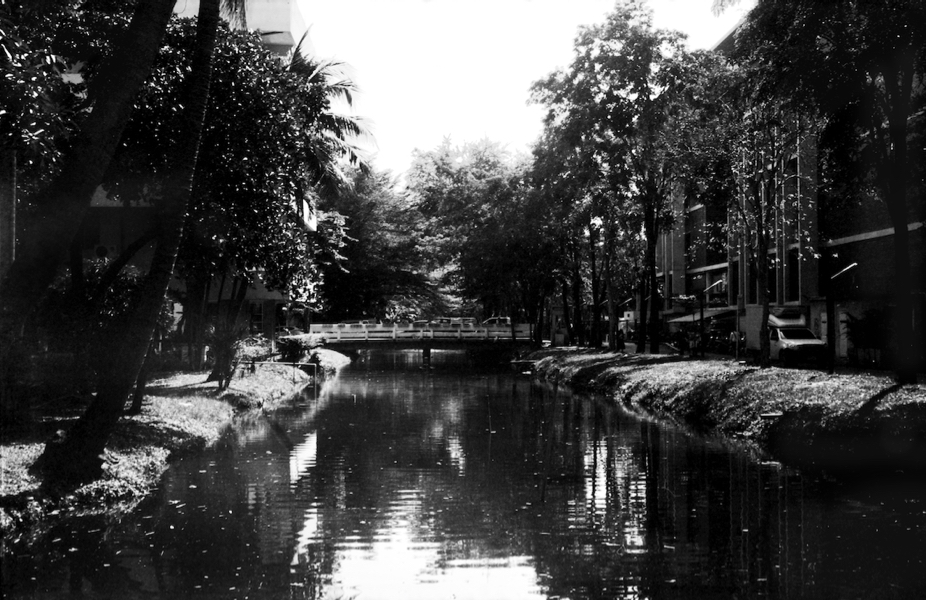 Voigtländer Perkeo using KosmoFoto Mono 100 film
Graham K. Rogers teaches at the Faculty of Engineering, Mahidol University in Thailand. He wrote in the Bangkok Post, Database supplement on IT subjects. For the last seven years of Database he wrote a column on Apple and Macs. After 3 years writing a column in the Life supplement, he is now no longer associated with the Bangkok Post. He can be followed on Twitter (@extensions_th)