Cassandra - Monday Diversion: iOS Photos Frustrations - One Step Forward, Two Steps Back
By Graham K. Rogers
---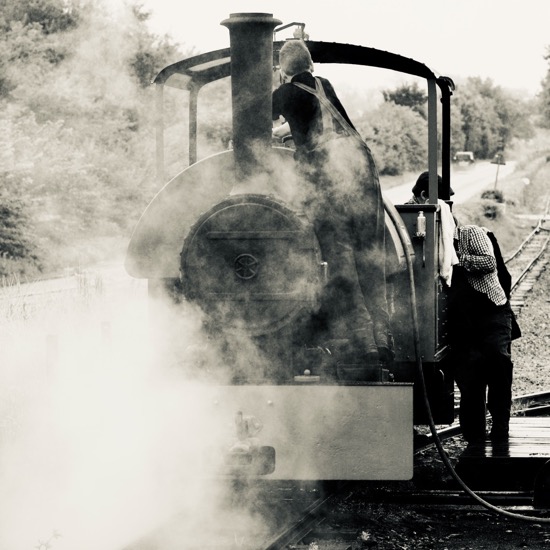 With half of my Macs running Catalina, I have experienced on ongoing problem with iCloud synchronisation in Photos on the iPhone 11 Pro leaving me with a half-updated library and reduced productivity. That such difficulties exist for both main OS releases out of Apple, leaves some users bemused and frustrated.

I have not been getting on very well with Apple's software of late. Although I have finally installed Catalina on one Mac - the Mac mini at my office - I had some unnecessary problems with that update. It should have been simple. That Mac is a spare machine and has almost no data installed. The update failed to take account of the photos Library being on an external desk. The subsequent changes I was forced to make, before going back to step one, took me a couple of days. I am still reluctant to update my MacBook Pro, which is my main machine. Apple's Software Update in System Preferences pesters me every day on this.
The iPhone has a different set of problems. The iPhone X had run perfectly for a couple of years. The iPhone 11 Pro was good, although I am still trying to learn the cameras and the photos app. With the 13.2 update, problems appeared. In particular the photos library stopped Synchronizing. I made several attempts to check the settings, but this was unsuccessful. Eventually I turned off iCloud syncing, and waited. Apart from the same contents, nothing further happened for over 14 days and I reluctantly admitted that this just was not working.
In the interim I had turn the iPhone X back on and noted that all of the missing photographs were synchronized overnight to that device running iOS 13.1.3. The iPads that I have are also synchronizing all of the photos without any problem. The iPad Pro has 13.2.3 installed while the Generation 7 iPad is running a beta version of iPadOS. It is just the iPhone. Just since 13.2. Then 13.2.1, 13.2.2 and now 13.2.3.

Last Saturday, I waited until items I had ordered online from the local supermarket arrived then deleted the data on the iPhone and reset all. I did not need the phone for a couple of hours, so this was the perfect time. I started the process of rebuilding the iPhone using that nice floating icon on the iPad Pro: just like pairing the Apple Watch with an iPhone. This is one part that Apple does have right. Once the initial connection was done and I had entered a couple of passwords for iCloud and iTunes accounts, data began to download. I was interrupted once or twice by the demand for a Google password for an (old) iTunes account I had used once in the UK, but I eventually persuaded it to stop pestering me.
I noticed that many photographs had begun to appear in the library, including a couple I had taken with the iPhone X on the previous Friday. That was a false hope. A photo taken with the iPad on Sunday has yet to appear on the iPhone 11 along with some 7000 other images that are all available on every one of my other devices. It would be an understatement to suggest I was frustrated with this never-ending download. This is not how I am used to working and this has never been the case before. The Mac mini recovered over 17,000 images in a couple of hours, while the iPhone X completed its update overnight. I am still twiddling my thumbs with this iPhone 11 Pro.
I had left the last change to settings for over 2 weeks in case something did eventually happen (false hope), and I shall leave a similar time before my next action, which must be a service visit to the Apple Store in Siam Icon: a place I do not enjoy visiting. Let us hope that the rumors of a second Apple store at Central World, are indeed true. As well as leaving the updating process for several days in case something does eventually happen, my schedule is not free for the next couple of weeks, so the earliest I can make that visit is the end of the first week in December.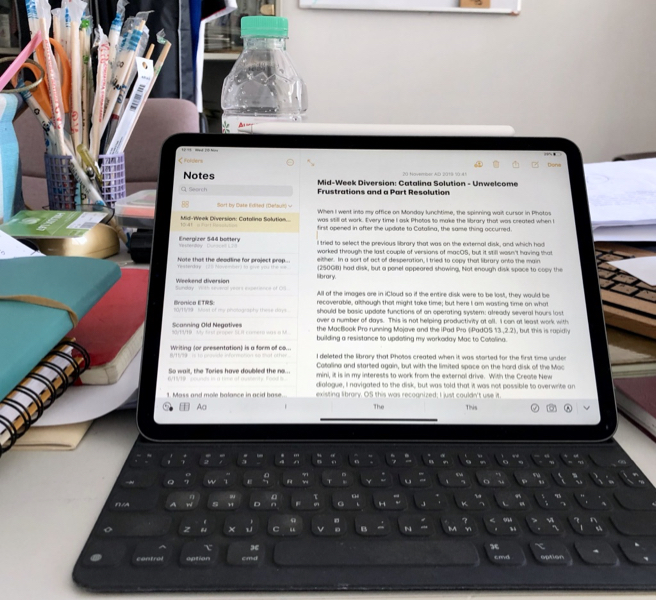 In the meantime, the iPhone X has been brought back into service as a photos backup. As the images appear, I am able to edit them if needed (I also edit on the Mac and the iPads) and upload them to sites, such as Instagram. Or I may use versions of photos edited on the iPhone on the Mac or iPads. I cannot edit on the iPhone 11 Pro as the changes are not synchronised to my other devices.
Up to now the flexibility of iOS, iCloud and macOS has meant that it is immaterial which of my devices I am working on, so as I type these words in Notes they are (almost) immediately available to me on the iPhone 11 Pro (that part of iCloud does work) or the iPhone X, as are files in Keynote, Numbers and Pages; but not Photos. Not on the iPhone 11 Pro. Not since iOS 13.2.
The information with the updating progress bar reports some 17,821 photos are (or should be) in the library. The iPad Pro reports 17,824, the iPhone X shows 17,825, but I can let that slide for now. I estimate that around 100 photographs are missing: there are not even blank marker spaces for them in the Library. There is no real evidence that updating is taking place on the iPhone 11 Pro other than that always-present progress bar.
Graham K. Rogers teaches at the Faculty of Engineering, Mahidol University in Thailand. He wrote in the Bangkok Post, Database supplement on IT subjects. For the last seven years of Database he wrote a column on Apple and Macs. After 3 years writing a column in the Life supplement, he is now no longer associated with the Bangkok Post. He can be followed on Twitter (@extensions_th)