Cassandra - Friday Diversion: Apple Help and a Glimmer of Light with the iPhone 11 Pro Photo Sync Failure
By Graham K. Rogers
---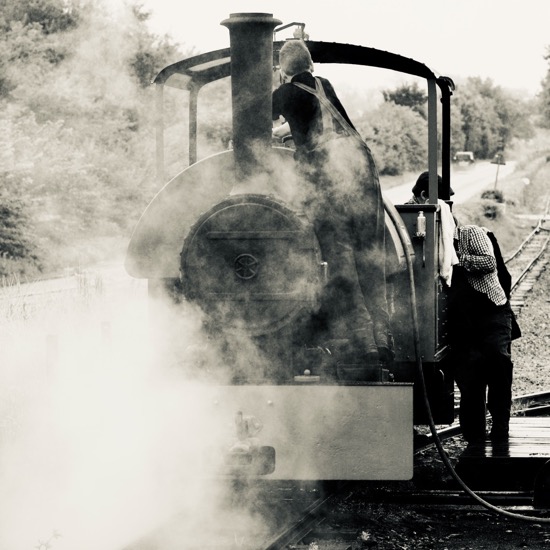 A Catalina update failed to download several times, but a switch from a network to a personal hotspot broke the dam. Meanwhile my month-long photo sync problem took a slight turn for the better after a long call to Apple online help as follow up to my recent visit to the Apple Store in Bangkok. There is more to come as a follow up to the follow up is needed, but the attention shown so far is why we buy from Apple.

On Christmas Eve I went to my office just carrying a light bag. I did have the iPhone with me and all I wanted to do, apart from read messages, and reply to email, was to enter some marks from the last couple of student papers submitted. I was able to use Numbers on the iPhone. Although the screen is cramped and the cells are a bit small, I did that fairly easily.
With some time spare just after lunch I turned my attention to the Mac mini which still shows that 10.15.2 is awaiting download, but every time I try, I am prevented from doing this. A panel reports that the Internet connection would not work. As I was updating software, accessing the web and using the Internet for other tasks, this might be wrong. I did try to use the admin account instead of my user account, but this too failed.


Back in the user accounts for a moment the download seemed to begin, with a long and empty progress bar displayed, but then I was warned about the Internet connection again. While checking that the Internet really was connected, I had a look at the Keyboard preferences. I had been unable to add my usual Apple wireless keyboard when I installed Catalina and changed the batteries on the keyboard, and I was forced to switch to a standby wooden wireless keyboard which connected first time.
Having had a weeks rest I thought I would be able to trick the Mac into connecting to the Apple device, so pressed the Set Up Bluetooth Keyboard button. The Orée keyboard was shown and when I pressed the power button on the Apple keyboard to make it identifiable, it to was also shown in the list. I started the process to add the keyboard and a panel with pairing numbers appeared as it had before, but this time after they were entered and the return key pressed, the keyboard was added and now works perfectly. Another of those "I don't know why" incidents, but at least I now have that keyboard back, and a working spare.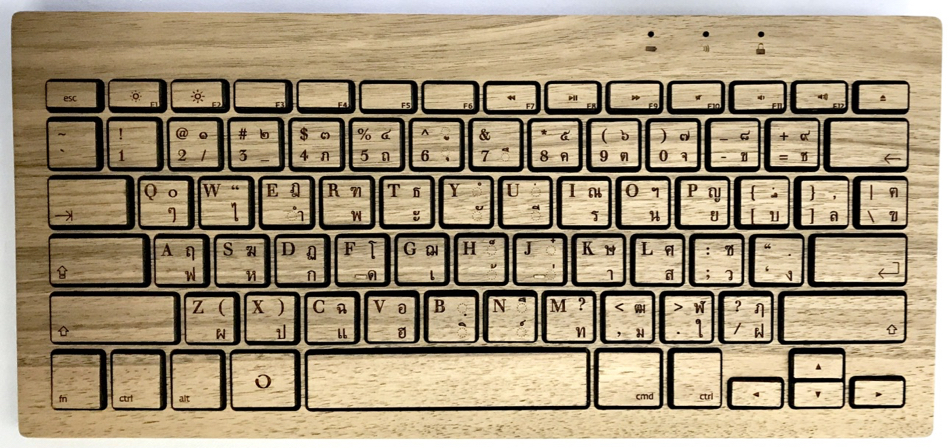 The Mac mini was showing all my photographs including about 20 I had taken with the Nikon D850 the evening before. This not only shows how effective the WiFi is at my office (except for Catalina downloads), but how the iPhone 11 Pro Photos syncing problem is nowhere near any resolution. These images appeared quickly on the iPhone X (13.1.2), the MacBook Pro, and the iPad. I had initially downloaded them using a cable connection from the camera to the iPad Pro and they had been uploaded to iCloud from there to all my devices, except the iPhone 11 Pro, now with iOS 13.3
I had another try at updating to Catalina 10.15.2 on the Mac mini in my office, but this time used the personal hotspot. The update downloaded immediately. The problem was then probably the office network I was using, but that is not really a surprise. I used to claim that it was easier to go home to work because there I have an Internet that works.

Later that day, I had a delightful meal with an old British friend and his family. The boy is now about 11 and really quite smart, interested in programming and using Blender. We also talked about Apple script, and I was impressed that he was looking into that. However the iMac they have had for around 5 years was booting up very slowly. The obvious first place to look was the start up applications which are shown in Accounts and Groups preferences. I checked each account but there was nothing that would cause the long time that startup was taking. I restarted using single-user mode (holding down the command + S keys) and just waiting until all the text cleared and the root prompt was ready to use.
The reaction from number one son was quite amusing because he said "I'm going to stay away from this". He had not seen UNIX before. I think he was aware of it, and the risks he was aware of put him on his guard. I showed him the command of FSCK with the F and Y switches, for Force and Yes. Like the current versions of macOS I am using the Force option was no longer available on the version of macOS that was installed. The command took quite a while to execute, and there was some comment about this from the seats behind me.
I must admit I was a little concerned myself because this indicated that there could well be a problem. I also thought how I miss Disk Warrior, which is no longer set up for AFPS. In the end everything cleared and I left Number One Son to enter the reboot command. He noted that the restart into macOS was considerably quicker than it had been before so something must have been cleared in that check, so I earned my dinner. The only concern was a sophisticated mouse for which drivers had been installed: these are sometimes a source of problems and I always avoid these, relying on the Mouse preferences. I later also showed the boy Terminal and the list of commands, revealed by pressing the Tab key twice, then entering Y for Yes. Eyes wide open.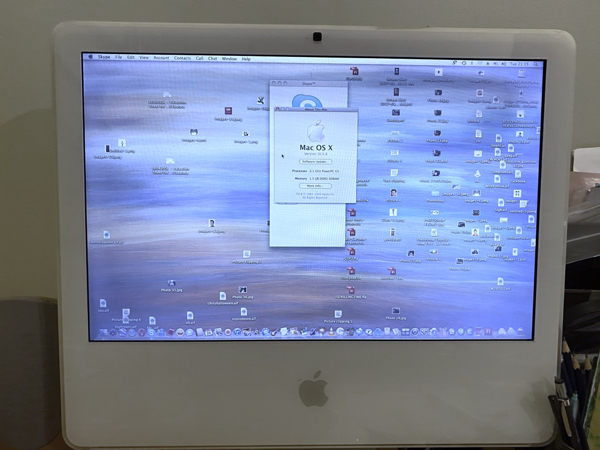 My friend has put some money by for a new iMac, but he has been delaying this. The current one with only 4 GB of RAM is still worth using as a text and surfing machine. However, as it is being used for Blender and other such programs it would be useful to update this now. If that were done it would be moved to a small office, which currently has his previous G5 iMac working on a desk. I think they just use this for basic activities, but there is no reason why that could not continue as well. Like me, he writes a lot of text and using a simple Text editor does not require much processing power. There is still life left in his iMacs, at least for basic tasks.

Late Thursday afternoon I was at home for the follow up phone call from Apple. The iPhone 11 Pro had been reset last week at the Apple Store in Icon Siam, but like the previous occasion, still the photos were not synchronizing. I had confirmed that this was from around 2 November, when I had updated to iOS 13.2. The iPads with iPadOS 13.2, the iPhone X (13.1) and my Macs were unaffected. The first Helper was not up to speed with the problem, and it sounds as if the Apple Store staff had not provided enough information. The line was also noisy so I had to ask her to repeat some comments. She went away a couple of times to check and to consult with others, but in the end handed me over to a Senior Helper.
We were on the phone for over 2 hours trying to sort my sync problem, but there was progress. We narrowed it down looking at some of the Folders, although I knew that some folders had not updated because the files had been added after the problems began. However, some files like videos had been in the library for a while and these folders had not synchronized. It may be what I suspected: certain files are just stuck. Like a blockage in a physical pipe. There was still a hint that Apple staff wanted me to reset to Factory Settings, but as I explained, this has been done twice already with no change, so for now this is on the back burner.
As this needs more work and some involvement of engineers it was prudent to make sure all my photos were backed up. As I have Photos set for Optimized images rather than keeping originals (which are on 2TB iCloud space), and the engineers would want to go into the library and make changes, it was thought a good idea to create a new library with originals, but as the SSD on the Mac is tight for space, this was set up on an external hard disk.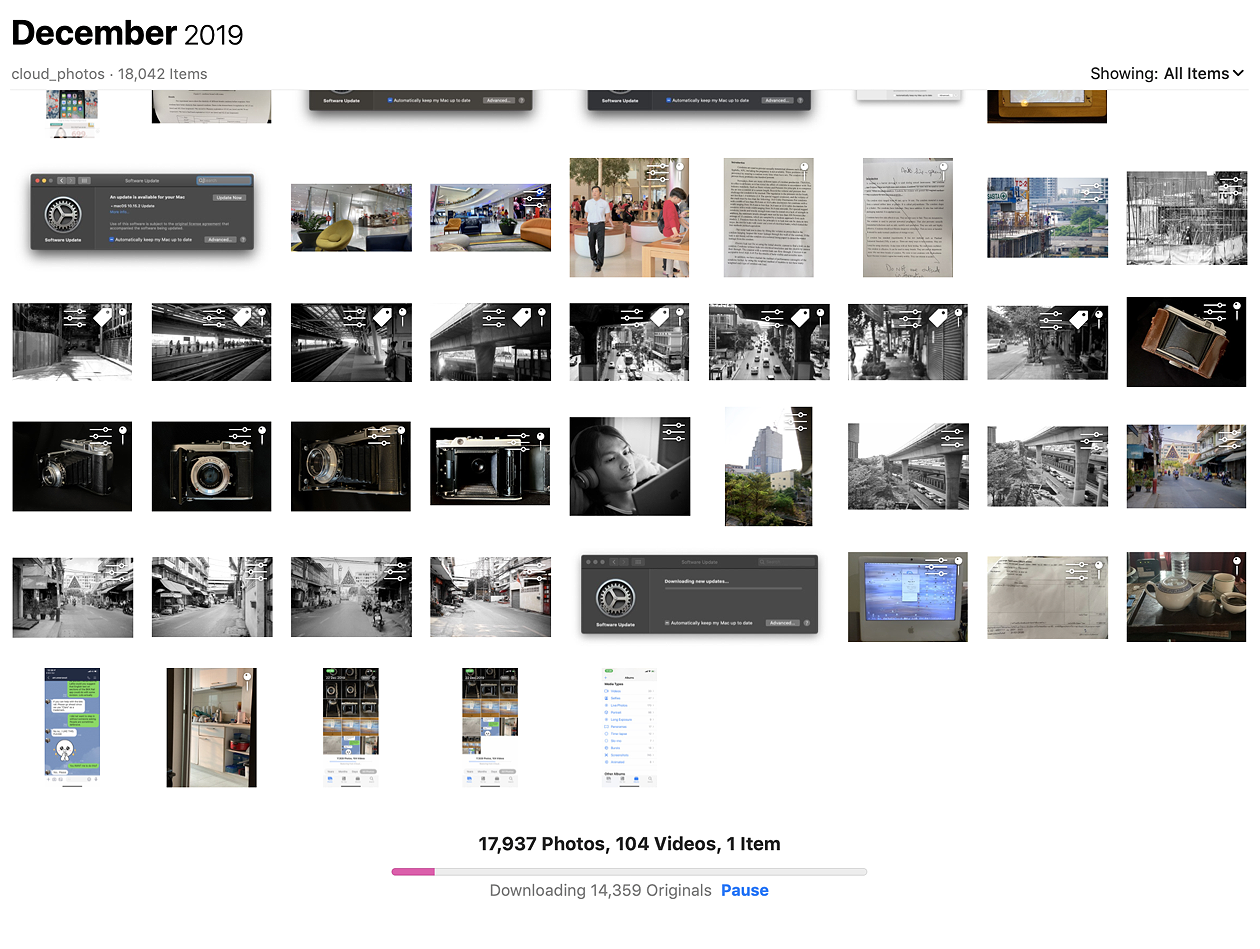 Image download progress in new Photos library

Although I did this recently with the Mac mini, to walk me through the process, the Helper asked me for Remote Access. I always refuse this when others (like True) have asked me for such access, but this was different (I told myself). I downloaded a special Apple application and that allowed the access so I could follow the Helper's cursor when certain actions were needed.
If an engineering team go into photos they may have to delete some files. Apple has been scrupulous in making sure I have all data backed up fully, although I managed to put a couple of obstacles in my way while setting this up. I had been working in the lounge with all the devices open together, but the Mac is usually kept in the bedroom/office. Once the new library had been created, the process of downloading images began. Then I moved the Mac and the hard disk and saw that the disk had not been ejected properly. I looked a little later and no progress was being made.
I tried to stop and start again, but moving that new library to the Trash took a long time. I restarted the Mac for a confidence boost if nothing else and then made another new library. Within a couple of hours all images were shown in the library although these were optimized versions. The full downloads would take longer and I left the Mac running overnight. Early next morning I saw that some progress had been made in the Photos panel and the file on the disk had increased from 78MB (optimized) to over 200MB, which was closer to the 500MB+ of the full contents. We are now up to 325MB, so this appears to be working.

While working with the online Helper I was switching between all the devices, jumping from one to another as settings and data displays were checked. On a couple of occasions I tried to scroll the MacBook Pro screen with my fingers instead of the touchpad. This action is now so natural to me that perhaps it is now time for the touchscreen to become available on some Macs.
The time taken on this current problem is considerable. This is the third or fourth time I have used Apple's services in this way: the last time being the special replacement of battery screen and keyboard on the MacBook Pro. Not everyone is going to use the services in this way, but this is what we pay Apple for.
Graham K. Rogers teaches at the Faculty of Engineering, Mahidol University in Thailand. He wrote in the Bangkok Post, Database supplement on IT subjects. For the last seven years of Database he wrote a column on Apple and Macs. After 3 years writing a column in the Life supplement, he is now no longer associated with the Bangkok Post. He can be followed on Twitter (@extensions_th)