<! ----------------------------------------------------------------------->
---
I have recently been looking at utilities new users may find useful. Before making any changes, make sure your data is backed up. That should be second nature to computer users (Mac or PC), but for many people the message has not yet got through.


Sometimes we need to delete an application. What Mac users see in the Finder is not a program, but a package and this contains the components all in one place. On a Mac therefore, in most cases, users simply move the file to the Trash and all is deleted. However, a recent experience with a reinstall of iTunes illustrated that like any general rule, there are exceptions.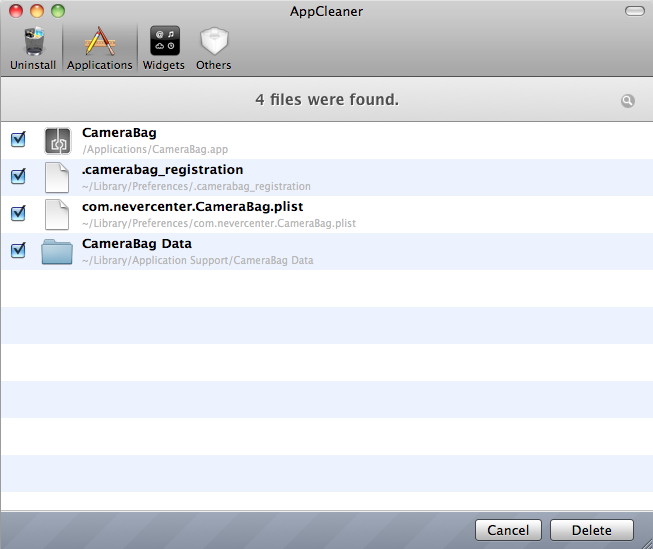 When I was given help at the Pinklao iStudio, the technician had a couple of utilities in his armoury worth thinking about. The first, App Cleaner is a free utility of 7MB that seeks out all those little extras that some applications install. Some Adobe installations and Microsoft Office for the Mac, among others, will also install additional components. App Cleaner identifies these and will delete them in one go.
This works in a couple of ways. A specific application can be dragged to the AppCleaner window and extras will be shown, allowing the user to confirm before deleting. Pressing one of the icons on the toolbar (Applications, Widgets, Others) shows all of these in the panel and a user can click on any to delete. Pressing search displays any related files. A check box by each confirms the deletion. For example, I recently updated the CameraBag Desktop application which placed the new version next to the old one. When I tried to delete the unwanted version with AppCleaner, one of the files shown had registration details. I deselected that.
In the preferences, are two useful additions: a panel to drop protected apps onto, keeping them safe; and "SmartDelete" which will find related files when an application is dropped into the Trash.

A second utility for file deletion is App Zapper: shareware costing $12.95 (418 Baht). It has a more interesting interface than AppCleaner and it activates the NVidia graphics. It includes several more ways to track down and then delete related files that may no longer be needed. It is almost half the size of AppCleaner at 3.9MB installed. Unregistered, there is a limit of 5 applications, which should allow enough tries to demonstrate its effectiveness.
In its simple form, there is a small window onto which we drop an application for deleting. Clicking an icon at top right expands to a larger view with several options: All, with a tunable search facility; Applications; Widgets; Preference Panes; and Plugins.

Selecting an application displays it and any related files in a bar at the bottom of the main panel. Deleting (or zapping) any files also produced a sound effect: enough to wake the dog.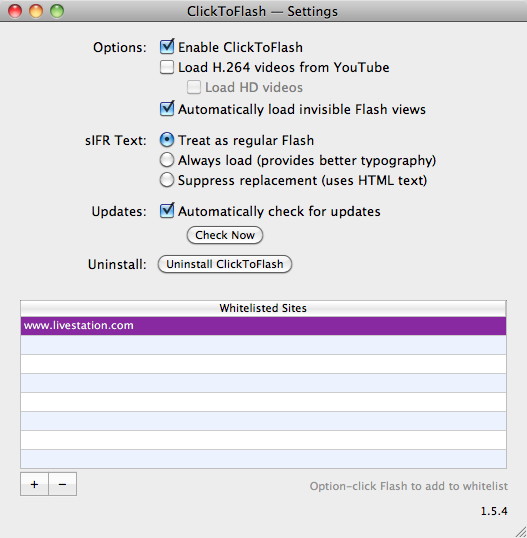 One of the plugins we all have if we browse the internet using a computer is Adobe Flash. I have had problems with this plugin and it does misbehave from time to time. Someone playing games on Facebook last week on an older Mac complained about the temperature and operation of fans. When I checked, the CPU was reading 120% activity. I force quit the plugin (using Activity Monitor) and the number of online games being run simultaneously was reduced to keep things under control.
One of the reasons I do not have such problems is that, by default, Flash videos do not load on my computers. I have a useful little utility, called ClickToFlash that blocks them. If I do want to view a video, I click on a small gearwheel icon displayed on the top left of the Flash panel and can make one of three selections: Load Flash; Load all on the page; add the site to a white list. On sites that have video alternatives, such as YouTube, when the icon is clicked other options, such as H.264, are shown.

The latest Macs, with i5 or i7 processors allow automatic switching between video cards. The downside of this is that, with a notebook computer, the NVidia card will use more battery power, thus reducing useful working time when a mains connection is not available.
A few days after these Macs were released, a 17-year old student came out with one of the more useful utilities I now use: gfxCardStatus. Now at version 1.7 it reports when the system switches, either from Intel to NVdia, or vice-versa, using a Growl notification. A display in the menubar also indicates which card is in use. Initially only the menu display was available, but Cody Krieger has added the notifications and the ability to select which card is used instead of the automatic switching.
Being aware of when the NVidia card is active, and monitoring the time it is used for, enables users to preserve the charge in the battery and keep working longer.
See also: