<! ----------------------------------------------------------------------->
---
When I started looking at some essentials for users new to OS X, I had intended to outline some of the utilities I think are valuable. In the interim, when my MacBook Pro arrived, I looked at how I set up a new computer. I have now installed several of those utilities that help with the running of a Mac, and also found a couple that were new to me.
Users must be careful. Particularly in the case of 3rd party maintenance utilities, do not simply select "All" and press "Go". If you are not sure, the answer is "Don't." In some cases settings will be changed. In any case, using software like this without backing up first, is playing with fire.
I wrote earlier that while Disk Utility can effect repairs, sometimes the stronger applications like Disk Warrior need to be used. Despite its $80 up-front price, this is excellent value considering the mess it may get you out of; or if used as a preventative maintenance routine, the mess it will keep you away from.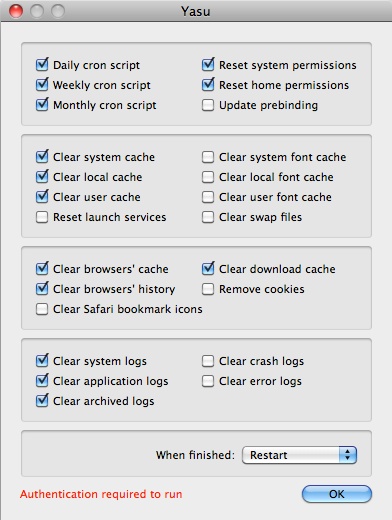 There are regular maintenance routines built into OS X that clean up logs. These used to work in the early hours, if the computer was left on, but most users shut down when they are finished. To get round that, I installed a utility called Macaroni, but we are told that the cleanup routines are now run automatically when the computer is started up. Macaroni would take care of Daily, Weekly and Monthly tasks and also repair permissions once a week. That can be done from Disk Utility, where it is also possible to Verify the disk. A repair can only be done if the computer is started from the install disk (or in Target Mode from another computer).

As we use a computer, so things change. The caches can become corrupt, file permissions may change, and other problems will build up. While the inbuilt Unix has many ways to fix some of these problems, many people are not happy working at the command line and if you do not know what you are doing, more damage may ensue.
Jim Mitchell's Yasu (or Yet Another System Utility) is a one-click cleanup utility that deals with running the regular routines, cache cleaning, cookie removal, log removal. This is a simple cleanup program and not (like Disk Warrior) a total repair suite. However, running this may clear problems that have caused slow running, instead of reaching for the big guns. After running there are two options, Shutdown or Restart. Two versions are available: 2.6.7 for OS X after 10.4; and 1.0.3 for OS X 10.2 and 10.3. This is "donationware".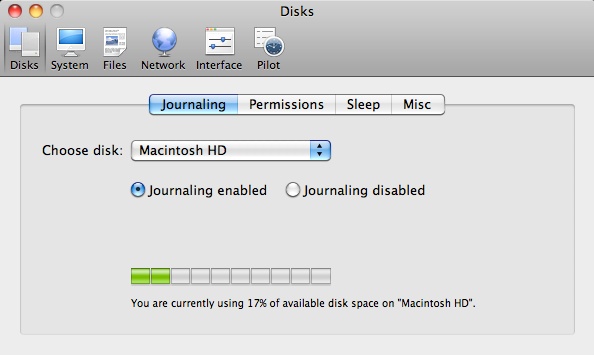 Cocktail is a strong shareware utility from Sweden that has several maintenance and system functions that may help with the running of a Mac. Like Yasu it runs cache cleaning and other tidying up processes, but adds to this significantly by simplifying changes to the disk, such as changing sleep settings or spindown time.
It can make additional changes to the system, like some Time Machine settings, changes to Spotlight, plus the useful Kiosk Mode, which disables Restart, Shut Down and Logout commands in the Apple menu.
There are also features for changes to files, network and the interface, such as hidden settings features. It may be run ten times before purchasing ($14.95 or 482 baht), although the version for OS X, 10.4 is free.

An early trick discovered with OS X was the ability to reposition the Dock. Apple allows us to put it to the left or right of the screen, but by using Unix it could also be placed at the top of the screen. This cannot now be done, but this was a feature of Marcel Bresink's free Tinker Tool which was updated in early May (now v 1.4).

There is an array of 11 panels. Each allows certain changes to be made to the many hidden features of OS X: and only in the current user account. Some of the changes are options for the Finder, Applications, Snow Leopard-specific items, fonts, Safari and Quick Time X. The last panel item, Reset, allows all changes made using TinkerTool to be removed as well as providing an option to reset to defaults.
While TinkerTool is freeware, Marcus Bresink has other useful shareware utilities. One of these is Hardware Monitor, which comes with Hardware Monitor Lite. I already use the widget, iStat which includes a display of six temperature readings, but Bresink's utility offers a total of 14 readouts, in either a small panel or a widescreen display. Among the features is Export which produces files of text or in comma delimited format. Hardware Monitor Lite appears as a menubar item with a data display.
All of these utilities may be downloaded from VersionTracker.
See also: