By Graham K. Rogers
---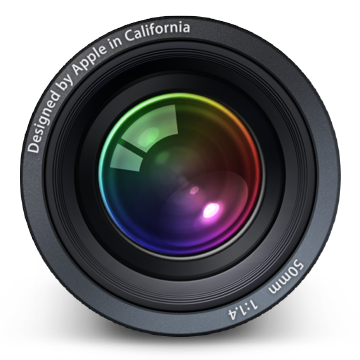 When Aperture eventually disappears, users will need to find alternative workflow software. Currently Photos does not have the muscle for those working with many DSLR images. Adobe's Lightroom is often touted, but this is not in my plans. Seeking alternatives, I installed Darktable, Nikon Capture NX-D and Corel AfterShot 2 Pro on a new Mac mini to see which might be a suitable replacement for Aperture.

My eventual choice, I thought, if it is going to be one of the three I had short-listed, needs to be able to import photographs directly from the camera or a suitable card. I took a dozen photographs with the Nikon D7000 and inserted the SD card into the slot at the rear of the Mac mini. Photos opened at once and the images were ready for import. I did not delete the files after this and simply quit Photos before starting the applications, one by one.
Darktable did not see the card as a separate device, so I found the card in the Volumes folder (see Part 1). When I accessed the correct folder on the card, I pressed Open. Although the images displayed in the main panel of Darktable as thumbnails, I was not able easily to import. The more I tried to find a way to manage the import of images, the less clear it became.
AfterShot Pro 2 showed no settings in the preferences that refer to an automatic import from a camera or card. In the File menu, I used Import to identify the SD card and the correct folder like with Darktable. I was also able to view the folder with Directory view. While I was able to see the images on the card, any import proved as mysterious as with Darktable.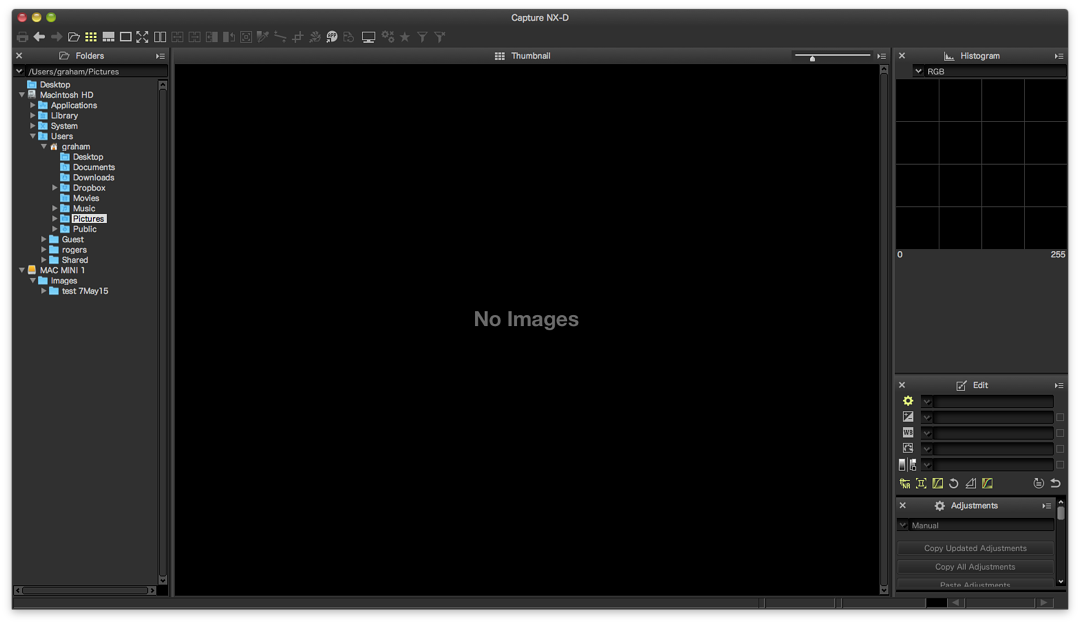 I took time out here to look at the manuals for both applications and found first that the camera was not supported in Darktable. I ran commands in Terminal to check this. In AfterShot Pro, there was no automatic support: the user needed to transfer the images to the computer, or the location where they were to be stored and then work with the application. The same applied to Darktable.
As Aperture and Photos both allow import and organisation of images directly from the camera or card, this appeared to be a considerable inconvenience, but as I thought this through, the steps involved would not be difficult and after a time would become automatic. It might also be possible to create a script or an Automator workflow to ease the process. I was going to miss Aperture even more.
However, as the images were already in Photos, I might use that. I had a spare hard disk on my desk and formatted that (OS X Journaled). In Photos, I highlighted all the images I had just imported and in the File menu selected Export Unmodified Originals. I created a nested folder in a Photos folder on the external disk as a way to impose some organisation. If I were doing this every time, I might want to consider the folder array. As the camera is set to save as RAW and Basic (JPG), I had 24 files instead of the 12 I wanted. I trashed the JPGs.
In Darktable, I imported the selection and began to edit. I was not completely happy with how some adjustments would change the image in ways I was not expecting, especially with a heavy red tint that appeared in some areas when I ramped up exposure. I might have turned something on, but with my lack of experience working in the application, if I had, it was not obvious.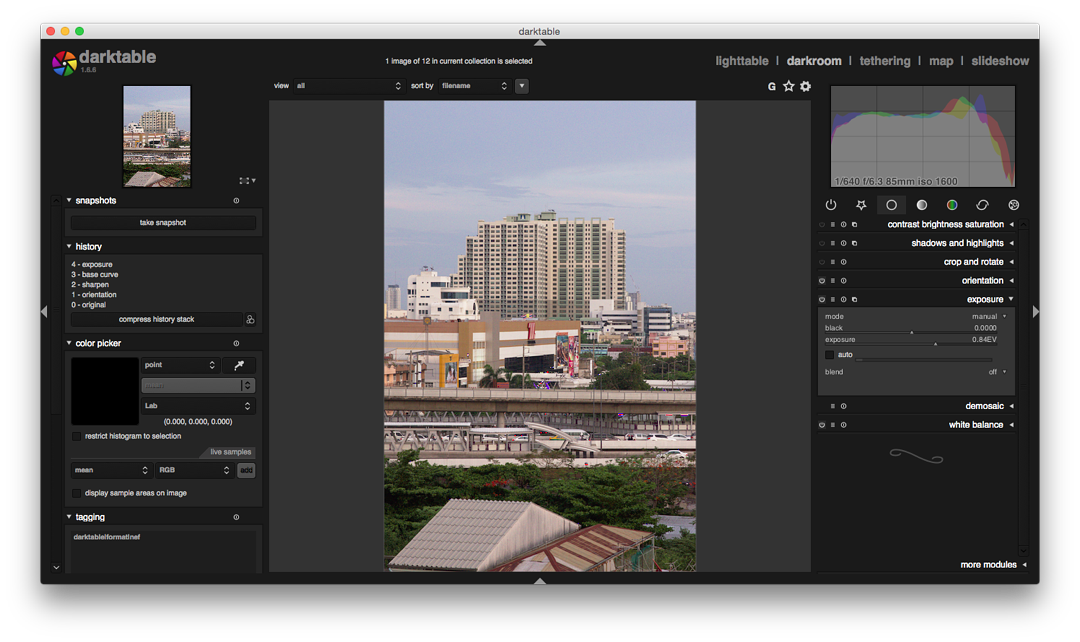 Using a similar approach in AfterShot Pro 2, I imported the test images and they were available once I clicked on the After Shot Pro Catalogue. This strikes me as a little archaic, but once images were displayed, I was able to access the editing tools, which are quite comprehensive.
There was some slight distortion and blockiness while an effect was being applied, but any image display errors quickly vanished and the image was clear. Magnification up to 800% made examination at the pixel level possible. Command + Z was available for undoing any adjustment, I was able to navigate left and right through the collection, and a Magnifier (Aperture - Loupe) worked fairly well, although key commands shown would not adjust or decrease size of the Magnifier display: I had to use the menu for this.
Export of edited images was easy enough although the menus and panels seemed a little old-fashioned: not quite System 9; but certainly not the new, clear Yosemite style. The export options are similar to those in Photos, which I am not entirely happy with, preferring Aperture's clear size options that can (like many features) be optimised.

I also imported the images in the same way to the Nikon application. Of all the three I am looking at, this has the best display of metadata. I was unable to find a way to add in location data, which is fairly easy in Aperture, but not yet possible in Photos.
Editing in Capture NX-D was not as easy as with the Corel solution. Most of the tools are there, but access is not as easy I had to hunt for those I wanted (familiarity would improve this), while with AfterShot Pro, the main ones were easy to see, plus menus have a good selection of tool commands as well.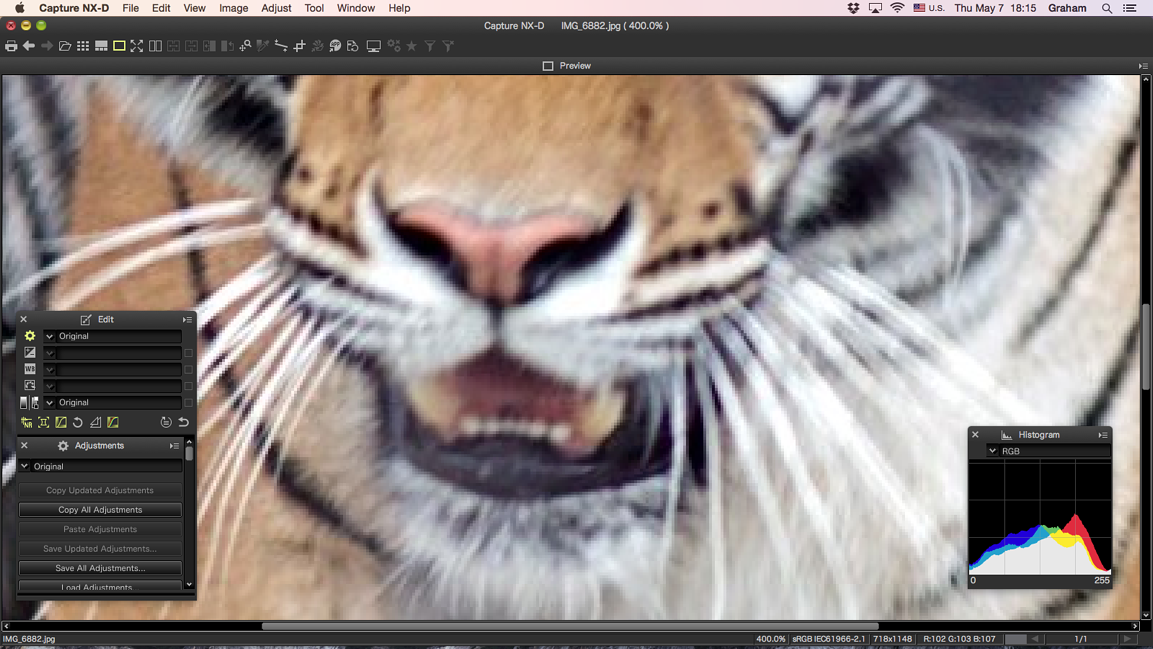 This was improved considerably when I made use of the Undock feature. There were other idiosyncrasies with Capture NX-D that suggested that the learning time - a factor with all three - might be longer than I would want, most notably with the lack of an Export option. It would be absurd if such an application did not have the ability to use files outside the application. In this case, the use of a Convert command does the job well enough, with options for JPG or TIFF and the ability to custom resize an image being converted.

The criteria I had for examining these applications were to keep me as close to the Aperture workflow as possible. Not one of these is able to match the automatic import and organisation options that I currently enjoy. The same is so for Photos of course: good for anyone used to working in iPhoto or with an iOS device, but weak as dishwater when compared to Aperture or Lightroom.
We have seen Apple move on before and usually the end result is that the experience is improved for most. Unless there is a replacement for Aperture or an extension of its life, I will need to rethink workflow and image handling practices. For Apple to suggest glibly that users can switch to Adobe Lightroom is a jaw-dropping abdication of its responsibilities to its Pro users, some of whom wrote glowing testimonials to the application in its earlier days, when there was no link to the cloud and it worked extremely well.

Apart from Adobe's Lightroom, there is nothing I have seen that approaches the feature set I have been working with in Aperture for the last few years. I will re-examine Lightroom, but one too many popups or unnecessary detail requests from Adobe and I will be gone. In the meantime, I will have to keep my fingers crossed about Aperture or a viable replacement from Apple. I am not hopeful.
As for the applications I examined this week, Darkroom is pleasant enough to use, but is still a little rough around the edges. Although there is a good selection of tools in AfterShot Pro, this does not stir me enough to make a move to this while Aperture still chugs along, even at the reduced price from Corel.
I will keep the Nikon software on the Mac mini because it will do the job at a pinch and seems reliable enough; but for the time being, the answer to my question of which application I should trust as workflow software is, "none of the above".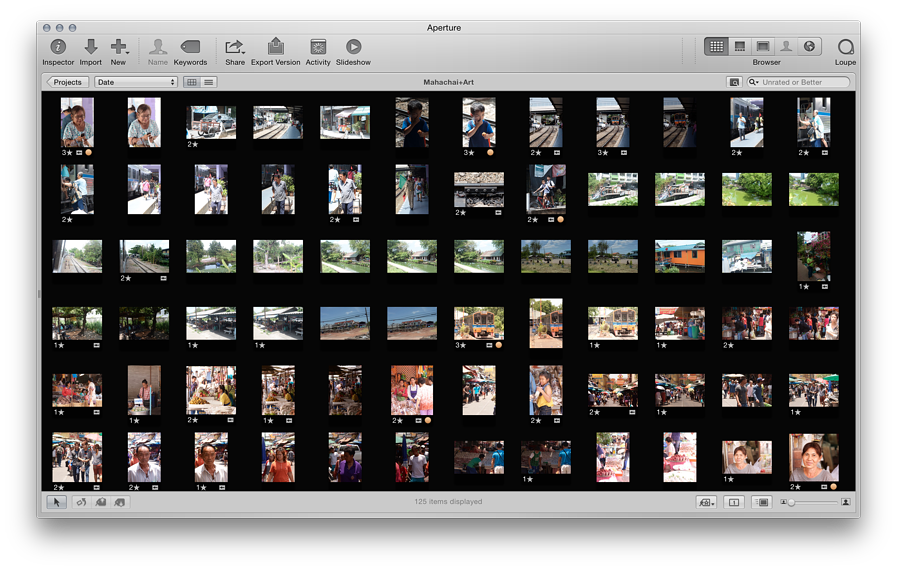 See also
Graham K. Rogers teaches at the Faculty of Engineering, Mahidol University in Thailand where he is also Assistant Dean. He wrote in the Bangkok Post, Database supplement on IT subjects. For the last seven years of Database he wrote a column on Apple and Macs. He is now continuing that in the Bangkok Post supplement, Life.