By Graham K. Rogers
---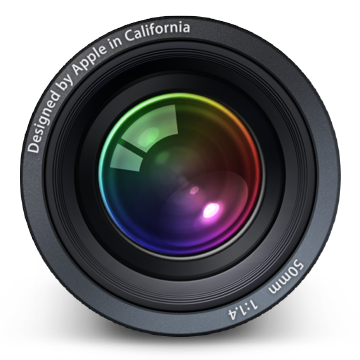 The news that Apple was to cease development of Aperture was not welcome in this house. Neither the commonly touted alternatives of the new Photos or a move to Adobe's Lightroom had much appeal to me, although I do use Photos for some purposes. What it does, it does well, but it has none of the muscle that I need for larger collections of photographs taken in RAW format on DSLR cameras.

I am not particularly anti-Photos, although at this early stage in its development it is far weaker than Aperture. Many features I work with are just missing and until Apple releases the APIs to third-party developers, plugins that might expand the features remain unavailable.
For quick editing, Photos is fine. The range of adjustments will be quite enough for many users, particularly those whose main input is from a smartphone. I turned on the iCloud Library on my MacBook Pro and the iOS devices I have. The initial population of images on the Mac took a couple of days (on and off), but once that was done, the iPhone was quick. The iPad has less space so I do not store images on that device.
A real plus came when I turned on iCloud Library on a Mac mini I took delivery of last week. Within a short time, all the photographs from the other devices were available for use.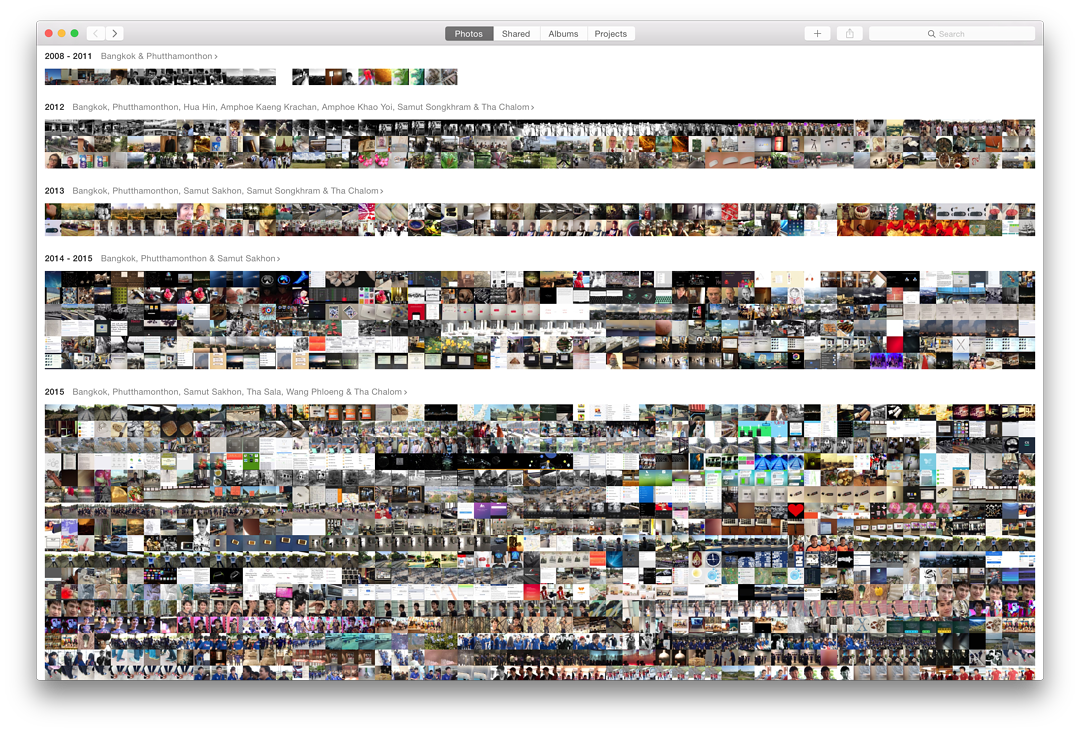 Photos, however, does not have the flexibility that I am used to for DSLR cameras. For example, earlier in the week, a trip via a local railway produced some 125 images (after culling) and last month during a weekend away with the students I took over 400 photographs.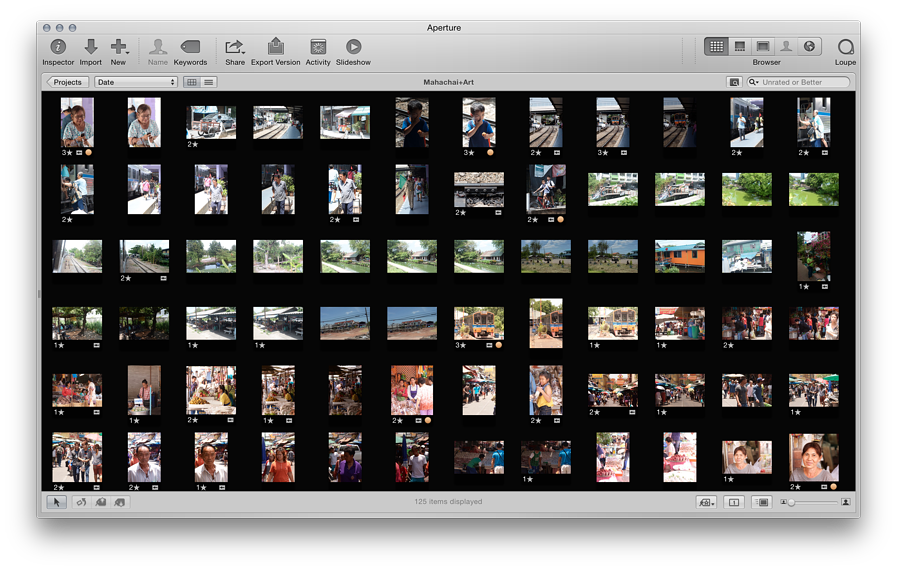 During an import of pictures on the SD card, I am able to delete several that are poor quality and even edit others while the transfers are being made. Couple that with the organisation capabilities of projects and albums, along with its good set of editing tools, and Photos pales in comparison. Apple would probably not deny this and has suggested that users might wish to migrate to Adobe Lightroom when (or better, before) Aperture ceases to function. This is expected to be in a year or so, after a couple more updates to OS X.
I have an aversion to Adobe; and it is not simply that I do not need Photoshop. On that, I try to persuade users to use other apps that are more suitable for their purposes: why have a sophisticated image editing tool when all most do is to adjust contrast and brightness? For those who really need Adobe Photoshop there truly is no alternative. With my needs, however, I manage to get by quite well without this. A parallel may be with those who use Microsoft Word for a shopping list.
Part of my sense of distaste with Adobe begins with the website that seems over-engineered and needing too much user information to suit me, although it is better these days (the damage was already done). Having dumped Flash a few months ago and never needing Acrobat on the Mac, I am Adobe-free. I do not want to reverse that. Nor do I want the monthly plan, which includes Photoshop. The standalone price for Lightroom 6 is a hefty $149 (Aperture was $79). We can do better than that.

I started to look for applications that I felt might be suitable as replacements for Aperture. The software must be capable of handling (including import and export) hundreds of large images in RAW (NEF), TIFF, PNG and JPG formats; it should be able to organise the images in albums; and there should be a reasonable set of editing tools, especially for making changes to color. I have had to adjust my expectations downwards a little.
I am realistic not to expect iCloud syncing, or some of the plugins I am used to (Lightroom would allow me to use these). Some other features would also be nice, such as the ability to import or use Aperture libraries, but if this were possible, it would be a real bonus.
After some searching - including reading a few reviews - I narrowed the choice down to three applications: the Open Source, Darktable; Nikon's Capture NX-D; and AfterShot 2 Pro from Corel.

Each of these applications had some interesting points (on paper) that made them worth a closer look, although I was wary of trusting all my images in one go to software I was unfamiliar with:
Darktable has an impressive list of features, including tethering, although I tend to use Sofortbild for this as it was more reliable that this feature in Aperture. Image handling seems to match at least some of my criteria.

Editing in Darktable is non-destructive and there is an impressive list of features, particularly with regard to post-processing. The outline suggests a look at the features page, "Or - even better - just install it and try it out!"

Capture NX-D seems an obvious choice in some ways as I use Nikon cameras, but this does not feature highly in reviews and is not an application that appears to be a "must have".

Nonetheless, the screen shots on the Features and Interface page imply a good organisation interface with thumbnail, combined, preview, and full-screen displays. The page also shows a number of essential tools for image editing although the icons seemed to be unique. A closer look would deal with that.

The outline does indicate that TIFF and JPEG files can be handled, but makes no mention of PNG. The description includes a number of features that I favour, including shortcut keys. All applications have these, but we usually have to find these for ourselves. On the face of things, therefore, the Nikon software, which is a free download, has much going for it.

AfterShot Pro 2 has some history, as does Corel. Some of its earlier output included the widely-used CorelDraw and the company later acquired WordPerfect, one of the earliest examples of word-processing software (along with WordStar) from the mid-1980s. One of the company's acquisitions was Bibble which eventually became AfterShot Pro.

In 2012, David English on Digital Camera Review wrote a glowing review of this, ranking it as "in the same league as Lightroom and Aperture in both the quantity and quality of its features".

PC World's Erez Zukerman looking at the current AfterShot Pro 2 did not mention Aperture (Mac only) but rated it along with Lightroom and Picasa, adding "It is significantly faster than Adobe Lightroom on the same machine." His screenshots showed an interface with similar tools to Aperture and Capture NX-D.

For me, a major plus here is that this is available on the Mac App Store. The price of $79.99 is within reach and would not weigh significantly in my decision of which of the three I might install permanently. That $80 price tag is hefty for a look-see, so Corel have a full featured trial version available and I downloaded this along with the others (above). The Corel site now shows the price at $42.99 but with the MacApp Store the license allows installation on 5 machines.
See also
Graham K. Rogers teaches at the Faculty of Engineering, Mahidol University in Thailand where he is also Assistant Dean. He wrote in the Bangkok Post, Database supplement on IT subjects. For the last seven years of Database he wrote a column on Apple and Macs. He is now continuing that in the Bangkok Post supplement, Life.