By Graham K. Rogers
---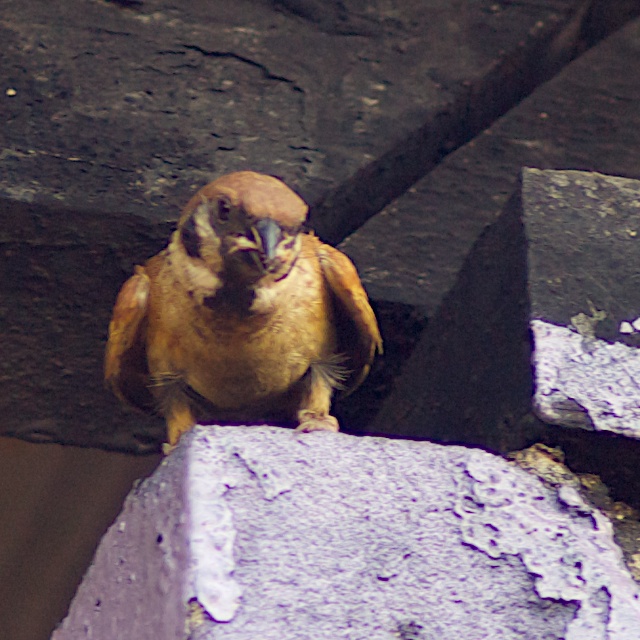 The arrival of Photos last week with the update to OS X, 10.10.3 has had me looking deeper into that application than I expected. From the couple of favourable reviews I have seen so far, most are happy with Photos, but shrug and slide by any difficulties that current users of Aperture may expect.

I have begun to track down alternative software that might be used in my use of Photos, Aperture and what lies beyond. I have already written two items for the Bangkok Post (Life supplement) on handling metadata in iOS and OS X
I also looked in some depth yesterday, in "Wringing Hands over Photos and the Eventual Retirement of Aperture", at the ways this might affect the long-term workflow of those familiar with the ways the application works. I do not want to move to Lightroom for a number of reasons, and this view was confirmed by a local user early today who confesses he is increasingly dissatisfied with Adobe. I am searching for alternative workflow applications.
What began for me with the intention to look at a couple of alternative utilities, and then my reactions to the release version of Photos, is turning into a series. As with other examples of Apple trimming down then adding features, such as Final Cut Pro, there is much missing, much potential, but clearly much more to come.

Late yesterday, after uploading the Wringing Hands file, I had another look at Photos on the iPhone. I had been pleased to see a week or so ago that I was able to turn on full metadata access within Photos by allowing access to ExifExtreme in the Activities panel, so the app icon displayed alongside Mail, Messages, Flickr et al. With the update to iOS 8.3, this was now gone.

However, in the lower level of actions possible (these include Print, Slideshow, AirPlay) there was a new Investigate option. When I tried this, a nicely set out metadata display, with options for much greater detail, was shown. As this was on the iPad too, I wondered if Apple had removed 3rd party app access and included its own solution. If so, this could bode well for Photos on the Mac.
I first asked online and it appears that the Investigate option is not available to all users. On the iPad I then deleted all the metadata apps I had and added them one by one, restarting the iPad each time. As before, the app needed for this feature is ExifExtreme.

Overnight, I had a surprise email from Sal Saghoian who is (or was - online information is not clear) Apple Product Manager for Automation Technologies: responsible for AppleScript and Automator. A few years ago I had seen a series of videos by Alex Lindsay with Sal Saghoian which examined the new Services menu in OS X and found this of great help.
His email pointed me to some script downloads on the Photos & Automator site. There are direct links to Apple pages at the top right of the screen, but dead center it clearly states, "This Website is not Hosted by Apple Inc."

Banner from Photos & Automator Site

Before looking at the site, I opened Automator, then examined the Services menu in Photos. The cupboard was bare. I highlighted an image in the library then tried the Services menu again. Although Photos has only been available a few days, Photos & Automator already have scripts and other actions available, although as Sal commented in his email, this is not as robust as in Aperture. Not yet.

The link to the first set of scripts is on the right side of the page. Below the Download button is a list of actions available. Users may also be interested in the information in the yellow panel on the main section which refers to "a collection of example workflows and demo files". This links to a second page that has another download option (again to the right). Beneath the downloads buttons, both pages again state that the site is not hosted by Apple Inc.. I am not providing the download links here as it is better for potential users to read the pages themselves before downloading.
I downloaded both files and each has an installer utility included. Depending on sandbox settings, users may first see a panel which does not allow the installer to run. Option+Click on the file and select Open in the menu that appears. The installer will run. Depending on the type of account, users may be prompted for Admin name and Password one or more times.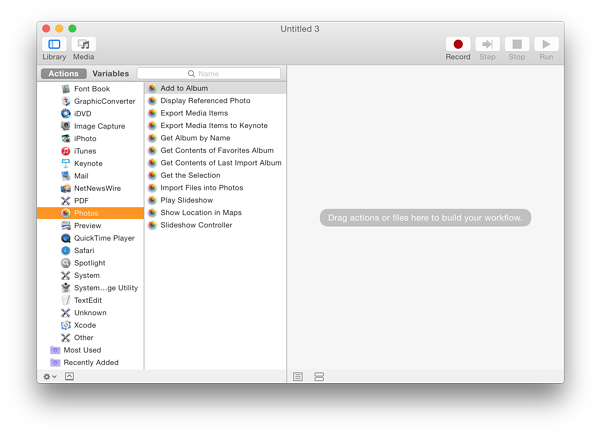 Automator - New Photos Actions

I restarted Automator and a list of a dozen new actions that could be used to create a workflow (combining actions with those for other applications) was available. Encouraged by this, I tried the second download and a number of scripts were made available via the AppleScript menu bar icon.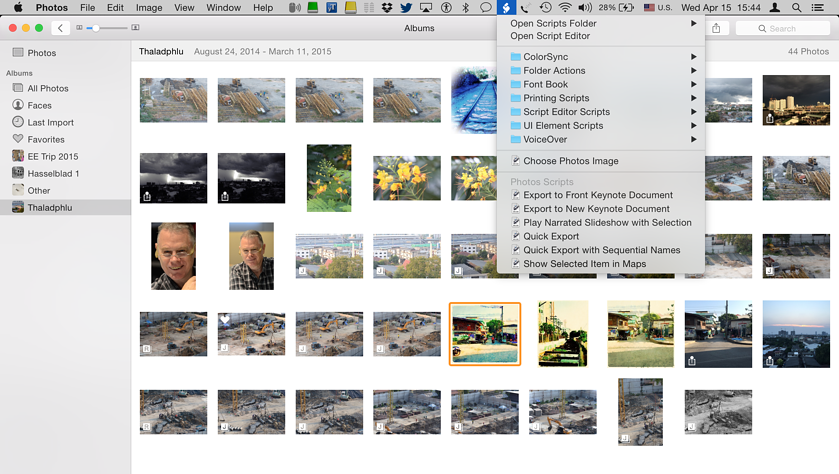 Photos - AppleScripts Available

Also in that second package was a single Services file: Take Photo with Tethered Camera. As this had been one of the features that I noted was missing from Photos, I was quite pleased.
When I double-clicked on this, I was warned that this already existed. Although I had looked, I had not seen that tethering Service option, which is right at the bottom of the list in the System preferences > Keyboard > Shortcuts > Services section. I added a shortcut: Control+Option+T.
I attached my Nikon, and accessed the Services menu. When I used the Service item, the camera focussed, a shot was taken and the image appeared in Photos, exactly as I would have wanted.

I am not too good at Automator, and fairly hopeless at AppleScript although with both I have created simple scripts in the past that I have exported as applications. Automator is simple enough to use, once I can figure out what I want to do: most actions have already been created for me.
This tethering service item is a product of two basic actions created as a Service in Automator: Take Picture from the Image Capture Library; and Import files into Photos. Inspired by the workflow that someone else had created as a Service, I used the same approach to create an application. It works too.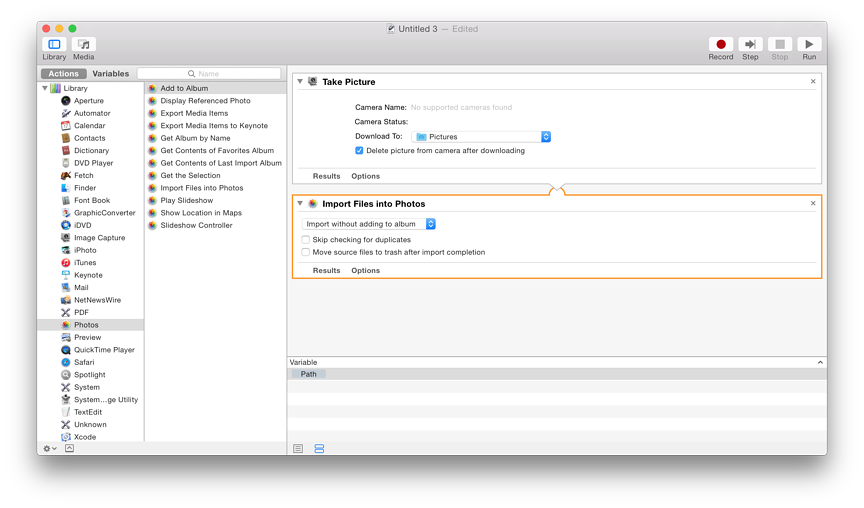 Automator - Creating a Workflow

That such scripting and Automator workflow items have already been made available, only a few days after the release of Photos, suggests that users may expect a number of other enhancements in the coming months.
It may still be out of sight behind the hill, but the Cavalry is on its way.
See also:
Graham K. Rogers teaches at the Faculty of Engineering, Mahidol University in Thailand where he is also Assistant Dean. He wrote in the Bangkok Post, Database supplement on IT subjects. For the last seven years of Database he wrote a column on Apple and Macs. He is now continuing that in the Bangkok Post supplement, Life.