By Graham K. Rogers
---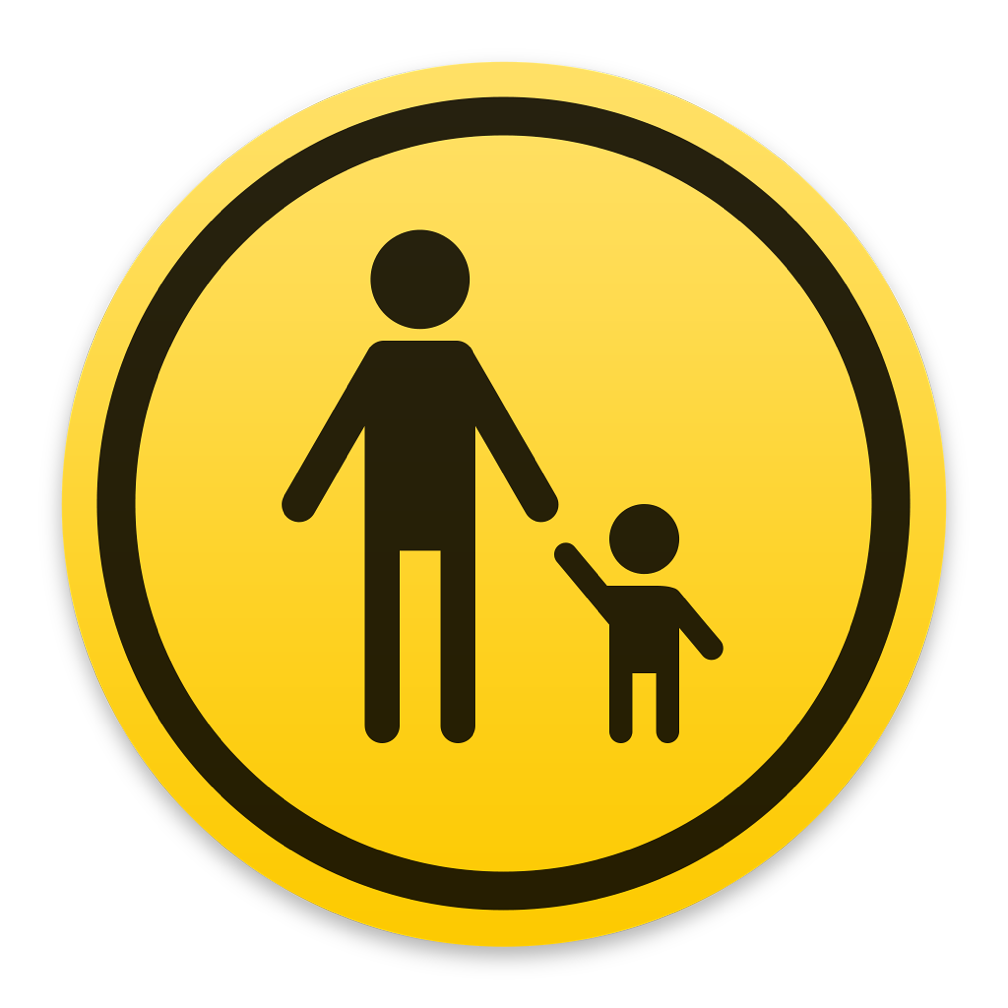 Some changes to System Preferences in OS X 10.10, Yosemite, have been subtle, while other preferences have seen major changes. The preferences pane for Parental Control has been changed slightly and there is a new icon. The panel provides settings to allow parents and others in control of younger users to limit what can be done, and when.

Parental Controls is an important section that has a number of uses over and above allowing mothers and fathers to apply any protections they see fit. It may also be used in a school or even an office environment to restrict access to applications and to internet use, so has a wider value. Research suggests that limiting the number of hours each day a young person can access a computer is beneficial (Shields and Behrman, Princeton).
The abilities to limit user access in earlier versions of OS X, were beefed up considerably with the arrival of Parental Controls in OS X, 10.4, Tiger. There has been some refining since then.
As well as the ability to prevent use of certain applications now, the limits that may be set to URLs include both specifics and types of sites (including online multiplayer games); email access (sending and receiving) can also be controlled. Logs of activities can be monitored. There is also the ability to limit the number of hours that an account is used, including beginning and end times. This may help families with those addicted to playing games non-stop.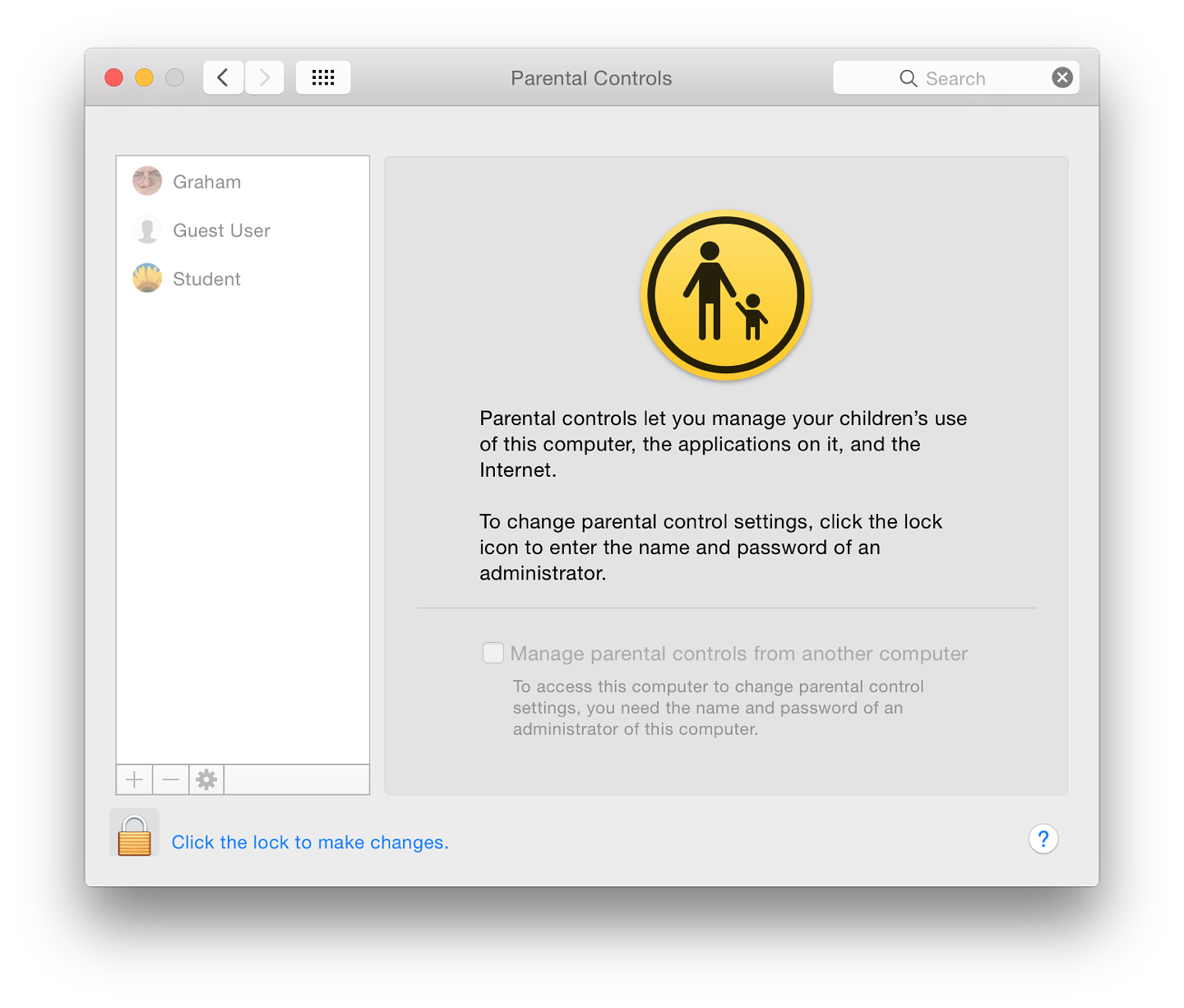 Parental Controls is off by default and cannot be used with an Administrator account. To use the settings, it may be necessary to unlock the padlock (bottom left) which will need Administrator privileges. When the preference panel is opened, user accounts are shown in a panel.
When one of these accounts is selected, the controls can be activated. The panel then displays five tabs: Apps, Web, People, Time Limits and Other. It is also possible to create a new (controlled) user account directly from within the panel with the + icon under the users list
This will add (create) a new account. A simple panel appears asking for Username, Account name and Password (plus Verify) and a password hint. An account is created and the Parental Controls panel appears.
The - (delete) will offer to delete a highlighted account. This is not to turn off Parental Controls. If an active account is deleted, the system offers to save the Home folder as a disk image in the same way as deleting an account in Users & Groups. This delete feature should be used carefully.
Using the "gear" icon reveals a menu with shortcuts for actions: settings for one account can be copied and pasted to another; parental controls may be turned off for any specific account; and Allow Remote Setup may also be activated here.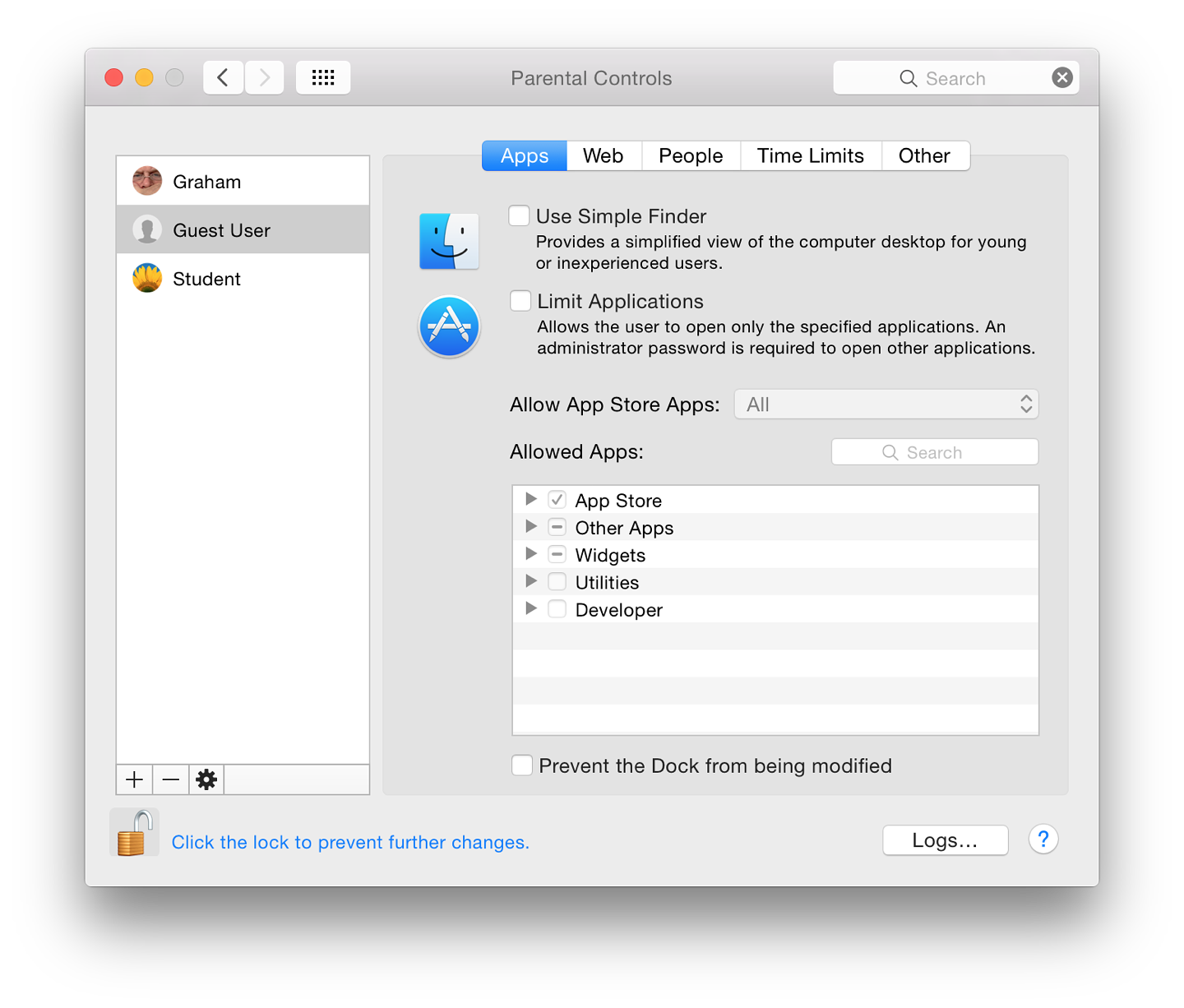 Apps
When a new account is created in this panel, or when applying Parental Controls to an account that has already been created, the first button (Apps) controls the Finder and applications. It is in two sections.

The upper part of the panel displays a checkbox to turn on a simple Finder. If this is used, in the account a basic panel will display icons for permitted applications. When parents work in that account, they can turn on the full Finder with an Admin password.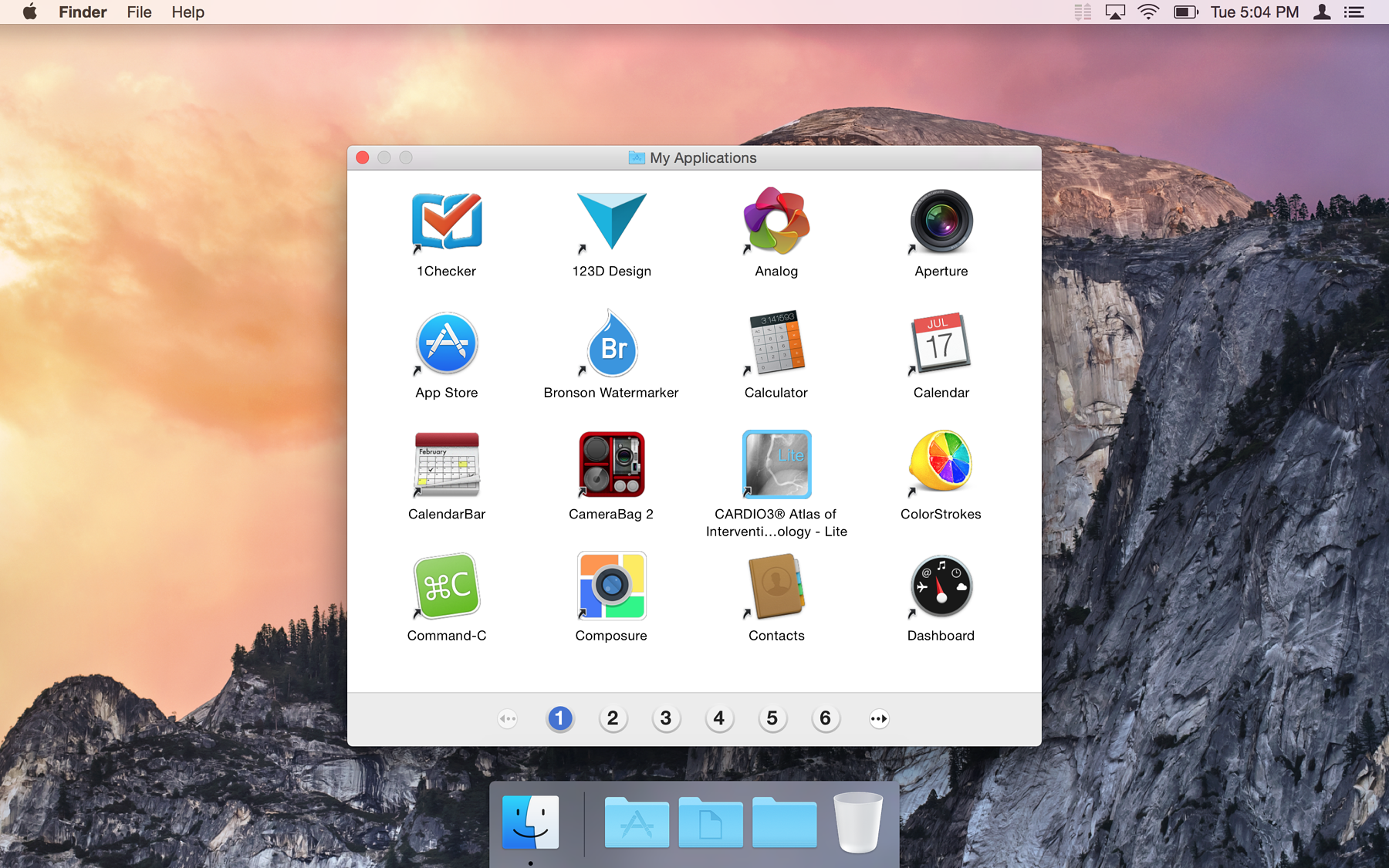 Simple Finder in a User Account

A second checkbox is marked Limit Applications: the user in that controlled account may only open specified applications. When this is on, a button marked Allow App Store apps is live, with selections from "All" to "Don't Allow" with age limits between: Up to 4+, 9+, 12+ and 17+ as before.
The panel below this is only live when the Limit Applications box is checked. It controls applications that may be used (with or without the simple Finder). By default, only some are allowed. By checking/unchecking boxes in each of the groups, any or all may be selected or deselected.
At the bottom of this panel is a checkbox to control Dock use. The wording has been changed. If selected, the user is prevented from modifying the Dock.
A button (available for Apps, as well as Web, People, Time Limits and Other) reveals activity logs in the account (see below).
Web
The "Web" section limits a user's access to the World Wide Web. There are three radio buttons: Allowed unrestricted access to websites; Try to limit access to adult websites automatically; and Allow access to only certain websites.

The second button - for controlling limited access - tries to use recognized content filters. A Customize button allows access to certain sites that are erroneously blocked, or blocks those that have been wrongly allowed, with two panels: Always allow these websites; and Never allow these websites.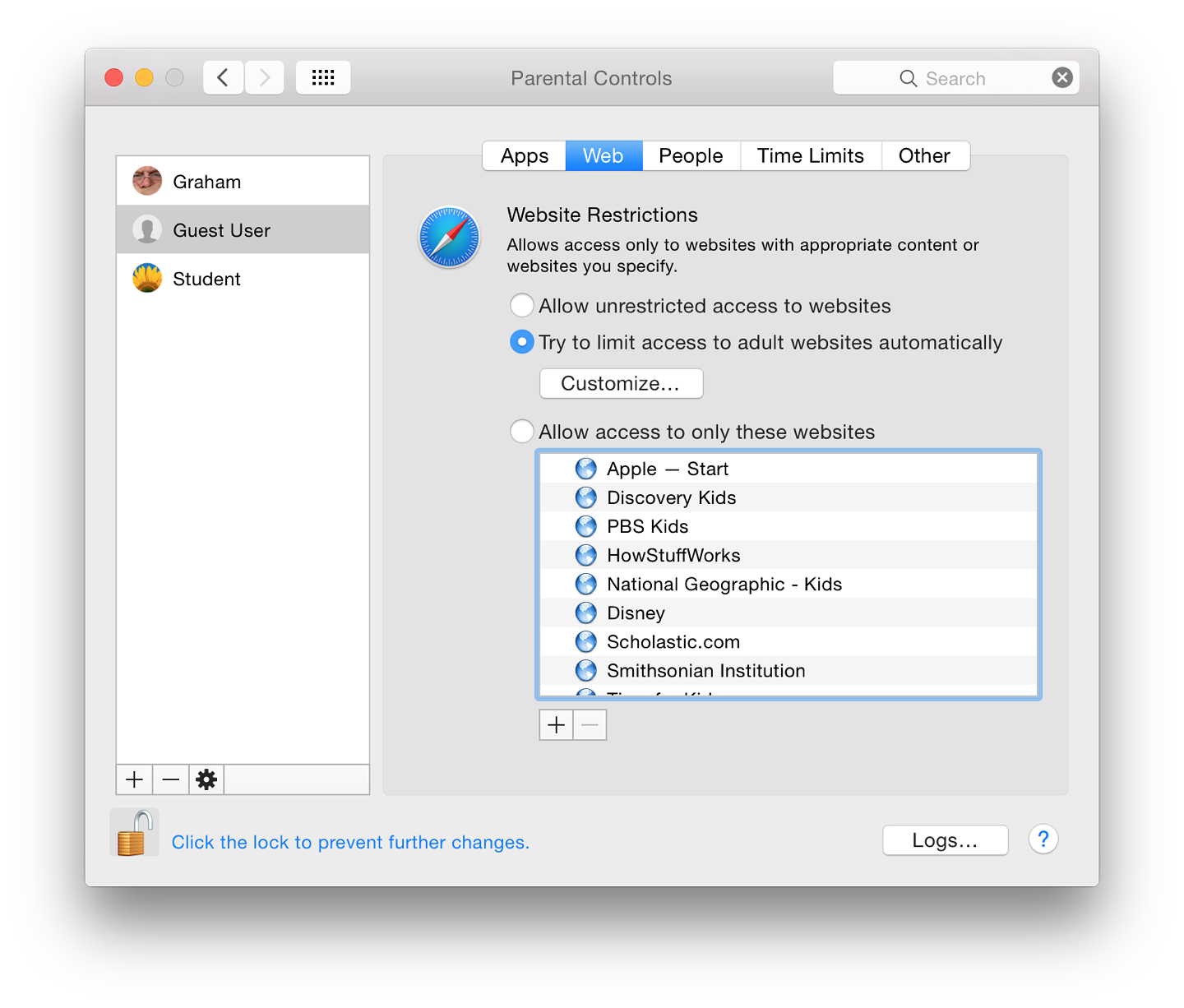 The third option allows access only to specific sites (a "whitelist"). The whitelist already contains a number of sites considered safe, such as the Apple start page, National Geographic, Disney and the Smithsonian Institution.
At the bottom of the panel are + and - icons so that parents may add suitable bookmarks or folders. Any sites on the list may be removed.
People
The pane marked People controls direct interaction between the user and those outside, via online games, email and messages. At the top is a section that controls Game center access. There are two checkboxes: Allow joining Game Center multiplayer games; and Allow adding Game Center friends.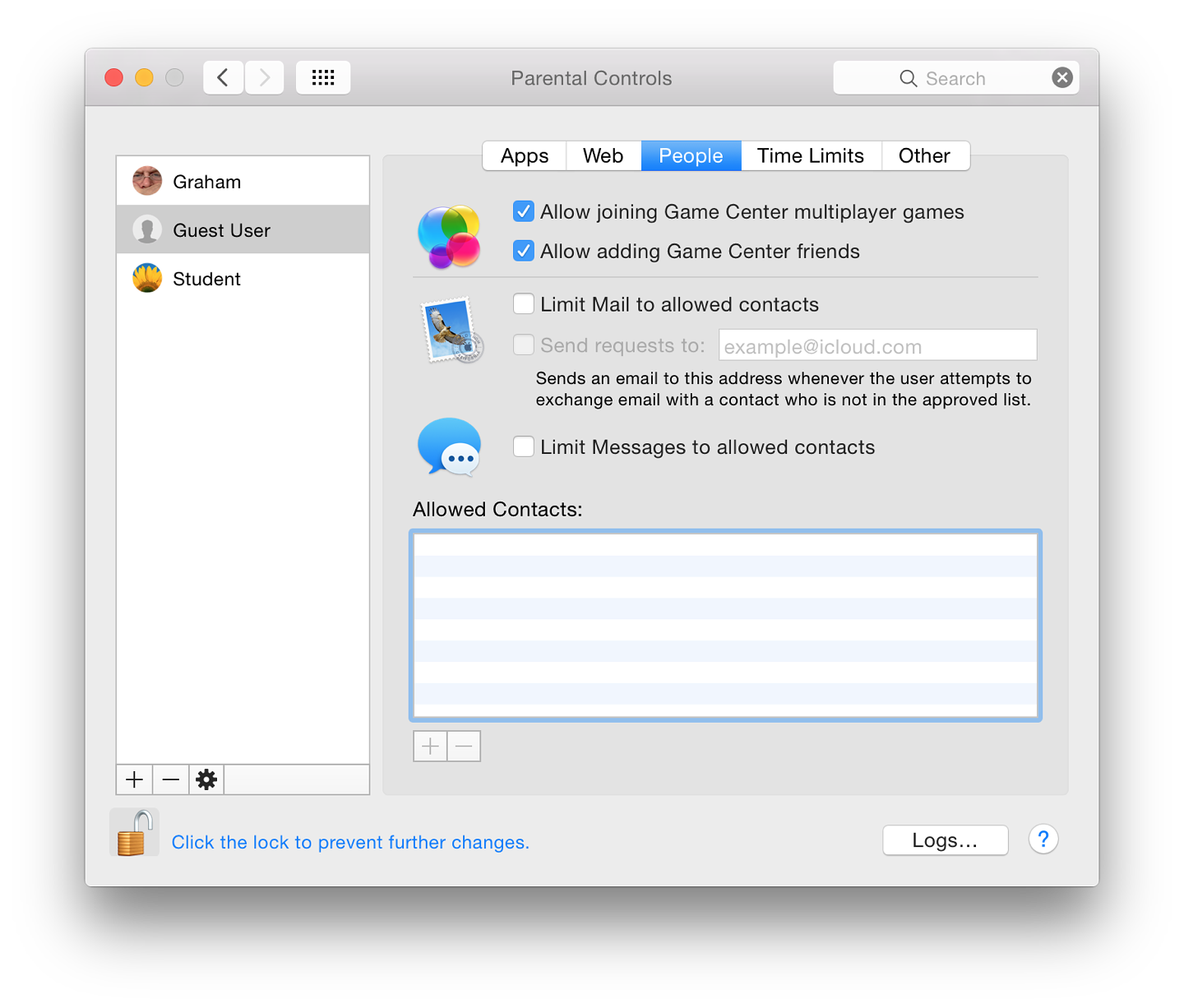 Controls on using e-mail and messaging are as important as any limits to websites. With a checkbox, the parent can specify addresses which a child can send to, or receive emails from. If this is live, there is also a checkbox option for vetting requests in or out: these are forwarded to a nominated email address. Another checkbox below, applies address restrictions to Messages services.
If either of the services is restricted by activating the checkbox, a panel is available in which allowed contacts may be added. When entering such information, a panel appears that requires first name, last name and account details including account name and type of service (email or AIM). A triangle beside the last name opens a contacts panel, allowing one-click adding.
Time Limits
There are three sections to the Time Limits panel as before: Weekday time limits, Weekend time limits, and Bedtime.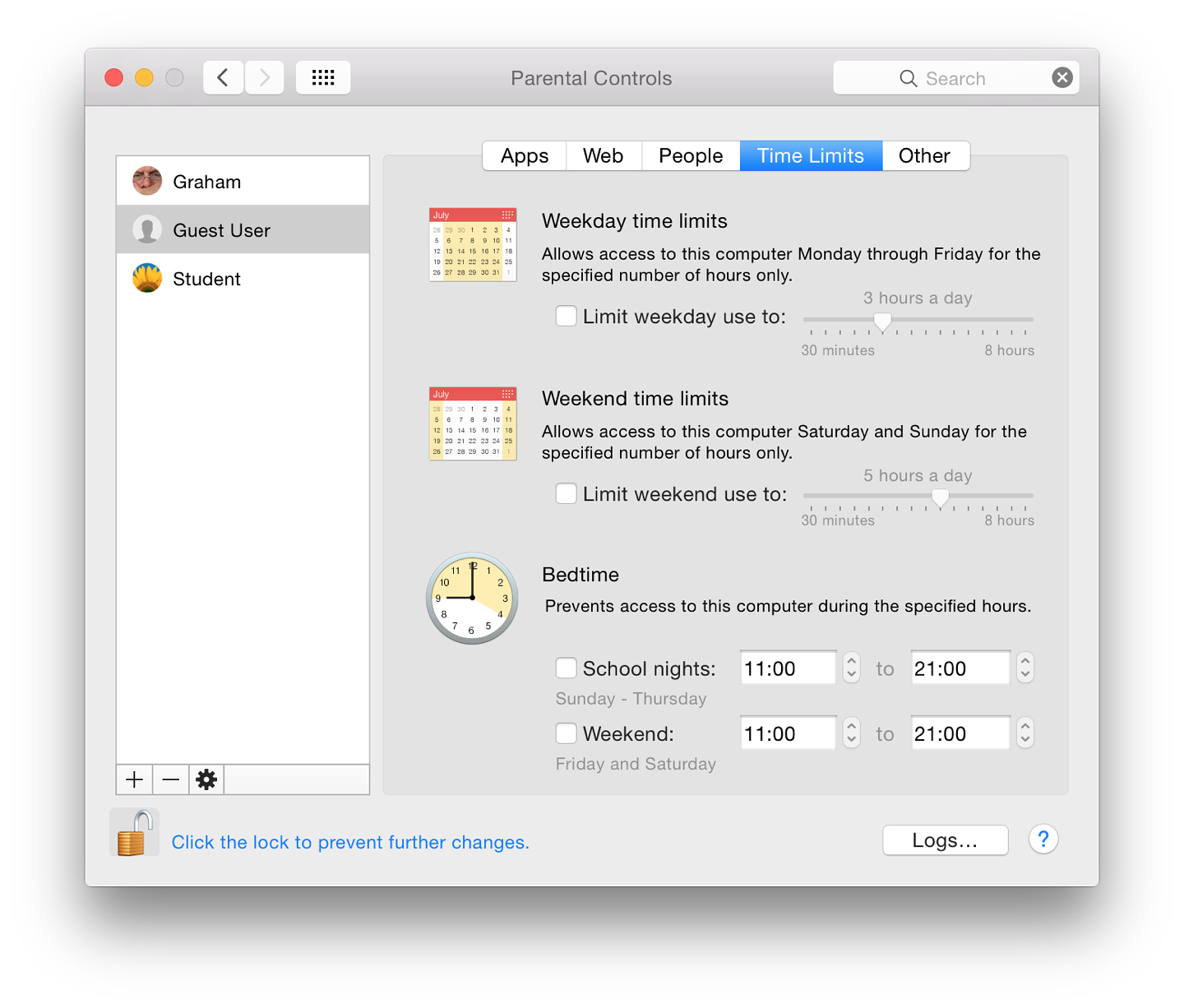 The Weekday section restricts computer use to a pre-selected number of hours each day if the checkbox is activated. The hours may be adjusted using a slider from 30 minutes up to 8 hours.

The Weekend panel is identical to Weekday, but recognises that Saturday and Sunday are not school days and the child may have more free time, so allows adjustments for these days. The decision is the parent's. As above, the slider runs from 30 minutes up to 8 hours.

The Bedtime section prevents access to the computer during certain hours. It is in two sections, selected by checkboxes: Sunday to Thursday; and Friday and Saturday. The defaults may be changed to any times within the 24 hour day.
As before, this section does not take into account that some cultures do not have a Saturday/Sunday weekend.
Other
The final pane in Parental Controls now has 6 checkboxes to control access to specific features or functions.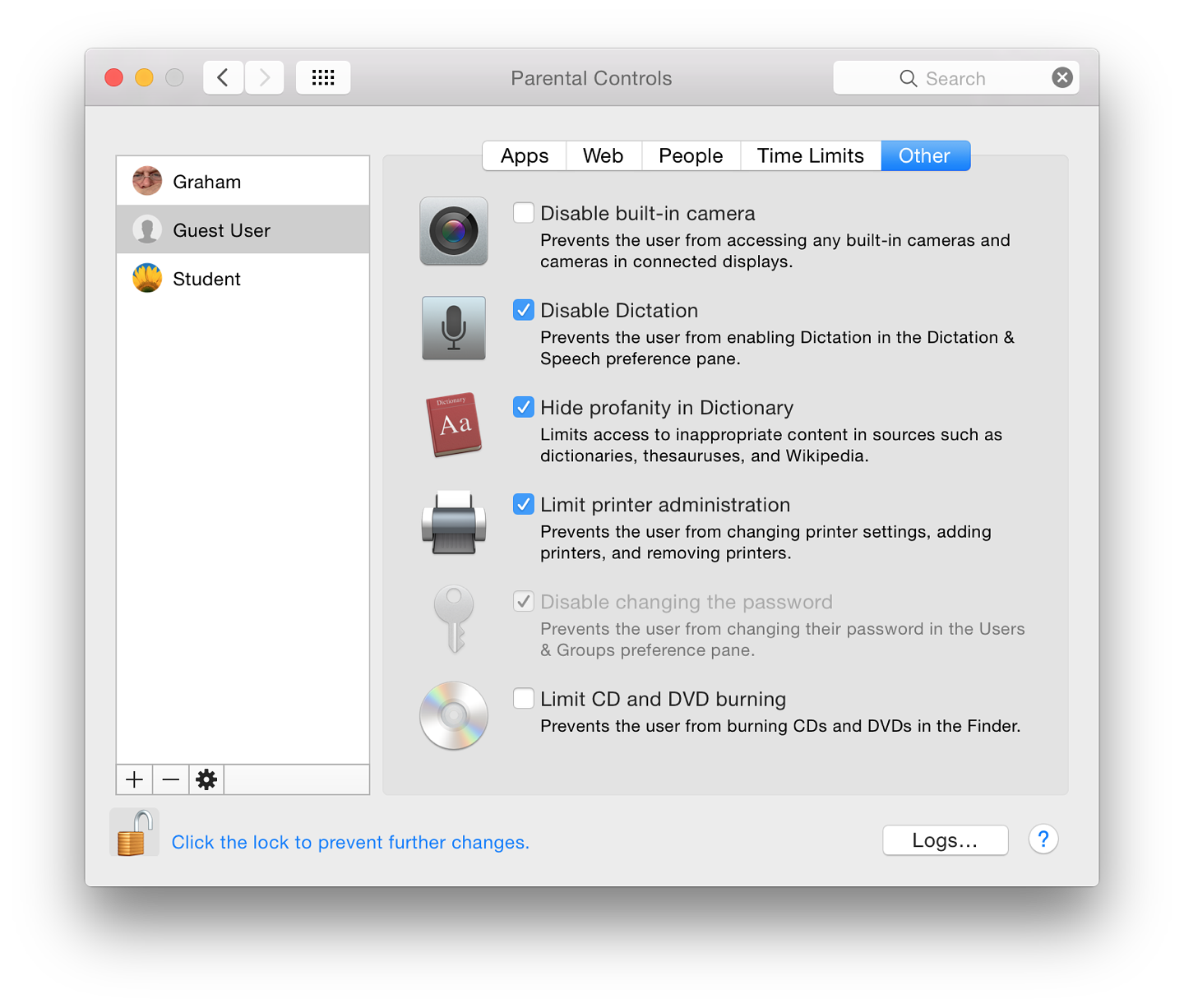 The full list of features is:
Disable built-in camera. This is not only to restrict the use of a camera installed on the computer, but includes those in connected displays. This does not control cameras connected via USB drives.

Disable use of Dictation. When this is checked, users may not enable this in the Dictation & Speech preferences.

Hide profanity in Dictionary will limit access to what is called "inappropriate content" found in dictionaries, thesauruses and Wikipedia. This was ON by default.

Limit printer administration prevents a user adding or removing printers or changing printer settings.

Disable changing the password is OFF by default in user accounts. It was checked by default in the Guest account and greyed out. This setting prevents the user changing the account password in the Users & Groups preferences.

Limit CD and DVD burning prevents the user burning a disk via the Finder.
Logs
A logs button is available at bottom right of all panels now. Pressing the button reveals a panel which is grouped in four ways: Websites Visited; Websites Blocked; Applications; and Messages.

Any data recorded here will provide a detailed report of activity in the restricted account. A button at the top of the panel allows the administrator to select a time limit for retention of any logs: Today, One week (default), One month, Three months, Six months, One year, and All. A second button allows activity to be grouped by Website or by Date.

An entry in the list may be viewed or blocked using buttons at the bottom of the panel.



Comments
While the internet has developed into a rich resource of news, research sources and information, it has also become a risk for the same young users who could benefit most from its use. Some parents are concerned about what their offspring are viewing and who they are in contact with.

We are reminded of the Peter Steiner cartoon from New Yorker, "On the Internet nobody knows you're a dog." There have been other, more recent reminders (such as the movie, Trust) of how at risk young people can be, as well as many real-life reports, although recent revelations suggest users may have more to fear from certain governments.

While parents should work with the very young in their online discoveries, those who are older value their independence and privacy. They can feel inhibited and resentful if they sense that they are under observation. Parents have to perform a balancing act between that freedom and the protection needed.

The big bad wolf is real.



See Also:
Graham K. Rogers teaches at the Faculty of Engineering, Mahidol University in Thailand where he is also Assistant Dean. He wrote in the Bangkok Post, Database supplement on IT subjects. For the last seven years of Database he wrote a column on Apple and Macs.