By Graham K. Rogers
---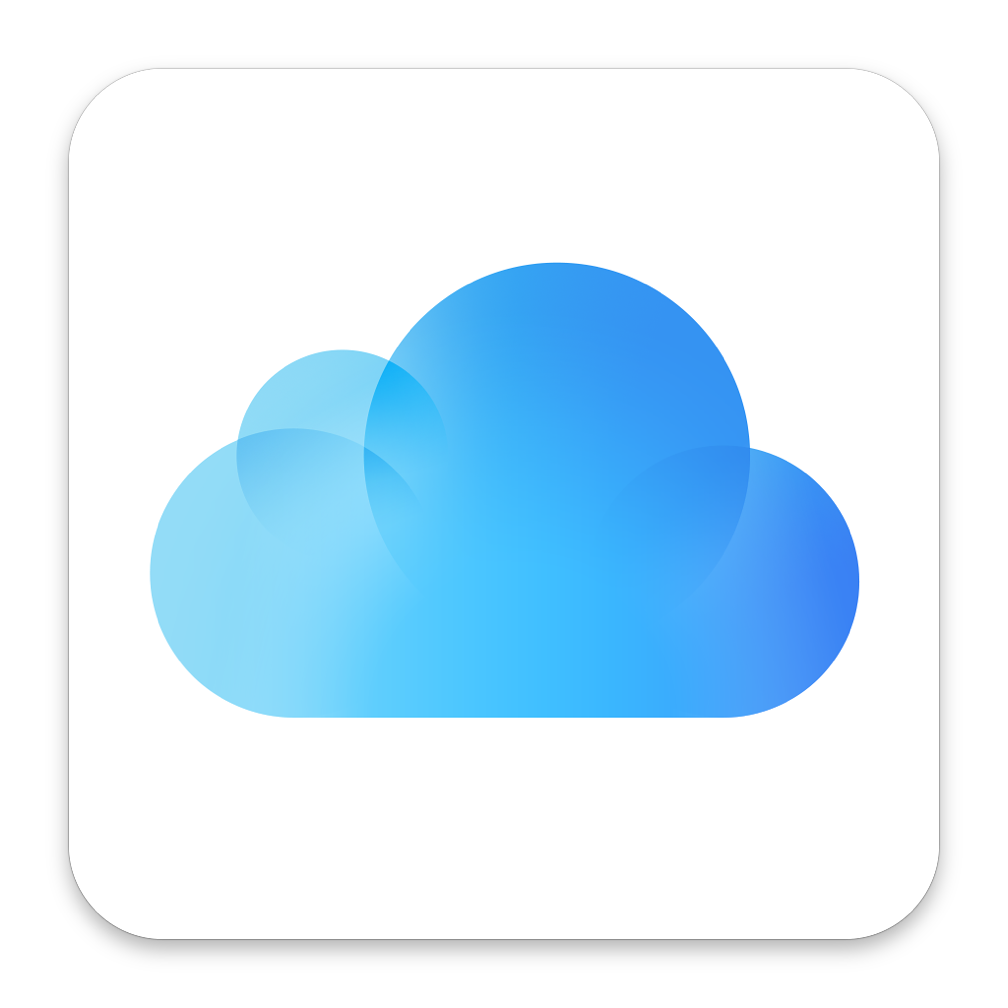 In OS X 10.10, Yosemite, a few of the System Preferences have seen changes. iCloud arrived in an update to OS X 10.7 at the same time iOS 5 was released. We are now using iOS 8. As more features have been added to iCloud, so the panel has evolved, although it retains the same design as before.

As part of the setup process for a new Mac includes registration for (or logging in to) an iCloud account, most users will see the normal preferences panel for which helps the services which are to be used. For a new account, or a computer which skipped the iCloud setup, there is a sign up when the iCloud preferences panel is accessed for the first time.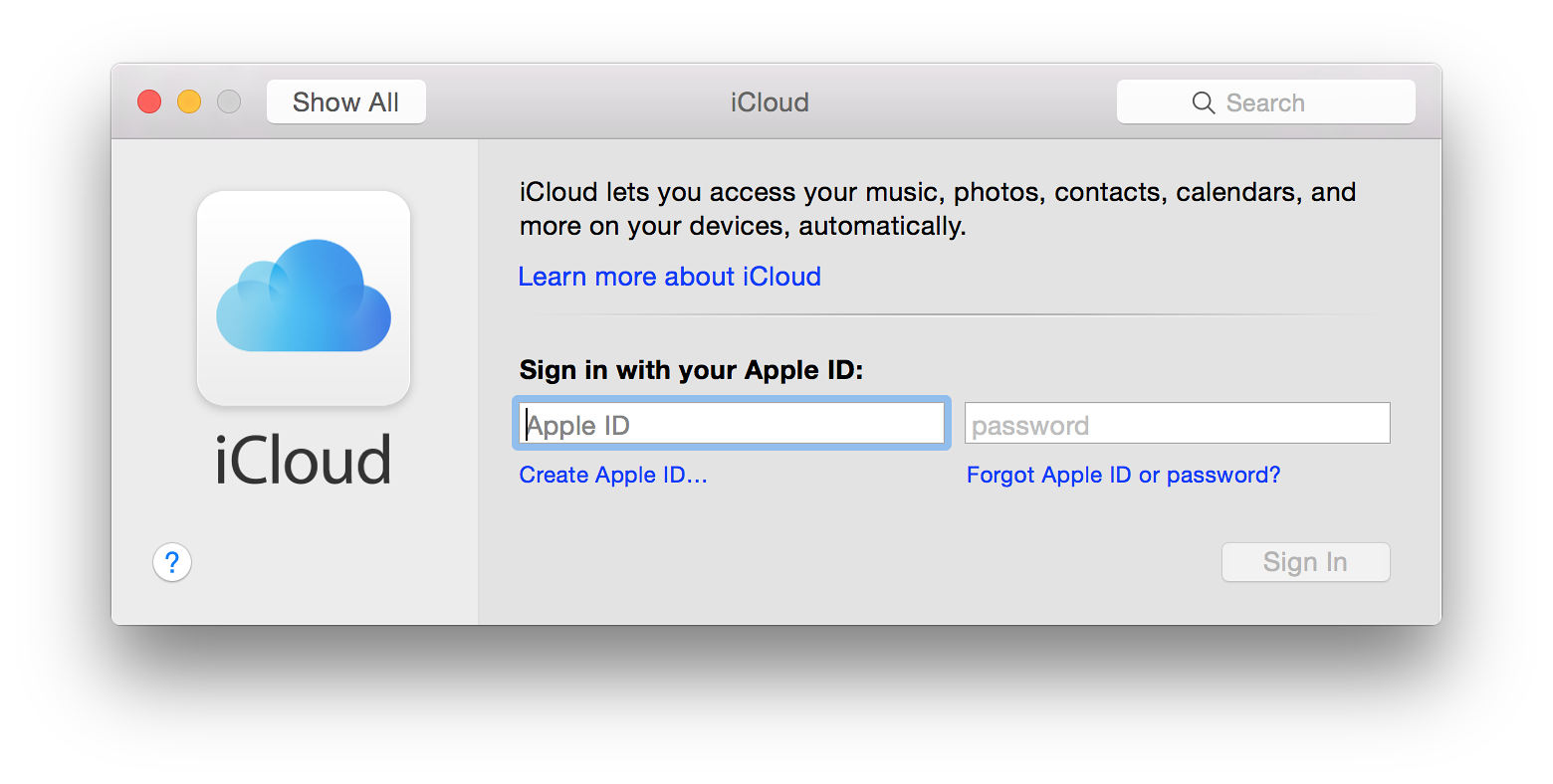 When the user has already signed in - and remains signed in (see below) - the normal panel is in two distinct parts: account information to the left with services in a larger window to the right. The left part is now dominated by the user's picture. This is independent of the user account image and may be edited from within this panel. Beneath that is the user name and below that the account name (email) in grey. Three buttons are available below the name: Account Details; and Set Up Family.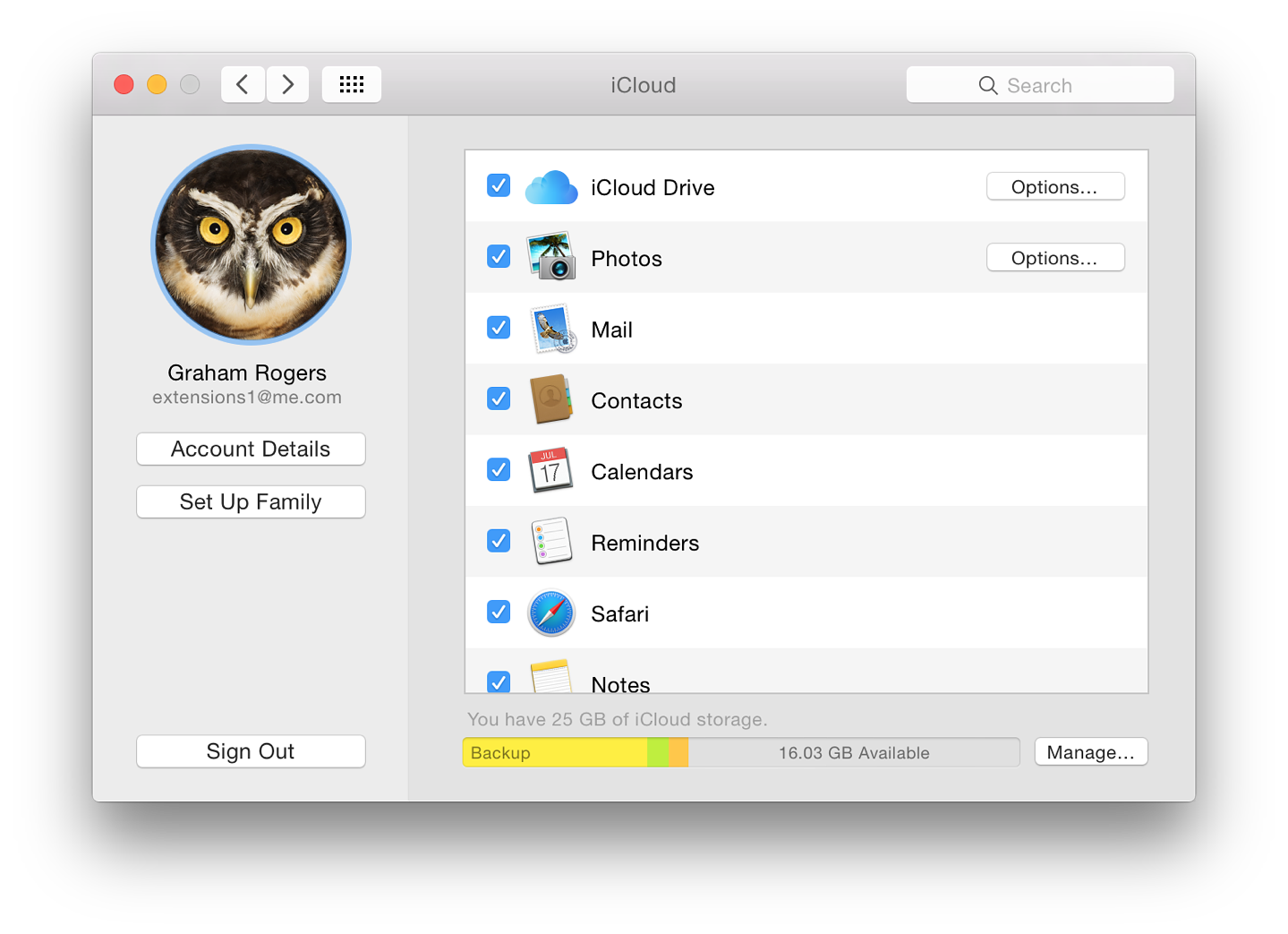 Pressing the Account Details button brings up a small panel that allows access to information once the password is entered. Information about the account is displayed on a panel with four tabs that allow the user to manage aspects of the account: General, Contact, Security and Payment.

Set Up Family allows the use of the new feature of Family Sharing: purchases of movies, apps, music and books; photos and videos in a family photo stream; events via a family calendar; location sharing; finding family devices. A button marked, Details, opens a web page with more information.
A series of Continue buttons allows the head of family to set up this service.
Sign Out will return the preferences to an information pane that is only usually seen when starting a new account (above): setting up OS X from new includes the iCloud registration process. Before a user is able to sign out, a warning panel appears. Logging out will delete the information from the Mac and limit other services (see below).

The main panel shows the services that are currently available for users. These are shown in a list of icons and names. The order is not alphabetical on my computer and starts with the new iCloud Drive. Other services I have available are: Photos, Mail, Contacts, Calendars, Reminders, Safari, Notes, Keychain, Back to My Mac, and Find My Mac. To the left of each is a checkbox indicating whether it is currently active or not (see below).
For some services, individual applications (such as iPhoto with Photos) may need additional settings activated. This is expected to change in early 2015 with the release of a new application: Photos. Other features work with OS X and iOS devices.
iCloud Drive allows a number of applications services to be activated using an Options button that reveals a two-part panel:

Documents, which shows applications that are also able to use iCloud Drive. My installation shows Automator, Preview, QuickTime Player, Script Editor, Terminal, TextEdit, Messages, iMovie, Keynote, Pages and Mail. Any third party applications that can use iCloud Drive will be shown here as well.
Look Me Up By Email - a panel that shows apps that allow others to look up the user's Apple ID - first and last names will be seen. At the time of writing, no apps were listed.

There is also a Finder item for iCloud Drive giving access to the folders within. Although it is possible to add a folder and to upload files, these may not be visible on other devices, especially those running iOS without a 3rd party application (current wisdom is that these may be unreliable). Apple retains an app-centric approach rather than file-centred and may expect users to work with the apps (Apple and 3rd party) that save files in iCloud.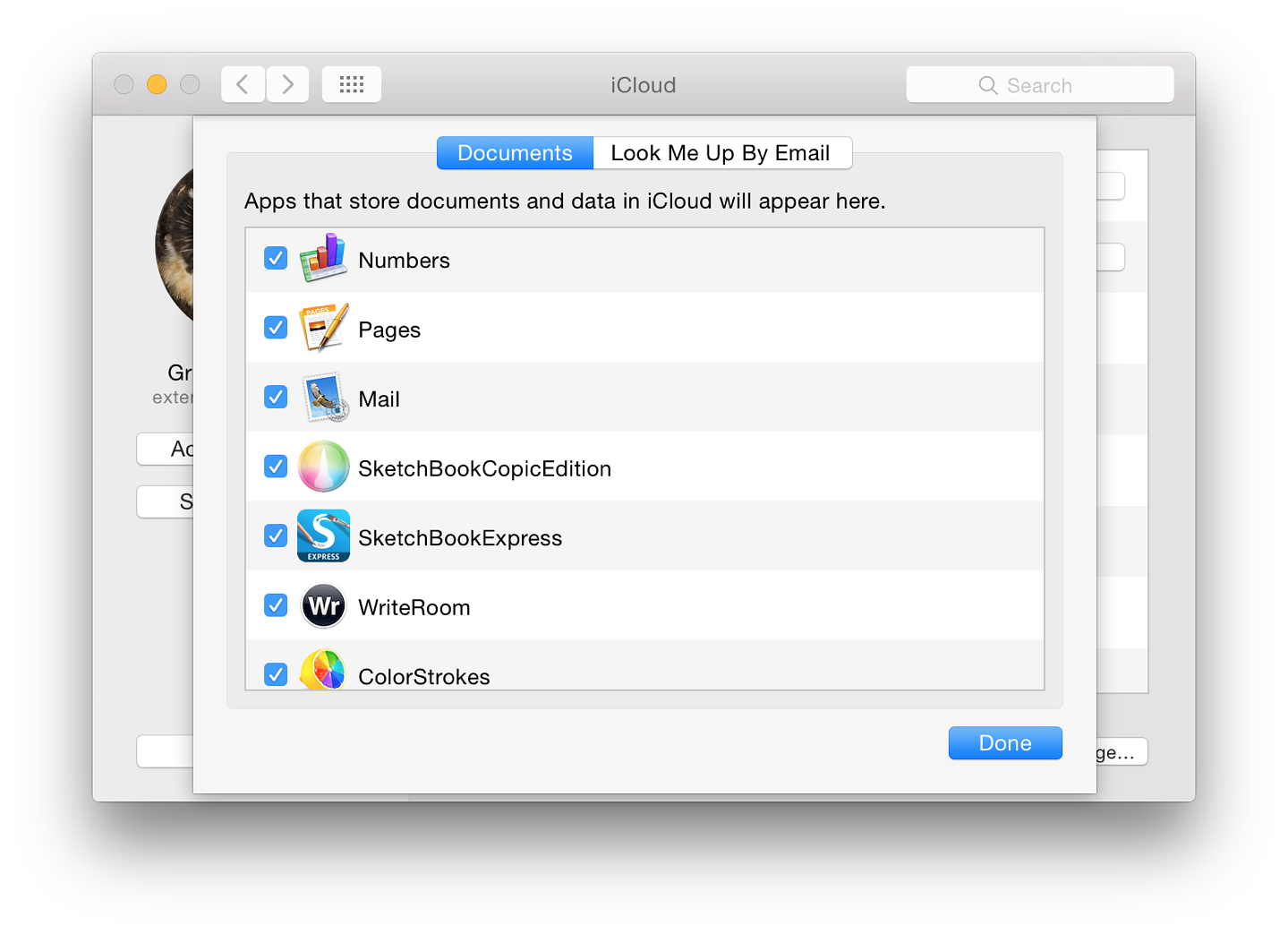 There is a separate preference panel for Mail, Contacts, Calendars (and other apps): Internet Accounts. The iCloud panel there indicates the services being used, although mail accounts are separate.

Photos replaces the Photo Stream checkbox that appeared in the previous version of OS X. In Yosemite, however, there is an Options button alongside that has two checkboxes:

My Photo Stream for automatic download and upload of photographs
iCloud Photo Sharing, for more personal sharing between friends and family, sharing their images, videos and comments as well.

Reminders is controlled in Internet Accounts by the iCloud settings and by the app settings in the Finder and on iOS devices. There may be some duplication here.

Notes synchronisation is also controlled in Internet Accounts and by the app settings in the Finder and on iOS devices.

Safari synchronises with other devices using the Tabs button which (if not already available) may be added using the View Menu and Customize Toolbar (iCloud Tabs). Any iOS devices need to have this turned on.

Keychain will store secure data like passwords and even credit card details when visiting online sites. Some services, such as banks, may not allow this to be used. There is an Options button that has a number of items -

A checkbox to allow approval of access on other devices with a security code (a button here allows the security code to be changed)
A two-part section for entering a verification number: a button to select the country code; and a panel for the phone number to be used for SMS messages (the code)

Back to My Mac has been a feature available on Macs for several years. It allows a user to control a Mac remotely. I wrote about this in 2008 in an item on Screen Sharing in the Sharing Preferences.

An Apple Knowledge Base Document, PH2572 (referring to OS X 10.7.2), has more details about the service in iCloud, but there are two main parts: Browse your remote Mac computer's hard drive, and drag files and folders to your local Mac; and Control your remote Mac just as if you were sitting in front of it.

Find my Mac has been available for a couple of years. Earlier, this had to be turned on from within the Admin account. Since 10.8, I have been able to activate this from within the user account.
The Documents & Data option that was available with Mavericks, is no longer listed and some of the functions are now available with iCloud Drive.

Below the main panel is a bar that shows the amount of iCloud storage currently in use. In the Finder sidebar there is now an iCloud item that opens a window with a number of folders, each related to apps using the feature. Apple provides 5 GB of storage for users. Additional storage is available and the price of this has now been reduced. Details are available on the Apple website -
5 GB - free
20 GB $0.99 per month
200 GB $3.99 per month
500 GB $9.99 per month
1 TB $19.99 per month
A button to the side of the capacity display is marked, Manage. This loads a two-part panel with apps to the left (both Apple and 3rd party) and basic details to the right when an app is highlighted. There is also an icon for Backups which shows the amount of data used by the iPad and iPhone. As well as Apple software like Keynote and Numbers, several iOS apps are shown.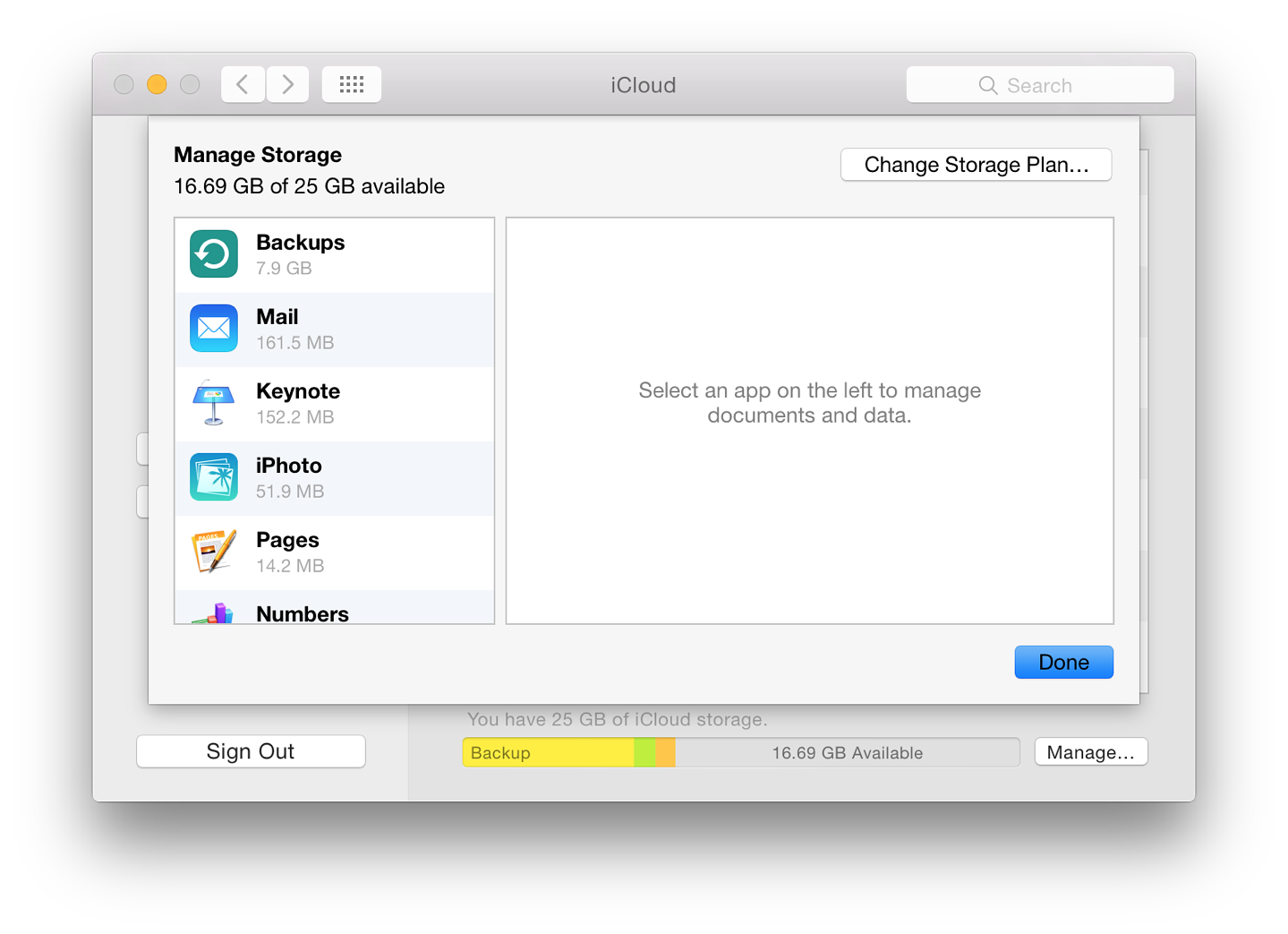 Information for the apps outlines the amount of storage being used, with an explanation of how to free up more data (. . . go to iCloud Drive in Finder, open [app name] and delete documents). At the time of writing, not all the applications listed had folders in iCloud Drive.
Each of the highlighted applications in the "Manage Storage" panel has a button marked, "Delete Documents & Data"
Notes
More information about iCloud (Overview/Features/How to Set Up) is available on the Apple website.

On iMore, Allyson Kazmucha has a useful article on iCloud Keychain from the direction of iOS devices.

On MacWorld, Antone Gonsalves reviews the Keychain as it works in Mavericks, its 256-bit AES encryption, and looks at comments from outside sources.




See Also:




Graham K. Rogers teaches at the Faculty of Engineering, Mahidol University in Thailand where he is also Assistant Dean. He wrote in the Bangkok Post, Database supplement on IT subjects. For the last seven years of Database he wrote a column on Apple and Macs.