By Graham K. Rogers
---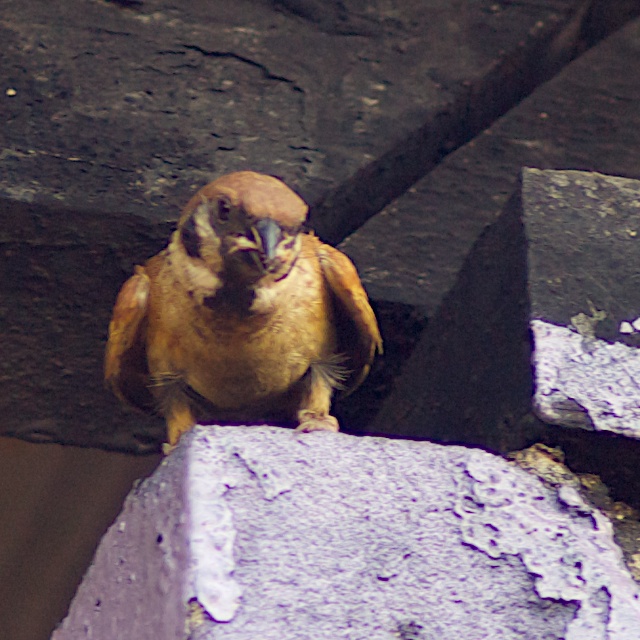 There was some excitement late last week when it was revealed that Apple executives had been talking to Tesla. We did discuss this last week and it was thought that it was connected to battery technology or perhaps even in-car interfacing. Elon Musk was asked and, according to Juli Clover on MacRumors, confirmed the meeting, but suggested that at the current time, an acquisition of Tesla seems "very unlikely." Parse that if you dare.
Adding to this was a report on Electronista that has the idea that Musk was dancing around talk of acquisition.
There is of course much speculation on what it could all mean as the bloggers and news sites rush to outdo each other. One article that looks at the Apple-Tesla picture with a little sense is by Thomas Lee and David R. Baker on SFGate and they go over some of the possibilities, although including "to reignite growth" in the title is sucking up to the Wall Street crowd.

Another retirement from Apple is reported this week with the news - from Yoni Hessler on NetworkWorld - that Brett Bilbrey of the Technology Advancement Group had left after 12 years at Apple in a number of tech positions and with a number of patents to his name [my source was MacDaily News].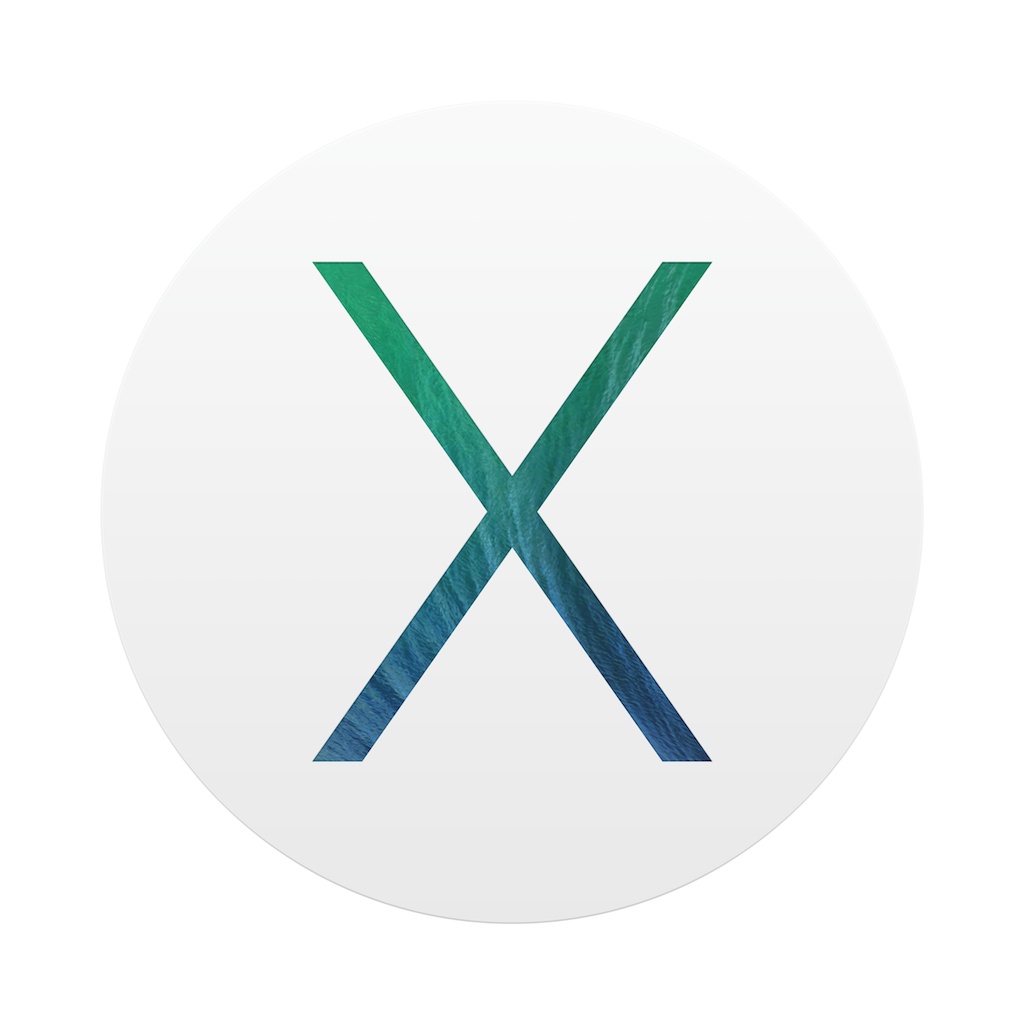 As expected, Apple released another build of OS X 10.9.2 this week, Mark Gurman on 9to5Mac reports, with the news that developers are asked to focus on Mail, Messages, and VPN.
Along with this, Daniel Eran Dilger reports on AppleInsider that Apple is getting the next update to iOS 7 ready with some expected fixes, some enhancements, but also "a major overhaul of the Mobile Device Management mass deployment system" which will include a lot of other improvements here.
The release is expected around middle of March and I have seen 15th suggested, along with the OS X update. Some people think these updates may be linked and that there could also be a hardware announcement too.

Some sites are reporting that it is quicker to charge an iPhone if it is in Airplane mode, so OS X Daily had a look and has come to the conclusion that if there is a difference, it is slight. But as the screen uses some power, not running the phone at all might also be a faster way to fill the battery.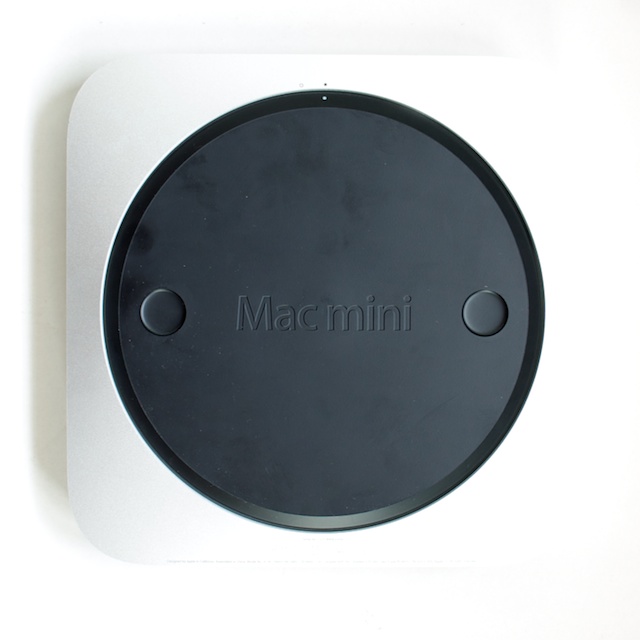 In 2007, away from the Moscone Center, Greenpeace were running lots of generators so that they could project messages onto one of the Apple stores in San Francisco. They generated a lot of heat about Apple's use of materials that could not be recycled. Apple took the point and the use of aluminium and glass increased, while plastics use and use of other nasty materials decreased.
Now, the steps Apple has taken to put the pressure on its suppliers has seen considerable change in its materials sourcing. As well as the BBC (which I reported about last week), Greenpeace is now praising Apple for the steps taken, Chris O'Brien reports for LA Times.

As well as getting it from Greenpeace in the past, Apple has a lot of pressure from patent trolls. Jack Purcher on Patently Apple reports that Cupertino is being sued by the holder of a former Siemens patent for a camera phone system that was granted in June 17, 1996. Purcher also points out that Apple showed a videophone PDA at MacWorld 1995 and therefore probably had a patent by then.
Apple is on a roll with scores of patents being granted in the last 3 weeks. The latest is a batch of 38, Jack Purcher reports on Patently Apple. The article details some of the more interesting ones, like a Health Monitoring Headset System and a Compact Power Adapter as well as 5 design patents and a long list of the others.
A patent reported on last week has some legs. Mikey Campbell reports on AppleInsider that the intelligent magnetic attachment system (as on the iPad case) might allow more uses, like connection and communication "with a variety of accessory devices, including other iPads." When I read that, I also wondered about the MagSafe connector on my Macs.
Another patent - there are so many for a company that does not innovate - is reported by Neil Hughes on AppleInsider concerning a MacBook with illuminated touch controls in chassis, bezel & frame. The patent details in the article explain how this might work and it is a question (it seems) of hiding controls when they are not used and would also have a virtual keyboard. Now where have we seen that before?
Well, what a surprise, Samsung is to have a fingerprint sensor on its upcoming Galaxy S5. FaryaabS on Sammobile has a look at this and it is to use buttons like another device we are familiar with. He is able to write this apparently with a straight face. Also commenting on this feature, and with some input on Synaptics is Mark Hachman on Macworld. It appears that the solution is "a clear sensor that can be placed directly under the LCD glass".

A short while ago we reported on the sapphire glass technology that Apple is expected to use. There are the factories, the machines and the company that it supports, as examples. AppleInsider reports that Apple has apparently bought a 3-year supply of sapphire glass for 4.5" displays and that may put paid to the Ubuntu Edge phone. Bear in mind that reports earlier said the sapphire glass was not expected to be for the iPhone but for the iWatch. I don't think Apple will be making any watches with 4.5" screens.

Ah yes, Apple needs to do this, needs to do that, and must do other things otherwise it is doomed. Got that? AppleInsider are reporting that strong iPhone 5s sales in Q4 gave it a 7% share of the Chinese smartphone market. And I bet there was a lot more than 7% of the profits.

This week I wrote a couple of items on Office for the iPad. First in the last Cassandra review and then followed up with a deeper look at the time that Redmond has lost, making it (in my opinion) a wasted exercise now.
Related to the above - because it is another example of Microsoft and stupidity (bear with me) - is a report that I saw on HackerBot that cites a report on Microsoft use by a firm called Avecto: running with user rights instead of Admin would cut something like 90% of the risk from vulnerabilities. I wanted to slap someone for this; or slap myself on the forehead. This is how I run my OS X installations: working in a User account, and using the Admin password (not the account) when required. Remember too, OS X has no Root password by default. Some of those I advise run like this, but for many it is too much like hard work. Yes, missus, so is reinstalling a system.

Not long ago, I helped a colleague update to Mavericks as she was using a much older system. It was actually OS X 10.6 and she had not even bothered to update from the system that arrived on her Mac mini. I had to upgrade first to 10.6.8 for her so that she could use the Mac App Store, then (after some slight problems) Mavericks was installed. This week OS X Daily have an item in which it is strongly suggested that if users are still on Lion, they should get up to date as soon as possible.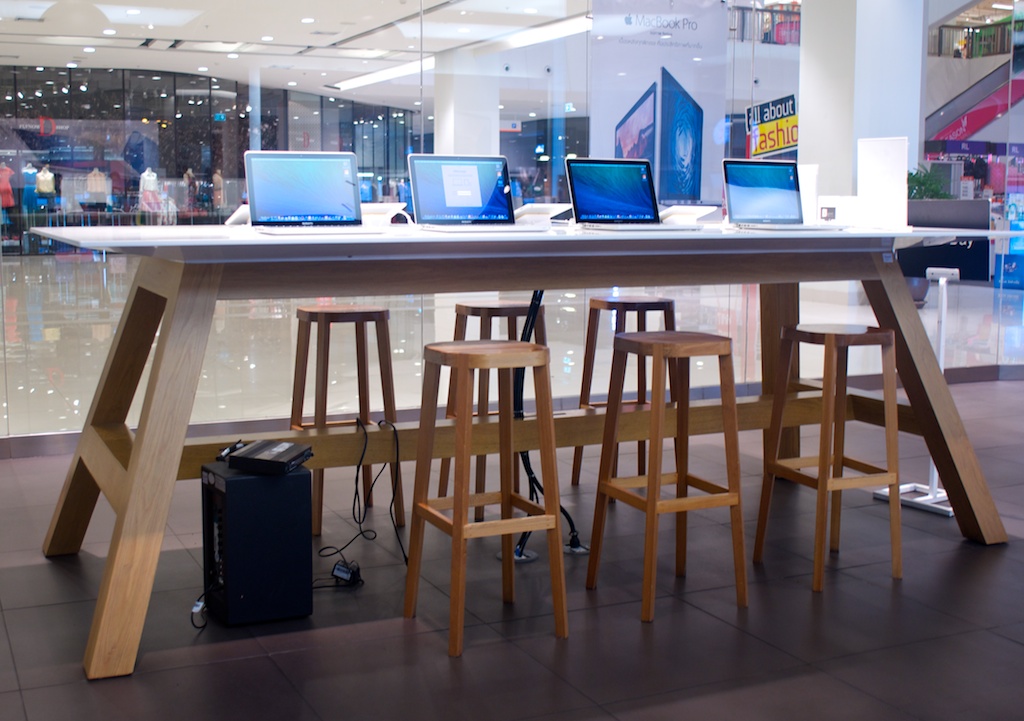 On Wednesday, my article in Bangkok Post, Life was on the Apple retail outlets here and online. After all that work, I was disappointed when the Post only used one photograph, but had already uploaded many more to go with my own text version.
I had a couple of reactions by email, with one asking me about servicing and repair of Macs. The other - from a senior doctor at a major hospital here - wanted me to provide information about using Thai fonts on a Mac. His colleagues had told him this was an area that was not compatible with Windows. Say what?
He is about to buy a MacBook Air now.

As my Estimote iBeacons arrived this week, I had a look, ran some tests, then had one of the students cut one open to see what was inside. I was able to put some information online later on Wednesday, including some detailed photographs of the circuit board.

With exquisite timing, this week Ben Thompson wrote an item (Feb 18) on Stratechery about Messaging, calling it Mobile's Killer App and explaining how this has diluted the importance of the phone, yet grown in its own importance. Within about 24 hours the internet was alive with the news that Facebook had bought What's App for $19 billion.
Commenting on the acquisition, Jim Goetz on Sequoia Capital, explained the 4 important figures involved, including 450 million active users; and only 32 engineers. Within hours I had received my first phishing email suggesting a voice mail from What's App.

With all the revelations about the NSA spying on other countries with the help of its support team in the UK, Australia and elsewhere as well, it was an extra embarrassment for the Australians this week when it was revealed that a US law firm representing the Indonesian government was spied on by Canberra's spooks. They were acting as agents of the US government, so I guess that's all right (RT.com).
As part of the fallout from the NSA revelations, it was announced this week that Germany and France are saying they want an EU-only Internet, Dan Worth reports on V3. This is a lot of posturing, but it does send a sort of message to the USA and its partners in crime. As the UK is in the EU - although it wants to opt out of inconvenient parts - that would not work, nor (really) would be the EU cutting itself off as the whole network is integrated; and each country has its own ways to deal with traffic. A bit of theatre here from Angela Merkel and Francois Hollande.
A lot of the major tech companies have been in the news concerning the NSA and possible turning over of data to the NSA, but Mike Wehner on TUAW reports on a couple of these companies with Apple showing the way on transparency, while Verizon, Sprint, and Comcast "lag behind". Apple produced an in-depth, updated transparency report, then Google and others followed, but not those telcos.
A while back, Glen Greenwald's partner was detained at Heathrow (London) for several hours under terrorism legislation, then almost at the end of the time-limit, he was released. A judge this week said that this was legal, despite too many questions and other examples of UK government bullying. An example of this was reported by Glyn Moody on TechDirt in an item that related the questioning of Snowden's lawyer at Heathrow in what is described as "intimidation."

It is not only the NSA that breaks in and there have been several examples of hacking of late. Last week, Kickstarter was a victim and they sent email to all account holders suggesting an early change of password. I did that and disassociated the account from Facebook. Now Arik Hesseldahl on re/code reports that Forbes, too, has been hacked by the Syrian Electronic Army who then "published a database containing more than one million user names and sign-in credentials".
One thing that strikes me about many of these attacks is that the hackers are using exploits that are known and therefore the IT personnel are just not doing their jobs. Mind you, IT persons have been selling the snake oil for years and despite the logins, passwords, accounts, cookies and all the rest, they are still serving up insecure sites.

Andy Ihnatko wrote something interesting in a Tweet this week: "Took a few weeks off, as my columns are moving back to the suntimes site proper. Will be back to normal output this week" - we remember not so long ago that the Chicago Sun Times reworked its output, including dismissing all its professional photographers. Like other newspapers, it appears now to be finding that the knee-jerk reactions did more damage than those responsible for the changes anticipated, and they are redressing some things.
Graham K. Rogers teaches at the Faculty of Engineering, Mahidol University in Thailand where he is also Assistant Dean. He wrote in the Bangkok Post, Database supplement on IT subjects. For the last seven years of Database he wrote a column on Apple and Macs.