<! ----------------------------------------------------------------------->
---
There were a couple of interesting reactions to the recent article on my failed MacBook Pro (1 September). The first came late that Wednesday morning when I was contacted by the agent who told me that the computer was to be collected that day: more than two weeks after I requested this. Another reaction came from a local user with the same MacBook Pro (and the same 2.16GHz MacBook Pro before) who had an "Aha!" moment when he read the article: the same had been happening to him.

With random freezes and an inability to work efficiently, he has joined me and a host of other users who had hoped to be at the forefront of technology (or nearby anyway). Instead find ourselves smashing our heads against virtual brick walls.

This local user has advanced two steps more than me in terms of the repair process by having it checked by the local agent, Maccenter, and then three steps back as he is told nothing is found to be wrong even though the freezes persist.

In the last seven years I have owned nine different Macs: every one fault-free, giving me years of non-stop service and productivity. I have also had a score of review machines through my hands, not one of which has misfired. The i7 MacBook Pro is different and on user forums there are too many threads and too many dissatisfied or even angry owners, many of whom are like me: long-term Mac owners We went for the i7 because it was top of the range and expected to perform to high standards.


Last week, I decided to buy a second notebook computer. As this is to be a third computer -- a spare, but one that will have to perform up front -- the choice was between a MacBook and the starter level MacBook Pro, both of which use the same 2.44Ghz Core 2 Duo processor that is in the Mac mini I am using. Mobility requires a notebook computer otherwise the Mac mini would be a shoe-in.

While both the MacBook and MacBook Pro have the same processor, 250G hard disk, display and graphics processor (NVidia 320M), I decided on the slightly more expensive MacBook Pro for a couple of important reasons. The MacBook pro comes with 4G of RAM as standard, as opposed to the 2G of the MacBook; and the ports on the MacBook Pro include Firewire 800 which I have found useful on several occasions for transfer of data to external disks and when using Target mode.

The Mac mini has 2G RAM and that does slow sometimes when I am working on photographs. The MacBook Pro also has the SD card slot and the backlit keyboard, which are additional but minor conveniences for me. The final factor was weight. The MacBook is 2.13Kg and the chosen 13" MacBook Pro comes at 2.04Kg. Every little bit helps.


With the decision made on what to purchase, I then chose where to buy it and decided to use the online Apple store. The first couple of tries were not successful as funds I had paid into my credit card had not yet been credited. The nice young lady at the credit card company told me that with a bank this takes a couple of days. Had I paid at a 7/11 the funds would have been usable immediately, but a couple of days extra was the least of my worries.

That financial liberty (albeit shortlived) arrived on Thursday morning, just after I had been digesting announcements from Apple's iPod event in San Francisco. My report is online.

On the Apple store page, I checked the important boxes and entered the details required. As I had already made up my mind and examined the pages earlier, this took me just a couple of minutes. An email a few minutes later confirmed the purchase. That was about 8:30 am.

Coincidentally, my dead MacBook Pro was collected from my office a couple of hours later. In my conversation with the technician, he said he believed the problem may be due to the hard disk, which was one of the possibilities on my list. I am pleased to report that he asked me twice, and then confirmed again that all my data was backed up.

My new 13" MacBook Pro was shown as shipping within 24 hours of me making the order, but that does not mean arrival within 1 day. However, I had email just before 2 pm telling me it was on its way and I was able to follow its progress online. It arrived at Suvanabhumi Airport at just after 5 am the following day raising my hopes, but stuck there all day until it cleared just before 5pm. It was ready for delivery on Saturday (4 September). The Apple page confirming my order quoted between 8 and 14 September. I cannot wait.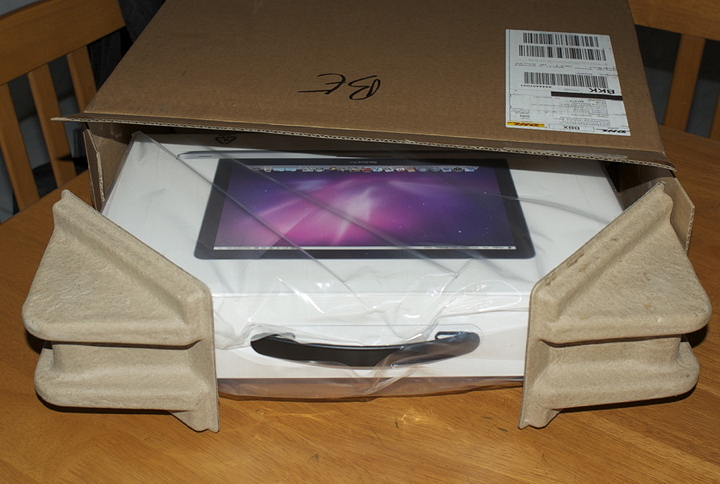 The Arrival of the Ordered 13" MacBook Pro

See also:
Back to my Original Mac

<! ----------------------------------------------------------------------->