Apple released an update for the MacBook Pro range for "a rare issue that may cause the system to freeze". All well and good, but with no OS, I cannot install this; while the inability to reinstall OS X suggests that much more is wrong with mine. I am following a thread on the freezing problem which has now reached some 67 pages. Some users had problems installing that update, while others still report freezes.
I have been helped by the loan of a Mac mini which continues to please me with the way it just chugs along and does everything I throw at it. I am extremely grateful to Apple's local office for this. As I am unsure if, or when I will ever get my MacBook Pro repaired or replaced, I am planning for a replacement, at least for the short term.
First on my list had to be the Mac mini, but it did not stay there for long. There is nothing wrong with it, but when I suggested in my review of this (4 August) that it might be useful for someone who wants to work at home and at the office with the same machine, I was not considering all of my needs. On a couple of days of some weeks, I work in my office, but most days I teach with my computer.
While most of the classrooms have overhead projectors, I need an additional monitor which must be carried along with a keyboard. I also take my Magic Trackpad. Twice a week currently I work in another building, which means going down five floors, crossing a car park and then up four or five floors carrying bags, monitor, keyboard and other materials. Or not. While I would always carry my MacBook Pro, sometimes in the last couple of weeks I left the Mac mini in my office.
I need a portable computer and I need it now. A friend bought a neat little Toshiba for 12,000 baht and I saw a lovely, red Acer notebook (10,000 baht) in a graduate class this week, while a Mac-owning colleague also runs a Sony VAIO because there are some applications he must have that the Mac will not run. The idea of him moving all his operations to his Mac are absurd. And so is the idea of me switching to a PC or to Linux.
I am not about to pick up another i7 Mac Book Pro, at least not yet, but have been looking at the lower end of the range for a second portable computer and wondered about the MacBook. Recently Apple added a "Compare" button to the online store and that has allowed me to look at the models I am interested in, in a side-by-side display.

With images of the models shown across the page, price is at the top. After all, many people will be shopping within a price range. This is followed by display, processor, graphics, memory, battery and hard drive. Where there are options for any of these, or the comparison sections that come next, these are shown in grey. For example, the MacBook comes with a standard 2G of RAM with an option of up to 4G, while the MacBook Pro has 4G with options up to 8G.
Further down the list of components, as well as video and audio, there are sections on connecting the Macs to the Internet (wifi, Ethernet) and to peripherals, such as USB. Also shown are Firewire and SD cards which the MacBook does not have. The specifications end with dimensions and weight, the last of which can be significant for some: the 13" MacBook Pro is almost 1Kg lighter than the 17" version, for example.
With the full sweep of specifications displayed, it is much easier for a prospective buyer to balance the various computers and the options that may be available. While I have found that the large TV screen I am currently bound to is less satisfying than a proper computer monitor, in this case the viewing area allowed me a good display of the entire range and most of the information (with space at the sides).
With the information to hand, I was able to make a decision more easily, although I had a fair idea what this probably would be before I started.
And that decision? Next week.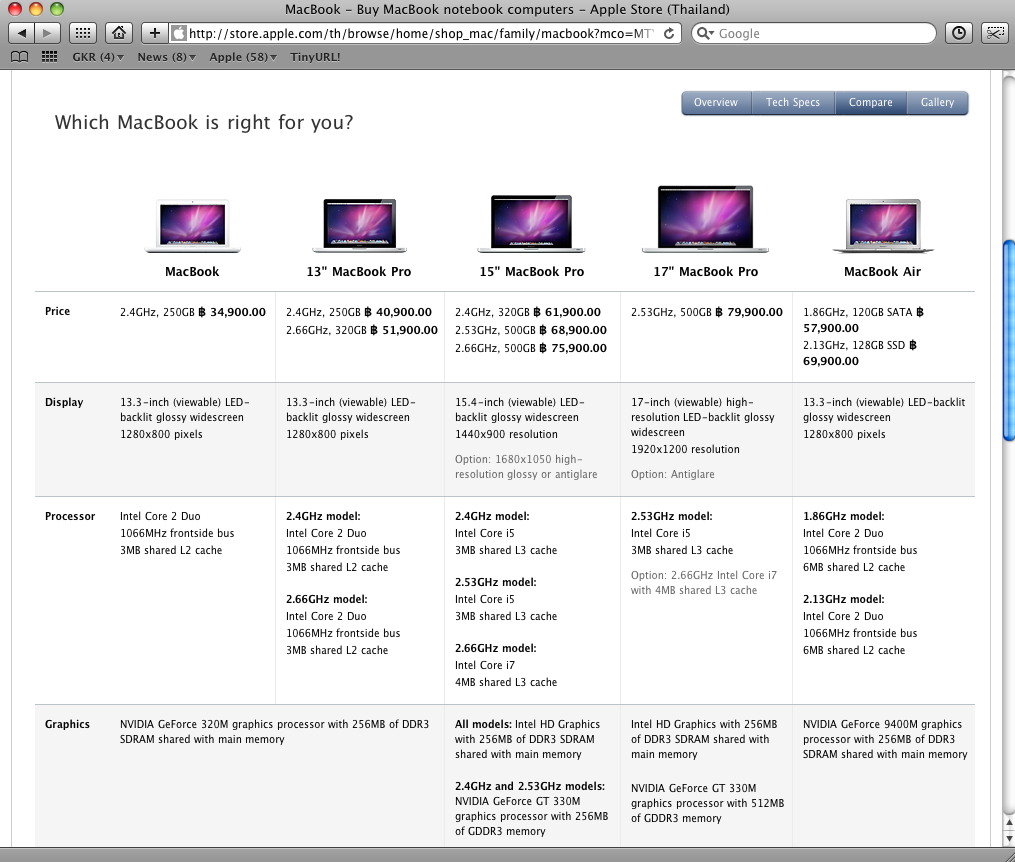 Screen shot of Apple's Choices Page: Online Store for Thailand

See also:
Back to my Original Mac

<! ----------------------------------------------------------------------->