<! ----------------------------------------------------------------------->
---

Screenshot of OS X Automation Main Page (with link)

I do not like writing negative comments about OS X: not that these do not need making, but because of reactions. I had more email when I moaned about the lateness of Snow Leopard than for most other subjects I have covered.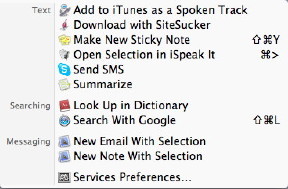 With Snow Leopard, there was a significant change in the way the menu called Services operates. In earlier versions of OS X, there was a sprawling menu of items, but some would only work with some applications and then only in certain ways. In Snow Leopard, the concept has been rewritten and become what Apple calls, "contextual". Now, only the services that work with, say, selected text, or an image, are made available.
Not that this was perfectly executed. One of the services I did use often under Leopard, was the text to speech facility which is not in the menu now. In some applications it is found in the Edit menu, while in 3rd party applications, it has gone completely, although text can be sent to iTunes if the right Service is turned on. However, it can be added with a little work.
My interest level was raised when I saw some videos from MacBreak which I take as podcasts, in which Sal Soghoian showed Alex Lindsay how services worked. The videos and several useful links are available via "Mac OS X Automation" which oddly tells us that the site is not hosted by Apple. I have drawn heavily on the videos and the site.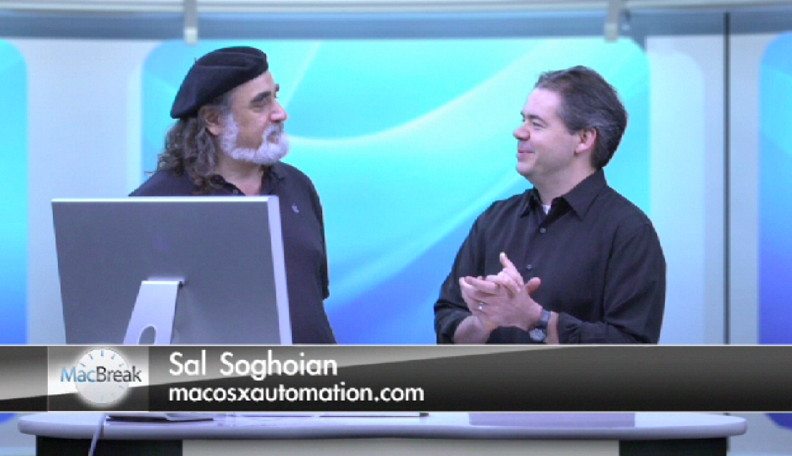 The purpose of Services is to help the user become more efficient, an idea we recently looked at when examining keystrokes. For years some Mac users have used Applescript which needs some enthusiasm and skill to work at, but allows users to add really fast ways to work within the OS. An application that uses Applescript, like TextWrangler, that I use to write this column, will display a scroll icon in the menubar. A simple one I can access is to make text bigger or smaller. Some are considerably more complex.
When Snow Leopard is first started, there is a default set of Services ready. These allow certain actions that depend on what is selected: contextuality. However, there are three ways to add to those services already available: System Preferences, Automator and downloads.

In the new Keyboard Preferences panel, the Keyboard Shortcuts lists those already installed and by checking the box alongside, these become available to users. While some do appear, I may be missing the right context for some, including a couple I created in Automator. Others online have also reported less than perfect execution.

Automator, like Applescript, is something I have looked at from time to time, but never got to grips with. This is an omission as, even more than AppleScript, it allows us to create a series of actions that add to efficiency or ease of workflow. Now, when Automator is started, there is a panel of seven templates and added to this is a Services template. When selected, in a box we can choose the type of service (images, phone numbers) with text as default. We can also make this for the whole system or specify an application.
The left panel shows an Actions library by default with several applications or functions. At the bottom are Utilities and "Other". Selecting one, shows actions available. These are dragged into the main panel to create a workflow.
In the Utilities folder, I found Speak text, dragged it into the main panel and saved. The ability for the system voice to speak highlighted words in any application, which I thought was lost, was added to the Services menu immediately.

A link on the Automation site accesses several services already created. I downloaded a selection of these and installed them. Initially they were not available. Despite restarts and other checks, they were not in my user account or in other user accounts on my computer, but they were available in the Admin account.
There was a Services folder in the main computer Library folder and one in my Home Library folder where I found three Services I had written in Automator. The Administrator's Services folder was locked, despite installing the files for "All Users". Unlocking it was not enough to make these downloaded services work in my user account, so I copied the entire bunch and pasted them into the services folder in my account. That worked.
Some of the initially installed services do not seem to work as they should and appear when not contextually appropriate, while some others which might have been useful are not available, although this may be something I have forgotten.
On my iMac later, I saw that there was no services folder in the user account, so I unlocked the main services folder and copied it completely into the user account. That worked too, but this smacks of a less than perfect installation process.
[As a late note, I have put the Speak Text service item and another (URL from Text) on my website for anyone to download.]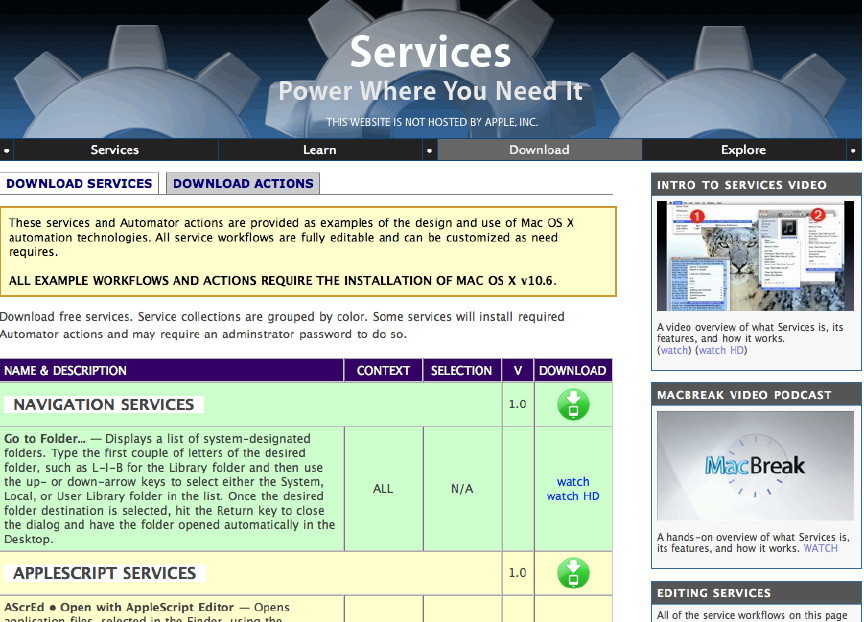 Screenshot of OS X Automation Downloads page (with link)
Back to: Snow Leopard: Installation and Some Early Impressions
Up to Speed with Snow Leopard <! ----------------------------------------------------------------------->