<! ----------------------------------------------------------------------->
---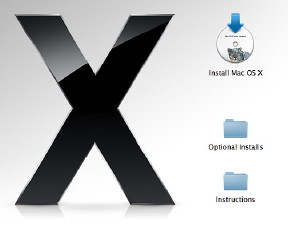 Snow Leopard finally arrived at my office as I was heading off to teach Computer Engineers about OS X. This year, four of the students have Macs with another about to buy. Near the end of the class, I opened the box and decided to install it to give the students an idea of what it would look like. With the new method of installing which copies files to the computer, then installs with only a blue progress bar, this was as interesting as watching ice melt.
When upgrading my iMac a few days later I used the Configure button, before pressing Install, to remove the extra language packages. I made sure additional fonts were included and Rosetta: some older applications need this. I had missed this at work and needed to install it later. Only recognised printers had their drivers installed.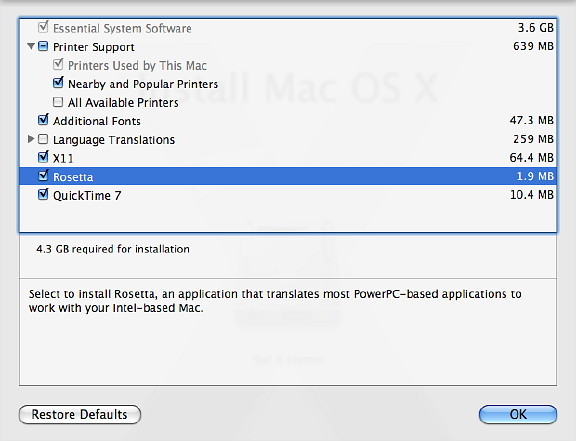 One of the touted features was the smaller footprint and I was interested in this as my hard disk is getting full. Before the upgrade I had about 15G spare: afterwards 27.57G. Apple however, now measures Kilobytes at 1,000 instead of 1,024, so I recalculated. I had gained almost 12G. I can delay that new purchase for a couple of months.
On the iMac I also had an extra 12G, measured the old way. This is partly due to the smaller (4.3G) installation, but also because much code that is no longer needed has been stripped out. While Snow Leopard is billed as an upgrade, a lot of what goes on has been completely rewritten.

Passwords were a frequent problem after my installations of Snow Leopard as the way the Keychain Access stores passwords has changed. I repaired the Keychain, restarted and things returned to normal. On the iMac I did this immediately as a precaution.
While the network at my office is occasionally a problem, usually I am able to connect sooner or later. After a couple of restarts and checking the wifi router passwords, I was able to connect to both of the LAN networks, but everything failed when it came to the Internet (WAN). In the end, I made new Locations, typing in the same details as before. I was then able to connect.
At home, the MacBook Pro connected once the passwords had been fixed, but the iMac would not. I found that the DNS settings were for a router I had replaced months ago, so deleted them. Snow Leopard automatically put in correct DNS numbers and I was online as soon as I clicked, Apply.
Apart from these minor problems, there are only a few visible changes to the new operating system. Immediately noticeable, for day to day use is the way the Dock displays information. Before, when clicking on a Dock icon, a menu was revealed.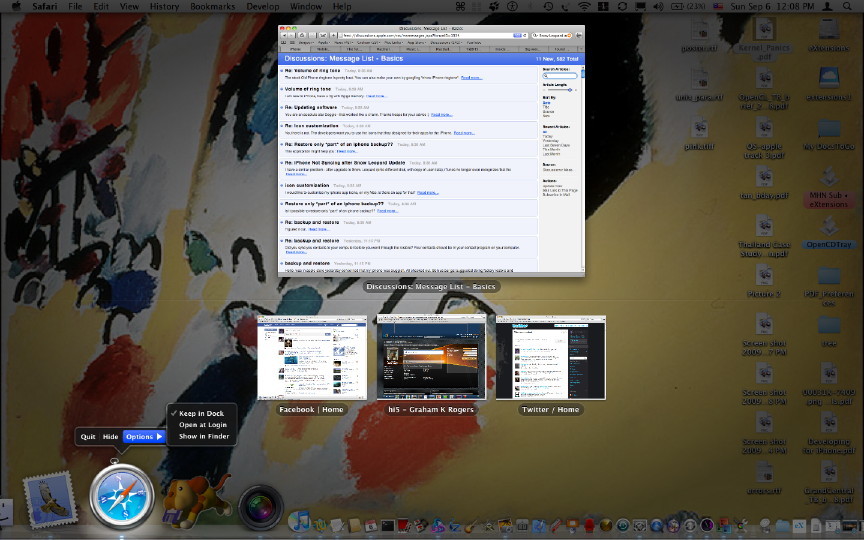 Now, whatever is open on the desktop, clicking on an icon shows all windows that the application has active, including those in the dock which are shown smaller. The icon also has a black menu, not unlike some iPhone menus for Quit, Hide and Options.
Screen shots, which I use often, particularly for Database articles and web pages, are still in PNG format but instead of a series like Picture 1, Picture 2, the name includes date and time.

Services, was a useful but confusing list of menu items that was hard to control. It included some items that would not work depending on the application. Now only those services that apply to the specific panel that is open, (say a site in Safari or a Text Edit page) are shown. Examples are Look up in Dictionary or send to Mail. The services available will change if text is highlighted.

Services items can be added, like sending a test selection to iTunes or to iSpeakIt. It used to be possible to highlight text and have the System voice read it out from Services: that useful attribute is now in the Edit menu. Sound preferences has hot keys that do this as well.
It was always possible to switch keyboard languages. In that control we could also display a small viewer that matched the language and the keyboard used. That may now be made full screen width which is useful for those with poor sight. My friends all said, "touch screen", which Leander Kahney may have been the first to put in print.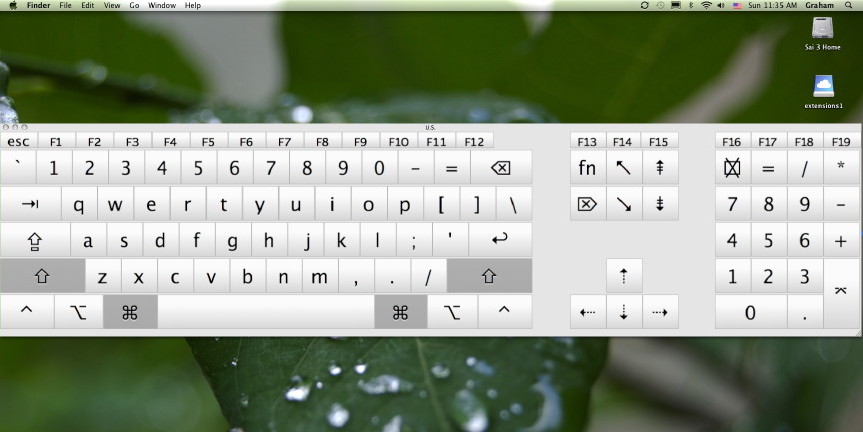 I also spent time looking at the new QuickTime which is borderless in use. Controls appear when the mouse is over the panel. It can be used to record video using the iSight camera, sound clips, and screen recordings. A small triangle icon reveals settings such as voice input. Clip editing is effected via a panel identical to that on the iPhone 3Gs. My installation of QuickTime Pro was retained.
Apple is rumoured to be working on a 10.6.1 update. I would have been surprised if they were not. [This was released on Thursday 10 September 2009]

See also:

<! ----------------------------------------------------------------------->