<! ----------------------------------------------------------------------->
---
With panoramas, there is much that ordinary users can do, but the best results come from professional level hardware and software. In early November, I met with Danai Chutinaton of BluePano in a Sukhumvit coffee shop. I can only aspire to the excellent online examples of his work.

When I arrived, he was easy to spot as he was working on his 17" MacBook Pro, calibrating the screen, with Eye-One which he distributes here. He has an enthusiastic approach to everything and our conversation ranged widely. I had also been impressed with the promptness that he had answered all emails and with his command of English.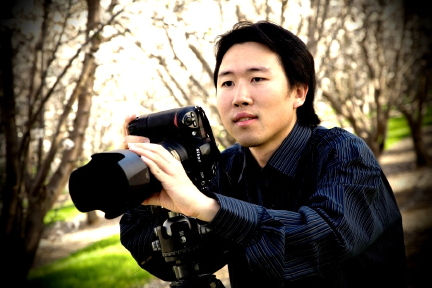 He was educated in Bangkok and California. He spent about 11 years abroad, working in television after he graduated. This involvement in media included photography. When he returned to Thailand, he saw a niche and began to work with panoramas and other forms of computer-related media, describing himself as a photographer who uses a computer, rather than a nerd who takes pictures. Now aged 31, his interests also include snowboarding, which he has not been able to do of late, and road cycling: he showed me several high-quality images of his bike. Those who can read Thai may also find information about Danai in Mars Magazine for September 2009.
With his brother, who handles the business side of things, he set up BluePano, and as well as media work, they now distribute monitor calibration hardware, which is essential for quality work, other colour-management solutions including Epson Pro-Graphics and the Hahnemühle range of fine art paper.
Although he began with the Nikon D70, which is my workhorse, he now uses the 12 megapixel Nikon D700 camera, with a range of lenses, for most work. Also like me, although he has computers back at the office, his 17" Mac is his working machine, so he was able to demonstrate the software he uses.
While I use Open Source or shareware solutions, he has Photoshop installed, and prefers Lightroom to Aperture, although he also runs Capture 1 Pro, explaining that it is more efficient than Aperture or Lightroom for those who shoot a lot and use few. For Panorama work he has three preferred choices: Stitcher, Autopano and PTGui.

Stitcher is now in the Autodesk stable. I reviewed the $59 Realviz StitcherEZ in April 2003, but this is sadly no longer available. The price of $350 reflects the serious nature of Stitcher. The website informs us that the company is working on an Education version. The output that it can produce is superb and a number of examples may be seen on the Autodesk site.
I had been trying this out, and Danai agreed that there was a fair learning curve. This is not an easy program to use. However, it is perhaps one of the best programs for 360-degree stitching, with output in QuickTime .MOV format. A full review may be seen at the Photography Blog.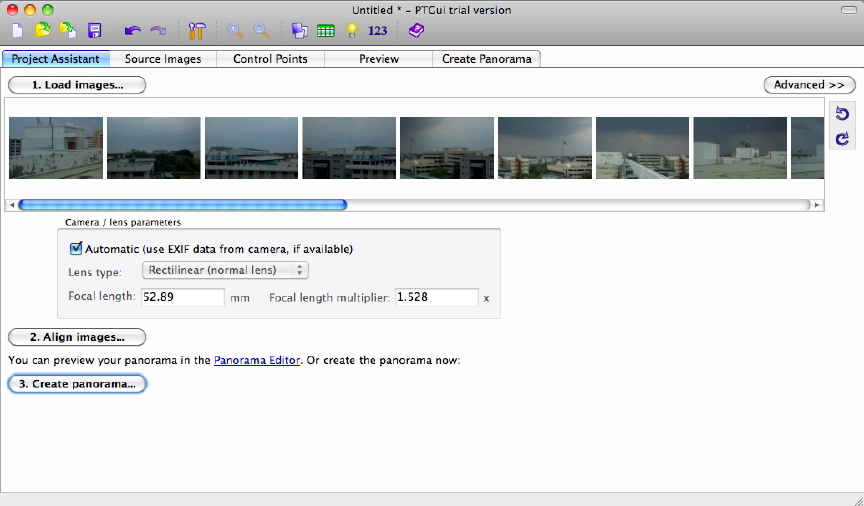 PTGui - Working Panel 1

PTGui uses a similar engine to Hugin that I looked at last time, but it has been developed far more. Unlike Hugin, it produces 360 degree images in either QuickTime or Flash formats. There are versions of PTGui that run on OS X and Windows and a trial download (9.8MB). The cost, shown in baht on the site, is 4037 baht for a single user.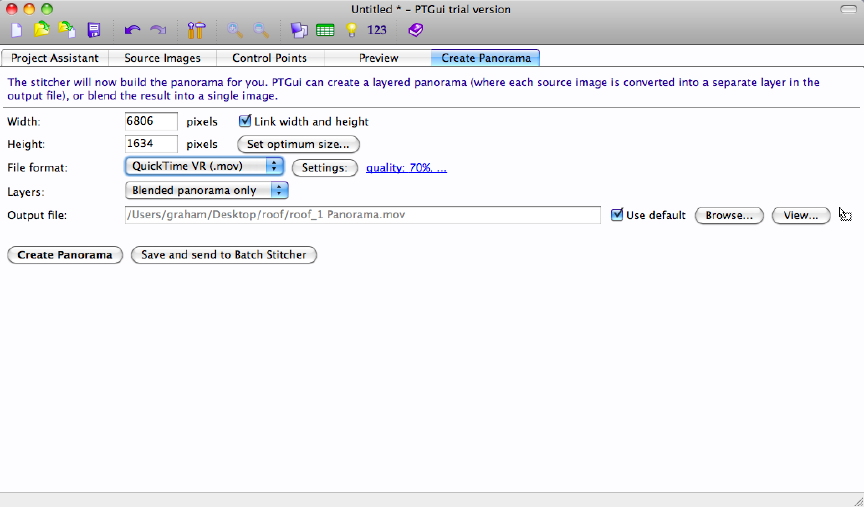 PTGui - Working Panel 2

To show me Autopano, Danai grabbed my camera and took a few shots, producing better images than I could. They were quickly assembled into a clear wide shot by the software. He showed me how to reduce the ghosting that had been a feature of some of my attempts. Autopano comes in two versions, Autopano Pro and Autopano Giga, and it is the latter that will assemble 360 degree images. Prices are €99 (4834 baht) for the Pro and €199 for the Giga version. There are versions for Mac, PC and Linux.

I asked him why he used three programs for making panoramas. He told me that each of them is good in different ways. In other words, he uses the right tool for the specific job. He said, "We cannot use one application to get it right all the time."
I noted on the Autopano website that the software supported robot mounts, which are useful for making panorama images. Having experienced the time-wasting effort of a tripod, and manually taking photographs, I expected that Danai might use the Gigapan Epic solution, but he told me that his was developed from a telescope mount. The results are clear to see on his website: both the Flash view and the flat panoramas, one of which uses over 600 images.
Danai told me that he intends to stay in the field for a while yet. While he still does some video work, he prefers photography and enjoys the melding of creativity and technology.
Back to: Panorama Imaging (2) - Open Source and Shareware on the Mac
See Also: Panorama Imaging (1) - The Great and the Small
Panorama Imaging - (1), (2) and (3) combined
Panorama Imaging - (1), (2) and (3) - print version

<! ----------------------------------------------------------------------->