<! ----------------------------------------------------------------------->
---
A panorama is a wide photograph, perhaps of a landscape or group of people. Such images need either a special camera, such as we see at a graduation, other equipment, or software for the purpose to join several images and make a large picture: a process called "stitching". Or we can cheat.

Let me deal with the cheating first as this is what I have done several times, although it needs a camera that produces good quality images to start with. My SLR Nikon does the job.
Making a panorama works best with a wider lens, a tripod for consistency and a good view of the subject. With this article in Database you may see a wide shot of the Golden Gate Bridge. If not, it is on my website.


I took this from a moving car, a couple of kilometres from the Bridge: one of four taken in quick succession. It had the parapet at the side of the road and a lot of blue sky in its original 2932 x 1936 form, but I tidied it up and trimmed it to 2865 x 532 leaving me an end to end view of this landmark. It can be exported as a TIFF image some 40" wide. It will not take much more enlargement, although it works fairly well as a web image.

One of the most stunning panoramas produced recently was David Bergman's Gigapan image of the Inauguration of President Obama. This was a combination of hardware and software, using the Gigapan Epic: a device that controls a camera which takes several accurately positioned images (in Mr. Bergman's case 220) then uses a program to stitch those images into one. The result, that can be seen online can be clicked multiple times, allowing us to enlarge the 1474 Megapixel image several factors so that we can see the individual faces.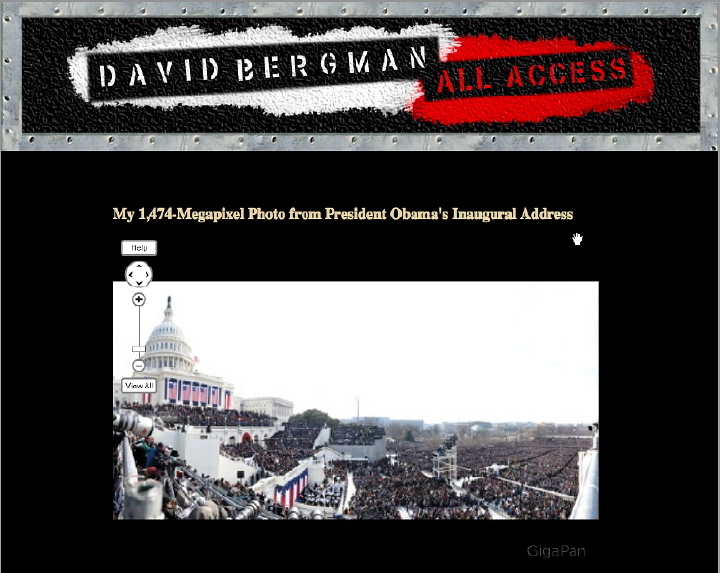 Screenshot of Bergman's Inuaguration Image - click to access the image itself

Gigapan make two devices at present: the Epic, that was used by David Bergman; and the Epic 100. These are priced at $299 and $499 respectively and they will ship to Thailand. The Epic and Epic 100 work with a large range of cameras. Although mine is not listed, the Nikon D40, D80 and D90 are, while there are a number of Canon cameras listed including the EOS 350D. Many smaller cameras including those from Sony, Fuji and Panasonic will also work.
The Stitcher software that comes with the device that works with Mac or PC is not available separately as far as I am able to tell.

While looking for information on panoramas, I came across a Bangkok company, BluePano, who do some really high quality work for media and advertising. Like the Gigapan output, they use a robotic camera mount. Danai Chutinaton tells me that their solution is based on a telescope mount that supports the weight of a dSLR. I hope to have more on this company and Khun Danai in the future.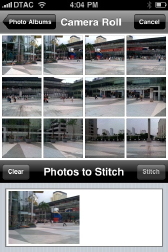 I will be looking at some applications that work on the Mac next time, but I have also found a couple of apps for the iPhone that will create panoramas. I selected the reasonably priced AutoStitch which was $1.99 (68 baht) and tried this on both the 3G and 3Gs iPhones.

With the 3G iPhone I took a number of shots at home and the resultant image showed a lot of ghosting from movement of leaves. I tried a couple more at Siam Paragon and, with the large numbers of people there, there was again this ghosting in sections of the image. Where there were no people, the images were clear and sharp.

Once images are taken, they are selected in the stitcher app and added to a working panel at the bottom of the screen. The simplicity of the app means that a single button is all that is needed to start the process. In both cases with the iPhone 3G, the stitching took around a minute.

Any stitching (even using a tripod) ends up with some areas of the image that need cropping. Pressing the Crop button automatically offers an optimum image which can be accepted and this produces a good result.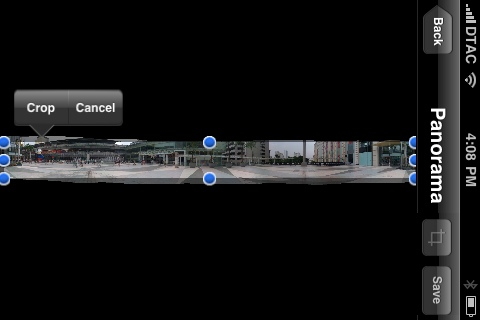 A 360 degree image took 15 landscape photos and was 3992 x 344 pixels. A 180 degree image using 12 photos in portrait mode gave me a 2647 x 550 picture. These were exported as TIFF images at 4.3 and 4.7MB respectively and I had panoramas of 55" and 36" with reasonable sharpness. I was also happy with some images I had of a stadium -- not planned as a panorama -- with AutoStitcher.
The camera in the iPhone 3Gs takes larger photographs, but I found the resultant panorama size was almost the same: a 12-photo stitch produced an image of 3956 x 472 pixels. The real advantage here, however, was the improved speed of the activity which took about half the time of the 3G iPhone.

See also: Panorama Imaging (2) - Open Source and Shareware on the Mac

<! ----------------------------------------------------------------------->