Cassandra - Rethinking Photo Workflows (Amended)
By Graham K. Rogers
---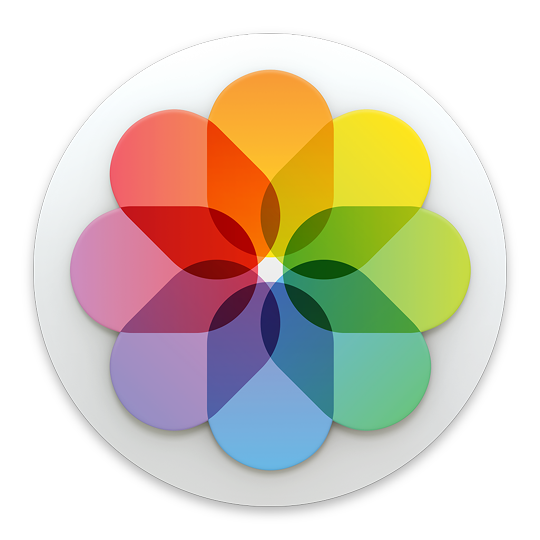 When Apple stopped developing Aperture, some switched to Lightroom, but others continued as Aperture still does a good job. However it does not handle the RAW files from some new cameras. There are alternatives, but for all its weaknesses, perhaps Photos is a reasonable compromise for users with access to a selection of editing tools and its ability to organise and synchronise images across devices.
Earlier this week, I had a look at software that might have fulfilled my twin needs for decent photo-organising application with respectable editing capabilities. I had been using Apple's Aperture since it was first available, although I had earlier flirted with Adobe Lightroom. At the time Aperture was the clear winner for me. If I had been a Photoshop user this might have been different.
When Apple announced that they were to cease development of Aperture I was disappointed like many others: after several years I had to find other software and adjust to that; and users of Aperture had too much invested for Apple just to end this. I still see this as a mistake, although there has been some mitigation since.
Not long after Apple announced this change, I hunted around and examined several applications with the clear winner (then) being Phase One. Their cameras are wonderfully expensive and so too now is the application at $299. If I were a professional photographer, this would be feasible, but not in my current state.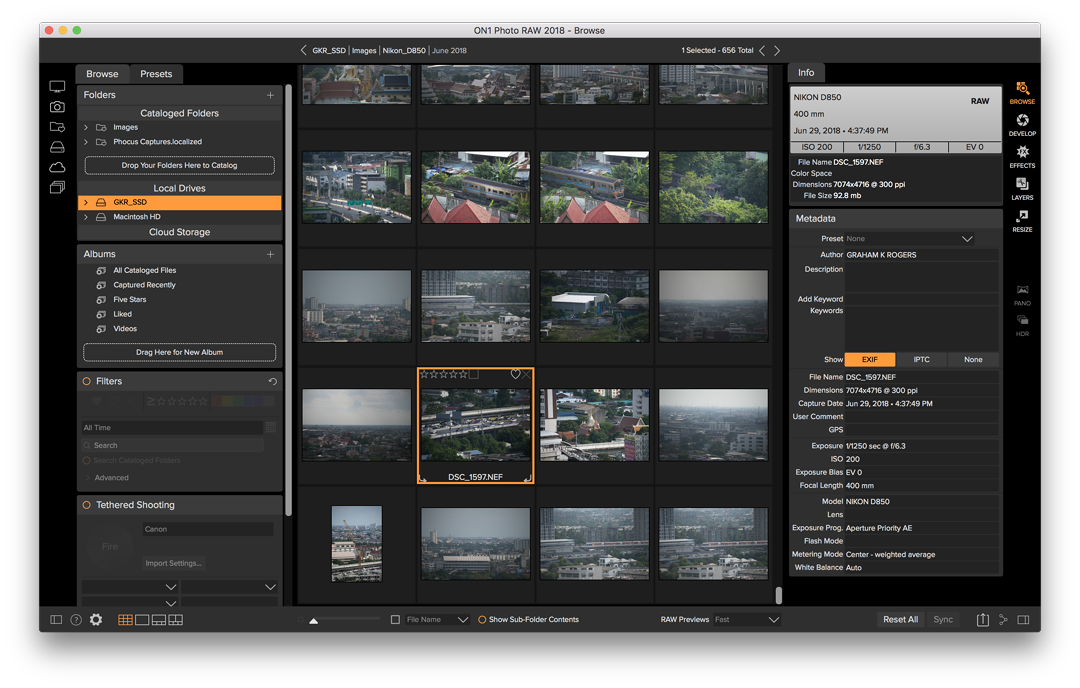 ON1 RAW Photo

I was disappointed with a brief look at ON1 RAW Photo I had earlier this week although a couple of things made it a standout application. The interface is a little busy and, like Hasselblad Phocus (which I have installed) would need a little getting used to. A real plus point was that ON1 RAW can be used as an extension for Apple Photos, although if that was all I used it for that would be an expensive plug-in, particularly when several applications I have with extensions already provide the same tools. I was more interested in its use as an organiser (and editor) of images I store on external media.
Currently I import all RAW images from my Nikon D850 to Photos. Aperture cannot handle the output from this camera. I also import all scans from film negatives. I keep some of the RAW and scanned TIFF images in Photos, but store 100% of the original files on SSD.
ON1 catalogued the RAW images quickly, but not the scanned TIFF files. A single TIFF image created from a Hasselblad RAW file was shown. Aperture could not handle the RAW Hasselblad files when I took these a couple of years ago. When i used the Finder window to import one of the TIFF images, all were greyed out. suspect that the specific format from the scans is incompatible, but this is what I work with. When I commented on this in a reply to a Twitter message, ON1 contacted me right away and confirmed my suspicion: "You'll want to make sure your images are in an RGB color space." Although I had deleted ON1, I downloaded it again while waiting for a reply from ON1 tech support.
Aperture

The attraction of Aperture for me was the one-stop workflow: import, organisation (and culling), editing, and export, were all done with little fuss. The application provided me with a lot of additional tools that assisted with image organisation and display, all integrating with the Apple file system. This was later enhanced with the addition of iCloud photos and integration with iOS devices. I have found nothing to match the entire attribute set.
Over the years I created several libraries. The current library is on the hard disk of my MacBook Pro, while others are stored on a separate external disk (with backups). It is a simple task to switch between libraries, so older images are accessible. I haven't quite got the hang of this with Photos just yet, partly because of the tighter integration with iCloud Photos.

When Apple Photos first appeared, it was rather a diluted application, but with the access to extensions, and its own improved editing tools, it has improved immensely. I wrote about this evolution in January this year. Since then I have experimented more on organisation with Albums and Folders which helps me control the image collections.
All images are imported into the Photos Library which is organised by Date. Location is also added to the panel if available. Apple also has its own organisers: Memories, Favorites, Locations and Faces. As far as I can see these cannot be turned off and dominate the top of the organising panel. Items at the top also include Imports and Recently Deleted.
In Albums (below Library) I have two main sections: Media Types, which includes 11 specific image outputs (Bursts, Panoramas, Videos, et al); and My Albums, which contains several folders. These contain images from the camera output and from specific apps (macOS and iOS) that integrate with Photos. There were so many that the use of folders to bring these under control was critical to my effective use of Photos. Also important is that this file structure is carried over to my other Macs and to iOS devices, although the vertical structure of the Albums and folders is adapted to the different interface of the iPhone and iPad.

When importing images, a user is prompted to selected the location for the images. An album already created may be used; or the user may create a new one for the import. The default is the Photos Library which I tend to favour, reassigning the images later after culling and initial editing. With the use of iCloud, the images are shared and the speed at which this happens depends on the size of image and network speed. Images deleted from the Library are retained in Deleted Images for up to 30 days, although this folder (or specific images) may be cleared at any time.
Before I delete any images from the Photos Library, I export them from Photos to the external SSD. Again this is a workflow adjustment as I am unable to find a reader for the XQD card in Bangkok, and transferring the images within the camera from XQD to SD card changes the date and time: from the time of creation to the time of transfer. Original image metdata on the XQD card is unchanged.
While the Mac will synchronise when not connected to a power source, this is preferable. I have found that it may also be better for the iOS device to be connected to power for most efficient synchronisation. My experience is that the Library will be synchronised first, and only when this is complete will Albums be updated.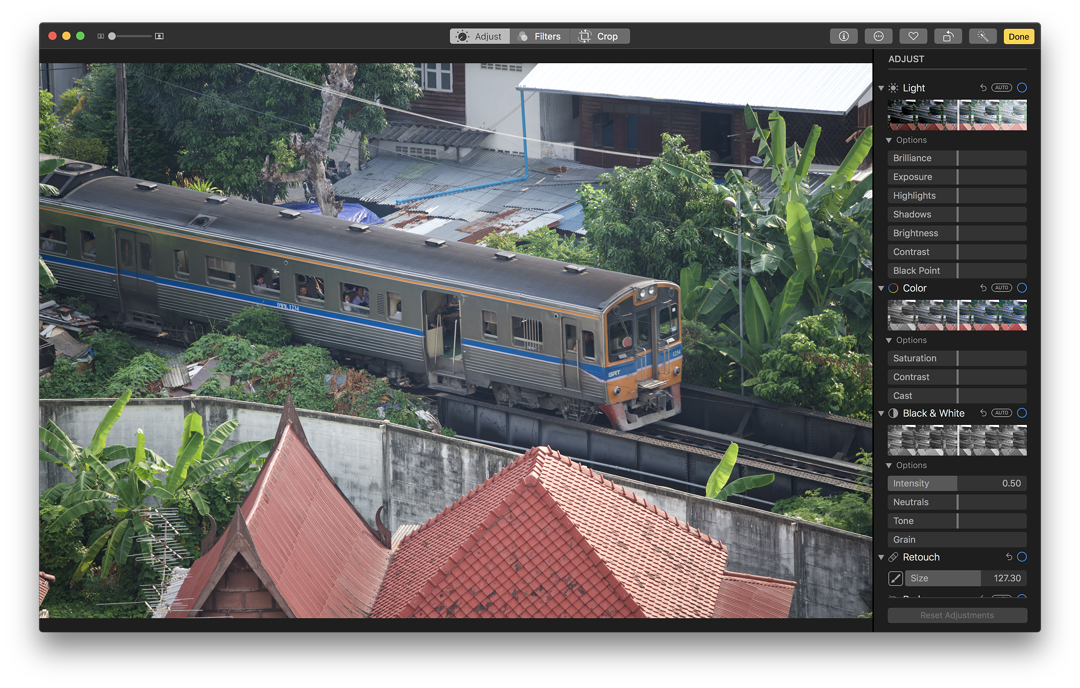 Editing in Apple Photos

When I searched for "alternatives to Aperture and Lightroom" a number of results appeared, including a forum discussion in Digital Photography Review where a user had a similar problem to me: a new camera does not work in Aperture, but Lightroom is not wanted as an alternative. In this case Aperture would not work with the RAW files of a new Canon M5 camera. As with any forum, there are several false leads, but one user suggested the problem was due to "different versions of RAW processing installed in macOS".
One thing I did notice in the thread was the number of users - some with sophisticated camera gear - who advocated use of Photos. This justified my view that this is an alternative to other applications, although it has several shortcomings in terms of image information and editing tools. Its use also needs the user to adjust the workflow, but that should be a relatively easy hurdle to overcome.
Metadata in Photos (left) and iOS using Photo Investigator app

There are a number of weaknesses in Photos, such as:
A serious bone of contention is the poor display of metadata in Photos. I have an app on the iPhone (Photo Investigator) that can be used within iOS Photos that provides more metadata than I can see on Photos on the Mac.

While Aperture has a Lift and Stamp feature that allows selective use of adjustments from one image applied to another, Photos has an all or nothing, Copy Adjustments item that is accessed from the editing panel.

Brushes? Only Retouch and Red-eye.
Recent improvements to the editing panel include Selective Color which allows some fairly sophisticated adjustments to be made; but the best editing tools are accessed using extensions, and these depend on specific applications that the user has installed. I have 26 listed in the Photos Editing pane of the Extensions preferences panel, although some of these are no longer accessible and I have unchecked them, while others are duplicates or have been superseded. I have 12 I regularly make use of, giving me a range of filtering options up to full image editing, all from within Photos.
Although I am resigned to Photos for now, particularly as I rely on the folder structuring and synchronisation, it needs considerable reinforcement. Or Apple could reinvent Aperture.
See also:
Rethinking Photo Workflows (3): Photos on iOS
Rethinking Photo Workflows (2): DSLR with iOS - Some Practical Considerations
Rethinking Photo Workflows (4)>: RAW Images on iOS Devices



Graham K. Rogers teaches at the Faculty of Engineering, Mahidol University in Thailand. He wrote in the Bangkok Post, Database supplement on IT subjects. For the last seven years of Database he wrote a column on Apple and Macs. After 3 years writing a column in the Life supplement, he is now no longer associated with the Bangkok Post. He can be followed on Twitter (@extensions_th)