eXtensions: The Wednesday File (27) - Fractured Integration in iOS 11 and More

By Graham K. Rogers
---

As I walked into the Bangkok Skytrain (BTS) a few days ago on my way to lunch, the music from the AirPods stopped. This is not wholly unusual with the vagaries of connections here, but when I sat down in the train, I saw that the iPhone was reporting that the SIM was inactive. I had updated the iPhone to the latest version of iOS (11.0.3) a few hours before and wondered if this was related.
This was not the first time this had happened since updating to iOS 11. Instead of waiting for a reappearance of the SIM connection, I restarted the iPhone. All returned and I continued with the Alternative Radio selection on Apple Music.
This oddity is one of a number recently that I just cannot put my finger on for a true cause. Is it location, my specific settings, something about my connections, or is iOS still in need of some improvements (over and above those I would usually expect)?

Earlier in the week, I had had another experience with unusual behaviour on the iPhone. On Monday afternoon, when I tried to reply to a Twitter message, the keyboard did not pop up. I tried a series of apps (3rd party and Apple), but in none of them was I able to access the typing facility, although other access (camera, photos, emojis) were all available.
I restarted the phone and the keyboard came back, but a while later it was gone again. I restarted the iPhone three times that afternoon and I filed this as a bug report on Apple's Feedback page. Once I had left the office, the problem disappeared.
Until Tuesday. . . The behaviour the following day was the same and I looked carefully at how conditions matched those of Monday, and how they differed. Instead of my usual MacBook Pro, I brought a MacBook with me that I had just updated to High Sierra, as I wanted to write about System Preferences > Accessibility. I put all three parts out on Wednesday.
I also linked the Mac to the Internet using the Personal Hotspot. This is quite usual for me as the Internet in my office is not reliable and I can do more work this way. The iPhone was running 11.0.2 then. During the afternoon (Tuesday) I noticed that 4G disappeared totally a couple of times. Another variable entered this odd equation. At other times, the iPhone looks for a suitable wifi connection and although I eschew the University's system, it does make a connection, but I am unsure what data is sent or received (if any) as I do not join the network by entering the password.
Both days, then, the keyboard function was unavailable sometimes, but came back once I had left work, when the MacBook was in sleep mode and in my bag. Although i used it at home, along with my MacBook Pro, computers and iPhone all connected to my home wifi.
On Wednesday I did not use the MacBook at work - I needed to use the MacBook Pro for teaching - and also did not use the Personal Hotspot. Out and about now, using public networks and 4G (the SIM behaving now), the keyboard on the iPhone has appeared when needed.

Another problem, connected to my use of the AirPods and iOS has been occurring since WatchOS was updated, just after the release of iOS 11. I am not alone in experiencing odd behaviour following this update. Again, I cannot say which of the updates is responsible for the odd behaviour, but some is certainly down to the Watch. I did have some success in tracking down one unappreciated change.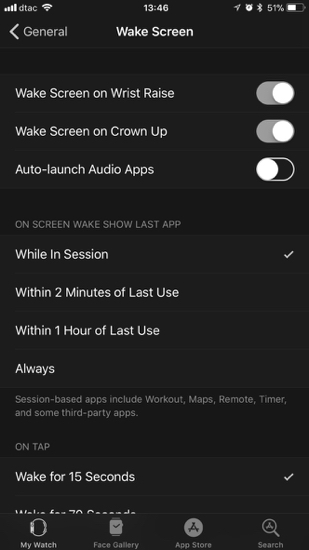 I often use items in the Apple Watch Dock and had been frustrated by the design change, from horizontal to vertical scrolling. I find this less easy to use and do not appreciate the change. The Dock items I use most are Breathe, Heart-rate, and Now Playing (which was Music). When I raise my wrist, I expect to see the time, but while I am listening to music with the AirPods, I now invariably see Now Playing and have to press the Crown for the time display.
With any update, some actions are turned off, and new options are introduced, becoming active. it seems that some settings in the Watch app on the iPhone were changed and finding these - in this case, selecting Favorites instead of Recents - seems to have fixed that, although Activity which I select specifically as not in the Dock persists in claiming first place. I fixed that, too, by putting Activity into the Dock but in last place. I also changed the settings for Auto-Launch Audio apps. We will see how that all works out.
A reader who bought a Watch after what I had written had it replaced a couple of weeks ago after the screen delaminated, but not till he had a fight with the local iCare outlet. He had to contact Apple who did authorise an examination, but even then, they were reluctant to make a decision and sent it down to Bangkok. He has also found some oddities with Apple Watch behaviour and alerts. He writes:
Breathe Alerts: I had my watch set up to give these four times a day. That worked fine on OS 3, but they have pretty much stopped now. I get one every other day or so. I bumped up the frequency to ten per day, but I still get just the one, maybe.
Stand Alerts: I used to get these at 50 minutes after the hour whenever I'd been doing nothing active that hour. I think I've only received one or two since upgrading to OS 4.
Exercise Progress: I used to get a notice when I completed each kilometer when walking and each 5K when cycling. Those are gone now. I don't know if that's deliberate on Apple's part or a bug.
Mind you, the Watch added another saved soul recently when, Chance Miller reports (AppleInsider) that it helped detect a lung blood clot that might have been fatal. This is not the first time that unusual rates have warned the user that all was not well, so saving their lives.
The app in this case was HeartWatch. It is priced at 99 baht here and I added it to my collection. I already have Cardiogram which came to my notice a few months ago with the accuracy of its Watch monitoring; well, here we are again.

It is not all disaster on iOS as some parts are working rather well: too well for some folks. I saw a Twitter cry for help on Monday asking how to turn off the Live Photos feature, which you either like or hate (in most cases). I made a couple of suggestions, starting with the option hidden away in the Settings: in the obscure Preserve Settings section in Camera (below General). There we are told that turning the feature off will preserve the Live Photo setting rather than automatically turn it on. Only it doesn't: if you accidentally touch the icon, it turns on again. OK, you can see that it turns yellow, but in the middle of taking a photo, this may not be obvious.
Other suggestions include use of the Portrait mode (where available) and Square, which I favour for most photos. Choosing an app, for example 645 Pro or DSLR Camera also avoids the use of Live Photos.
However, once a Live Photo exists there are a couple more things that can be done with the updated iOS 11. As always, when editing this can be turned off (now an option), but even better is that it is recorded as a clip that can be examined and the Key photo changed. I made use of this on Monday, just before the Twitter message appeared as I took a photo of someone selling Thai food, but as I pressed the shutter, a server moved a plate of rice into the frame. Scrolling back, I could make the plate vanish and the shot was rescued.

The clip also gives another choice in that the photo can be duplicated so two photos can be extracted from the same shot, for example a train leaving a station. It seems like a PITA sometimes, but there is more to Live Photos than just a GIF-flavoured still image.

In my hunt for updated settings, I had also noticed that WiFi Calling had been turned off following the updates (we are now on 11.0.3). That was easy enough to turn back on, but I was not alone and Jeff Gamet (MacObserver) commented on this, with details of how to reactivate this. I am still wondering what else I am going to find. Some people found that GarageBand was not working (Tory Foulk, iMore) and an update was expected for this. The problem only affects some users (not me) so it is not clear at this stage what the problem is.

On Monday night we were all frightened by another security discovery about Wifi WPA2 security. There has been a long term problem and almost all routers are affected. By Tuesday morning, the cavalry was on its way and Tom Warren (The Verge) reported that Microsoft already has a fix, while other sources wrote about Apple's intention to roll out a suitable fix with the next iOS and macOS updates: sooner rather than later, we hope. Warren writes,
. . . a new Wi-Fi exploit affecting all modern Wi-Fi networks using WPA or WPA 2 encryption. The security vulnerabilities allow attackers to read Wi-Fi traffic between devices and wireless access points, and in some cases even modify it to inject malware into websites.
He adds that this also affects macOS, Windows, iOS, Android, and Linux devices. When I went out for lunch on Tuesday, I stuck to 4G connections rather than run the risk of joining a public network, although either the damage is done already, or I am boring and of no interest to anyone (there is something to be said for anonymity).

A local note on security concerns the use of privately owned drones which, in most cases, need to be registered with the National Broadcasting and Telecommunications Commission (NBTC). Richard Barrow who has a number of blogs, mainly focused on travel in the country, is a drone user with some excellent output.
As he is registering his drone, he has written up the requirements - How to register your drone in Thailand - with links to a number of sources, including the form (in Thai) that must be completed. There is also some advice and interpretation of some of the requirements. It is not a short read, but the information is certainly of considerable use to anyone who wants to use a drone here.

The format of my web pages has been updated slightly. I began to notice that the title was not showing on Apple News (I can see that if I make certain changes to iOS settings), although the site name was shown. I tried to figure out what might cause this and it dawned on me that the heading was black, and the text was white: unless you have a dark background white text is invisible, something I tell my students about when they are preparing presentations. So I had a look and made some changes: it all looks a bit neater now methinks.
Having started a look at Accessibility Preferences last Wednesday, I was in the mood so continued with the first 4 or 5, but this time I am not going to include CDs & DVDs. This has been unchanged for the last few years and few Macs have such drives now. I will have to delay Displays until I can find some monitors at work and play with them.
Those I have written about so far are listed here:
Graham K. Rogers teaches at the Faculty of Engineering, Mahidol University in Thailand. He wrote in the Bangkok Post, Database supplement on IT subjects. For the last seven years of Database he wrote a column on Apple and Macs. After 3 years writing a column in the Life supplement, he is now no longer associated with the Bangkok Post. He can be followed on Twitter (@extensions_th)