eXtensions - The Wednesday File (80): Apple Announcements, Products and Implications; Cameras and Phones - Red, Yashica, Nikon and iPhone (Amended)
By Graham K. Rogers
---
Announcements from Apple last week gave us new products; and new record figures, so the share price fell. Comments on these events; plus camera problems and insights. The first real Apple Store in Thailand opens this weekend.

Last week saw two important events from Apple: new products announced in New York; and the Q4 2018 financial report. Both of these upset a number of people as is only to be expected when it comes to Apple announcements, although several were well-satisfied. This weekend (10 November) sees the opening of the first real Apple Store in Thailand at IconSiam on the banks of the river. I am unlikely to be there.
As is widely reported elsewhere, the products were an updated MacBook Air, a long-overdue Mac mini update and two new iPad Pro models, with an improved Apple Pencil. The MacBook Air was first announced in 2008 and that was the last time I saw Steve Jobs. He famously brought the computer out of a manila envelope as testament to its size, although some people miss the relevance of that.
With the most recent update to the MacBook Air, which had 2 USB-C Thunderbolt 3 ports, some are now questioning the need for a MacBook, particularly in the light of the iPad range. Apple is never worried about cannibalizing: losing sales on one line to make sales on another. Each product may have its own particular niche group.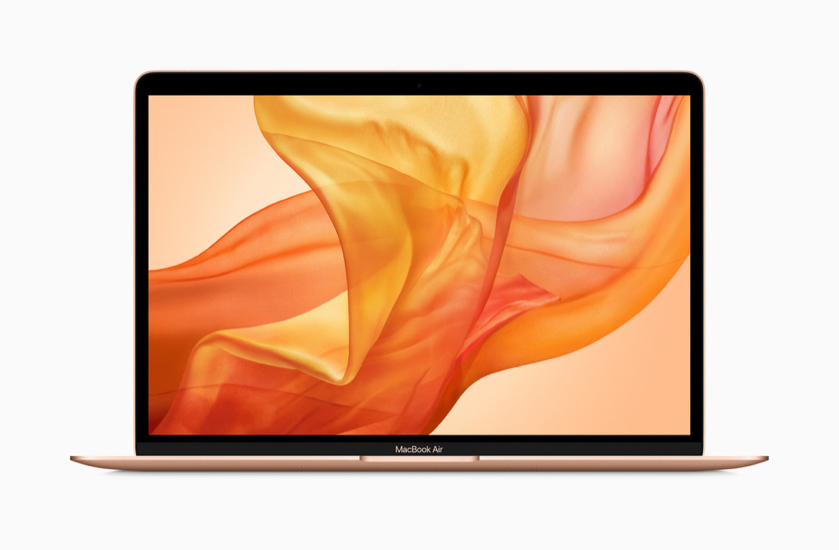 MacBook Air - Image courtesy of Apple

The iPad Pro updates were expected (11" and 12.9" displays) and as per rumours, the Lightning port was changed to USB-C (not Thunderbolt) which immediately upset several commentators with several mentioning "dongles". I just use cables with the MacBook Pro for the important devices, with adapters for odd connections like VGA projectors, which I had used on all my Macs. We were also reminded of the débacle of the 3.5mm audio port which no one seems to miss, apart from the commentators. Will we now move the iPhones to USB-C? Yes please: in part of the video Apple produced, a Canon camera was connected directly to the iPad Pro, suggesting images can be downloaded directly to the device for work in (say) the new iOS Adobe Photoshop which was demonstrated at the event. Note that William Gallagher (AppleInsider) also makes a case for USB-C on the iPhone.
I still have the SD card adapter for the iPhone, but this is not so convenient for my Nikon D850 as I use the XQD card mostly. When I tried the output and deliberately used the SD card, images were imported to the iPhone and I was able to edit them. There were a couple of problems because of the size (about 95MB each), but I now see that Darkroom, which I prefer for editing RAW on iOS devices has been updated and handles these larger files without problem these days.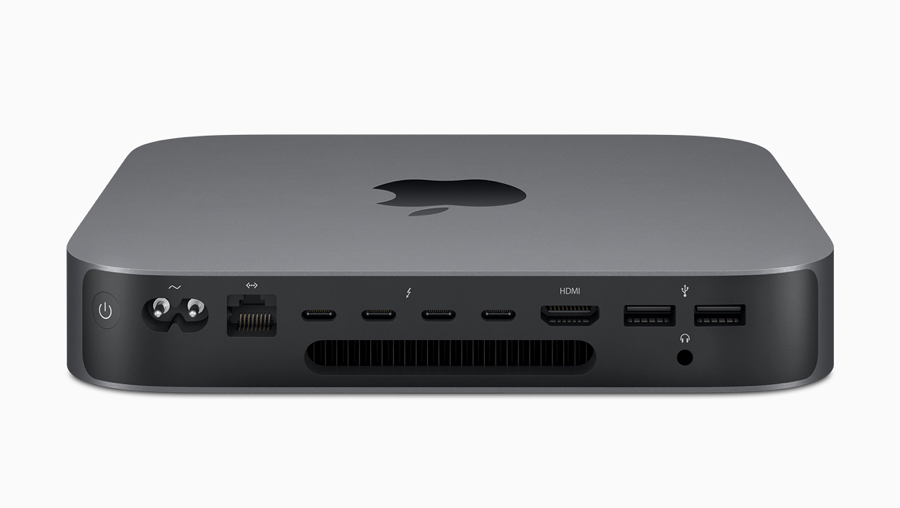 Mac mini - Image courtesy of Apple

The Mac mini was well-received as it should have been. In the overview Apple paid homage to the way it is used in server banks because of its reliability. My own Mac mini chugs on in the office as it has since I bought it in 2015. As well as new USB-C ports, Apple has included older USB 2 ports as a nod to those with older equipment. Although some manufacturers are moving on from micro-USB and MicroB (not enough sadly), that older USB 2 standard persists.
There is some thought that this Mac mini might point the way to a new Mac Pro, but I think this is far-fetched. However, I saw several photos of the journalists looking at the products in New York and the Mac minis were stacked: four or five high. These devices and user intentions are different (or should be), although the new Mac mini will handle some larger monitors, so some productive work can be done on these. There are two versions: one with the 3.6GHz quad-core 8th-generation Intel Core i3 processor (27,900); and the other with 3.0GHz 6-core 8th-generation Intel Core i5 processor (38,400). As the Buy buttons are still grayed out here, I am unable to see pricing of upgrades: memory and processors.

When I last bought a Mac mini in April 2015, it was as a replacement for a somewhat old iMac in my office with RAM I could not update. At the time, I noted that there were three versions: 1.4 GHz, with 500GB hard disk and 4 GB RAM at 16,200 baht; 2.6 GHz, with 1 TB drive and 8 GB RAM at 23,200 baht; and 2.8 GHz with 1 TB Fusion drive and 8 GB RAM at 33,200 baht.
Looking at the specifications, for the latest Mac mini release, it seems as if Apple has dropped the bottom of the range, which is a shame as this was initially billed as an entry machine. In its G4 specifications, I bought three of these and they performed flawlessly, as has my current one: three years without a single glitch. My choice then was the middle of the range (I referred to this as my Goldilocks model), at 23,200 baht. Back then, I upgraded to the 256GB SSD and 16GB RAM. With education discount (about 2,000 baht), the final cost was 35,008 baht.
Although I would certainly add more memory to the original 8GB, I doubt if I would order a larger SSD. As I store data on an external disk that is permanently connected, that extra SSD space was wasted. I also have a second disk attached for Time Machine backups. With this new version is that there are processor options, including 6-core chips, right up to the maximum offered. It will be interesting to see how much these upgrades will be.
At the end of last week, orders for some of the new products in the USA and other countries were marked as Preparing to ship. As the Buy buttons here are all still grayed out, we will have to wait for this. I anticipate that some of the delay may well be due to the necessary authorisations from the government here (anything with wireless tech needs this) and Apple tends to wait for the products to be available elsewhere before worrying about Thailand. There may also be a delay related to the new Apple Store: to make sure that there will be products few have seen when the shop opens.

Although I updated to iOS 12.1 during the week, I did not see the new WatchOS release which was actually pulled by Apple because some Apple Watch 4 devices failed to install it properly and were stuck with the logo. It dawned on me, however, that I am one of the few in the region who have the Apple Watch 4 and perhaps Apple did not float this here. That was not a problem and the 5.1.1 update appeared on Tuesday morning here and did not brick my Apple Watch 4.

The Apple Watch 4 and some new band options appeared on the online Apple Store over the weekend. A lot of people say that Apple prices in Thailand are higher than the USA. That is because the retail price here includes VAT of 7%, while taxes are not quoted in the USA. I tweeted last week: "I just looked at Apple Watch 4 pricing in Pinklao. Even with adjustments for VAT and currency, I paid much more in U.K. last month."
I was probably wrong there as the main reasons for the difference are the respective exchange rates: with the Pound on shaky ground and the Baht relatively strong against the dollar, the price difference was around 2000 baht. It was always cheaper to buy things here than the UK with the VAT (20% against 7%), but now currency makes another difference.

The Q4 2018 financial report had record figures and record iPhone sales, and the share price dropped. This was after Apple reported $62.9B in revenue on sales of 46.9M iPhones in what was called a record quarter (Mike Wuerthele, AppleInsider). The drop in the share price was mainly due to two comments from Apple during the Conference Call. First was guidance: as sales of iPhones, particularly have been good in the just-reported quarter with the early release, figures are expected to be slightly lower in Q1 2019 which is usually the highest quarter; Tim Cook also referenced currency fluctuations worldwide as a $2 billion headwind, also leading to that lower guidance. This was confirmed by Cook in an interview (Roger Fingas, AppleInsider).
Needless to say, Apple was doomed, with one report from Victor Dergunov (Seeking Alpha) calling it "The Demise Of A Growth Era". Advice: one swallow does not a summer make. This is standard for Seeking Alpha whose contributors seem to me to have little understanding of what Apple is, applying only the ideas that affect industry in general.
The beginning of this week has been hit and miss with one analyst downgrading the Apple price (after the stable door has shut) and Warren Buffet buying more shares. Then a report from Nikkei send the shares down again when Apple decided not to take up spare capacity for the iPhone Xr. The suppliers had met what Apple had predicted, but the necessary spare capacity in case of an unexpected run on the device is no longer needed: which equals failure?

Analysts are also unimpressed with Apple ending unit reports - hehehe, I bet they are. Not accurate with their estimates anyway, now they will have to do some real work to make accurate analysis and predictions: in short, they won't be able to. With all the rubbish that Wall Street puts out about Apple, why would the company want to help them?
As I have commented before and has now been confirmed by Daniel Eran Dilger (AppleInsider) even when the figures are (or were) available, their predictions were often significantly wrong which, like many other speculation about Apple, harms the share prices and inevitably damages the company and its investors: Gartner and IDC "served up incorrect data as fact, but also used the bogus figures to reach entirely false conclusions about Apple's Macs in the global PC market". He also notes, in the light of Apple's change on reporting figures that of those manufacturers cited by the two research groups, "none apart from Apple publish verifiable data on their actual shipments". Smoke and mirrors. But Apple.
Sounding a note of doom, John Martellaro (MacObserver) commented hours after the Q4 2018 financial report: "It takes awhile [sic] before a trend in sales becomes definitive. The Mac's downward sales for each Apple fiscal year are showing a trend now". This was just after Apple announced it was no longer publishing sales figures, and in the same week that two new Mac models were announced after a long period without many updates. I would have waited a few days before thinking about writing that, or perhaps longer to see how the new Macs were received.

This week sees the anniversary of the Morris Worm. I teach about this attempt by Robert Tappan Morris, whose father was one of the original creators of UNIX and at the time of the denial of service attack that Morris Junior released, was chief scientific officer for what is now the NSA, doubling the embarrassment. The graduate student (then) recognised weaknesses in Ping and other UNIX utilities and created software that would take advantage of these with the weak passwords people used then (and now of course).
He claims that he did not realise how fast it would spread via the fledgling internet, but one by one, servers and nodes were crippled and everyone realised just how vulnerable they were. Some of those holes were patched, but more and more come to light as time passes. I still know people who set up their computers to use the Return (Enter) key as the password. Morris is now teaching at MIT.

One of the phone announcements that had me interested for a moment last year was the Red Hydrogen One, although its use of Android was a damper on my enthusiasm. So was the price, although the name exudes the idea of camera quality. Or maybe not. The first release of the phone has now taken place and there are some disappointments, with Evan Rodgers (engadget) calling it "a deeply compromised camera experience".
The disappointment may not be quite on a par with my Yashica Y35 experiences which I recounted at the weekend, but like any camera, sooner or later a couple of good shorts might be possible. I shall persevere with this although I have other, better cameras to play with too.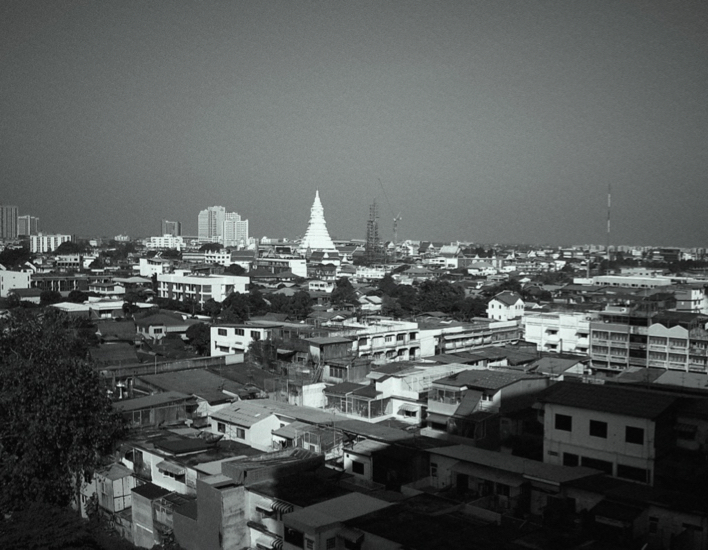 I couldn't figure out why the order of photographs was changing in Photos on the Mac. I know I took some on the Nikon DSLR before a few on the iPhone, then took more with the DSLR, but the iPhone pics were in the library after the RAW pics. I wondered if there was something in an update I had missed. This week, I took a couple of hundred photos using the Nikon at student presentations. I always take time to select and edit these. I checked the metadata on one because I wanted to confirm the time I had taken it, but saw that it was 6 hours wrong.
I checked a number of others only to find the same. When I looked at the camera, it was showing UK as the timezone. After I reset this manually, I checked back and realised that the Nikon Bridge app on the iPhone that I use for geo-locations on the camera was also set (rightly) to supply the correct time. As I had not used this since I returned from the UK, the app had not been able to reset the camera.
When I took some more photos at the weekend, I saw them in the Import library, but not the main one. Mystery. I checked the metadata of one image and saw that instead of November, the month was set for October. They were all in the library mixed up with some of the UK shots. Fortunately there is a batch feature in the Image menu of Photos that gives options for not only dates and times, but also Time Zones too. Apple has met people like me before. Once these had been changed, I also checked the camera: sure enough, I had fixed the time, but not the month.

I was looking round the shops last weekend and was disappointed that iStudio Pinklao had a distinct lack of external hard disks on sale, with no SSD at all. Things were better at Siam Paragon and I noticed that the WD SSD that I had bought in January for 7990 baht was now on sale for 5990 baht. I did predict that prices would fall, although this is still a little high. I did not see any of the 1TB SSD disks which were around 15,000 or more back then, but as well as the 512GB SSD, there was also a 256GB option. The rate the 512 GB disk has filled up since April when I bought the Nikon D850, I am in the market for another one soon.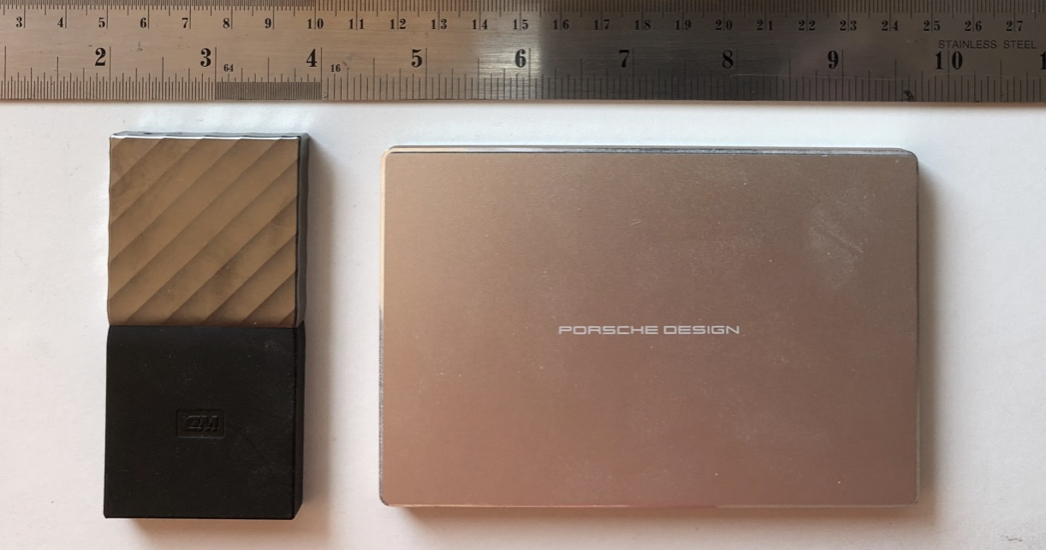 WD SSD with USB-C and LaCie USB-C disk drive

And just in time, Juli Clover (MacRumors) reports that LaCie have released new SSD drives with up to 2TB of storage. She adds that "500GB of storage costs $130, 1TB of storage costs $290, and 2TB of storage costs $580", at least in the USA. I hate to think what they would be if or when they arrive here, although LaCie is a brand that is often available as can be seen from the image above.
Graham K. Rogers teaches at the Faculty of Engineering, Mahidol University in Thailand. He wrote in the Bangkok Post, Database supplement on IT subjects. For the last seven years of Database he wrote a column on Apple and Macs. After 3 years writing a column in the Life supplement, he is now no longer associated with the Bangkok Post. He can be followed on Twitter (@extensions_th)