By Graham K. Rogers
---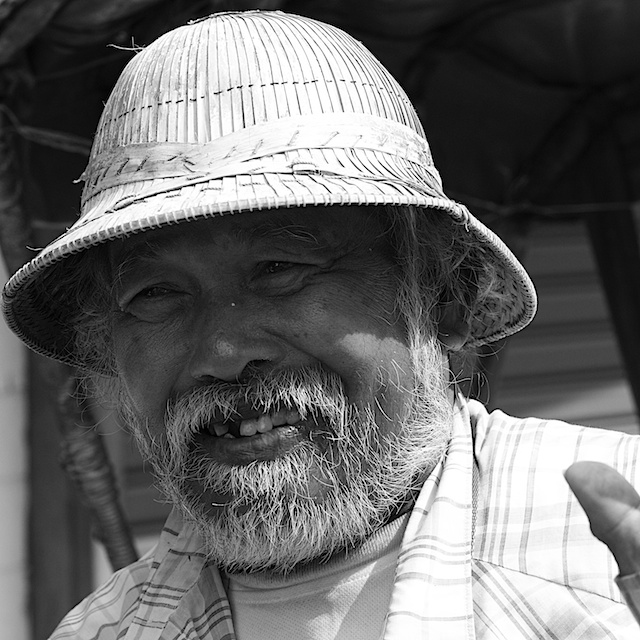 Last weekend, a local user pointed out to me a report on the Ars Technica site about the latest Flash Zero Day exploit: one of several already this year. Dan Goodin writes that although Windows users running Flash in Firefox or Internet Explorer are mainly at risk, the CVE-2015-0313 security bug is present in Flash for Macs and Linux.

My MacBook Pro is working well these days with no serious problems since I finally dumped Adobe Flash. While a few sites still insist on inflicting this on me, most have alternatives for display. If there is a video I really want to watch that fails to load on the Mac, I switch to the iPad.
The 20" iMac in my office is less satisfactory. It is a mid-2007 model with 2.4GHz Core 2 Duo processor, but only 2 GB RAM. I tried to buy memory at Phantip Plaza to bring it to the maximum of 4 GB, but could only find second-hand modules. I declined, but with Yosemite the iMac is slow: time for a rethink; and as the Apple Watch is not coming for a few months, I can adjust my budget.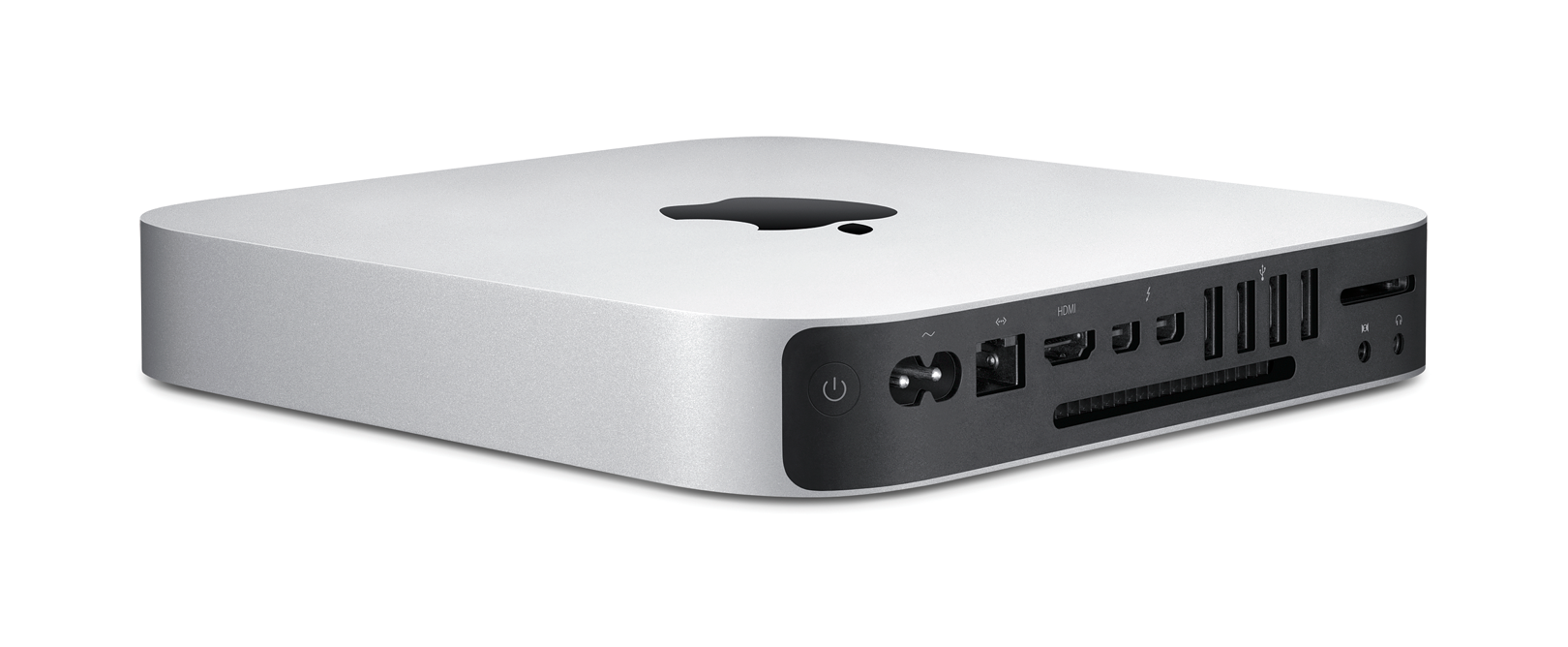 Mac mini - Image from Apple

I have a spare monitor on my desk, so the Mac mini makes a lot of sense. These are underrated computers that do sterling service. I have mentioned before the server farm of MacminiColo: currently over 1400 Mac minis are purring away there. The Computer Engineering Department at Mahidol University also have a lab with several Mac minis running OS X, Windows (BootCamp) and Linux (Parallels) as well as UNIX. When the hard disk failed on my previous Mac, I borrowed a Mac mini while the warranty repair was done.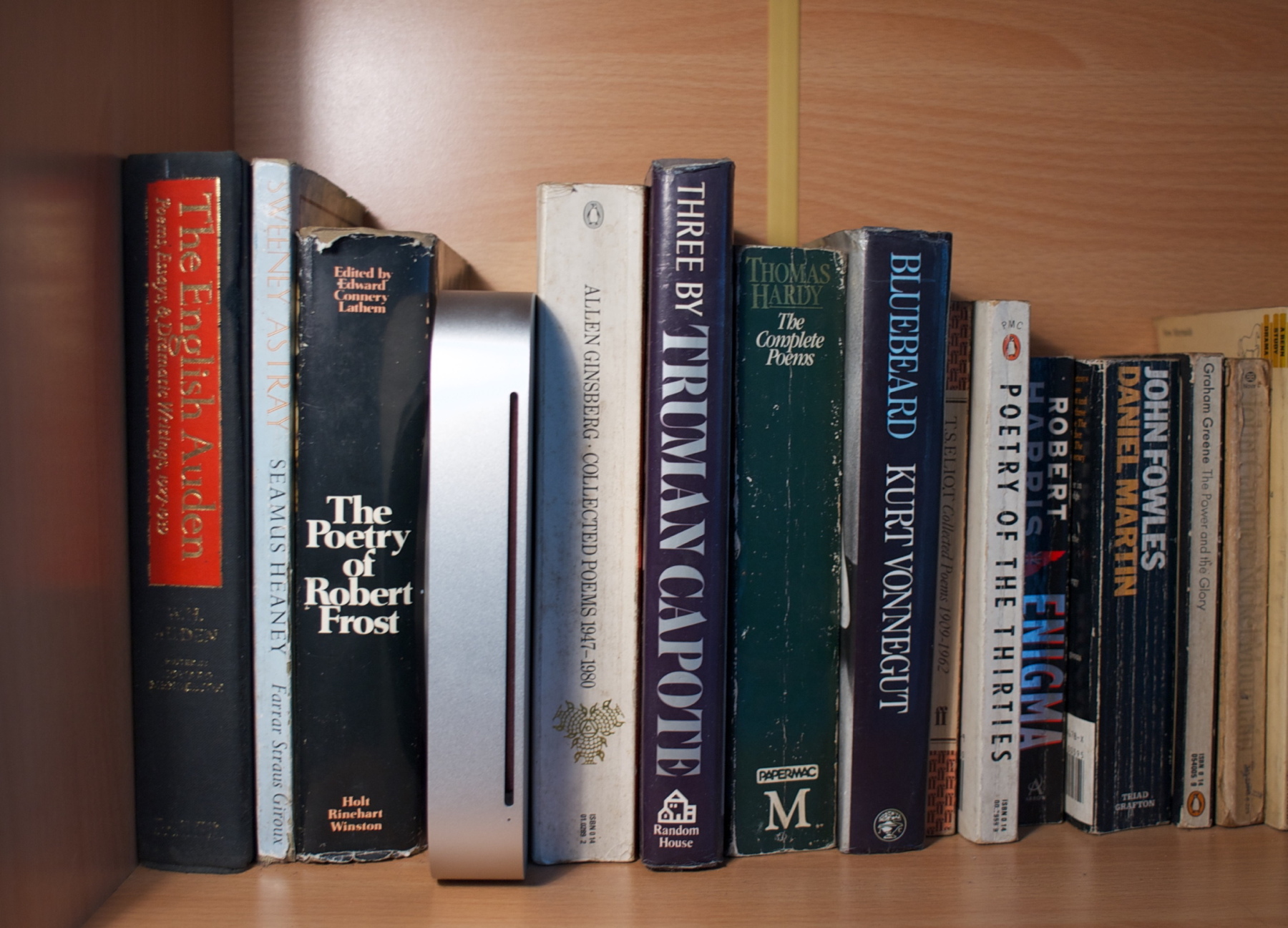 Mac mini (older model) - Compact Design

There are three basic models, last updated in October 2014: 1.4 GHz, with 500GB hard disk and 4 GB RAM at 16,200 baht; 2.6 GHz, with 1 TB drive and 8 GB RAM at 23,200 baht; and 2.8 GHz with 1 TB Fusion drive and 8 GB RAM at 33,200 baht. My Goldilocks model is the 2.6 GHz version: the processor is the same as in my current MacBook Pro.
I work full time in teaching here and ordered from the Apple Education site. To bring it closer to the specifications of the MacBook Pro, I added two options: available when the "Select" button is pressed.
What makes the MacBook Pro suit my working style are the increase in memory and the SSD (solid state disk). I increased the Mac mini RAM from the standard 8 GB to 16 GB for 5,904 baht. Apple memory is not cheap, but like the MacBook Pro, this is not upgradable: if I want a faster Mac, I have to do this when ordering; but benefits are clear.
The other major speed boost came from the much faster solid state drive in the MacBook Pro. There are two upgrade choices here for the Mac mini: the 256 GB SSD; or the 1 TB Fusion Drive, a combination disk and SSD that puts the data and software most often accessed onto the faster flash component. Both of these were priced at 5,904 baht. This was a hard decision, but I ended up selecting the SSD solution. I have some spare USB 3 hard disks and a Thunderbolt disk (twice as fast as the USB). I will juggle these around to see which is the better option for storage of content and for backups.
The options brought the price to 35,08 baht (including VAT of a little over 2,000 baht) and I was warned that extra time is needed for configuration. The revised information in the summary told me that this would be shipped in 1-3 business days. I was offered options to pay by installments using the credit card. Shipping is free and this will be delivered to my office out at Salaya sometime this week (fingers crossed).

The online store also has other payment methods for those who do not have credit cards: ATM Bank Transfers; and Pay at Counter. Counter Payments can be made at thousands of locations in Thailand, including Family Mart, Big C, True Money, Pay@Post and Tesco Lotus. The maximum for this system is 30,000 baht. Information is available on the Apple site and there are similar pages in Thai.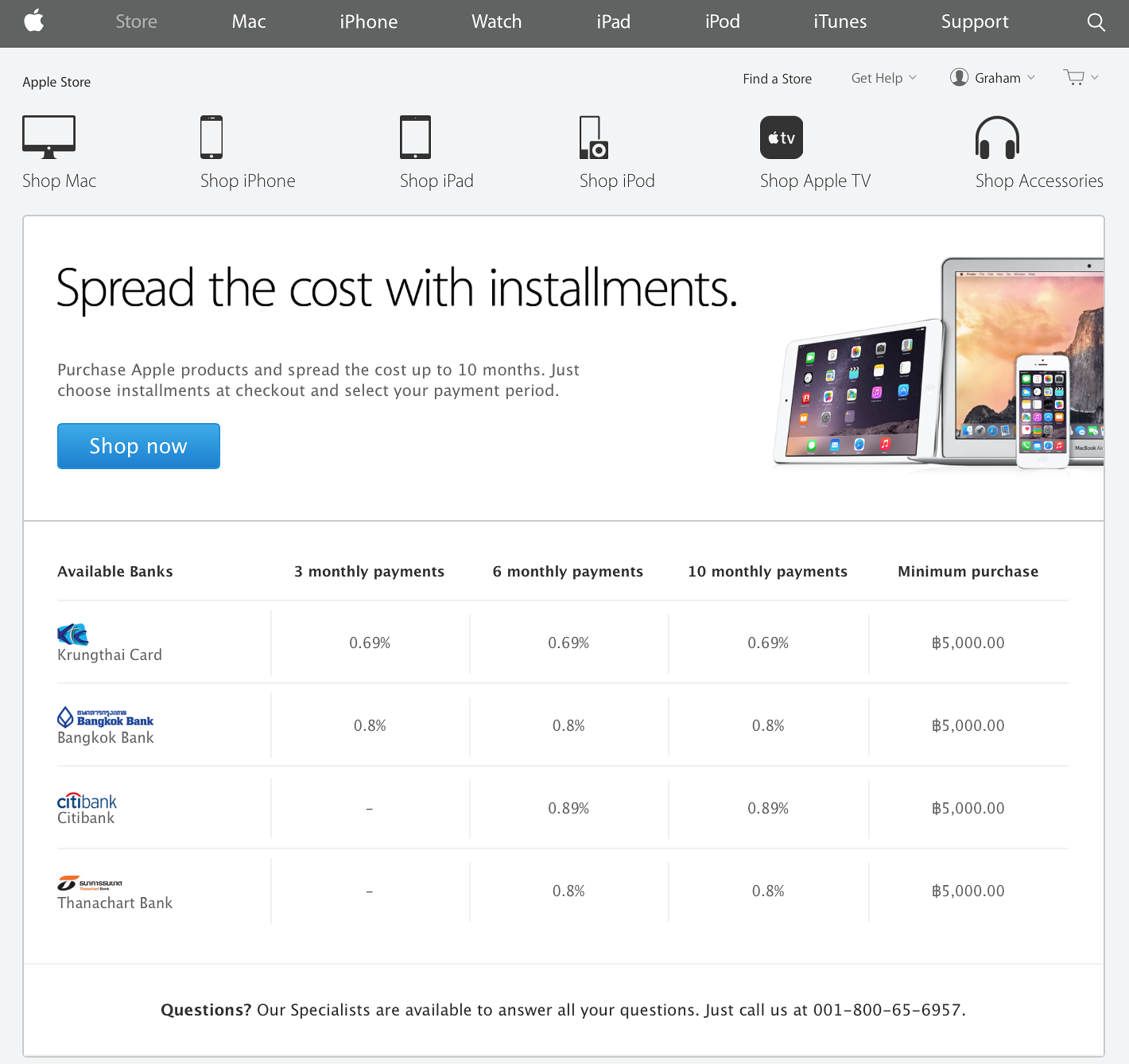 Apple Payment Options

With my Apple ID, the delivery details were already entered. Also available on the payments page were options of 6 monthly payments (6146.24 baht) or 10 payments of 3812.37 baht. Alternative payment methods to banks were also open to me, but not Pay at Counter as the order was over 30,000 baht.
Almost at the end I had to check a Terms & Conditions box to declare I really am eligible for the education discount. When I did this and confirmed one more time, the order was complete.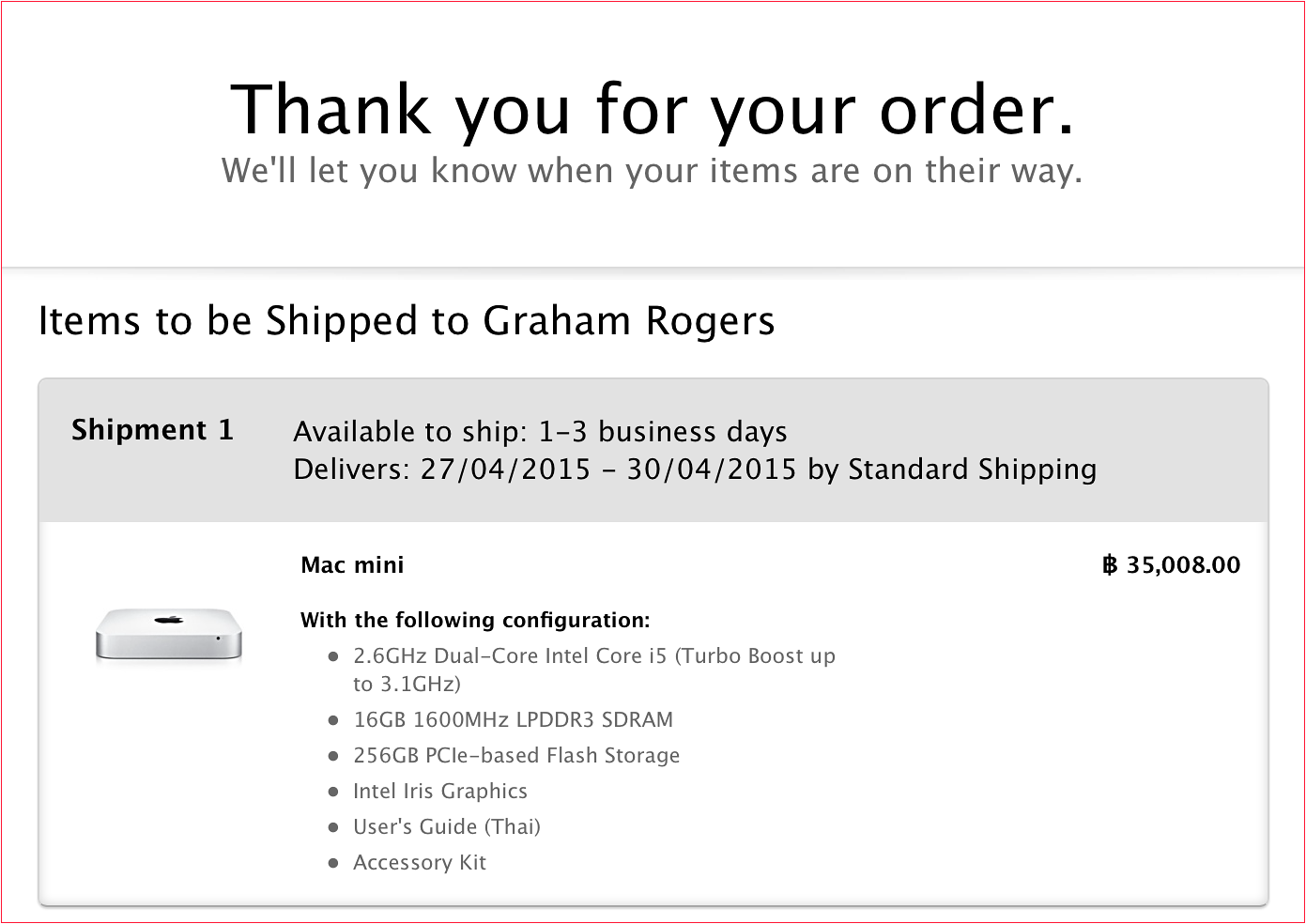 Additional Information
Early Monday evening, a message (SMS) from Apple told me that the Mac mini had shipped and "Delivers 29/04/2015 by Standard Shipping". An email also arrived with the same information. I later confirmed on the linked DHL page that things were beginning to move at Shenzhen, ROC, and the device was on its way just after 20:00 local time. There was, however, no change by the morning, but later on I saw that it had arrived in Bangkok. Apple promised me a Wednesday delivery (DHL willing).



See also:
Graham K. Rogers teaches at the Faculty of Engineering, Mahidol University in Thailand where he is also Assistant Dean. He wrote in the Bangkok Post, Database supplement on IT subjects. For the last seven years of Database he wrote a column on Apple and Macs. He is now continuing that in the Bangkok Post supplement, Life.