Cassandra: Arrival of WD 512GB SSD - Comparing Transfer Speeds with Other Disks
By Graham K. Rogers
---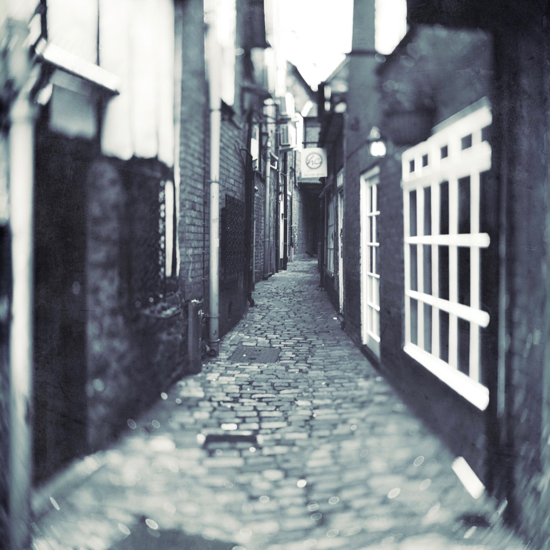 After a long time when such disks have been unavailable here, I found the WD My Passport SSD Disks in Bangkok, although ended up buying one from Amazon. After setting up, I compared file transfer speeds with other disks I have: impressive.

I had been critical of local outlets in Bangkok for the lack of external SSD drives, as well as other accessories that I think should be here and are often only available using Amazon, like certain cables and 4K monitors. There are 4K televisions, and Apple's iMacs of course, but I have not been able to find any suitable monitors. One of the features that have made the last couple of Macs I bought so fast, is the SSD, so I was more than disappointed I could not buy such a disk here for external use.
A couple of weeks ago I was in Siam Paragon looking for a suitable backup disk for a friend and saw a Western Digital 512GB SSD drive. I paused at the price of 7990 baht: 1 TB disks can be had for around 2,000 baht here. A few days later I also saw the WD My Passport SSD 1TB for a little over 15,000 baht. Sooner or later these will come down in price (I hope).
I saw the same WD SSD 512GBdisk on Amazon later, reduced from $199 to $159, which I calculated to be 5400 baht after VAT was added; but then Amazon also adds shipping and taxes, which brought the total to 7263 baht (with an Import Fees Deposit). A useful review of this is available on the StorageReview site.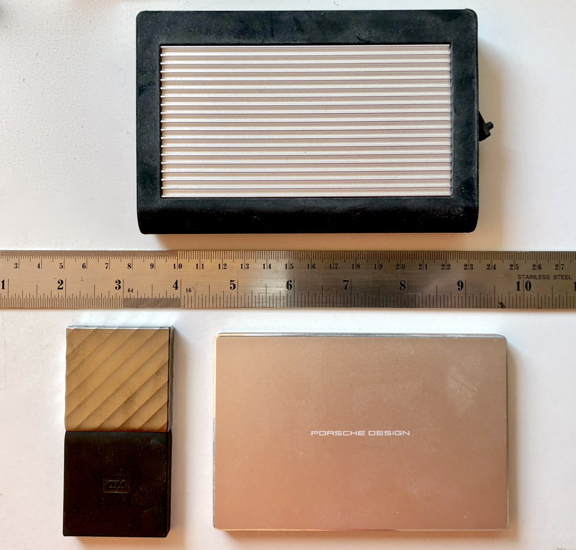 Western Digital 512GB My Passport SSD (left)

The disk arrived a couple of days earlier than I expected and I had a look this weekend. As it came out of the box, I was surprised at the small size, having expected a housing closer to the size of other external disks I have. Dimensions are Length: 90mm (3.5") Width: 45mm (1.8") Height: 10mm (0.39"). Nowhere is the weight shown (on the box, or on the WD site), but Span.Com gives the weight as 0.125KG. The disk feels lighter than the Apple AirPods in their case.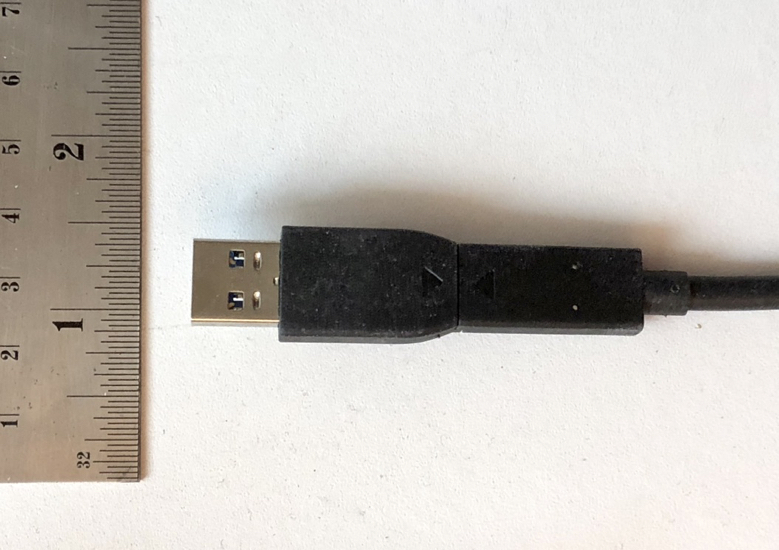 Adapter for USB-C to USB Ports

Also in the box with the USB-C to USB-C cable was a neat little adapter for USB ports. This will be useful for other tasks (and visitors) but I will have to be careful not to mislay it.

Disks like this come with software available for setting up, which may suit some but I tend to avoid this (for good or bad), especially as the Mac installer suggests internet access. In these days of heightened security awareness, why on earth would I need to access the internet? As The Grugg comments on Twitter, "Surveillance baked into everything is a security nightmare. Weird. Giving random private companies huge amounts of sensitive private information might be a terrible idea." I fired up Disk Utility on the Mac and formatted the disk.
An Assembly of Hard Disks

As a first task, I decided to examine how easy it was to transfer files, and compared other disks in my current collection. In March 2014 I compared the speed of the LaCie Little Big Disk Thunderbolt disk I had just bought with other disks I had then. In that test, I had used a 1.56 GB MPEG file.
In this round of non-formal tests, I used a folder of mixed NEF and TIFF images of 707.1 MB: a little under half the size of that earlier test file. Nonetheless, when I was setting this up, I thought this might be a typical file transfer. My results (showing the type of connector) were:
LaCie Porsche Design - Micro USB to USB-C (Belkin cable): 11.95 secs

LaCie Porsche Design (Model 9227) USB-C to USB-C: 9.84 secs

CalDigit Tuff 2TB USB-C to USB-C: 11.05 secs

Imation 1TB disk with macOS (10.12) installed, used for rescue purposes - Micro USB to USB-C (using Belkin adapter): 10.33 secs

WD MyBook Thunderbolt 4TB (RAID setup) connected to Mac using Thunderbolt to USB-C adapter: surprising 6.65 seconds (5.90 and 5.75 seconds)

WD SSD (USB 3.1 Gen2) - USB-C to USB-C: 2.95 secs (2.96 and 2.89 secs)
I thought that the speed of the Imation disk, which is slightly older was quite spritely; and I was further surprised by the My Book Thunderbolt disk, so I checked again, with similar results. To be sure, I also ran three checks with the new SSD drive and was suitably impressed.
I was unable to find the 1.56GB file I had used in the 2014 test, so as an additional guide, I located a file (MP4) of some 1.99GB and tried that, just with the WD SSD disk. At 6.60 seconds, I am reasonably happy.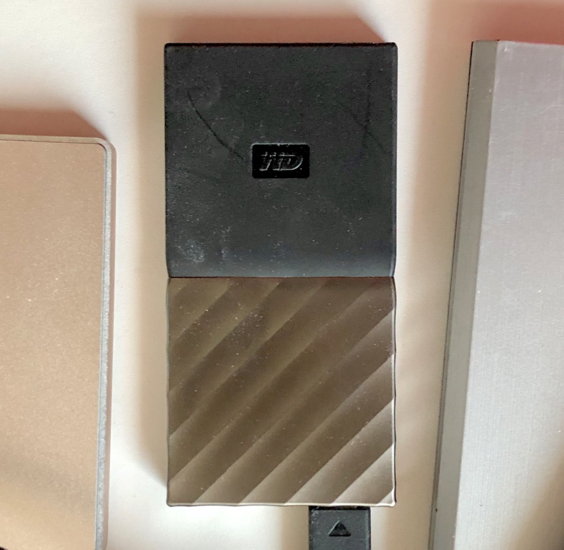 WD 512GB SSD drive

With its small size and weight this has advantages in terms of transportation. I will be able to slip it in my pocket and hardly notice it is there. That might also be a disadvantage if I were to have any light-fingered visitors. Although I have not yet decided on how I will use this, it has the potential for Time Machine backups, or as a clone for the Mac's current internal SSD; and with its speed, with macOS installed a Mac could easily be run from the disk.
Graham K. Rogers teaches at the Faculty of Engineering, Mahidol University in Thailand. He wrote in the Bangkok Post, Database supplement on IT subjects. For the last seven years of Database he wrote a column on Apple and Macs. After 3 years writing a column in the Life supplement, he is now no longer associated with the Bangkok Post. He can be followed on Twitter (@extensions_th)