By Graham K. Rogers
---
Later items
News this week tells us that Netflix is doing well, particularly outside the USA, which is not really a surprise. Nathan McAlone on BusinessInsider writes that the company added "5.2 million total subscribers, versus the company forecast of 3.2 million." Much more is expected, which should worry the companies that rely on traditional delivery systems. Consumers - particularly young ones - are using the internet for all their information and like news, it is adapt or die. Most are failing to adapt and still insist that scheduled services, as opposed to content on demand, is the only way to go.


Late Tuesday, a single analyst relying on figures from a supply chain source in China, warned that Apple is about to discontinue the iPhone SE (MacDaily News). I doubt this as many see this as one of the more popular phones that Apple produces and is about as low-end as Apple is likely to go. Like the iPhone 5c before, more people use this than Wall Street sometimes would like to admit.



The main idea. . .
I have written several times about Apple's focus on wellness and the devices that can be used with the Health app. Although I started using the Health app as soon as it was available, and had earlier seen the benefits of input from the Nike+ system, a couple of meetings in 2015 pushed me to examining Health devices more and my own well-being.

At WWDC 2016 I was able to meet developers who were creating apps that would link devices to the iPhone and was particularly impressed by one (invasive) device that continuously monitored blood-glucose levels: life-threatening for some sufferers of Type 1 diabetes.

Back in Bangkok, I was able to interview Dr Richard Milani of Ochner Health who was a strong advocate of the ways in which properly developed devices and related apps could reduce the need for patients to stay in hospitals or even visit a doctor if monitoring showed no problems. Conversely, being able to monitor the condition of a patient by remote means could provide an early warning, so medical professionals could contact the patient and provide timely treatment.

I was able to pick up a glucose monitor in Bangkok and frightened myself with the results, but a check of my blood at a hospital as a result showed there was no actual risk, but it was a good idea to reduce intake of carbohydrates and certain fats. I had been warned.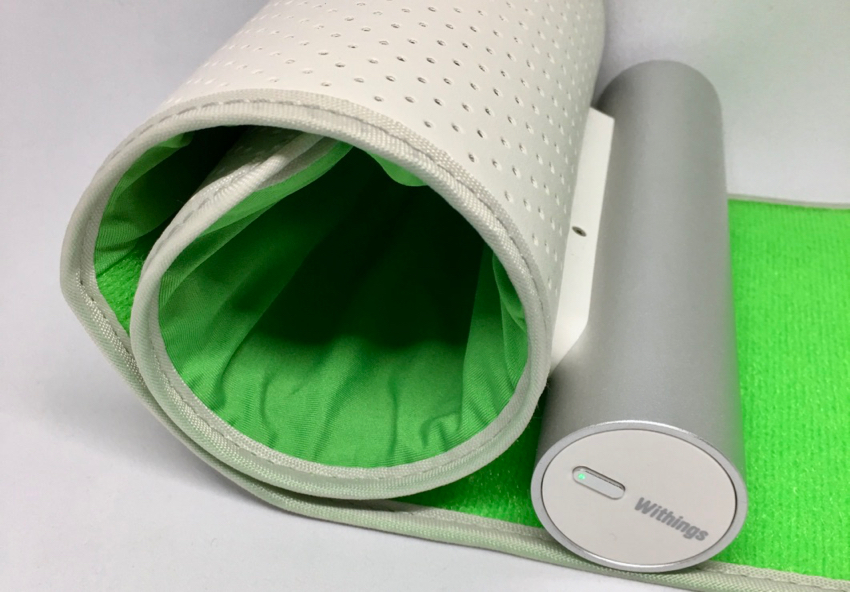 Withings Blood-pressure monitor

I also managed to buy a Withings blood pressure monitor from Amazon and use that every day. I also bought a QARDIO blood pressure device from Amazon. These both integrate with the Apple Health app so all the data I record is in one place.
One of the concerns Dr Milani head for post-operative care was a patient's weight as a sudden increase can indicate excess fluid buildup. I had seen some scales from Withings available in some shops and had thought about buying this product, but delayed this until this week.
Examples of Nokia scales - Image courtesy of Nokia

I have criticised local retailers in recent months for the lack of USB-C accessories as well as HomeKit and HealthKit devices on sale. Things have improved of late and more USB-C devices are now available (still not enough), and a slightly better range of HomeKit accessories.
Withings was recently taken over by Nokia, and the app I use for the blood pressure monitor was rebranded in a major redesign. Most early problems with the app have now been fixed and Nokia help personnel were quite efficient in an email correspondence. Nokia has begin a big push in this field and in June set "announced the availability of the largest, most comprehensive line of connected consumer health products in the market. Completing the transition of products from the Withings brand, Nokia trackers, scales, vital health devices and home products will now be available in-store and online through top retailers" (Nokia).

Earlier this week I saw three separate Nokia-branded scales in iStudio, Siam Paragon:
Heart Health & Body Composition WiFi scale at 7590 baht ($225.69);

Body Composition WiFi scale at 4290 baht ($127.56); and

BMI Wifi scale at 2490 baht ($74).
I bought the last of these as a birthday present for myself. It monitors weight and calculates body mass index (BMI). It also provides weight trends, the number of steps a user takes, and provides a weather forecast. More important it synchronises with the new HealthMate App and is compatible with the Apple Health app (plus Google Fit MyFitness Pal, Runkeeper, Weight Watchers and other health and fitness apps).
The device is available on Amazon for $59.95, but there is a sharp $60.34 for Shipping & Import Fees Deposit. The other two devices are also available at $179.95 (+$92.05) and $99.95 (+$67.63) respectively. The local prices are a bargain in comparison.
Unpacking the box

The device came in a nicely designed box with a carrying handle, which looked as if Apple might have put this together. An inner box contained the scales, all wrapped up and sealed just like Apple does. The scales already had 4 x AAA batteries installed. An instruction booklet was inserted into a pocket inside the lid. Languages in the booklet were English, Korean, Japanese and Chinese.
The top of the device looks as if it is made of high quality, unbreakable glass, but I will not put that to the test. Its shiny finish made it difficult to photograph which is why I am using images from the Nokia site (above). Underneath the four feet are slightly movable to allow for uneven floors and in the box are carpet feet. I did not install these.
As the HealthMate app was already installed, all I had to do was (according to the instructions) pull the tab which comes out of the battery panel. This plastic tab prevents one of the batteries from making contact and so the circuit is not complete. Once the tab is pulled, the device is active.

As soon as I switched the device on, the app (which was running) recognised that a device was available. The initial pairing failed so I pulled the batteries, quit the app and started again. This was good and pairing was done immediately, but then I was asked for the WiFi password. I had to go and find that, but once entered, the device was connected and online. During this linking process a MAC number (unique identifier) was shown on the screen of the scales. A check was made for updates and the download to the device took a minute or so.
Once this was done, the app told me all was ready to go, so I stepped on the scales and found my weight was more or less what it has been for a while. I was also shown a BMI figure, and then the weather forecast.
The scale can be used by 8 users, and this is like the blood pressure monitor, although that also has a guest setting. As I had not used these measurements in Health before, I accessed the Body Measurements section of Health Data where data from the scale was already displayed. I added this to "Favourites" giving me quick and easy access in the same way as I can see steps taken and distances walked.
I tried again later in the evening in the privacy of my bathroom and found a couple of hundred grams difference once I had removed my clothes. The HealthMate app and Apple's Health app updated immediately.

The next morning, I checked my weight again and as well as a slight change overnight, the display showed, "Happy Birthday" - I thought I had kept that secret - before the revised BMI and the weather for the day. Both apps updated immediately. I did notice when I checked blood pressure later that there was still a delay in that information appearing in the Health app, so wonder if some legacy code (from the original Withings app) is causing some stickiness.
Another difference is that, unlike the blood pressure meter, it is not necessary to have the HealthMate app running when weight is checked. The data is sent automatically to HealthMate and from there to Apple Health.

I notice that staff where I work are far more aware of their health these days and many of them regularly use apps and devices for recording personal health data. My mother, who has her blood checked regularly (I will give her the QARDIO device I also have when I visit this week) has used a Fitbit bracelet for recording distances walked.
Such awareness is important for those who wish to adjust and make themselves more healthy. A different form of awareness is being pushed by Apple currently with the distribution of iPads to patients at certain hospitals so they are able to monitor progress of their treatments. Mike Wuerthele (AppleInsider) reports on the pilot programs being rolled out at Cedars-Sinai to allow "patients to see their own information". He notes that a similar program is being started at Jacobs Medical Center in La Jolla, CA. It is clear from this article that Apple is working hard in this area.
The Apple Insider article referenced an earlier report from Sarah Buhr (TechCrunch). I had read this and, while the information was valuable, I was disappointed in the single interview she had with a heart transplant patient, who "did not seem that impressed with the device." While medical professionals were positive, I wondered why it was not possible to find another patient with positive views. Had she found another patient (or patients) with negative views that would of course been significant, but input from a single unimpressed patient (who was perhaps more worried about other things) did not seem enough.

By the time you read this I will probably be somewhere between Bangkok and London. It is time for another vacation although I have plans to look at some older technology and (hopefully) visit Apple's store in London - HomeKit devices are my goal here.
Graham K. Rogers teaches at the Faculty of Engineering, Mahidol University in Thailand. He wrote in the Bangkok Post, Database supplement on IT subjects. For the last seven years of Database he wrote a column on Apple and Macs. After 3 years writing a column in the Life supplement, he is now no longer associated with the Bangkok Post. He can be followed on Twitter (@extensions_th)