By Graham K. Rogers
---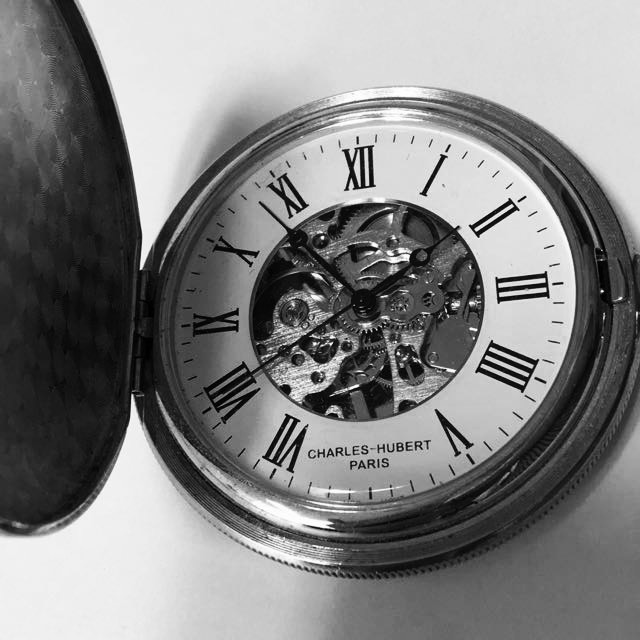 There is always a risk - when travelling, when at home, or at work - that one (or more) of the devices we rely on may no longer be available. This could be a defect with a single device or, perhaps worse, loss.
What happens if all the essential devices we use are suddenly unavailable? In 2007, before the iPhone was ever released, I had a burglary. My laptop and camera were among the property I lost and it took a while to replace them. I also learned a lesson about backing up data.
Unlike some countries, here it is almost impossible to buy insurance for theft or damage of such portable devices. The owner covers the bill. A look at the tragedy that unfolded in the UK last week, shows that those who survived will need to replace all their property, although there is hope that some outside assistance will be made available.

About 5 years ago, Central Thailand, including many parts of Bangkok were covered by flood waters. Although the house I was living in was made uninhabitable by slowly rising waters, I managed to rescue all my devices (except the fridge), but others were not so lucky. Some people I know were given less than an hour's warning and lost much. I have a number of devices that I rely on. If they were suddenly no longer available to me, I have considered a number of times the question about which of my home devices I would replace.
Although I rely perhaps most on a Mac, I would not make this my main priority. I can do many tasks on a smaller device such as an iPad or even an iPhone at a pinch, and I do have a Mac mini at the office. In addition a Mac is a higher budget item, so I am also trying to prioritise in terms of cost and cost-effectiveness.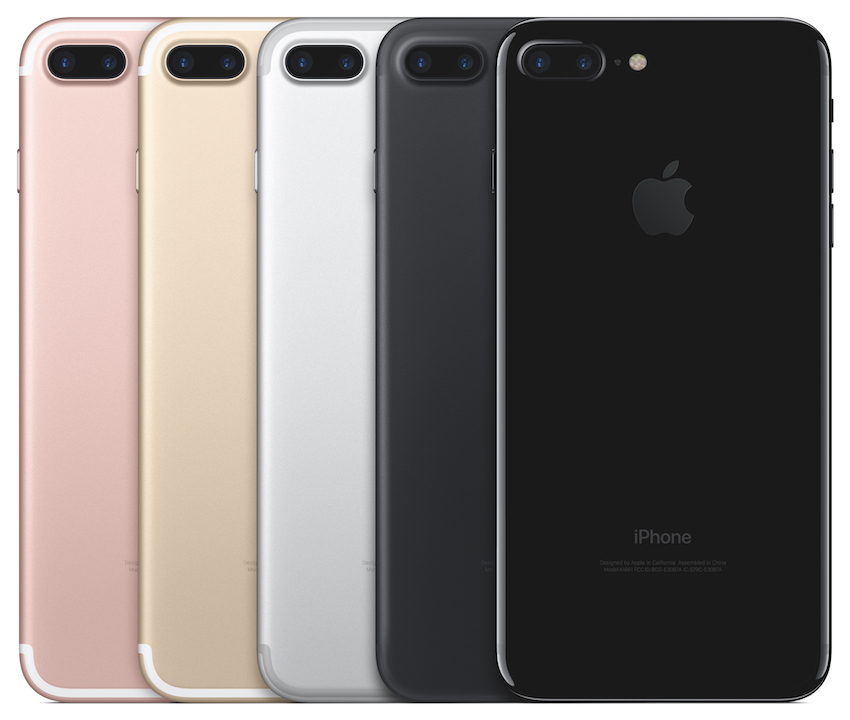 The Phone 7 - Image courtesy of Apple

The first replacement would be an iPhone: immediate. Although I am using one with 256GB of space currently, I could make do with 128GB as a lot of the data is in iCloud. I would of course adjust the settings for storage of photographs so that only optimised images were on the phone. I would go for the iPhone 7 Plus for two reasons: the screen size, which does help when writing particularly; and the two lenses. This feature on the iPhone has added considerably to the value I have found when using it, both with Apple's iPhone Camera app and third party apps, such as DSLR Camera that I looked at recently.
When the iPhone was announced in 2007, the "breakthrough internet device" had the least applause from the audience (widescreen touch and phone were more exciting then), but it has now become the most important feature of all smartphones. Although I use the phone the least, with a SIM card I have almost constant internet communication when I want. Unlike those who walk down the streets or spend meetings staring at the screen, mine stays in the pocket until I want it. My essentials are the Camera and related apps, Twitter, and writing apps like iA Writer (which synchronises with macOS and iOS devices). FaceBook too, as that is the only way I have ever found to communicate with my students.

I also like to monitor health performance, including blood pressure and this integrates so well with the Apple Watch which is my next priority. I would probably go for an Apple Watch 2 in Space Gray with Sports Band.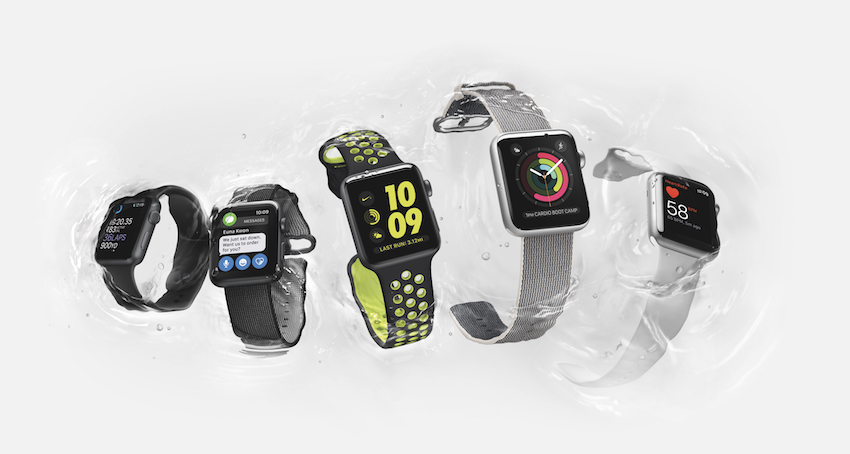 Apple Watch - Image courtesy of Apple

As well as the health features that work with the iPhone, there are messaging apps and I have found these useful on the Apple Watch, to help me avoid that face-in-screen approach that is not only anti-social but at times may be dangerous, for example stopping at the top of a flight of stairs in a train station when scores of commuters are following behind.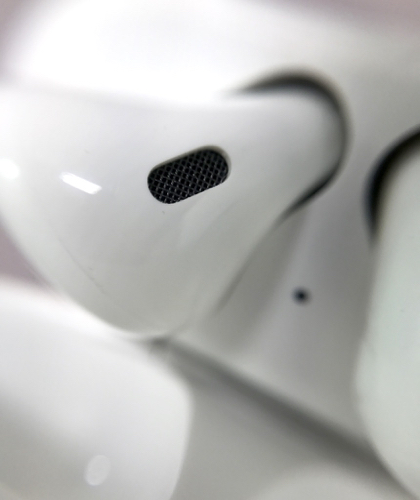 My third priority would not be on everyone's list: the Apple AirPods. I have been using these for a few months now and while Siri is not always my best friend, particularly with ambient sound problems in Bangkok, I find the AirPods sit more comfortably in my ears than the Ear Buds I also have. This sense is enhanced by the freedom that the lack of a cable as these have Bluetooth communication. Crossing a road, for example, is done more easily as there are no cables (of course) to hinder head movement.
A major feature of a cable-less device is that there are no cables and no tangles: saving a few minutes of frustration each day as (no matter how carefully they were stowed) the twin wires have to be untangled before the Ear Pods can be used. With the AirPods it is simply take out of case, put in ear, listen for pairing sound, play: either by telling Siri (it works for me sometimes), or using the iPhone.
With a new iPhone as my Number One priority, I would have EarBuds of course and I would make do with these until my personal budget eased enough to go for the AirPods.

Some other useful items might be added later, starting with the iPad. If I were on a budget (and I would expect this to be the case), a standard iPad would be useful. I make good use of the ones I have (in different ways), but experience suggests that one with a SIM card is of more value for day to day use than the basic WiFi only version. If budget were less of a restriction, I would seriously consider the new 10.5" iPad Pro along with its Smart Keyboard.
I have been using the 12.9" and the 9.7" iPad Pro models and prefer the larger one because the screen (and its SIM card) makes it far more flexible. It is almost the computer replacement for me that Tim Cook has hinted at. Early reviews suggest that the 10.5" iPad Pro is worth considering by those who have the 12.9" and may want to try something a little smaller, while also saying this is a good move up for those with the current 9.7" version. With starting prices around double those of the standard iPad, this would take some thinking. A corporate user, would be wise to go for the Pro version.

Should such an unfortunate turn of events ever occur, I would also spread out purchases, so that the credit card could take the strain more easily.
Graham K. Rogers teaches at the Faculty of Engineering, Mahidol University in Thailand. He wrote in the Bangkok Post, Database supplement on IT subjects. For the last seven years of Database he wrote a column on Apple and Macs. After 3 years writing a column in the Life supplement, he is now no longer associated with the Bangkok Post. He can be followed on Twitter (@extensions_th)