The iPhone X Camera: A Subjective Look
By Graham K. Rogers
---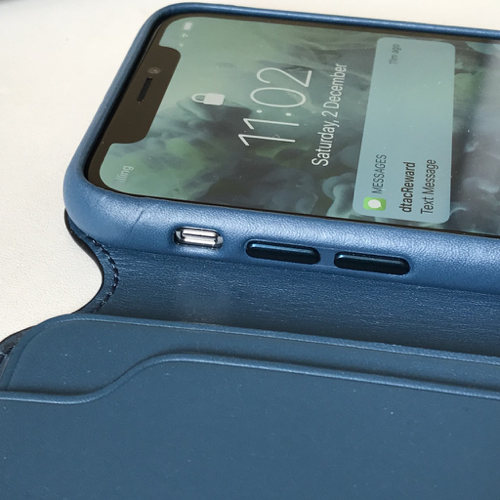 Since the iPhone first appeared, the cameras and related software have been evolving. With the latest iPhones using iOS 11, more features have been added, some enhancing output which can be improved further by use of Apple's Photos on the iPhone and on the Mac, where considerable improvements have been made.

I have only had the iPhone X a week or two now and I am familiar with most of the differences that the FaceID and interfacing bring, especially with the gestures. For me, one of the most important features of iPhones now, is the camera and the software that works with it: Apple's own (Photos) and third party apps. By this, I mean both on the iPhone and on the Mac.
As the iPhone has evolved, so the cameras have improved with a couple of innovations, such as Portrait Mode with the twin-lens iPhone 7 Plus. The iPhone X camera (and that in the iPhone 8) has improved specifications over the iPhone 7 Plus I was using before: 12MP wide-angle and telephoto cameras; Wide-angle: ƒ/1.8 aperture; Telephoto: ƒ/2.4 aperture, Six-element lens (iPhone X Tech Specs). As well as these improved specifications, the twin lenses are positioned vertically, rather than horizontally on the iPhone 7 Plus, so don't let anyone kid you this is the same as before. That is lazy journalism.
Photos Using Square Mode: Normal (left) and Telephoto

Almost as soon as I had set up this iPhone, I started taking photographs, beginning with the Photo and Square image options. Immediately, the images looked crisper, although the OLED display certainly helped there. Looking at the same images as they appeared on the Mac (synchronised using iCloud), those taken in daylight work well; those taken indoors are fine, but there is still a need for better white balance; while those taken at night are better, but Apple still needs some work in this area.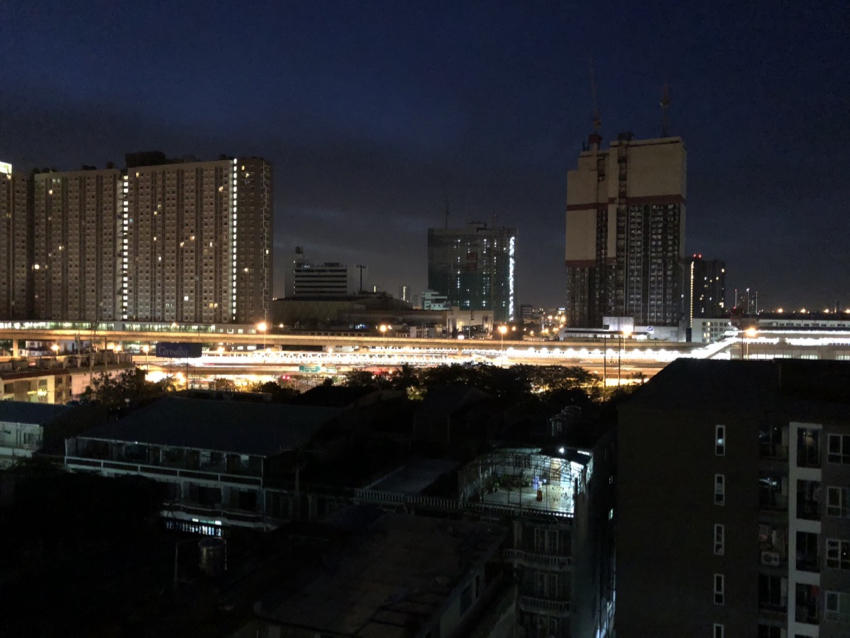 An hour before sun rise

A blind test of the iPhone X, Galaxy Note 8 and LG V30 (Victor H., Phone Arena) found the iPhone X winner in most test shots, but does not look at night-time shots. Martin Velasco on GadgetMatch came up fairly even on both. I did see a review a couple of days ago that I cannot now trace, which placed the iPhone X camera as better, but not for night time photographs, and I would have to agree that there is room for improvement here.

My photo output is mainly for social networking sites (especially Instagram and Facebook) and for the eXtensions site, but I always have an eye out for a suitable image that will print as a larger photograph or poster, so size does matter. This is why I am so cross with developers who distribute apps that have great effects, but only export tiny images.
Photographs on the iPhones are now smaller in terms of file size, with the use of HEIC, but the resolution is improved. A typical image taken as a photo (not square) would be 4032 x 3024, with a file size (HEIC) of between 1.9MB and 2.5MB. Editing may change these specifications and the file type, particularly if 3rd party apps are used. There are also apps like DSLR Camera, Halide and 645 Pro that take advantage of the ability to save images in RAW: the original digital files are available, although these are considerably larger (around 10MB or more).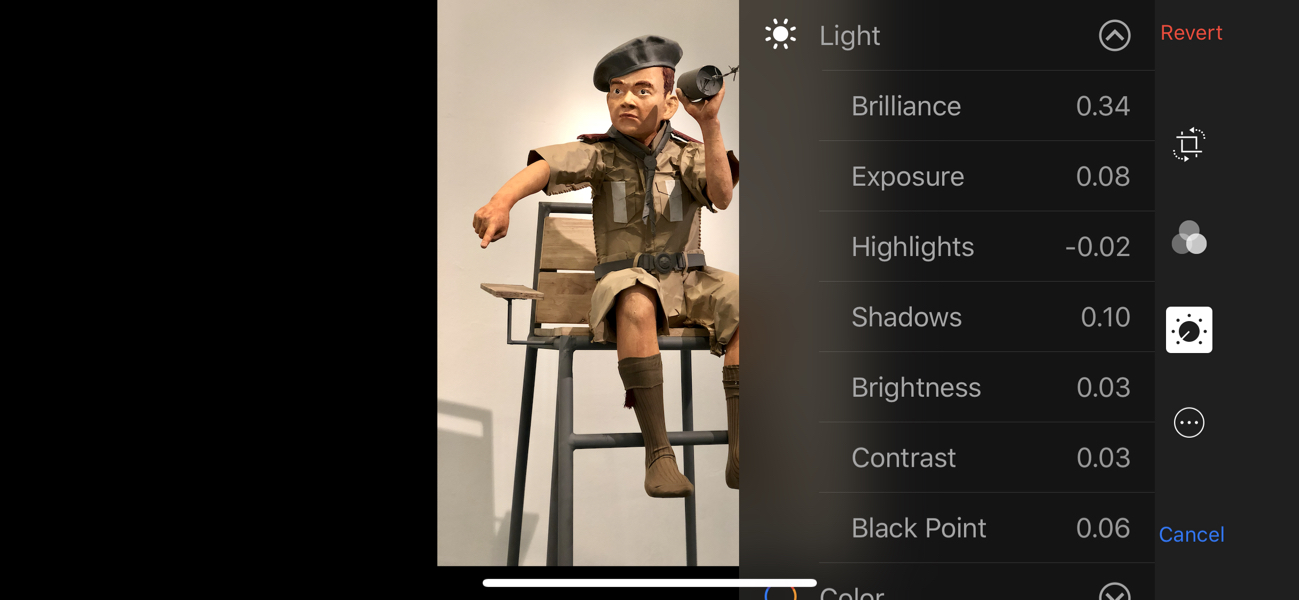 Editing Panel in Photos on iPhone X - Landscape mode

Photos on devices with iOS 11 (currently 11.2.1) installed have four editing sections: crop (and straighten), filters, image editing, and More. The three main editing sections are Light, Color and B&W. Each is controlled by a simple image slider. For more detailed editing, a three-line icon opens a panel for adjusting specific attributes. These are similar to the adjustment tools that have been available in Photos on the Mac for a while. There are two important omissions: White Balance and Sharpen.
The structure of Photos on a Mac is similar, but there are far more tools available (including White Balance and Sharpen). Recently added - with the update to High Sierra - was Selective Color: a feature that sold me on Aperture when that application first appeared.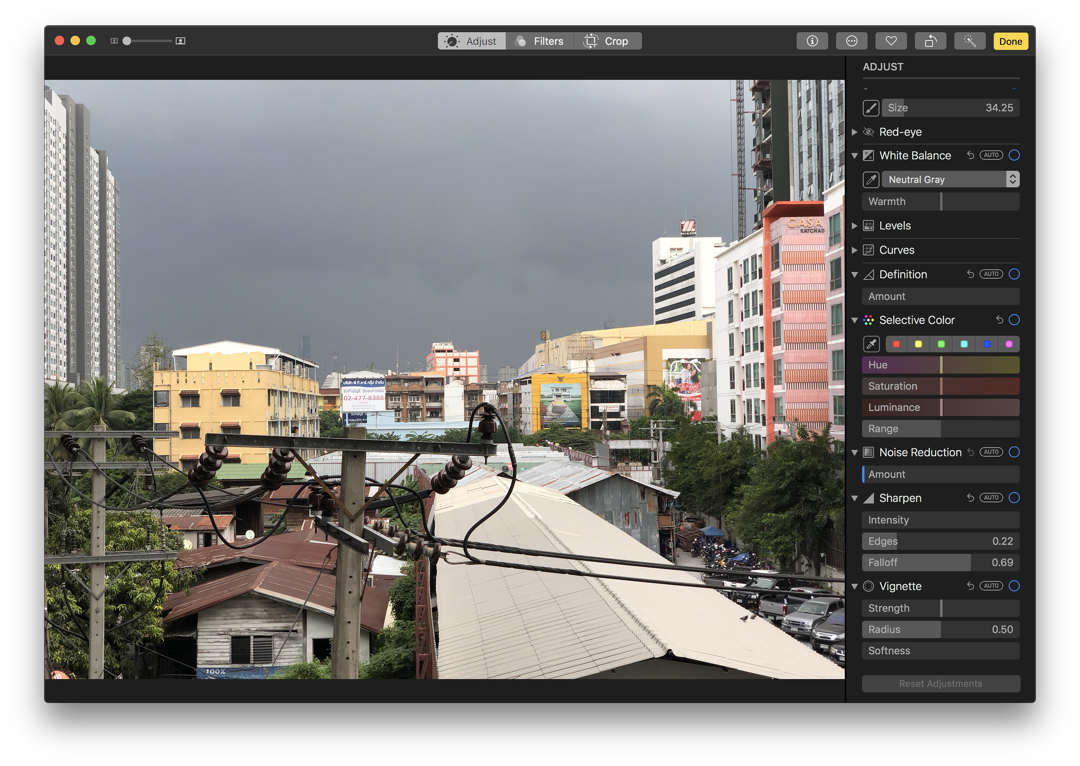 Editing Panel in Photos on a Mac

Photos on both iOS and macOS allow editing within the app using third party apps, although in some cases, especially on iOS, these are restricted. On macOS Photos uses Extensions, while on iOS, the section is simply More. With this access, there is convenient editing of an image within the Photos app, without the need to use the standalone version, although that is also an option. In some cases that may be preferable. Tada for example, allows access only to filters from within iOS Photos, but the standalone version provides a wide range of editing tools.
The extensions for Photos on the Mac are far stronger and enable more sophisticated editing changes to be made, with full editing software (Graphic Converter, Pixelmator) to be used within Photos.

Two other features are of particular value: Burst Mode and Live Photos. I use bursts on the Nikon I have and invariably one of the ten images I take may be slightly better, especially of taking photographs of faces, when eyes may ruin a picture. On iPhones, burst mode is simply used by pressing the shutter button and not releasing.
Up to 999 images are possible, although 100 is a good number for my purposes. If action continues, however, that 999 may be valuable. Burst images can be culled by pressing Select in Photos (a similar process is available on the Mac) and tapping on the image (or images) to be retained.

Live Photos had a bad start in some quarters and I used to turn it off. While it was nice for some to catch the action just before or after a photograph was taken - sometimes there are magic moments - there was nothing much else that could be done with such output, other than GIFs (with some software) and the main photograph itself.
The iOS 11 update improved the usefulness considerably with a movie-like clip that would allow a change to main image selection (with image cloning, more - and different - images were available). There were also options for output, in the photo display, by swiping up, there are now options for Live (original), Loop, Bounce (a reverse loop) and Long Exposure, which is useful for night-time traffic or images of flowing water.

With the twin lenses of the iPhone 7 Plus, Apple introduced Portrait Mode. In its original form, using the camera software it produced an image (face, flowers, vase) that was sharp, but with a blurred background: the sort of effect I have to use an expensive lens (e.g. 85mm) to produce with my DSLR camera. That affect was enhanced with the iPhone 8 Plus and iPhone X when different lighting effects were introduced.
As well as the standard lighting, there are Studio Light, Contour Light, Stage Light, and Stage Light Mono. Even if an image is taken using a specific effect, this can be changed in Photos while editing. Of particular use is that these same changes can also be made in Photos on the Mac.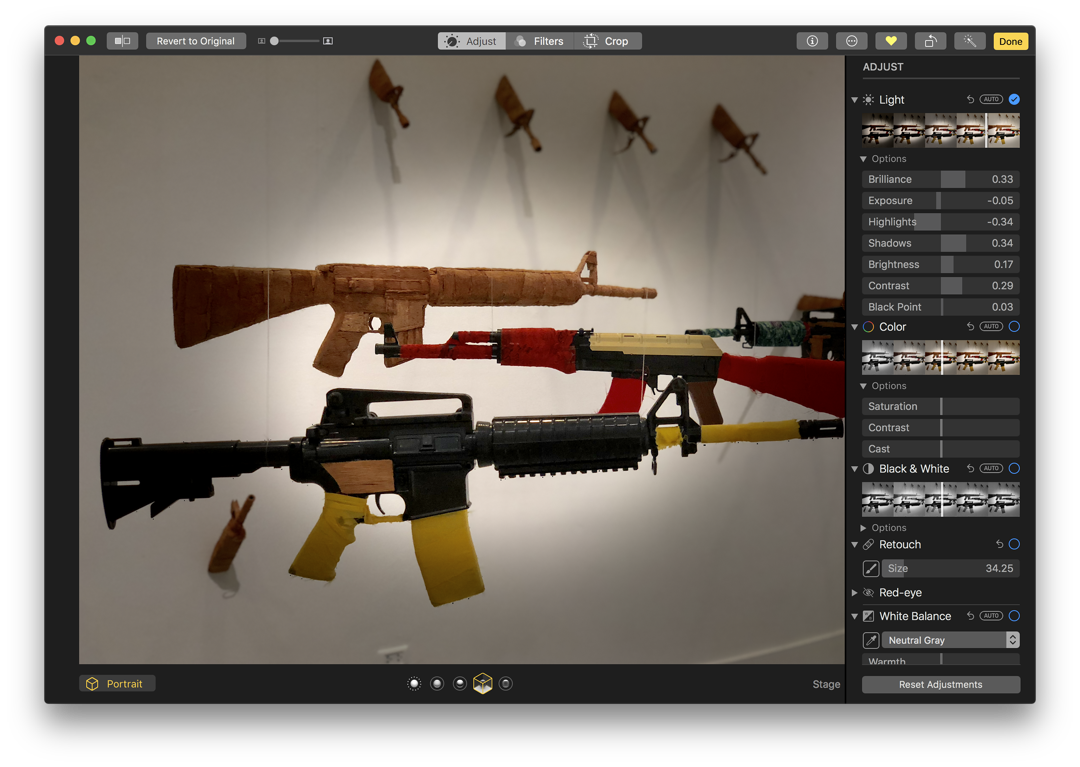 Editing Portrait Mode in Photos on a Mac

With those images taken in iOS 11 there is an app that allows adjustment of photographs taken in Portrait mode. Focos uses the original image data and enables changes to be made to the focus (from front to back for example) and to the amount of blur within the final image. I examined this when it was first released. I have found, however, that if an image is shown in Photos with the Stage Light option applied, this will not be used in Focos.
Two versions of the same image: Neutral Light (left) and a flawed Stage Light image (cropped)

With any effect, some features may not always work with all images. Light is a key factor here, especially with Stage Light. If the area behind the subject is well lit (bright) there may be a halo effect: a thin surround of bright light, between the image and the black background that is the main feature of Stage Light.
A camera and lens combination needs the correct lighting for the scene, even though the software for modern smartphone cameras does a lot of the work for the user.
Like any equipment it is worth taking time to learn the possibilities (and the shortcomings) of any new tool. The cameras in the iPhone 8, iPhone 8 Plus and iPhone X are capable of producing some excellent output, but three things are needed: an eye for the subject, the right light and discipline when taking a picture. Editing will also help to bring out the best from an image: the rule that Less is more, should be considered.
As an example, my flawed Stage Light image of the bowl of fruit, shown here, was exported from Photos on the Mac after I cropped some of the bottom of the original image. As a 16-bit TIFF image of 40 x 47" (72dpi), the file was just over 66MB, which is sufficient for a clear photo print, should I need. That this can be produced from a device that fits in the pocket, is an indication of the advances now being made.
Graham K. Rogers teaches at the Faculty of Engineering, Mahidol University in Thailand. He wrote in the Bangkok Post, Database supplement on IT subjects. For the last seven years of Database he wrote a column on Apple and Macs. After 3 years writing a column in the Life supplement, he is now no longer associated with the Bangkok Post. He can be followed on Twitter (@extensions_th)