By Graham K. Rogers
---
Apple's 2016 World Wide Developer Conference, keynote event at the Bill Graham Civic Auditorium, San Francisco, was about the Developers. The guys who respond to changes that will be made to the four operating systems that control Apple products: Macs, iPhone and iPad, AppleTV and Apple Watch. This keynote was about consolidation. There will be scores of improvements to the user experience and far better device integration.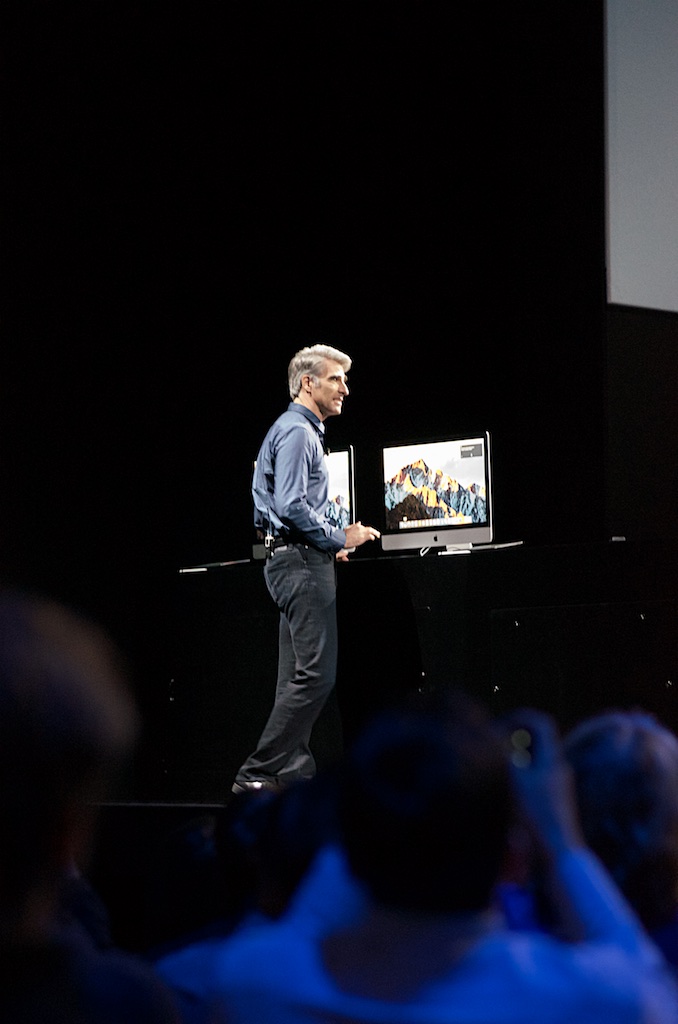 The presentations on WatchOS and tvOS were carried out by Kevin Lynch and Eddy Cue, respectively, before Craig Federighi, Senior Vice-President, Software Engineering, outlined the several changes to iOS, but started with the renamed MacOS: the next version is to be called, Sierra. Particularly here with the update to the OS, there is emphasis on continuity as well as working with iCloud.
One example of the continuity is the ability to unlock a Mac with an Apple Watch. Other examples are a universal clipboard (from iOS to Mac) which is fundamental to the way devices are used and which integrates with other new features, including Messages.
There are several improvements to iCloud: particularly concerning iCloud Drive. A major change is that files on the Desktop or in the Documents folder will be available on all devices, via the cloud. This new integration will also allow matching desktops. Optimised storage will reduce the data stored on any Mac, making room for new files as older ones are moved to the cloud, clearing space locally. A test improved space on a Mac form 20 Gigabytes free to more than 150GB.

Apple Pay is now available on the Mac, via web purchasing. Authentication for anything bought online is done via the Apple Phone or the Watch. Apple Pay is now available in several countries, but will be coming to Switzerland, France and Hong Kong soon. There is no information about when it will be available in
A new productivity feature allows tabs on apps other than Safari including third party apps. Apple is also adding a picture-in-picture feature: a small video can be played on the desktop while the user carries out other tasks. This was well-received.
Even more applause was given for the news that Siri would be coming to MacOS. At least some rumours were correct. Siri would allow queries to be made for files and such searches can be refined verbally, like adding search parameters in the Finder. Search results can be pinned in Notifications. The use of Siri and its intelligent analysis makes it easier to carry out multi-tasking on the Mac, for example Siri can be used for messaging while typing in other applications.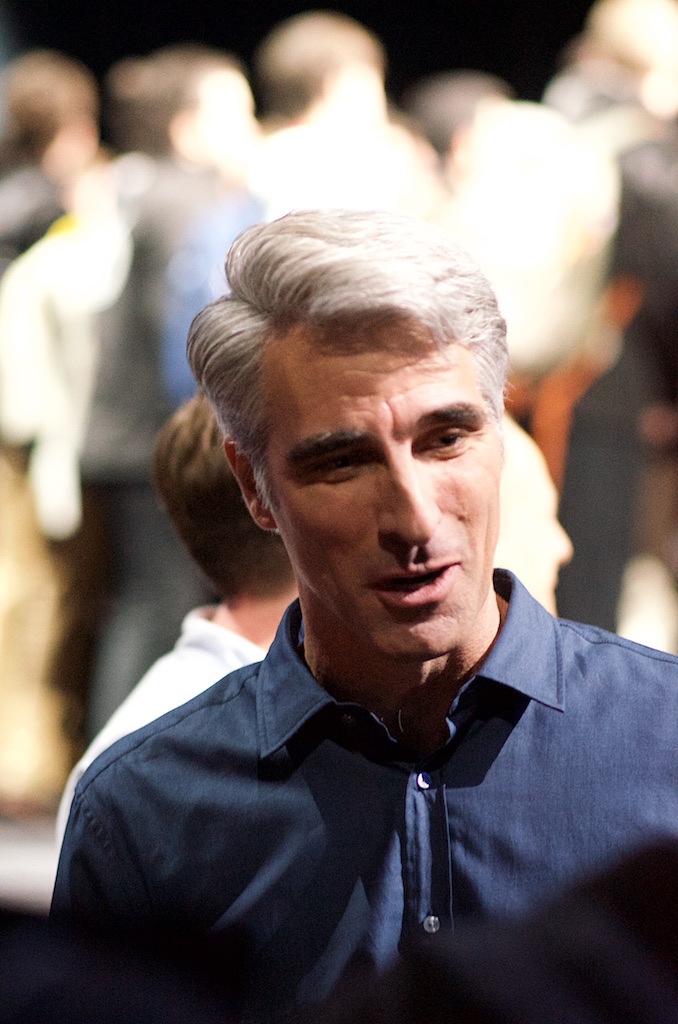 Federighi switched to iOS 10 which, like all the other Apple operating systems, will be released in the fall. He claims that this will be the biggest iOS release ever, but in Monday's presentation focused on 10 specific features.
The lock screen has been redesigned and there is a "raise to wake" feature that will avoid the annoyance of missing notifications because of TouchID. 3D touch use from the lock screen has been expanded allowing access to apps and messages. Users will be able to clear messages by one touch. An addition is a new swipe screen for music, as well as sliding right for the camera. Sliding left will reveal widgets.
Like MacOS, there are changes to Siri which is now being made available to 3rd party developers, including messaging apps such as SLACK, What's App and WeChat. A Siri photo search can now include apps like Pinterest. This beefed up Siri also works in CarPlay.
QuickType is to become more predictive with the addition of deep-learning algorithms, giving better responses through understanding. Siri will extract information from incoming messages. This now also works with multi-lingual typing.
The Photos app is improved to allow for easier finding of images and there are links to locations in Places as well as Faces which uses facila recognition to group images of people. Analyse of an image using 11 billion computations for each photo enables object and scene recognition. A new Memories feature analyses and collects several photos for people, topics and scenes, to bring back memories, bringing them into an intuitive interface. Using this technology an iPhone can bring in such grouped photos and produce a movie made of stills and movies. Theme selection will change presentation of the scenes and the music.

Eddy Cue came back onstage to outline three of the new iOS features, starting with Maps, which has a new design. This is more proactive allowing easier navigation. It lso includes traffic, and a route can pan and zoom to show traffic conditions ahead. this is also in CarPlay. Maps is now open to developers, including those abroad, and there is to be greater integration to app via extensions.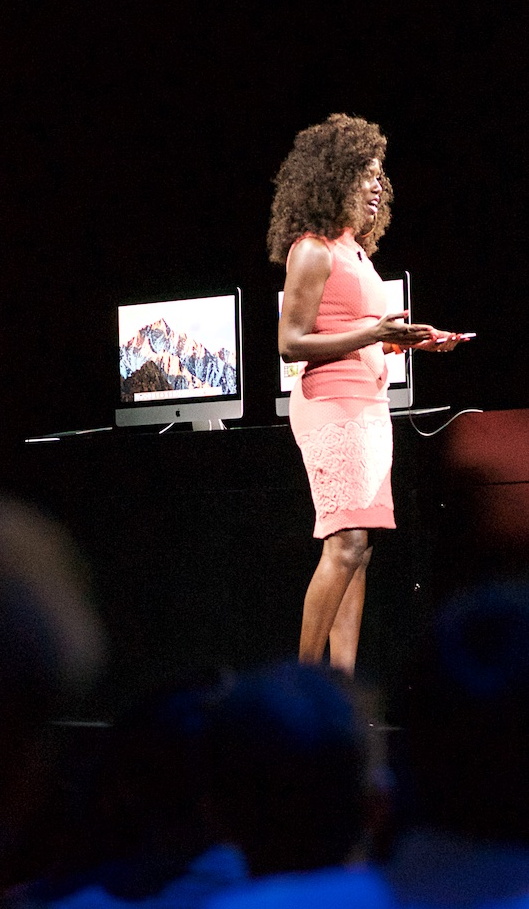 As well as Maps, Eddy Cue outlined a redesigned Music app, which tries to put music as the focus and, especially in For You, uses intelligent analysis to place the right music in front of the user.
This was demonstrated by Bozoma Saint John whose fresh approach got the audience swinging and clapping to the music she used. More of Ms Bozoma, please.
The Apple News app has some 2000 applications, including my extensions site. There is a new design which creates new sections for the user. We can create our own topics as well.
An important step forward here is the allowing of subscriptions (e.g. National Geographic), and there is to be a new feature of breaking news notifications. There was no information at this stage on country availability.
HomeKit allows networked devices to work easily and securely. This is being improved and Siri may be used to give instructions to devices. Geofences are another form of control, so when a user arrives home, devices can be turned on or settings changed automatically from iPad, iPhone or AppleWatch.

The phone will have voice message transcription, which may be especially useful in China where there is much voicemail spam, while 3rd party apps that make calls, like LINE, can be seen on the Lock-screen. Apple has worked with CISCO to allow work calls to be taken on an iPhone.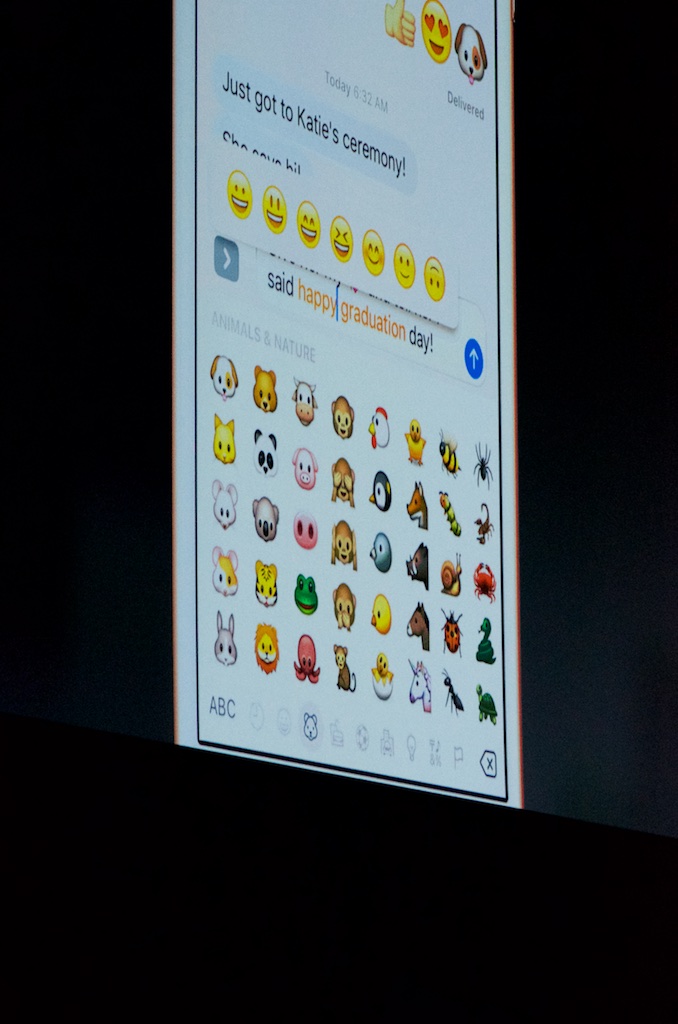 As on other devices, much work has been done in Messages which now can work with rich links to show images or videos instead of basic URLs. A camera is available in messages and there are now larger emojis as well as emoji predicitions: suggestions of emojis for words. Messages will now allow bubble-effects so different sizes of text can be displayed, including a concealed message. A Sketches feature has been added using digital touch, and the whole screen can be used for effects. All this provides some really nice ways to enhance messages.
Craig Federighi told the audience that like other parts of the Apple infrastructure, Messages was being opened to developers and any apps that can be used in Messages will be available using an App Drawer.
The iOS update will have considerably more in the way of Notes collaborations, conversation, the ability to edit Live Photos and a split view in Safari on the iPad. There was a massive list of new features shown on screen. I did notice that one of these is a long-desired feature allowing editing of RAW images within Photos.
Privacy is important to Apple and there is end-to-end encryption by default, this is applied using on-device machine intelligence, keeping data on the phone for user control. Differential privacy, allows the benefits of crowd-sourced learning, but keeps individual users' date private.

Tim Cook returned to the stage just before noon to close the proceedings. He emphasised how important the developers were to Apple, which is part of why the Swift language was created. It is easy to learn and to help bring in more younger users, Apple will release a new app: Swift Playground. This is a new interactive way for young people to learn how to code with Swift on the iPad. It has interactive playground screens for lessons, split to show instructions, entering code, a demo of the app being programmed. There are lists of code types, such as loops and a new coding keyboard.
Several lessons are available and the app will be released as a public beta next month and the full app will be released with iOS 10 in Fall.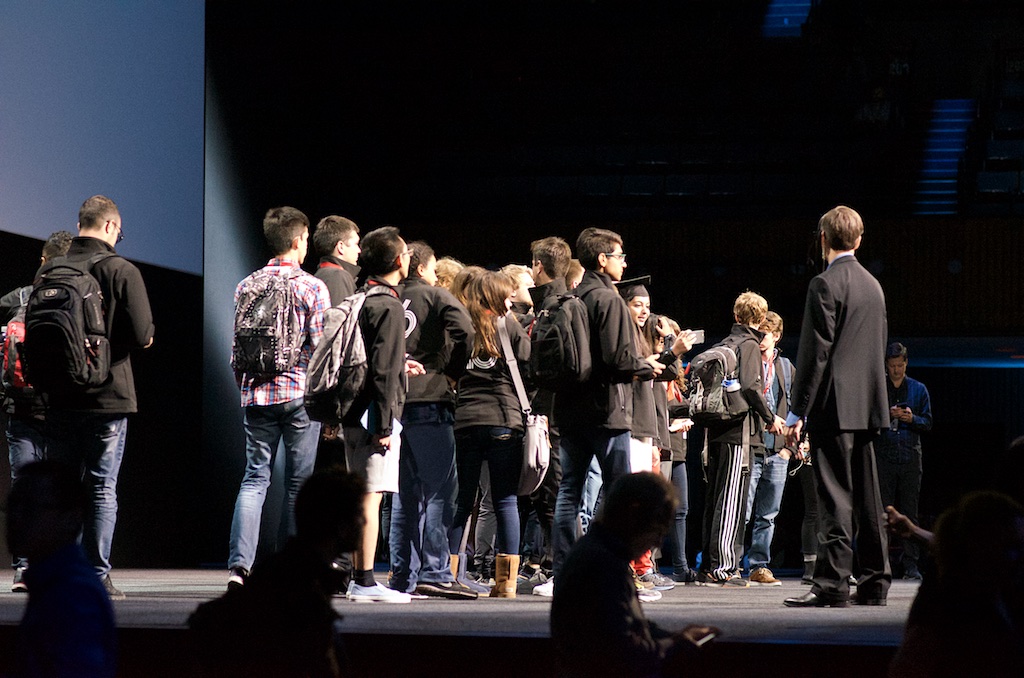 Young Developers Attending WWDC

Arnold Kim on MacRumors noted that all the pre-installed apps on iOS (such as Stocks) were now available on the App store, but the Get button is greyed out for now. He guess that users will be able to delete these apps in the future and re-download if they want.
See also:
Graham K. Rogers teaches at the Faculty of Engineering, Mahidol University in Thailand. He wrote in the Bangkok Post, Database supplement on IT subjects. For the last seven years of Database he wrote a column on Apple and Macs. He is now continuing that in the Bangkok Post supplement, Life.