<! ----------------------------------------------------------------------->
---
The eXtensions column has not been particularly pro-Microsoft over the years. My students think I hate Bill Gates. Although that is untrue, I do maintain the fiction in class. Some of my colleagues would not change from Redmond's offerings and for sound reasons.

I had email from Microsoft's PR company in Thailand a short while ago asking if I would like to review the latest version of Office for the Mac: Office 2011. When I wrote back I mentioned that the last time (Office 2007) I had had some misgivings about its value for local Mac users. The confident reply suggested that I would be happy with the changes. The review disk with some datasheets appeared in my mailbox a few days later.

It was clear that my criticism on cost had indeed been addressed: the suites are more accessibly priced for the Thai market at 4790 baht (Home and Student version), with a Home and Office version at 7790 baht. A 3-licence Family Pack for the Home-Student version is 5790 baht and a 2-licence Home-Office "Multipack" costs 9,790 baht, although "Multi-" for two stretches the definition a little.


Both versions include Word, Excel, PowerPoint and Messenger for Mac, while the Home and Office version has a totally new Outlook for Mac. When installed, the Dock showed that my test version had the basics plus Outlook, Microsoft Document Connection and Remote Desktop Connection.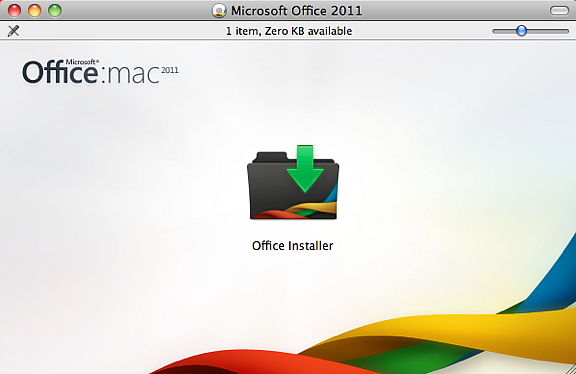 The installer had a very Mac-like interface. I ran it from a user account rather than Admin and all went well until it refused to go any further until I had quit Safari. As I had several tabs open that was inconvenient and I would have liked that information before starting. The way the information panel displayed its text, other applications might be affected.
When the installation was complete, I was asked to register or use the 30-day trial. When I selected this, despite being connected to the internet at my office, the Setup Assistant was unable to connect and I could not use Office at that time. Also, when I went to use my version of iCal, which contains a lot of data and syncs with Mobile Me, I was asked if I wanted to use this as default calendar application: Office had presupposed I would prefer to use Outlook.
At home, registration went smoothly. There may have been something the proxy settings at my office did not like as all other links, including iTunes app checking and software download worked fine when I checked. The end of the registration process has two checks: for automatic downloads and for system checks. I said No to both: I repel any attempts to poke around on my hard disk. I had a careful look, however, and found the tell-tale Microsoft fonts folder in my installed fonts folder. When I opened a document in Word I saw that all of my Mac fonts were listed there including the Thai ones; and my installation includes the official TH Sarabun: that was there too. They did do their homework.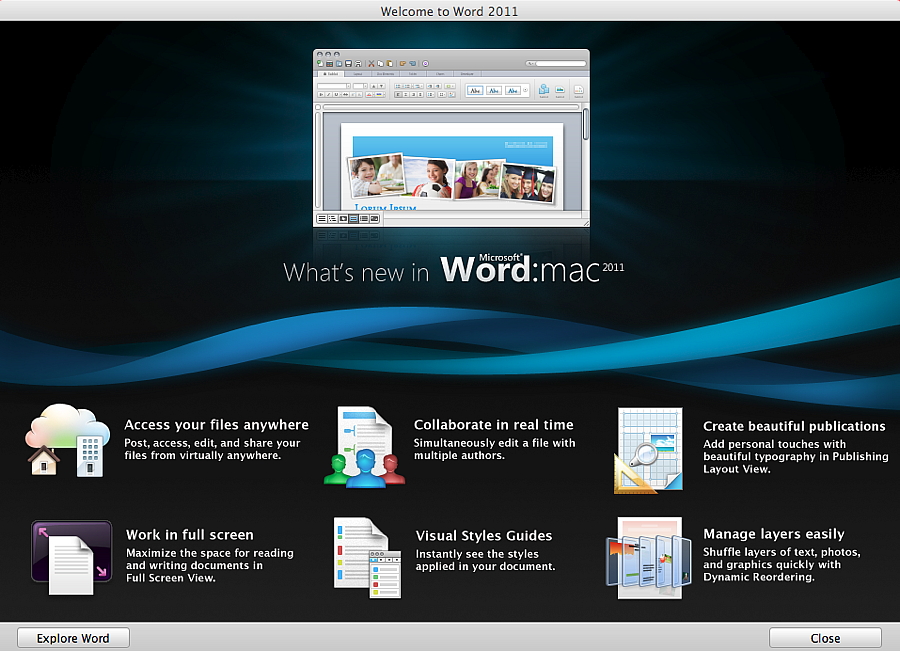 I started with Word which has a screen of 162 templates like Apple's Pages, but there are also online templates giving access to hundreds more, including over 200 resumes. It is easy to see why Word is such a powerhouse and the number of ways in which anything in the document could be changed was almost overwhelming. Microsoft have avoided some clutter by having formatting groups, in what they call the Ribbon, revealed by tabs, like Home, Layout, Tables, Charts and others. Above these is the toolbar giving quick access to functions, including a media browser.


This had been another of my problems with that earlier review, but this time one click and (gasp) Aperture, iPhoto and PhotoBooth libraries were revealed. It was the same with the Music and Video installed on my Mac. The Media panel also had a section for Clip Art, some useful symbols (which usually take a lot of digging for in the Mac's Font panel) and Shapes.

At the bottom, almost too small to notice unless we are familiar with the program, are different display types: print, note-taking, publishing. A document needs to be converted to work in the different display type. While I prefer Pages for publishing (less interface clutter), there are a number of similarities, especially with tables.
Some of my colleagues in the Engineering Faculty prefer to use Word with the way it handles formulae: one tried several alternatives, including a formula editor added in to Pages, but had to admit defeat. This may well be the solution they have been waiting for.

It is good to learn something new. With this latest version of Word, I have changed my perceptions of Microsoft's products for the Mac. This product shows that Microsoft's Business Unit has listened to the comments of users and adapted.
Next time: the rest of the suite

<! ----------------------------------------------------------------------->