<! ----------------------------------------------------------------------->
---
2.4GHz Mac mini: Rear View

As soon as the Mac mini was released back in 2007, I wanted to get my hands on one. In the end I had three. They were billed as the basic Mac and users were able to use the same mouse and USB keyboard they had for a PC. Taking lessons learned in the development of laptops and the angle-poise iMac, Apple managed to squeeze all the important components into a case the size of a biscuit-tin; and when I had one for review, I took a photo of the device in my larder. I have also seen pictures in which 400 were used as a server farm, showing the great flexibility of this computer
Its compactness was its strength and its weakness. While it could be stored in a few square inches on a shelf, getting to the components, for example if one wanted to change memory, needed care; and there was only one memory module. Access was by releasing clips round the base using a tool like a paint-stripper; and I can tell you that putting the clips back was harder and occurred with a loud crack when I did it.

Times have changed and the latest version of the Mac mini has arrived with more powerful insides and a redesigned case that is constructed using the same unibody fabrication technique that Apple developed for its high end laptops. This is a more economical method of construction: aluminium removed during the process is recycled. The box also shows some signs of Apple's green efforts with a corrugated card used for its manufacture.
The latest Mac mini comes in two versions: a standard version with optical drive and a single 320G hard disk (24,900 baht); and a 2.66GHz version with two 500G hard disks with OS X server installed (35,900 baht).
I collected the basic, 2.4GHz, version from Apple's Bangkok office in late July. This sports 2G memory and the specifications mean that this is a well-equipped computer out of the box.
I knew that the design was different, but when I opened the box I thought I had collected an Apple TV with the lower, flatter shape of the unit and the black apple logo on the top. A quick look round showed this really was a Mac mini. The wider dimensions (19.7 cms) have allowed the earlier cramped rear to be revised and 4 USB ports are available, making connection of external devices simpler. Along with these are an SD card slot and a Firewire 800 port giving several ways for data transfers to be made. While the first versions had an external power "brick" the power supply is now internal and draws under 10 Watts.
Video output from the NVidia GeForce 320M graphics processor is well-covered with HDMI and a mini display port. When I arrived home, where I have no spare monitor I used the mini display port and a connector and linked the Mac mini with my TV using a VGA cable: this is the same connector I use to link my MacBook Pro to projectors at work. I used the Apple keyboard from my iMac and an old single-button mouse. The only delay was with selecting the optimum resolution for the display. The same had happened with my MacBook Pro earlier. I linked the Mac mini to my Mobile Me account and within a few minutes, my contacts, calendars and some other useful data had been synchronised to the machine.
In my office, I used different hardware. I linked to an Acer monitor using the HDMI to DVI Adapter which is included. When I started the mini in my office, there was no keyboard attached, but the software automatically hunted for a Bluetooth keyboard. I quit that and connected a USB keyboard and a Microsoft USB mouse.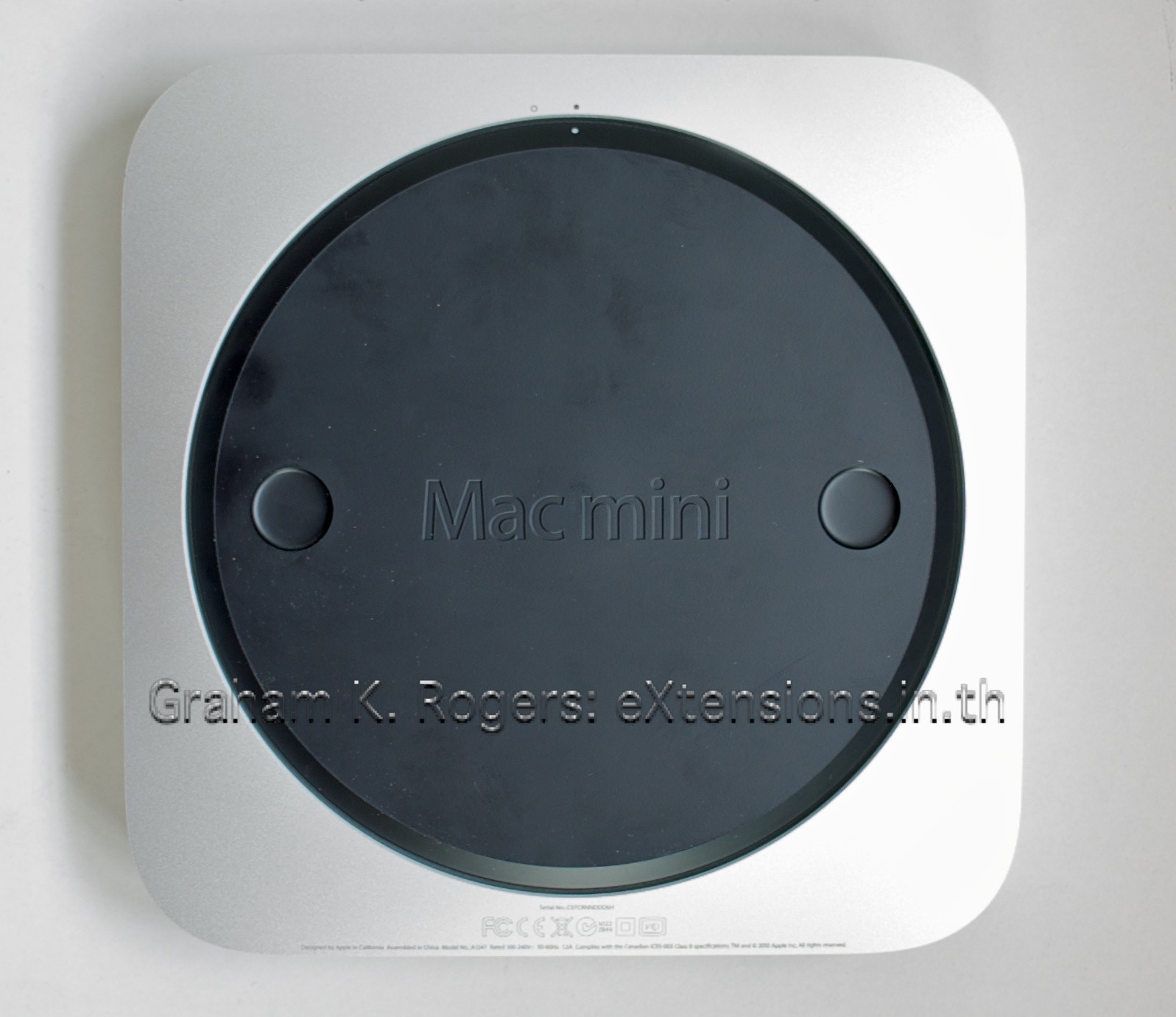 While access to memory had not been easy with the earlier versions of the Mac mini, this aspect has been completely redesigned and the underneath now sports a removable metal plate that fits snugly. It opens when turned a few degrees, revealing the internals including the memory modules. It is now a task of a couple of minutes for these to be changed, rather than the sweat-inducing efforts of before.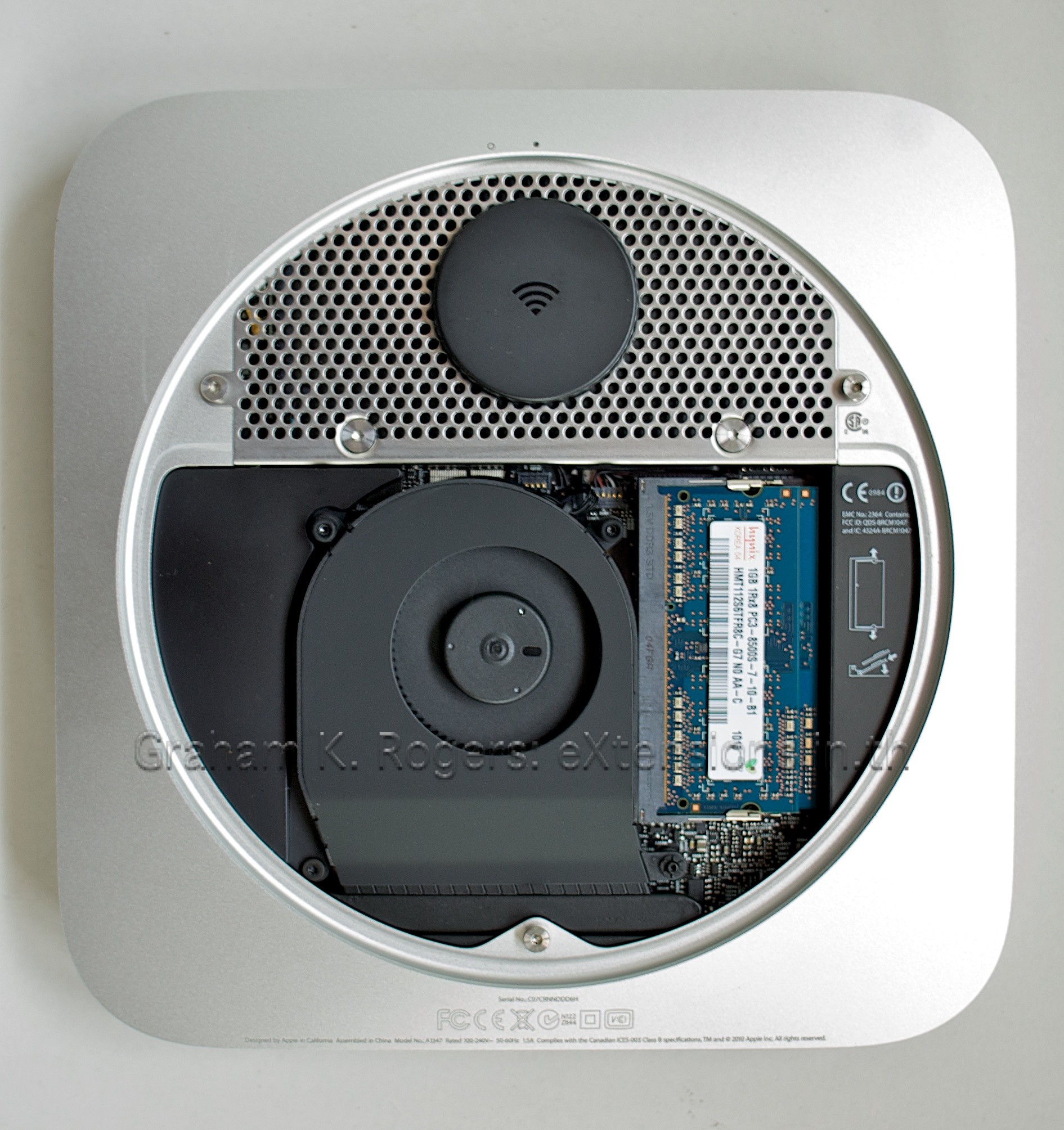 At 1.37 kg it is somewhat lighter than the 2.54 kg of my MacBook Pro, so for some users it might be considered as an alternative to a notebook computer or the need for two computers. It does need keyboard, mouse and monitor of course, but these are no longer expensive extras.
Despite its small size this is a useful computer that takes up very little desk space, or can be hidden away on a bookshelf or beneath a television. With video, music and photographs on its hard disk, or shared from other computers over a network, this can be both a neat little work machine and a home media centre.

See also: the Mac mini (2): Observations in Use

<! ----------------------------------------------------------------------->