<! ----------------------------------------------------------------------->
---
As soon as I had installed iLife '11, I downloaded the 9.0.1 update and ran that before opening iPhoto. During the week, another update to iPhoto was released bringing it to version 9.1 and returning Calendars to the "Create" selections. No one is saying why this was missing in the initial release of iLife. I am writing this based on the latest update (9.1).
Import functions are unchanged as far as I can tell and, although I usually import images via Aperture, the photographs are available in iPhoto if I attach a device (camera, iPhone) and iPhoto is running.
Unlike many other Apple applications, the toolbar is not on the top of the iPhoto window and there is nothing in the View menu to change this. Other applications in iLife (iMovie, GarageBand) also have the top of the window clear of tool icons with controls below the relevant panels which gives a degree of consistency.

Important differences with this latest iPhoto are in the main interface, some of the image manipulation features, and the export (Create) templates, some of which show the lengths that Apple goes to when design aspects for the home user are of importance. Not only in iPhoto, but iMovie (next time) too, there are multiple ways to export images and have the output look great without needing to spend hours with complex software packages.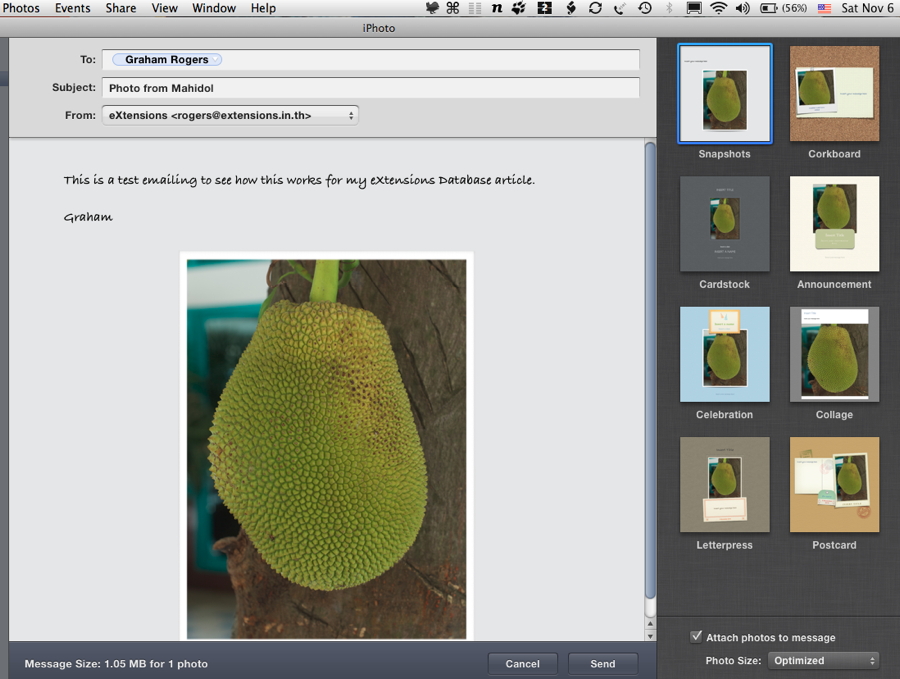 A useful example is the way that a photo can be sent by email. Previously, the image was exported to Mail which opened and the user would complete the message. Mail also had "stationary" to give some nice effects. With iPhoto 11 (version 9.1 - confusing isn't it?), selecting images and clicking on the Mail icon at bottom right, brings up a templates panel. Once selected, a mail panel opens within iPhoto and the address is entered. The receiver views a message with the photo and template which includes any message written by the sender. The mail contains two files the original photo (size depends on the sender's choice) and a whole template image.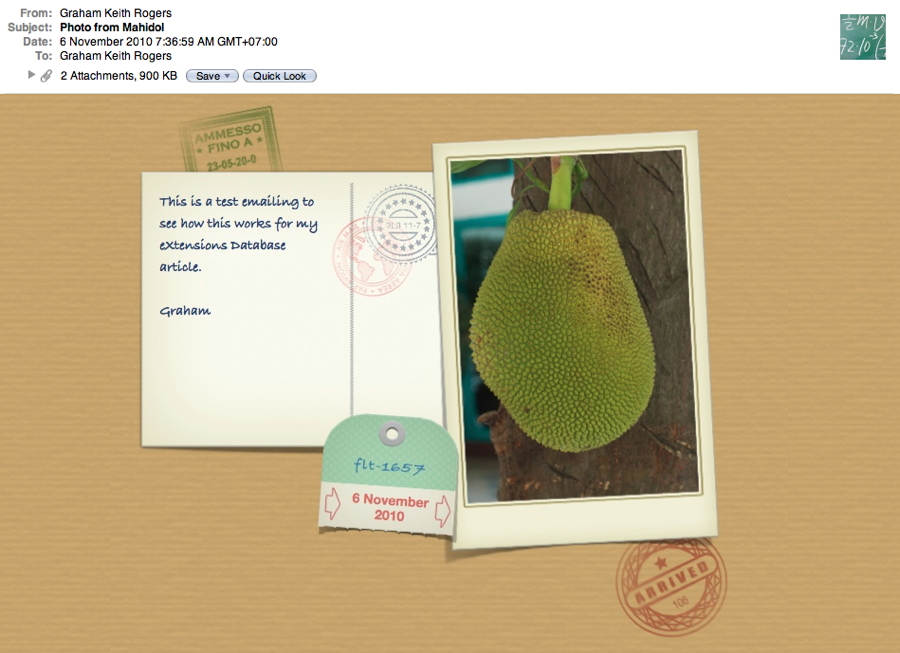 The slideshow, which can be a nice way to show friends a selection of shots or even a company product, can be almost as easily put together as the Mail output. I highlighted a few images and pressed the Slideshow button. After a few seconds a panel (similar to the one in iPhoto 8) appeared with three sections: Themes, Music and Settings. The Themes panel has nine choices. Some, like Classic, Ken Burns and Shatter were available before; but others -- Snapshots, Holiday Mobile and Places -- are new. The last two show a panel to choose music for the slides from several sources (e.g. iTunes, GarageBand); and a panel for display criteria.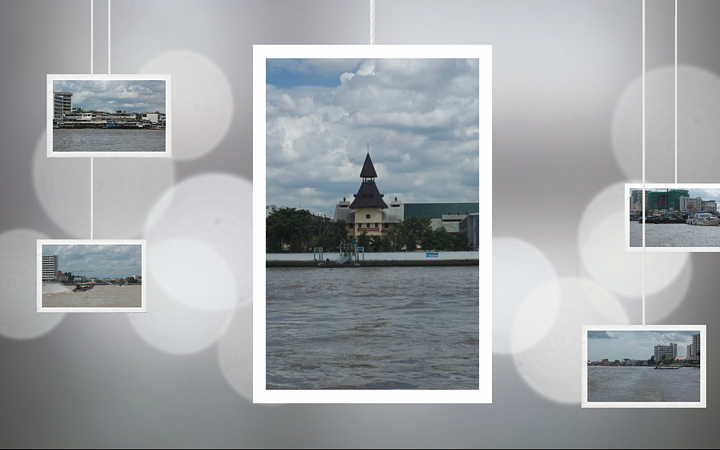 Places depends on images that have geo-data (coordinates), such as those taken with the iPhone and the latest iPod touch. With the information window open, photos that are geo-tagged display a small map: others ask the user to assign a location. After launching the slideshow, there is a delay while maps are downloaded: do not try this on a slow internet day. Once done, it displays a map then the images. Movie clips can also be included. As well as entertainment there is a certain education value here, especially for those with younger families. Using the export menu, slideshows can be exported in several sizes and resolutions.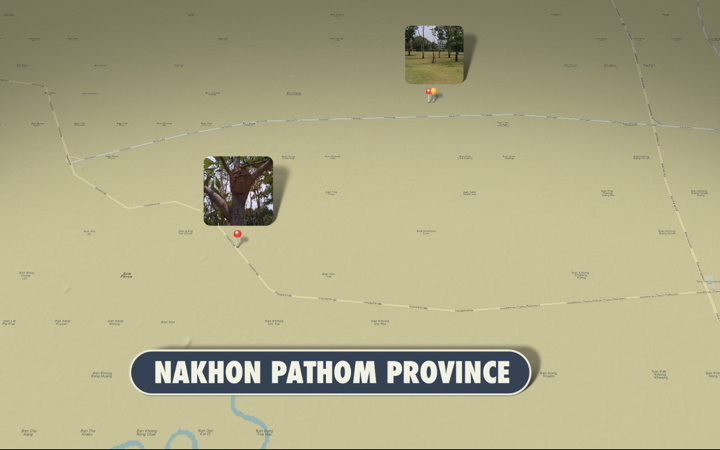 Other media are cards, books, and calendars: each now has new themes. With the book, I was prompted to select a country for billing the first time. As Thailand is not one of the 24 countries that has a direct printing service, I chose Australia and carried on. The country can be changed in iPhoto preferences. When a theme (the book design) is chosen, the software creates a version. We are also asked to choose hard cover, soft cover or wire-bound at this stage as well as a theme.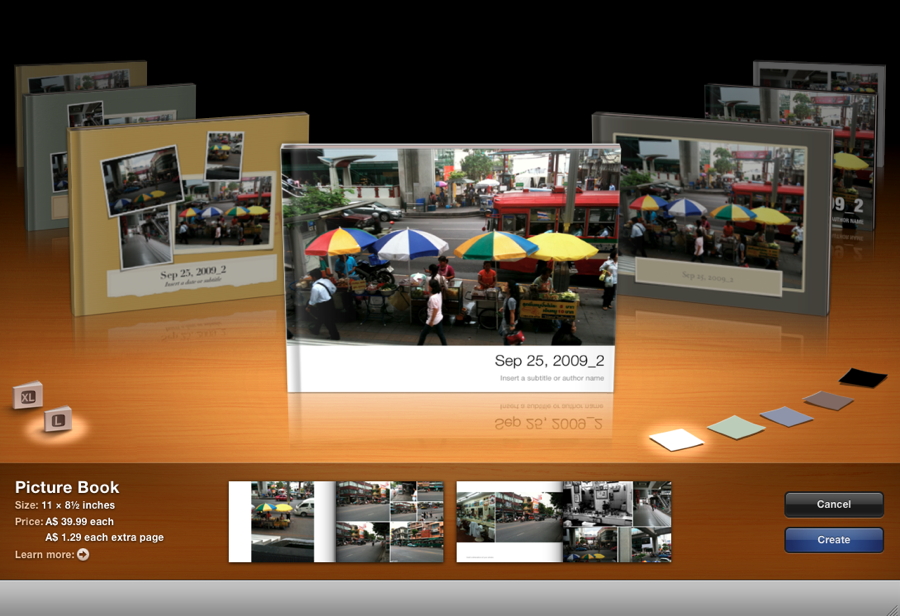 Large and small are also available, plus theme colours. The book is created and we can add titles and other text throughout. We can also add, remove or substitute photographs. With no linked printing service in Thailand, I export as a PDF. When I reviewed Aperture in 2006, I had a book printed by Hi-Res [Note: Flash-heavy link] in Sukhumvit 24. A 26-page book exported as PDF in this version was 350MB.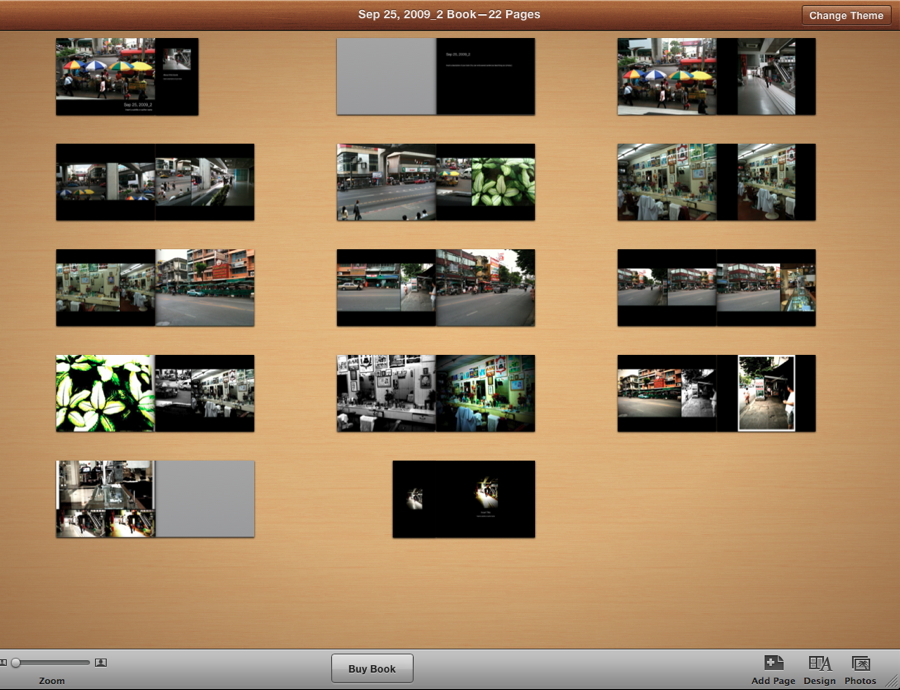 The process for calendars is similar: select photographs, choose a theme and then Apply. We are also given the option to add public holidays (including those in Thailand) and entries from iCal including Birthdays. The creation of the calendar is automatic, but text and image placement can be added or changed. Each date square may also have notes typed in when the calendar is created giving complete personalisation. I also print calendars using PDF files. It may be useful to note that the paper size may be changed (for example A4 to A3).
All new Macs come with iLife ready installed.

See also:
Using iPhoto in iLife '11

<! ----------------------------------------------------------------------->