<! ----------------------------------------------------------------------->
---
I thought I had been smart by ordering iLife online as there were no copies in the shops, but I watched the online tracking as it remained at the airport for several days: Clearance delay. I checked with DHL on Thursday and was told that this was due to Customs. I think she meant with a large "C". I made a final check on Friday evening. I look forward to Apple's online software facility and downloading directly: no disks; no frustrating waits.


Copies of iLife '11 were immediately available in America; and on Friday (29 Oct) there were scores on sale in the Covent Garden Apple store, London, leaving me wondering just how serious Apple is when it comes to Thailand. This is not the first late arrival.
In Siam on Saturday, iLife was in the stores, a week after reviews began appearing online. This is embarrassing, but it did give us laggards time to note problems. Several people had reported the loss of their iPhoto libraries. I backed up twice last week to make sure. Apple released iPhoto 9.0.1 which includes a fix for this and other issues. In Siam I bought the family version (5 licences). I later phoned DHL to cancel the shipment. The shipment had been cleared Saturday morning and was scheduled for delivery. It will not be accepted at my office. [Our nice security ladies turned the DHL man away.]

My backup disks were at work, so I made another copy of the iPhoto library and put it on the desktop. That took about 30 minutes: time to make some tea.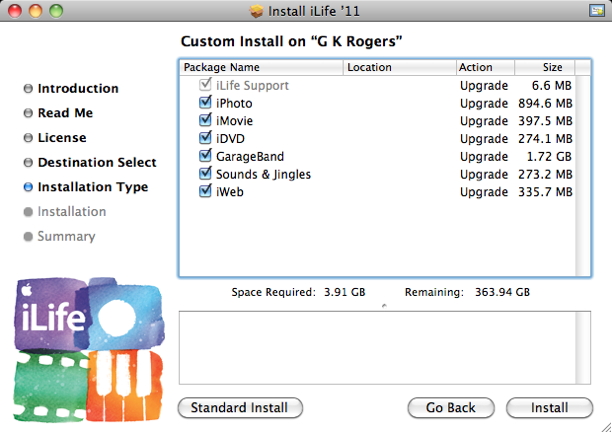 I restarted, switched to the Admin account and repaired permissions before inserting the disk. With this update, a Customize button enables users to deselect components. I ran a standard install (3.91G) which took about 10 minutes. I ran Software Update and installed the 35MB 9.0.1 update file before repairing permissions again. I restarted the computer and returned to work in my user account.
iLife is made up of GarageBand, iDVD, iMovie, iPhoto and iWeb. There was a silent change at the weekend to iTunes (not on the disk) when the Genius sidebar returned. This affects users in countries where iTunes music stores are available. Two components (iDVD and iWeb) are unchanged, leaving doubts as to their future. I had a quick look round iLife.

I began with Garageband. The main panel now opens with a "Recent project" icon. I started a new project and saw that track controls have changed with now only Mute/Unmute and Solo/Unsolo shown, with the icon for showing volume controls moved to the right of the track control. Inexplicably, the Record button at the bottom of the main panel has been moved from the left to the extreme right with other slight changes too.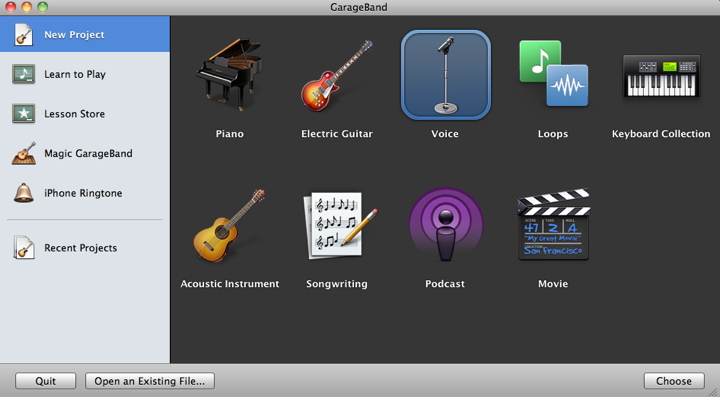 My saved Favourite loops were where they should be, but I understand from online information that some significant changes to help musicians improve the quality of output have been included. There is also an evolution of the lessons with "How Did I Play" offering feedback to learners.

Starting iMovie took some time as it generated movie thumbnails for Aperture; then for iPhoto. When complete, a BBC video I had downloaded (legally) was shown in the main panel. As well as the BBC video (in a folder), iMovie had identified clips in iPhoto and also in Aperture, all of which were from my iPhone.


I dragged a couple of clips to the project window and was pleased to see how quickly these could be edited and effects added. A click on an icon reveals the audio track for editing: far easier than in earlier versions. With the new feature, Trailers, I assembled a slick movie trailer in a couple of minutes. More on iMovie later.

Then iPhoto. Again the library needed updating, which took a few minutes, but as I had already updated to 9.0.1 there were no missing images. As before, the sidebar shows icons of Events, Photos, Faces and Places (with a new icon). Photos displays all pictures in date order, with a subtle change to the interface.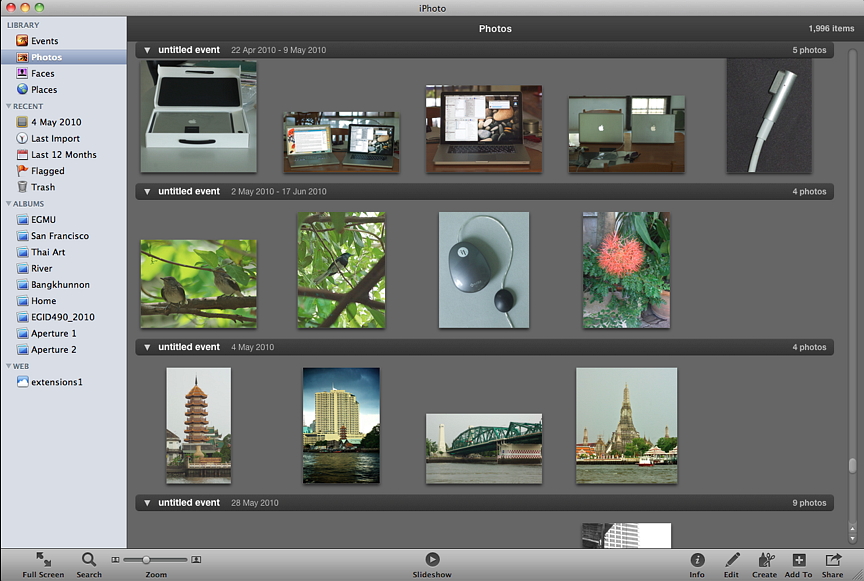 The most obvious difference in this first look was to editing with a Quick Fixes section, Effects which has some nice one-click changes to photos, and Adjust with several familiar sliders. I think a "rotate" button is needed in the main panel, as is a batch process feature. Entering Edit and selecting images one by one to rotate them is tedious. Access to other services (such as sharing) or creating output formats -- books, calendars, cards, slideshow -- is via icons at the bottom of the main panel. There are some new themes for the slideshows and these are now also available in Aperture.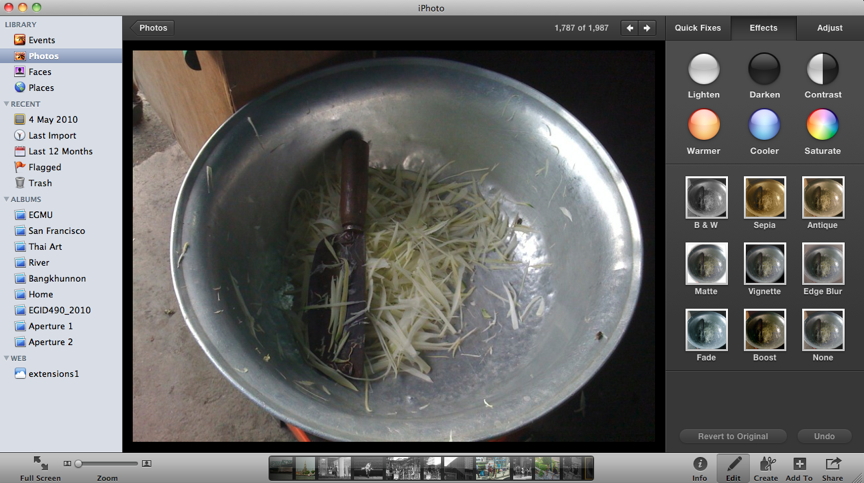 Apple's iLife suite is the one most obviously aimed at allowing non-professional users to get the most out of their media input with just a few mouse clicks. I will be looking at iLife in more detail soon.

See also:
GarageBand and iMovie

<! ----------------------------------------------------------------------->