<! ----------------------------------------------------------------------->
---
As the new year is approaching with Christmas only a few days away I looked round some Bangkok iStudio outlets and on Apple's online store to see what is available.

Using the Internet to check prices, and even make an order, might suit some people, particularly those with no shop nearby, but there are drawbacks, most notably the aspect of personal service. This has improved greatly, especially since the iStudio franchise was set up. The staff all attend rigorous training sessions and are more knowledgeable about the products than was the norm years ago. In the stores I visited, staff have been polite and helpful.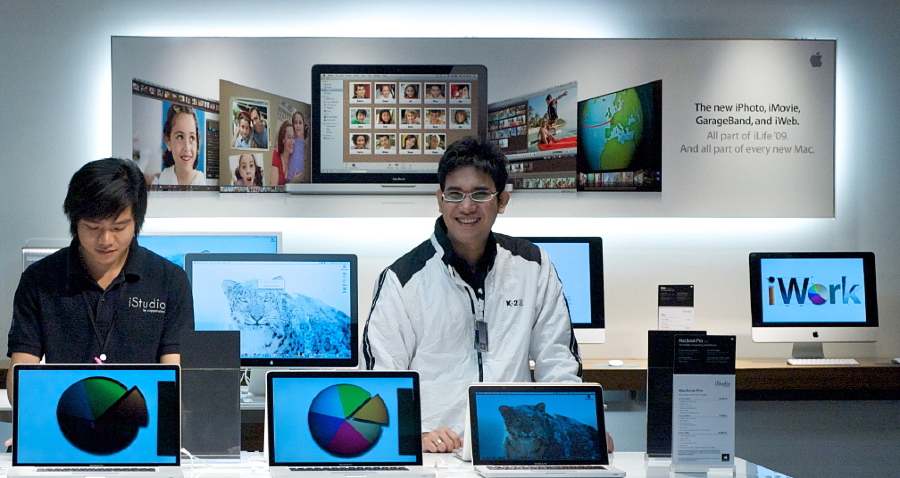 Apple's online store for Thailand does have certain advantages: there are services like engraving of iPods, as well as certain models that can only be bought online; and customization. For example, my next Mac will probably have a 250G hard disk. I could upgrade this online for a fee to 320G. That adds a week to the delivery (free for purchases over 2,000 baht), while the iStudio would take 3 weeks.
The corporate gift site focuses on the iPod range for those important customers or loyal staff, but also ships computers. All iPods (except the tiny iPod shuffle) can be engraved with a message and a company logo. The site tells us that special volume pricing may be available.
There is also a link for students in full-time education and teachers, although Thai users may prefer the education distributor, EITS. There are also the on-campus U-Store outlets at Chiang Mai, Pathum Thani (Bangkok, Rangsit and Thammasat), and Assumption University at Samuthprakarn. I hope Mahidol's Salaya campus will also be on the list soon.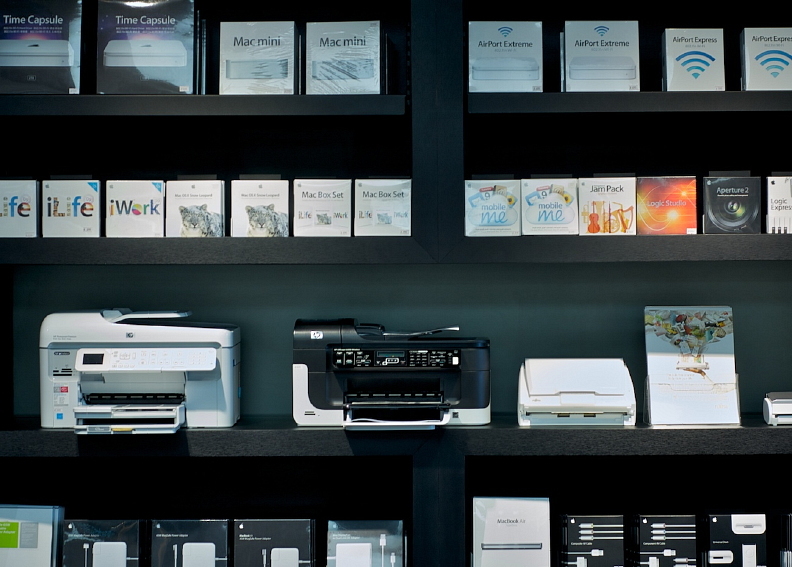 An advantage of the iStudio is the range of accessories that are on display. Not everyone will want a new Mac, but the bags, speakers, iPod cases, cameras, plus the other odds and ends can make useful gifts. The Magic Mouse, for example, is a top seller currently. There are now more than twenty iStudio outlets in greater Bangkok as well as several in the provinces. I am pleased to see that after the Central Pinklao iStudio was opened, there is now one at the Mall Bang Khae for those on the Thonburi side.
The main concentration of iStudio outlets is in the Siam, Central World and Phantip area, with others in Fortune Town, the Emporium and in Soi Thonglor; as well as those northwards like Central Lad Phrao, Ramindra and at Rangsit. There is a 2-floor iStudio in Kaosan Road. Chiang Mai, Phuket and Pattaya are also served. Currently, there is an iStudio promotion for 10 months at 0% on notebook computers. Credit cards that are in this scheme are Kassikorn, Citibank, SCB, KTC, Ayutthaya and First Choice.

I tend to split Apple products into four main groups: desktop computers, portable computers, iPods and iPhones. In some cases, particularly with the desktop machines, there is some merging of what used to be called professional and consumer areas.
A small cousin of the Mac Pro is the underrated Mac mini which was upgraded recently. The small size means that they can be kept out of the way easily. The two basic models have 2.26GHz and 2.53Ghz processors, with 2G and 4G of memory respectively. These are priced at 22,900 baht and 28,900 baht and recently were top of a list in terms of power consumption: apparently Mac minis are cheaper to run too.
There is also a 2.53Ghz version with twin 500G hard disks (4G RAM) that is shipped with OS X Server software allowing "an unlimited number of Mac and PC users without per-user licensing fees" unlike some other server software.

The iMac is an engineering and design masterpiece. Like other Macs, this begins to blur the line between the consumer and professional computer. I visited the Siam Paragon store with a reader from Holland -- a longtime Mac user -- who has just bought the latest 21.5-inch version which he is delighted with. We looked at the 27-inch iMac and agreed on its desirability: space limitations made the choice for him.
Two versions of the 27" iMac are listed. The first with the 3.06Ghz processor, 1TB disk and ATI card at 62,900 and the other with 2.66Ghz Quad core (i5) processor at 73,900 baht. There is a waiting list for some of these. There is another iMac which is available by order: the 2.8Ghz Quad core (i7). The online store configuration page shows that this adds 7,169 baht to the price. Worldwide this is in short supply.
There are two versions of the 21.5" iMac. Both have the same 3.06Ghz processor, but the 43,900 baht machine has 500G hard disk and NVidia 9400M graphics card, while the other machine (at 53,900 baht) has a 1TB disk and the ATI Radeon HD 4670 card.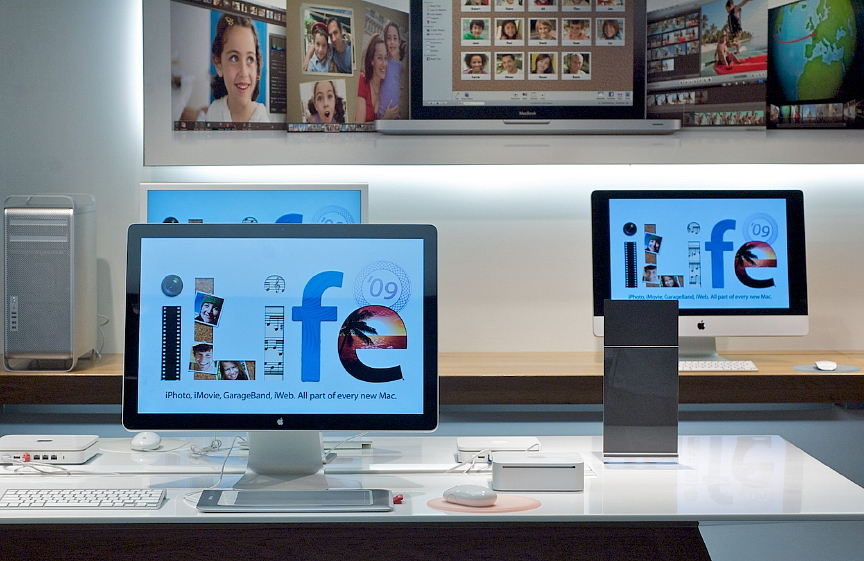 My thanks to iStudio, Siam Discovery Centre for permission to take photographs.
Next time: Christmas and New Year Apple Shopping (2): Notebooks, iPods, Gift-wrap and iPhones

<! ----------------------------------------------------------------------->