Cassandra - After the Show: What does it Mean Here?
By Graham K. Rogers
---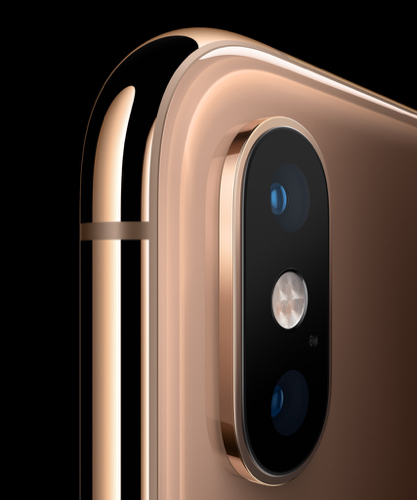 A few hours ago Apple held an event at the Steve Jobs Theater at which they introduced a new Apple Watch and three new iPhones. I had a look at what was introduced and wonder when the devices will arrive here and at what prices.
Opening Notes
Currently, the only iPhones offered on the Apple online store for Thailand are the iPhone 7 and iPhone 8 models. iStudio branches should be carrying stock for a while, although I am unable to say at what price. Information I have from a couple of people I know attending the Apple event is that there is no indication at all about when the new devices will be arriving here.

The same applies for the Apple Watch which saw immediate price reductions to 9,900 baht for the basic Apple Watch 3. I am interested in the new model as the size has been increased from 38 and 42mm to 40 and 44mm. Two sources have independently confirmed that the Watch bands I have will fit the new models (this was also in the presentation by Jeff Williams). This is a wise decision by Apple.

Early morning news had showed me that there are now three new models: the iPhone XR (with the smaller R inside a box), in a range of 6 colors; the iPhone Xs, with a new A12 Bionic chip; and the iPhone Xs Max. I wrongly thought that Apple would never use such a generic suffix for any model. As I predicted a couple of days ago before model names were confirmed, if Apple were to use the "s" suffix, someone would be bound to come out with a comment that this is just an interim iPhone with little change.

Winner of the week's Lazy Tech Journalist Award is Gareth Beavis of TechRadar: "that means the same design, with only a few tweaks inside to mark this out as a different phone." I saw this referenced in a MacRumors article (Mitchel Broussard). ZZThe specifications tell a different story, as ever, so I mention the new A12 Bionic Chip (see more below) and the change in metal, from aluminum to a special stainless steel. Ah, but it still looks the same (and that means I can continue using that nice Apple case). . . .



Apple Event
I ran through the video on Thursday and expect to use some of the demonstrations in teaching: always useful input here. The format was tight Apple with some high-quality videos between solid chunks of information about the 4 products being released: Apple Watch 4, and the three iPhones. What is perhaps important is that there were no Mac announcements, but close to the end, Tim Cook mentioned that while iOS 12 is to be released next Monday (17 September), Mojave will be made available a week later on 24 September. That would would provide a window when new devices might be announced.

In the first video which seguéed nicely into Tim Cook walking on stage, a runner with the all-important clicker had a couple of minutes to make it from the Apple Campus to the Steve Jobs Theater. There were a couple of interesting shots from the campus, but this was Apple not really taking itself seriously. Tim Cook started the business of the day by the usual updates (2 billion iOS devices) before outlining the areas that were to be covered, starting with the Apple Watch.



Apple Watch
The most obvious thing is the new size, but as ever (see iPhone Xs above) looking at the surface with Apple products rarely gives the full story. As well as some new watch faces - interesting enough - and the nice finish of the new models, there is an upgraded S4 chip inside (64-bit) which produces a lot more power. The Crown now has haptic feedback and there is improved speaker output. The microphone has been relocated for better calls.

A new gyroscope and sensors allow fall-detection: a killer and not just among the elderly. Williams outlined some of the data analysis that went into the production of this feature - remember Jony Ive and the EarPods a few years back - and this was well-received by the audience.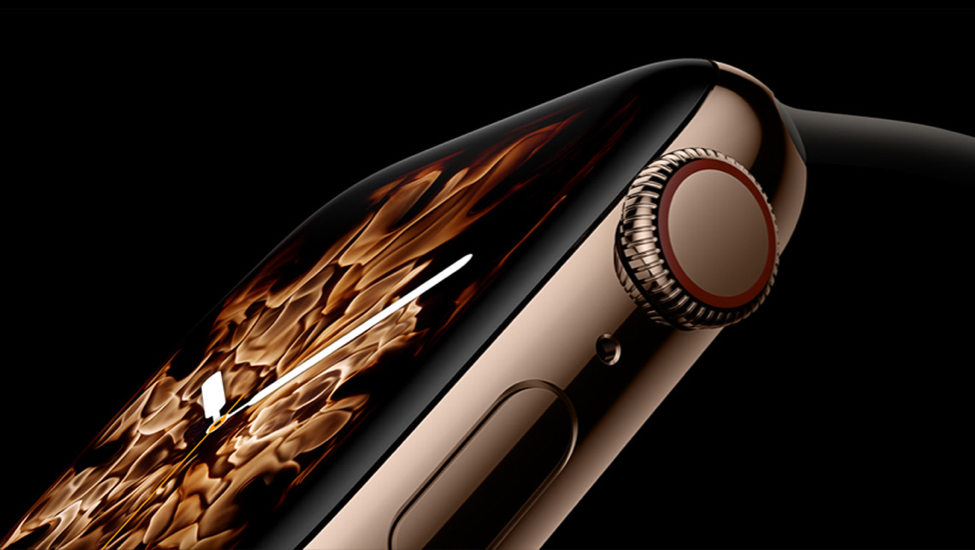 Apple Watch 4 - Images courtesy of Apple

The Apple Watch has always had a heart sensor and I use this often (even overnight with the Cardiogram app). There are now three new heart-related features: notification if the heart rate is too low; screening of heart rhythms, giving a warning if thee seems to be a problem; and a new sensor on the back allows for the Watch to take an ECG. This is no small beer: Apple has FDA approval for this first over-the-counter device for consumers.
I wondered if there would be problems in countries where the medical profession is more conservative, such as Thailand. It is a feature that can be turned on (or not) and will be available in the USA later this year. Apple is working with authorities in other countries to bring this to customers all over the world. I hope I am wrong, but while the President of the AHA was enthusiastic about the uses of technology in preventative medicine, some countries are slow to upgrade because they do not understand the benefits, or they wish to protect their own guilds.
Like the current Apple Watch, battery life is said to be 18 hours. The device comes in Silver, Gold and Space Gray and will have a basic cost of $399 ($499 with cellular). 26 countries were in the first rollout with 16 (and 34 carriers) for the cellular version: 21 September.
A Trio of iPhones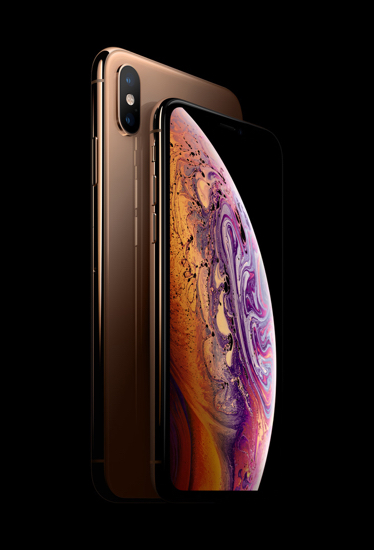 It was Phil Schiller's job to outline the iPhones and he runs through the technical properties on autopilot, with some occasional asides. As well as the basic metal frame, he pointed out the new glass and that the waterproofing had been upgraded to IP68: 30 minutes at 2 metres. I would not want to try.

The intro video made it clear there were two sizes: screens are 5.8" and 6.5", OLED with a 1 million: 1 contrast ratio. He went through FaceID, confirming how it works before focussing on the new A12 chip: 7nm process, 6.9 billion transistors, 6-core CPU and 4-core GPU. The neural engine is 8 core as compared to the 2-core A11 chip. Nothing new here, eh?

A couple of demos confirmed how good Apple and some developers think the new iPhones are, before Schiller looked at the 12MP camera. The 6-element lenses have seen some redesign, but it is clear from the way images are being processed that the major changes are with the software: increasingly playing a part in producing an image; with the use of neural technology with the higher speeds capable also helping produce better images.

A well-received feature was the ability in Portrait mode to be able to adjust the depth and we were shown a change from f1.4 to f16, which changed the background effects considerably. Also well received was the dual SIM which appears to be software and hardware (one real, one virtual) although for China, both SIM cards will have to be physical ones.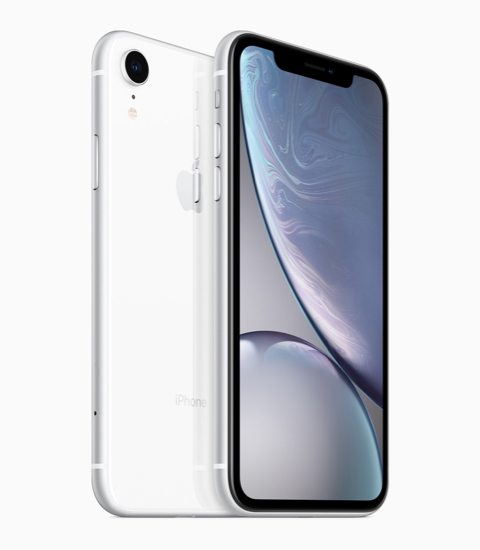 And then "One more iPhone". Schiller introduced the iPhone XR which uses the same aluminium 7000 as the iPhone X and before. There are 5 finishes, plus the (Product) Red version. The phone is waterproof to IP67. I had expected that this would use the A11 chip, but it also uses the A12 Bionic, and has FaceID. The screen is 6.1" (bigger than the iPhone 8), but it has a single camera, although there is software that allows Portrait mode to be used.
The iPhone Xs and iPhone Xs Max come in capacities of 64GB, 256GB and 512GB (an inevitability I guess). The models start at $999 and $1099 respectively. The iPhone XR comes as 64GB, 128GB and 256GB starting at $749. Models will be shipped in 30 markets (including SG and HK) on 21 September, with another 29 countries (including India) on 28 September.
Local comment
There are no dates suggested for Thailand, although authorisation processes may not start right away and there are always delays. I suggest that the devices may be on sale here around the middle or end of October. I would expect the iPhone XR to be sold at around 26,900 baht (factoring in VAT) for the 64GB model. Likewise the iPhone Xs should start around 35,000 baht, with the iPhone Xs Max at about 39,000 baht with VAT.

Apple now has a range of phones, starting with the iPhone 7 and iPhone 8 at 17,500 and 23,900 baht, respectively, so the new models slot in right above. As well as the iOS update (17 September) and Mojave (24 Sep), an update to tvOS is slated for 17 September as well as an update to HomePod (somewhat academic here).

And new Macs? . . .



Graham K. Rogers teaches at the Faculty of Engineering, Mahidol University in Thailand. He wrote in the Bangkok Post, Database supplement on IT subjects. For the last seven years of Database he wrote a column on Apple and Macs. After 3 years writing a column in the Life supplement, he is now no longer associated with the Bangkok Post. He can be followed on Twitter (@extensions_th)