eXtensions - The Wednesday File (51): Apple, Processors, Education and Privacy
By Graham K. Rogers
---
An Apple event at a Chicago school focussed on education software. As part of the event we saw the announcement of a new iPad that can use the Apple Pencil. A rumour this week suggests that Apple could move away from Intel soon and design its own processors: this is overdue in some users' eyes.
Apple and Processors
This week a rumour from Ian King and Mark Gurman (Bloomberg) suggests that Apple will be making its own chips for Macs by 2020 and dropping Intel. Before Apple switched to the Intel chips, and was running PowerPCs, they ran several Intel-based Macs in the labs with OS X. If this switch to its own ARM chips is on, then they are already running macOS on these processors. A few months ago there were also rumours of Apple's Marzipan initiative that was expected to bring more integration of apps across devices. Perhaps that was a stage in preparation for a switch; or perhaps it was the first part of the rumour for a processor switch.

Ever since the A-series processors began to show some muscle, I have hoped that Apple would either run a Mac with these chips or make some sort of hybrid system. This was always dismissed because iOS apps were not desktop class. The point that many use iOS for most (or even all) their computing (including photography, spreadsheets, movie-making and other tasks), is ignored. The party line is that real work can only be done on a computer running a full OS.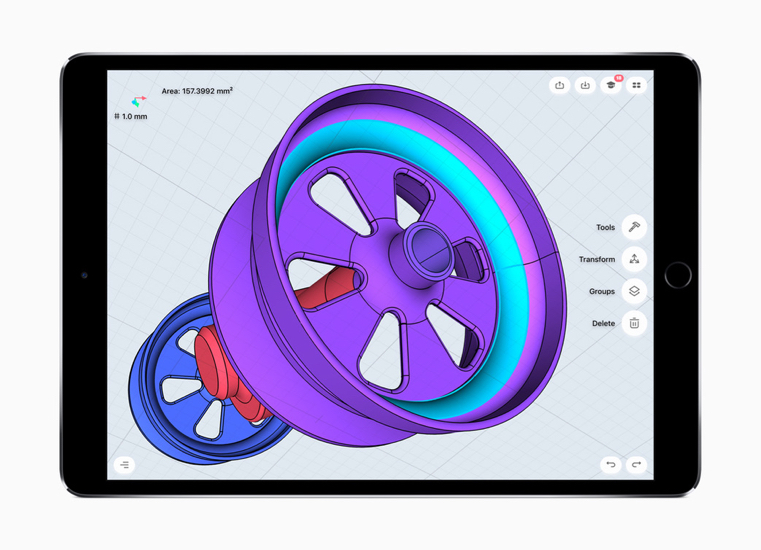 Apple iPad Pro with A10x Chip - Image courtesy of Apple

I have shifted a lot of my photography to the iPhone as the camera is better and editing tools now available make this so much easier to improve images. I can download DSLR images to iOS devices, using iCloud or with the adapter I have, although I acknowledge that does take a long time for the images to synchronise back to the Mac. I am stumped when I come to my Hasselblad because that uses film, but the scanned images are made available on my iOS devices.
The arrival of the iPad Pro put a big dent in that desktop-strength argument, but still the public are shepherded into thinking that real work is only done on desktops. Google have also put a dent in that idea with its Chromebooks, although I am troubled by that direction (see below); but if it is OK on Chrome, why is it not on iOS? I just shrug and get on with it.
Intel shares fell initially because of the implications here as Apple is a long-time customer, but also because - of all rumours - people accept that Apple has the capabilities to do this: design and motivation. Intel has also just announced new Core i9 and Core i7 products with six cores at 45W among another 7 chip updates to its 8th Generation processors (Ian Cutress, AnandTech).
Despite the rumours from Bloomberg, Dennis Sellers (Apple World Today) links these new chips with future MacBook Pro updates. As the rumour is suggesting 2020 for a potential switch, something will of course have to be put in updated Macs in the meantime. Whether WWDC in June will be the right time for these is not clear right now. Of course, Apple is only one customer and there are many more computer makers who will keep buying Intel's products, so it is not really a major disaster for the company; but it could produce a major lift for Apple.

It may be pure coincidence but the rumour about the new initiative appeared just before the news that Apple's Q2 2018 earnings report will take place on 1 May. what normally follows is a couple of weeks in which Wall Street talks down the share price until the good news comes out, when up go the shares again.
Some late news tells us that Apple has hired an AI expert from Google. John Giannandrea, was the former chief of search and artificial intelligence at Google and will run Apple's "machine learning and A.I. strategy", joining Apple as an executive reporting directly to Tim Cook (Mikah Sargent, iMore).
Apple and Education
Last week Apple held its anticipated education event in a Chicago school and although I knew about some of the products announced, I took time to watch the event on Wednesday evening. With the internet signal here it was ironic that I was not able to view this on the Apple TV or the iPhone X, but on the iPad Air 2, which I redirected to the TV using AirPlay. I took notes as if it were live.

As an event it was a bit disappointing: too formulaic. Apple had shipped in teachers in its programs from around the USA, with a couple from other countries too. There were also the VIPs and tame journalists, and we had to rely on these for the initial news of what was happening at the event. I expect that being out of California, there may have been logistics reasons for not providing a live video feed of the event, but that hardly affected me anyway as I was asleep.

Tim Cook started the event as usual and he does seem more confident with his on-stage presentations these days; and aware, perhaps, of his limitations. As usual he provided background, including the history of Apple and its involvement with education. Apple education programs have been running for a long time and even operate here. During his opening pitch, he made several references to Chicago schools.

Guest presenters appeared as the event went on, with details of projects they had taken part in, with a focus on the iPad. One of the speakers was Casey Williams from London and she works with diverse groups of students. She reported on the ways she was able to consider research projects for her young students: they are creating content rather than consuming it. The emphasis at the event was on iPads, and Swift. Greg Joswiak outlined how some advances that new technologies allow, including robotics, photos, movies and more. The idea that these can be brought into the classroom (I certainly use photo and movie projects with my Thai students) is a real advance in what we were able to do as teachers only a few years ago.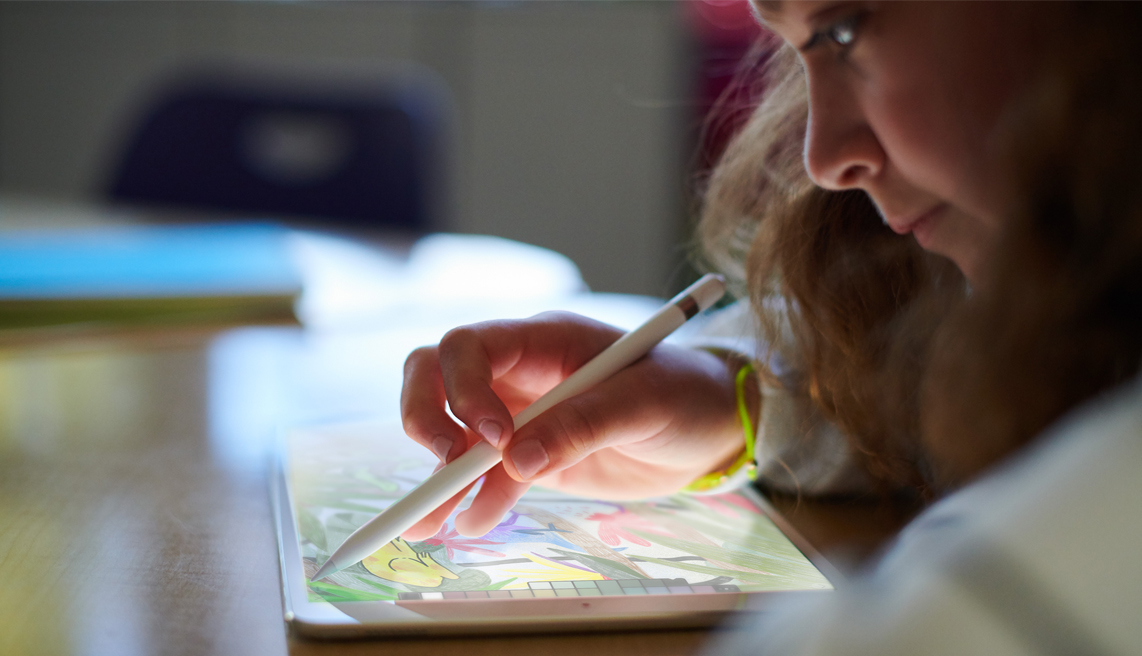 Apple 9.7" iPad V6 - Image courtesy of Apple
Apple and iPads
The anticipated announcement of the new iPad was met with applause of course from this partisan audience. As my older iPad Air 2 is beginning to show its age - a few months back I was seriously considering the smaller iPad Pro - this is perfectly timed for me and they are already shipping to users in several countries, including Singapore. However, no matter how often I keep hitting the page refresh, the blue order bar in the Apple Store for Thailand is still greyed out. Prices start at 11,500 ($329) for the 32GB version.

I hear that the device is unlikely to be made available here until May. This does make some sense, even if it is frustrating, as first the device has to be given a stamp of approval by the authorities (the equivalent of the FCC in the USA), and we are just coming up to the major summer break in Thailand: stay safe, stay dry.

The 128GB iPad that I intend to buy is 14,900 baht (19,900 WiFi + Cellular). When the basic dollar price is converted to Baht (Tuesday prices) and 7% VAT added on, the figure is 10983.33, so the 11,500 is in an acceptable range. The US price for the 128GB version is $429 and converting in the same way, the price with VAT is 14321.74, so 14,900 is also within an acceptable range.


The Apple Pencil which is the major advance for this new iPad, is on sale here of course; and this, along with the A10 chip, will make this a nice interim device: cheap enough to attract buyers, and with enough new features. During the presentation, Apple announced new versions of iWork - Keynote, Numbers and Pages - with a beta feature of annotations in Pages. There was also a new version of Garageband which took advantage of face input. I have yet to try that.

There will be no special cases with keyboards for this new version of the iPad, but the Apple Wireless Keyboard will work OK: just no case. I already have the wireless keyboard in walnut from Orée that I bought in June. The climate here is taking a toll: the left arrow key is missing, so the glue may have hardened, but it still works. My office is alternatively cool (when I am here) or very hot as I am on the top floor: the roof is above me.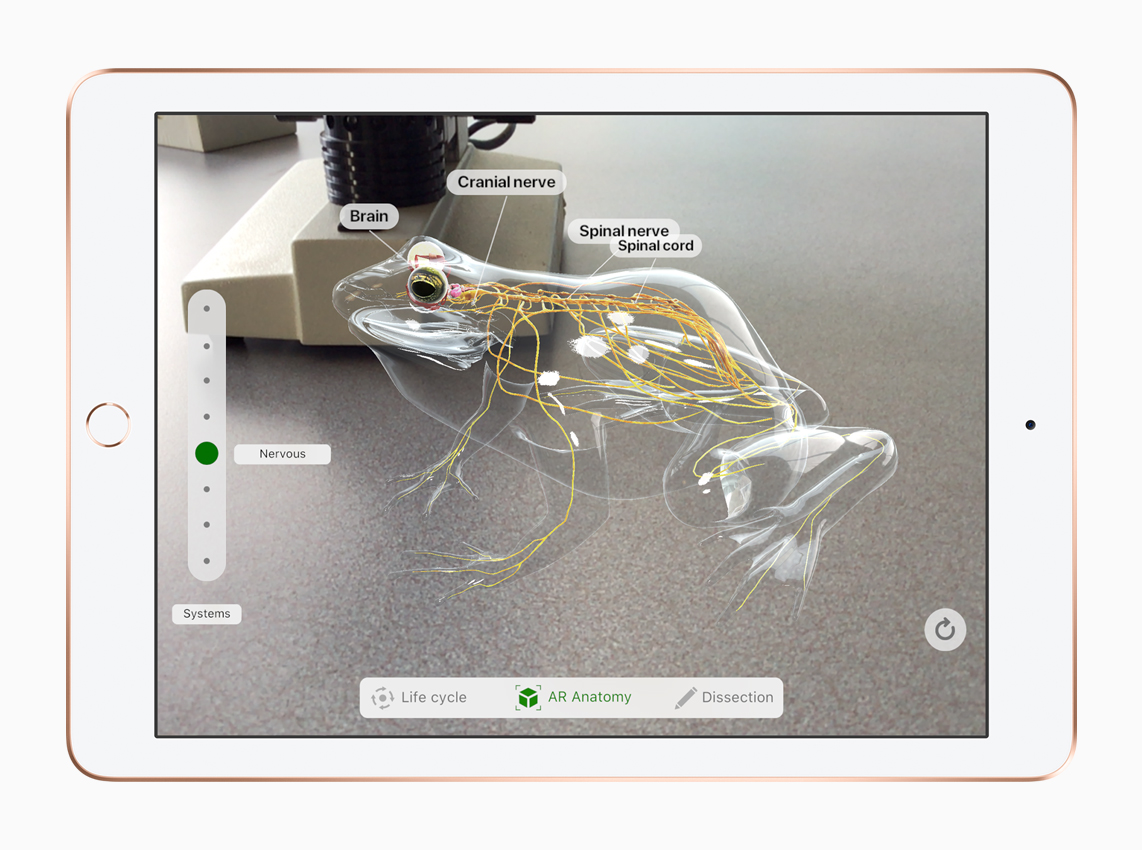 Dissecting a frog on 9.7" iPad in AR - Image courtesy of Apple

A number of new 3rd party Augmented Reality apps were also announced that will go well with the education theme of iPads, and I especially liked one that allowed a virtual dissection of a frog. I never did this at school and would probably have been squeamish, but political correctness limits this sort of activity in some places, so the virtual app is a good alternative. There was also a Logitech Crayon: like a pencil and using Apple technology, but with some clear differences in design and operation (Lory Gil, iMore).
Several announcements for related software initiatives were outlined and I particularly liked the idea that the Apple School Manager would enable teachers to create Apple IDs for 1500 students in under a minute. Thee were also apps for Classroom and Schoolwork allowing the teacher to assign and monitor progress. One announcement pleased everyone: free 200GB for student iCloud accounts. Several commentators wondered when all of us would get this. There was a nice video on homework and motivation that is now available on YouTube:
Apple and Privacy and Facebook and Google
Tim Cook made a dig at the privacy situation surrounding Facebook, and not for the first time. Zuckerberg hit back this week with the idea that privacy is the concern of wealthy users who can pay premium prices for high end devices. But no one has to buy Macs or iPhones, and the most expensive smartphone is not from Apple, although it still runs Android - think about the privacy situation there. Privacy is not something that we should have to buy.

I note also that Microsoft has been battling with the Federal Government over privacy issues: Windows is not used only by the wealthy. We might also question the Facebook memo from 2016 "in which a Facebook VP argues that 'questionable' and deceptive tactics to grow the platform are justified - even if they cost someone their life" (Ben Lovejoy, 9to5 Mac). Later claimed to be a joke, it is on paper nonetheless.


Comments after the event tried to compare the Apple initiative with the headway Google has made in the education market in recent years. At what cost? We have used Chromebooks here in a USAID program and I noted early on that as soon as students register for the Google apps, their data is no longer theirs. Ben Popken on NBC News outlines some of the data Google will have. This threat to students was also highlighted by a case brought by the EFF in 2015 (Anya Kamenetz, NPR). A more recent reminder appeared in an item by Daniel Eran Dilger (AppleInsider) last year. People wonder why I avoid this as much as possible, and I criticise the students who use the tools, especially Google collaboration services.

A strong point about the Google Chromebook environment is the sandboxing and the inability to install outside apps, Michael Simon (MacWorld) reports when comparing the two platforms. These devices might be OK in the USA or Europe, but it was almost laughable here when to make the things start working it was necessary to connect to the internet and the university system is not the best. To work here I run the Mac connected through my iPhone; and on some days it is better to go home as the internet there is better than the connection in my office. There we had a class of several students, a team of instructors and several observers, but nothing happened. Fortunately the USAID team had a plan B.



Graham K. Rogers teaches at the Faculty of Engineering, Mahidol University in Thailand. He wrote in the Bangkok Post, Database supplement on IT subjects. For the last seven years of Database he wrote a column on Apple and Macs. After 3 years writing a column in the Life supplement, he is now no longer associated with the Bangkok Post. He can be followed on Twitter (@extensions_th)