eXtensions - The Wednesday File (48): The Photographer's Interpretation; and Philips' Hue in Thailand at Last
By Graham K. Rogers
---
I see editing photographs not just as an essential part of the process of improving an image. Careful adjustment of a photograph and judicious application of effects allow the photographer not simply to record, but to interpret a scene. The work brings out important components and highlights those that are less obvious.

At the start of what is turning into a turbulent week in American politics, the president signed an order that will prevent Broadcom from taking over Qualcomm either directly or indirectly. The reason was cited as security, although I wonder if they are confusing Singapore with China; however, it was a total coincidence that IBM - who had been late to the smartphone party - had also expressed an interest in bidding for Qualcomm. For the second time recently (steel tariffs) the business world is disturbed. They were warned.

Apple are keeping a bit of a low profile at the moment (so I wonder what is planned for the next few weeks), but Eddy Cue announced that the company has bought Texture, "a media aggregation app that currently allows access to a wide range of publications for a monthly fee of $10 a month" (Charlotte Henry, The MacObserver). This has been seen as the Netflix of magazines and comes at a time when Facebook and Twitter are backing away from news.

It has just been announced that Apple will hold its annual World Wide Developers' Conference this year, in San Jose beginning 4 June. Cue the rumours and speculation.

At the beginning of Christopher Isherwood's Goodbye to Berlin, there is an often-quoted passage that begins, "I am a camera. . . ." As a student of literature I accepted the words in the sense that the job of the narrator was to record, not to interpret. We are actually being misdirected as Isherwood was a writer of fiction. He took the world of Berlin in the 1930s and moulded the concepts into his text. That goes further with the exceptional movie, Cabaret which was based on Goodbye to Berlin and Mr Norris Changes Trains.
Composition is another moment when the photographer can interpret the subject. I was shown this in late 1986 when I walked round New York with Tony Harvey (Director of The Lion in Winter) who I had met at a dinner the day before. He showed me how to look at a subject. His suggestions as to where I should position myself (come this way a bit, move a little to the right) when looking at (for example) the famous Flat-iron building in Manhattan, taught me more about taking photographs in a couple of hours than all the books I had read.
BACC Bangkok - Original (left), Cropped and Edited (right)

It is well known that Ansel Adams did not simply photograph, develop and print the images. Not only was composition important, but in the printing, he would apply different levels of light to certain parts of the negative, so enhancing (and interpreting) an image. It is much easier now with digital images. Post-production editing makes it possible for those taking photographs to alter images. The obvious and immediate include exposure, brightness, contrast, saturation, white balance and sharpness. These can improve a photograph or ruin it if applied carelessly.
I love working in black and white (I try to think of light and shadows while looking at a scene), but most digital images are recorded in colour. In editing I may look at black and white options, but some photographs are best left as colour photographs. Apps available nowadays make it easy to add effects to images using filters, although I always note that these are subjective: what I like, you may not.

This brings me back to my comments on that Isherwood introduction, the photographer is not simply recording, but should be interpreting a scene: bringing out the important components, or highlighting those that may be less obvious. Cropping an image is one way to change the focus, although experts suggest that this should not be overly used.
Once I have worked on the image, I may consider the use of a filter. These used to be clear glass of various colours (some were also patterned) to change the input to the film. I use clear glass or a UV filter to protect lenses (cheaper than buying a new lens), and my grandfather used a yellow one (for skies in black and white film). There are many apps that apply filters to images, but these are now much more than just one color.
On the iPhone I tend to use the filters with the Tadaa app within Photos for some nice output. I also use these after changing an image to monochrome for different effects. On the Mac the two apps I use most at the moment - again from within Photos as extensions - are Luminar 2018 and Tonality Pro. I also use these selectively on scanned images from the Hasselblad negatives.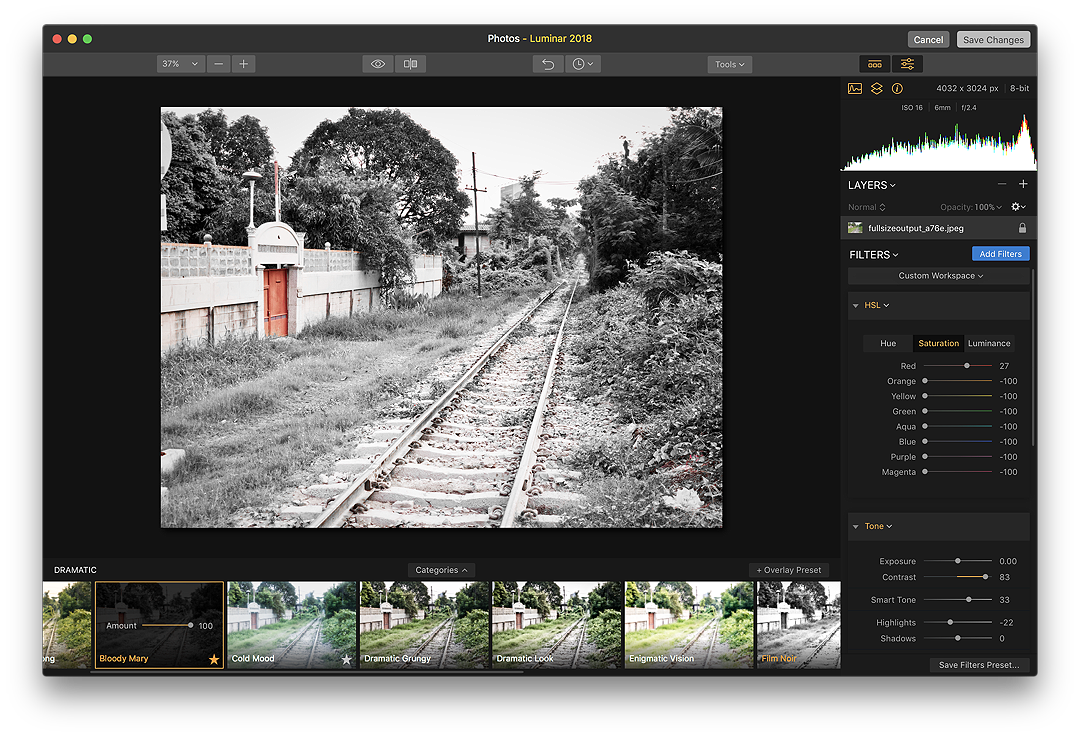 Editing an iPhone image in Photos on the Mac using Luminar 2018

Some students stopped me on Friday just after class and asked me about the use of the Hasselblad. They had seen some of my photos on Facebook (so it does have some value). In their digital world, they wanted to know why I would want to resort to film. I explained that despite the convenience of digital photography, sometimes people want to slow things down and think about the processes.
With digital I know immediately if a photograph has worked. With film I need to check the Light Meter, change the settings on the camera, focus manually and take the shot. It may be a while before I can take the exposed films to be developed, and a few more days will pass before I can collect the negatives. These then require scanning and the images need editing on the Mac. Then I can see what I took.
On Monday evening I went for a walk in the neighbourhood, taking over 100 iPhone shots (some later edited and uploaded to Instagram) and also finishing off a couple of rolls of film. I took these and a couple more already exposed (a total of 6) to AirLab on Tuesday so hope to spend the weekend scanning and editing.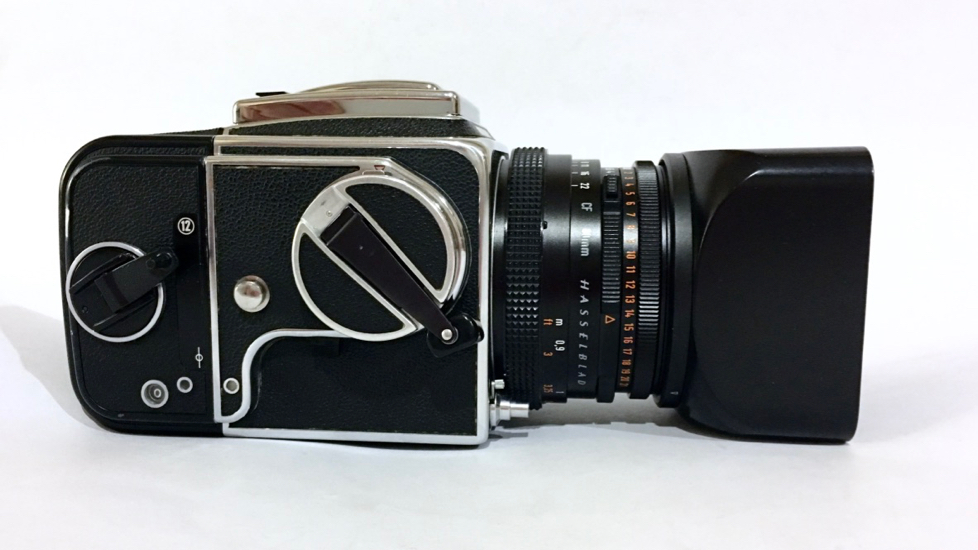 Hasselblad Medium Format Camera
Philips Hue Availability
Last Thursday I found examples of the Philips Hue lighting system on sale in Siam Discovery and bought a colour bulb to go with the lights I already use at home. I was pleased to see these items on sale after several years of waiting and put some comments online with images. The local representation also have a Twitter feed and they announced this week that there is more information on their Instagram Stories on PhilipsLight as well as on Snapchat. The company also announced this week that Hue for outdoors will be coming soon and a HueMenu app 3 was also released, but not here.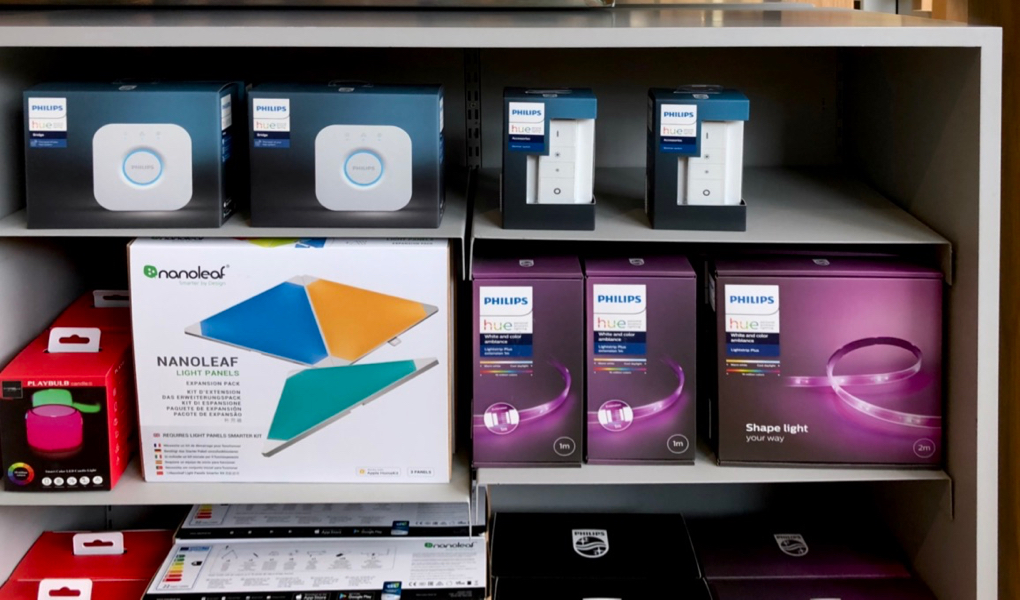 At the weekend, I had a look in Siam Paragon where there is an iStudio run by Copperwired, who also run the store in Siam Discovery. The Hue lights, starter kits (the essential bridge unit plus two bulbs) and accessories, including a dimmer switch, were also on sale there, although I had the same problem with the staff explaining about the basic white bulbs.
These have not appeared her and as the color bulbs also display white, the staff were unsure what I meant, until I showed a photograph. There is no information about when (or if) these will be available here. As Copperwired also run the non-iStudio DotLife stores, I checked there and found that there is a similar availability of bridge units, starter kits and bulbs.
Starter kits are 6990 (I bought the cheaper kit with white bulbs in London)
Colour bulbs are 1790 baht (which compares well with the UK price)
The Hue Lightstrip is 3190 baht
Hue Go (a larger light) is 3490 baht
The Dimmer Switch is 840 baht
The stores have a number of Elgato Eve units too, for measuring temperature, air pressure and humidity, as well as motion sensors. There are also cameras that can be accessed remotely. All of these are HomeKit capable, while there are also Nokia scales that work with HealthKit. Devices like the Nokia or Qardio blood pressure monitors may still need to be bought from Amazon.
Graham K. Rogers teaches at the Faculty of Engineering, Mahidol University in Thailand. He wrote in the Bangkok Post, Database supplement on IT subjects. For the last seven years of Database he wrote a column on Apple and Macs. After 3 years writing a column in the Life supplement, he is now no longer associated with the Bangkok Post. He can be followed on Twitter (@extensions_th)