Cassandra - Belated Appearance for Philips Hue in Thailand
By Graham K. Rogers
---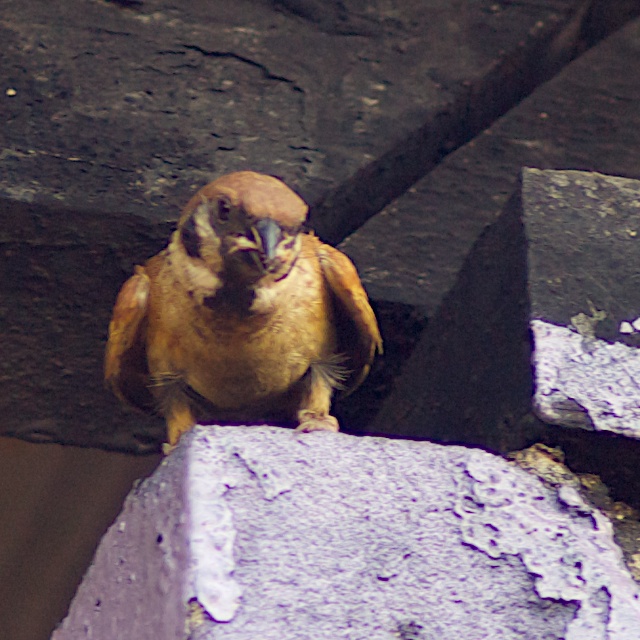 I have a small automated home setup, mostly using devices bought on trips abroad, although the first of these, from Elgato, are now available here. Philips Hue lighting units are also now available in some Bangkok outlets, increasing automation opportunities for local users.

An update first on my recent runabout with the True router or, rather, routers that I reported on yesterday. I had considered cancelling this morning's visit of the True technician, but didn't in the end. Inertia on my part, rather than face the automatic phone system and try to explain the situation one more time.
Today there were two technicians. I could see the newer one holding what I presumed was another replacement router, but first I asked if there had been a check of the Fiber distribution box (FDB) and its battery. I was assured that this had been done. My old Zyxel router was disconnected - this had been working fine, but took a long time to reconnect to the internet when there was a power cut. As there had been several a week ago, I asked about this then. And wished that I hadn't.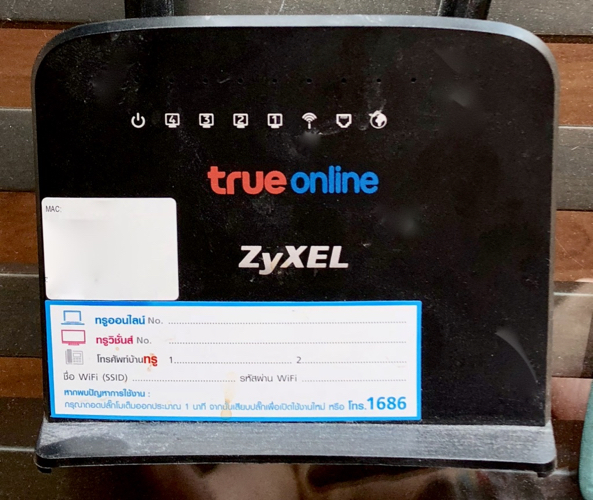 The new technician was using his Lenovo computer (apparently) to write code or enter configuration information at the commend line. My confidence increased although sagged just as quickly when the replacement router was not the Humax I had used for a few days, but which would not allow me to use FTP. Instead, I was given another Zyxel router: the same as the one it was replacing.
Before I let them go I made sure that email, web, FTP were all working on the Mac and iPad, and that the Apple TV was connecting to the router correctly as well. Not long after they left, True phoned and asked me if all was satisfactory. I said it was, although mentioned that I had been unable to check the original power cut problem: there had been stability all week.
I spoke too soon. At 5:55pm, just as I sat down to tea, off went the power. I decided that I would disconnect the units. When the power came on 10 minutes later, I waited 5 minutes more before I plugged the units in again. When the lights came on in the usual sequence, I held my breath for a moment and then saw that the internet light was also lit. It seems the problem has now been solved.

On Thursday, after lunch with a friend down from Mahasarakam, we wandered through Siam Center and took a look in the A1 Store (formerly iStudio) in Siam Discovery. I was slightly disappointed by the number of Apple Watch bands there, but when i wandered over to the fairly sparse display of IoT devices, I was surprised to see a selection of Philips Hue lighting accessories.
These have been available in other countries for a number of years, including Singapore, which uses the same 220 volt system. They are also available for order on Amazon, but I am concerned about buying from that source as there is no way to confirm the voltage the units use: if they are US units, they run 110v. I waited until I went to the UK last year and made a trip to London.

I bought a starter kit then, which included the essential bridge unit and two white bulbs. I also picked up an extra colour bulb. When I came back to Bangkok, I installed these in the condo and enjoy controlling the lights either at home or (for the entertainment of students) while at work. Along with sensors for temperature, humidity and air pressure, plus a motion detector, I have a rudimentary IoT installation. I do have some plugs, but I have not yet set these up. The simple system shows the huge potential for IoT when other devices become available.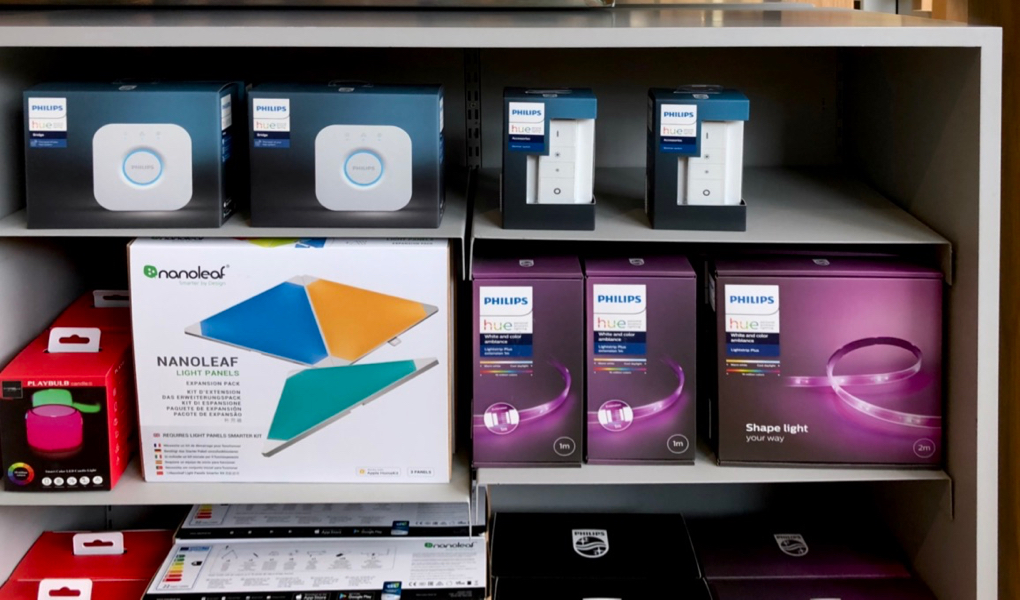 The store in Siam Discovery had a couple of bridge units on display as well as some intelligent lighting strips and control switches. I may look at these later. I asked about white bulbs, but drew a blank initially until I showed the staff a photograph. Only the colour bulbs had been supplied so far and as there was only one left (1790 baht) I snapped that up. When I bought the bulb last year it cost £49.95 (2155 baht then), with the 20% VAT in the UK.
The price on Amazon is $49.99 which is 1676 baht with 7% VAT added. The full Amazon price is reduced to $47.07, but there would be shipping and taxes to add to that so this compares quite well. The box has some technical information, and the price tag showed that the supplier is Philips Thailand, which I find encouraging. It has taken a long time for these to arrive here, but these are being imported by legitimate means.

I will be installing the light in the next few days, although I may decide to take the opportunity to buy a new lamp first: the ceiling is a little high for me to tackle on my own.
As the store in Siam Discovery is part of the Copperwired group, I hope to see these units in other stores around the city. If they are being sold, perhaps more will arrive, including the more reasonably-priced white bulbs.
Graham K. Rogers teaches at the Faculty of Engineering, Mahidol University in Thailand. He wrote in the Bangkok Post, Database supplement on IT subjects. For the last seven years of Database he wrote a column on Apple and Macs. After 3 years writing a column in the Life supplement, he is now no longer associated with the Bangkok Post. He can be followed on Twitter (@extensions_th)