eXtensions: The Wednesday File (46) - The Decline of News; Image Editing; and TouchRetouch for the Mac
By Graham K. Rogers
---
New distribution is evolving and media organisations are struggling to find ways to monetize their content which is at risk of disappearing. With recent scanning, importing and editing of image files, I am looking at simpler ways that this can be done on Macs and iOS devices. After a look at TouchRetouch on the iPhone, I examine the Mac version.

A reader who has moved back to the USA after several years in Thailand asked me this week about which new Mac he should buy. With the family use and vision problems, I think one of the iMac computers would serve him best. While discussing this he mentioned the font he uses and I had a look. APHont (pronounced A - Font) was developed by APH - the American Printing House for the Blind - specifically for low vision readers.
It is available for download if you confirm that it is to be used for (or to help) those with vision problems. As the Faculty does some work to develop assistive devices for the visually impaired I think I can justify that. Installing was easy enough, but the Italic font had a problem reported by Font Book. I ignored that and it seems to work as well as Regular and Bold.

This week the director, Steven Soderbergh, premiered a new movie, Unsane, at the Berlin Film Festival. It was shot entirely on an iPhone. Luke Dormehl (Cult of Mac) speculates that this was probably an iPhone 7. Soderbergh likes shooting with the iPhone although comments that there are vibration problems; and there have been other movies shot with the device.

There was considerable excitement on Tuesday this week when it was revealed that Apple is to launch medical clinics for employees and their families. Ben Lovejoy (9to5 Mac) writes that the service provided by AC Wellness, which appears to be a wholly-owned subsidiary of Apple will develop "multiple, stunning state-of-the-art medical centers", with two already open (one at Cupertino). The benefits for a company like Apple (as well as the staff) are enormous, but it is reported that "the clinics will also be used to trial consumer offerings in the health field." Cat amongst the pigeons: Apple to upend another industry?

One of the better-known investors in Apple is Warren Buffet, who never seems to listen to the panic from the direction of Wall Street. He keeps on building his shareholding in Apple because Berkshire Hathaway is in it for the long haul. Last week he released his annual letter to shareholders and this has been carefully examined by the business community for his insights as it is every year.
He has made some slip-ups in the past, for example in 2012, Michael Rosenwald (CJR) points out, he bought 28 newspapers for $344 million and fully expected success from the investment. Despite his support for local news, he may have been wrong here as newspapers (and other media) continue to decline. In the article Rosenwald discusses the decline and the problems of monetization, which worries me, even as I write fewer articles.
I am fortunate that I can (almost) treat my output as a pastime: the costs of the site are low (I had a bill this week); but I can nowadays only examine products I want for myself, although comments on photography and software are relatively cheap to produce. It is as well I have a day job.
It ws inevitable with the way the internet now works, that news delivery would change and new media forms are replacing those older (traditional) sources that cannot adapt. The Nation, in Thailand, tried a couple of things, then veered left and has finally veered right: into the arms of a new owner.
With the way the paper version has become thinner and thinner, and its web version fails to attract, the Bangkok Post has a limited future. That is not to say News is dead: as well as Buffet's purchases, Jeff Bezos (Amazon) bought the Washington Post. As the master of not making a profit, maybe he has a better plan.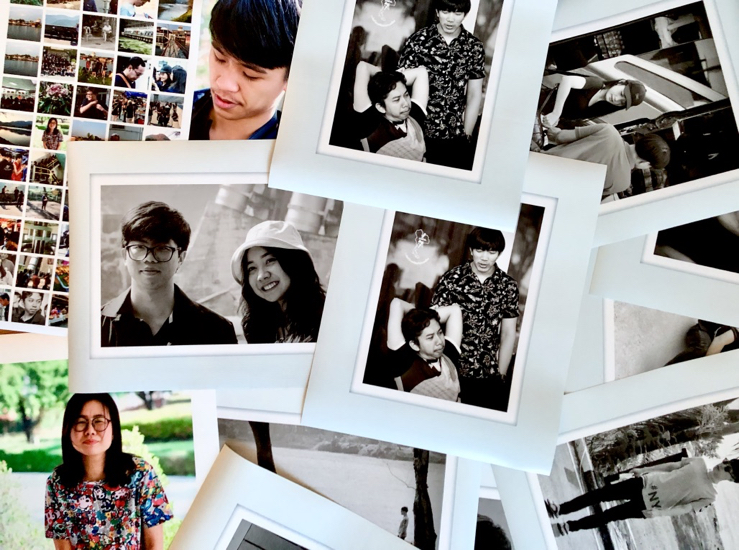 A lot of my time was taken up last week with photographing student project presentations as well as scanning and editing of the film negatives of my recent trip to Tak Province. I collected those last Tuesday, as well as the digital images I had had printed. The students and staff in the pictures were pleased with the output (as I was) and a couple asked me to be photographed with them holding the pictures. This must be a Thai thing: a sort of validation of the subject, the artist and the Art.
I had one picture left over: of a child in a street market in Ban Tak and I realised that this had been taken not with the Nikon DSLR, but with the iPhone X as I had misunderstood where we were going and did not take any other devices.
That the current iPhones take such good images is no longer in doubt (Soderbergh's Unsane for example), although some will insist that the best results come from high end DSLR devices (I would love the Hasselblad H6D-400C MS); and for the best editing results we must all use Adobe Photoshop.
I edited most of those images on the Mac, with some work done on the iPhone images in iOS Photos. With some of the photos I took with the iPhone, I waited until they appeared on the Mac (via iCloud) as there were some effects I wanted to add using Selective Color or extensions, like Tonality Pro. I also used this extensively when I was editing the scanned negatives.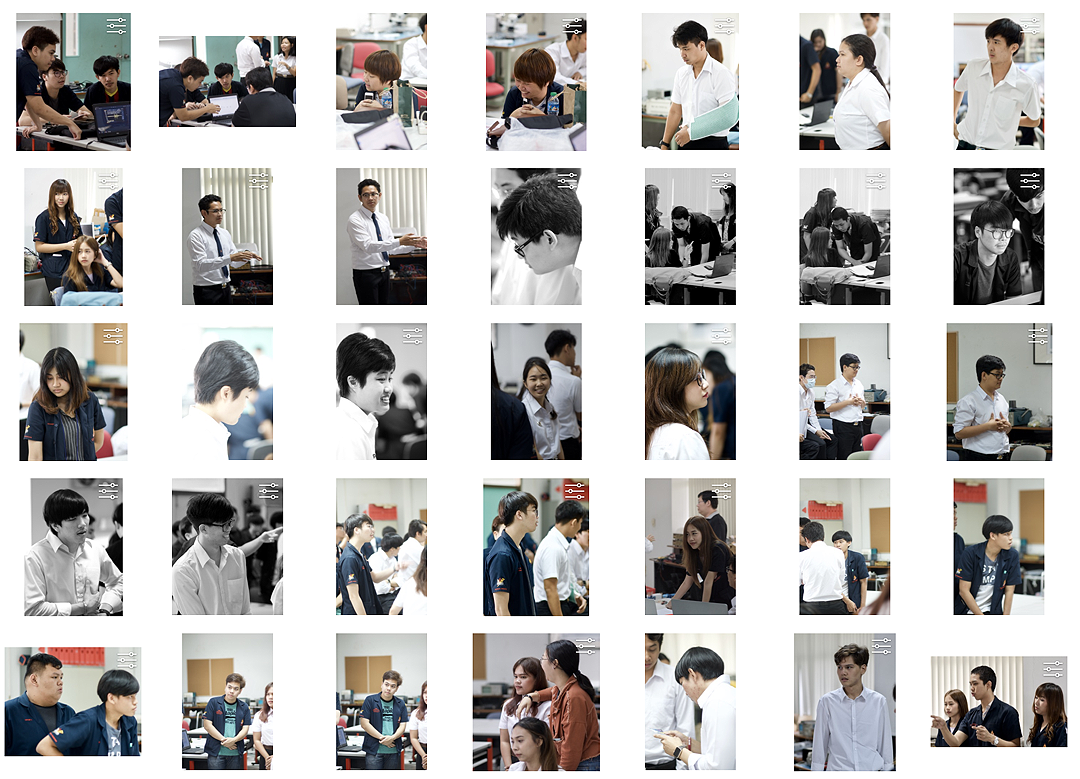 When working through the editing, I saw that TouchRetouch had been added to the list of extensions after I downloaded the Mac version last week. After my online comments about the iOS version, a reader mentioned the desktop version (529 baht). This was updated to version 2.0 in January this year, but there is no version history shown.
I downloaded it but did not open the app immediately. When I saw the extension, I looked on the iPhone Photos "More" list and found it was shown there too. I activated the app in More and can now also use it in Photos on iOS.
I find its simple approach to removing unwanted artefacts like power lines (and more) useful for iOS users, although a belittling comment on Twitter did point out that this can all be done easily in Photoshop. Of course it can, but many of the users of smartphones do not want (or need) the massive overhead of such software when all they require is mild enhancement of an image.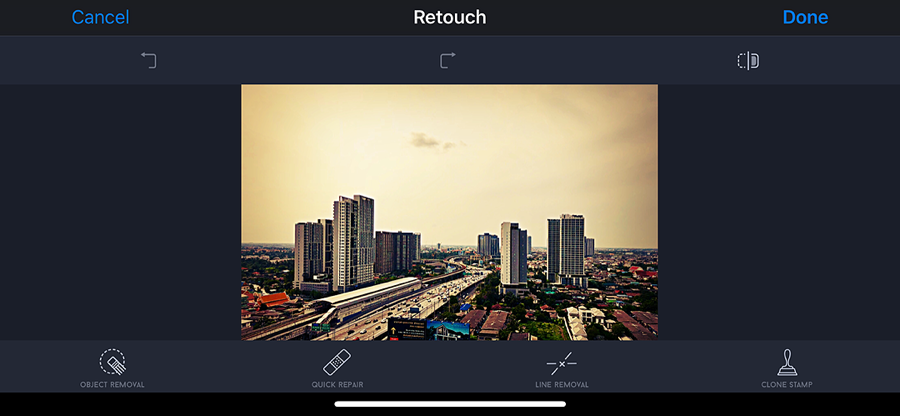 TouchRetouch in Photos on iPhone X

The much more economic Affinity Photo can also clear up those lines on the Mac or an iPad (but not the iPhone), and so can several other apps, all far lower-priced. But this is not the point: people will use the apps they can afford, or the apps that are most convenient.
On that aspect of convenience, although I have some good photo apps (645 Pro, Halide, DSLR Camera) that will produce RAW files, I most often use the iPhone camera. I was relieved to see that I am not alone when Marco Arment was asked about recommending an app (such as Halide) and he replied that he "never used a third-party camera app for more than a day", adding "The built-in one is so convenient that nothing else ever sticks."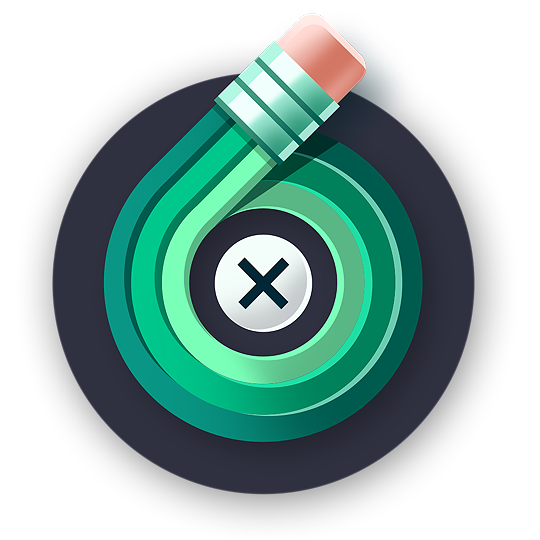 Having bought TouchRetouch for the Mac I did not start to use it until the weekend. I started not with the standalone app, but with the extension. This, after all, is how I expect to use it most. In Photos, the tools are to the right (the standalone places them in the toolbar above). Highlighting one (Object Removal, Quick Repair, Line Removal, Clone) displays any features or related adjusters on the top toolbar.
In Photos (and the standalone) the tools are every bit as effective as on the iPhone, although there are similar limitations, particularly when a mass of phone lines (as in Bangkok's streets) is edited. This was the same for Affinity Photo so does not indicate any weakness. A student project with wires all over the place was nicely tidied up with the Line tool, although in some parts it was easier to switch to the Object Removal option.
A difference between the extension and the standalone version on the Mac was that within Photos the image was changed, while the standalone provided a Save As option in Export (and the File menu). This also allows Mail, Twitter, Facebook, Notes and Messages as destinations. Likewise on iOS, the standalone exports an edited image, while the use of More changes the original. This hardly matters much now with the ability to duplicate and Revert to Original - user choice.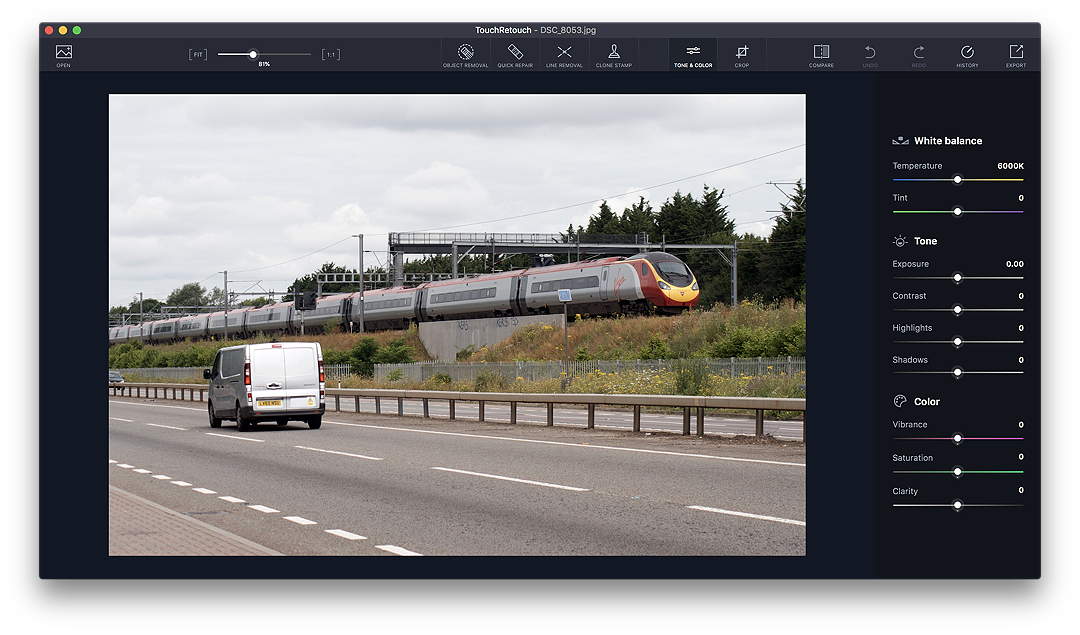 TouchRetouch on the Mac

In the standalone version of TouchRetouch on the Mac, I managed to remove some of the power lines from a picture of a train, although a dark background of trees interfered with a clean removal in a couple of areas. I was able to change the rear doors of a delivery truck, remove the Virgin logo from an express train and clean off graffiti on a concrete wall: all much cheaper and easier than firing up Photoshop (if I had it).
Unlike the iOS version, TouchRetouch on the Mac had a number of basic editing tools controlled by sliders: White balance (Temperature/Tint), Tone (Exposure, Contrast, Highlights, Shadows), Color (Vibrance, Saturation, Clarity). A crop tool option included rotate, straighten, mirror and reverse options. These were not available in the Photos extension and would have been redundant. As well as the expected repair tools, the additional basic editing options make it possible to do a simple image clean-up from within this application.
Graham K. Rogers teaches at the Faculty of Engineering, Mahidol University in Thailand. He wrote in the Bangkok Post, Database supplement on IT subjects. For the last seven years of Database he wrote a column on Apple and Macs. After 3 years writing a column in the Life supplement, he is now no longer associated with the Bangkok Post. He can be followed on Twitter (@extensions_th)