eXtensions: The Wednesday File (45) - Image Output Options and Printing
By Graham K. Rogers
---
I am so used to producing photographic output for online sources that I had almost forgotten the original idea of the photograph. With a few hundred good images from a recent trip to the North, I selected a dozen or so and prepared them for printing.

But first, some other news. . . .
It looks as if this year's WWDC will be held in San Jose (again) from 4-8 June. Some sleuthing by MacRumors (Joe Rossignol) found that the McEnery Center was booked for the latter end of June, leaving only the first week free. Others also suggested it might be an idea to look at hotel rates for the week as it will be a sell-out again.

Having talked the price of Apple shares down just before the Q1 2018 results were released, many in Wall Street are now predicting higher than ever prices. This itself is about as predictable as rain here in the rainy season. Almost as soon as I wrote that, it appears that the Japanese Nikkei is (again) reporting dire consequences for the iPhone X, with a reported 50% cut in supply chain orders by Apple. They also claim that this will hit Samsung as fewer OLED screens will be needed. See what I mean about predictability: and almost always Nikkei.

For years Apple has had the address, One Infinite Loop and when I went there in January 2008 (we were too busy in San Francisco in 2007 for some reason), I had one of the party take a photo of me by the famous sign. With the move to Apple Park, there is also an official address change and Apple is now at One Apple Park Way (Bryan Chaffin, The MacObserver).

Most reports about the HomePod are favourable, with some good comments from many online sources, with the exception of Consumer Reports who have hardly had a good word to say about Apple in recent years. Mind you, the effect was spoiled for some of those who put the device on a wooden table as the silicon base leaves a white ring. This can be buffed off (in some cases it may need oiling), but more comments were made about Apple's dismissiveness when this was raised. I have a glass table ready for whenever it is released here.

A couple of weekends ago I went with a group of students to Tak in the North of Thailand. We stayed at the Bhumipol Dam. All of the students are electrical engineers, so part of the trip is to allow them to visit real world installations. We took in two: on the way up, a look at a natural gas plant which generates power using gas turbine and steam turbine engines; and the Dam itself, which is a large hydroelectric installation.

Apart from these more formal learning parts of the trip, there is much time for relaxation and a little partying during the weekend. I took three cameras with me: the iPhone X, which has good (if limited) output; my Nikon DSLR; and a Hasselblad medium format film camera. I took the films in last week for developing and they are now back. It is time for some late night scanning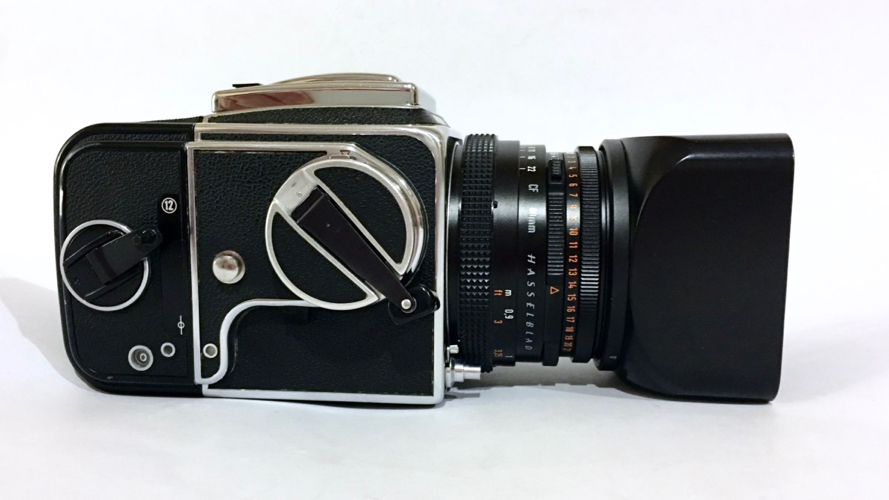 With the better imaging that the iPhone X allows, I find myself using it much more these days, partly because of the output. Much of the editing is done on the iPhone in Photos, sometimes using the 3rd party app extensions (More), especially, Tada, which adds effects to the images that suit me.
iOS Camera images edited in Photos using Tada

Sometimes, I wait for the images to upload to the Mac as there are extra editing features in Photos that I like to use, especially the Selective Color, White Balance and Vignetting. All of these can be done on the iPhone with various apps, but that switching back and forth wastes time. I know what I am doing in Photos, which also allows me to use extensions. Over the weekend I made extensive use of the Macphun (now renamed Skylum) apps Tonality Pro and Luminar 2018.
I do have some iOS apps that will produce RAW images, but often, when a photo shot appears, I will just use the iPhone camera, particularly now that it has a selection of input types: Square, Photo, Portrait (with different options), Pano, as well as video types. I particularly like Time-Lapse but that needs some setting up and a tripod. With the iPhone's 2 lenses, the different types of output have x1 and x2 views, with square and photo going up to x10 with digital magnification. If I want to take a RAW shot, I will most likely use Halide and edit in Darkroom.
Unless a user has access to Adobe Photoshop (and I keep my devices Adobe-free), which I think is overkill for most non-professional users, there needs to be a careful selection of apps that have suitable tools for editing. I have collected several over the last few years (too many really), but do have certain favourites. On iOS I like the standalone Tada, Darkroom, RAW Power, Focos, and many others.
I added to my list of favourites this weekend by the discovery of an older app, TouchRetouch. I was also told that there is a Mac version which I downloaded and will assess later this week. On the iPhone (and iPad) I used the app to clean up power lines and street furniture, but found it also has the ability to remove people from a shot. I only tried that as a joke, but. . . .

The Mac is rather different. Applications tend to have several more tools than iOS apps. Again I have certain favourites like Graphic Converter that I have been using since before OS X arrived, the MacPhun apps (above), RAW Power, Affinity Photo and others. As I use a DSLR camera less and less, so some of these apps are also used less and most editing is on the iPhone. There is occasionally a good iPhone image that could benefit from work in Photos on the Mac, for example using the filtering in Tonailty Pro.
One of the main reasons for the increased iPhone use is that much of the output these days is for social networking sites. In my case, I use mainly FaceBook (more as a means of communication with students), Twitter - shame on them for stopping support of the Mac app - and Instagram. With this I choose those I follow carefully and take the approach that I want others to see good output from me, while trying to learn something from every photograph that appears in my timeline.
Even though most of the images I use are from the iPhone, I will work in Photos on the Mac for those I will upload to my website: as I have a mirror of the site on my Mac, this allows me to see how the pages look before final editing and uploading. On the Mac it is also easier to control image size and resolution.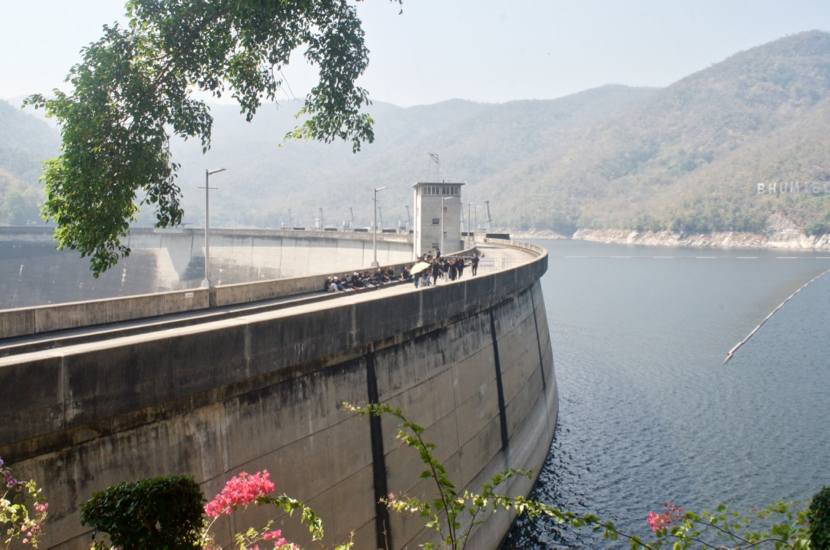 Taken with Nikon D7000, using Nikor 85mm lens

Up at Tak, of the 350 photos I produced (not counting the Hasselblad photos), I did take a fair number with the DSLR. For most of these I used either the 24mm lens (landscape) or the 85mm lens I have for portraits. This time, instead of social networking, I wanted to see these images as they were meant to be: printed, large size. I selected 13 photographs and edited gently: just exposure and contrast, as well as vignetting in some cases and a few other changes that kept the integrity of the original, with some editing input from me.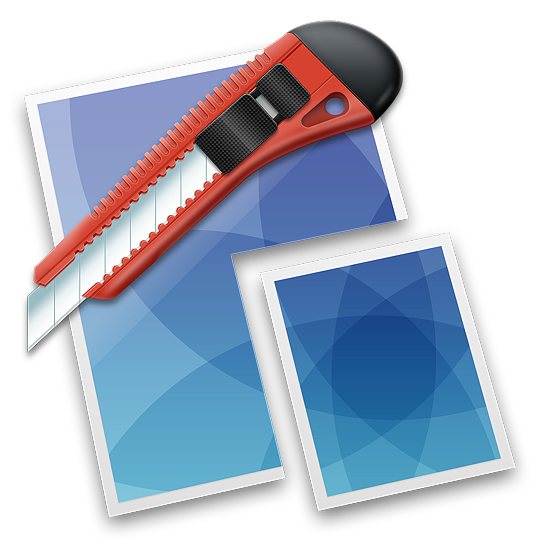 Of those I selected, I removed two, leaving 11 for printing. In the past I had created a poster-type output and opened Posterino: an application on the Mac specifically for this type of output. The version I had was out of date so I downloaded a new one (Posterino 3 - 699 baht) from the Mac App Store and set to work.
There are several templates. I tend to start with a blank, resize the image to fit with a border and add my name at the bottom. I made several this way, but as I intended to give the output to the subjects, including my name seemed a bit pretentious, so I trashed the files and started again.
There have been changes in the life of this app and although the setting up of a poster is easier, there is less flexibility in some cases, such as changing image types (monochrome to color) with specific templates. With my second try, I created 9 images using a poster type with a pinstripe border (Passepartout).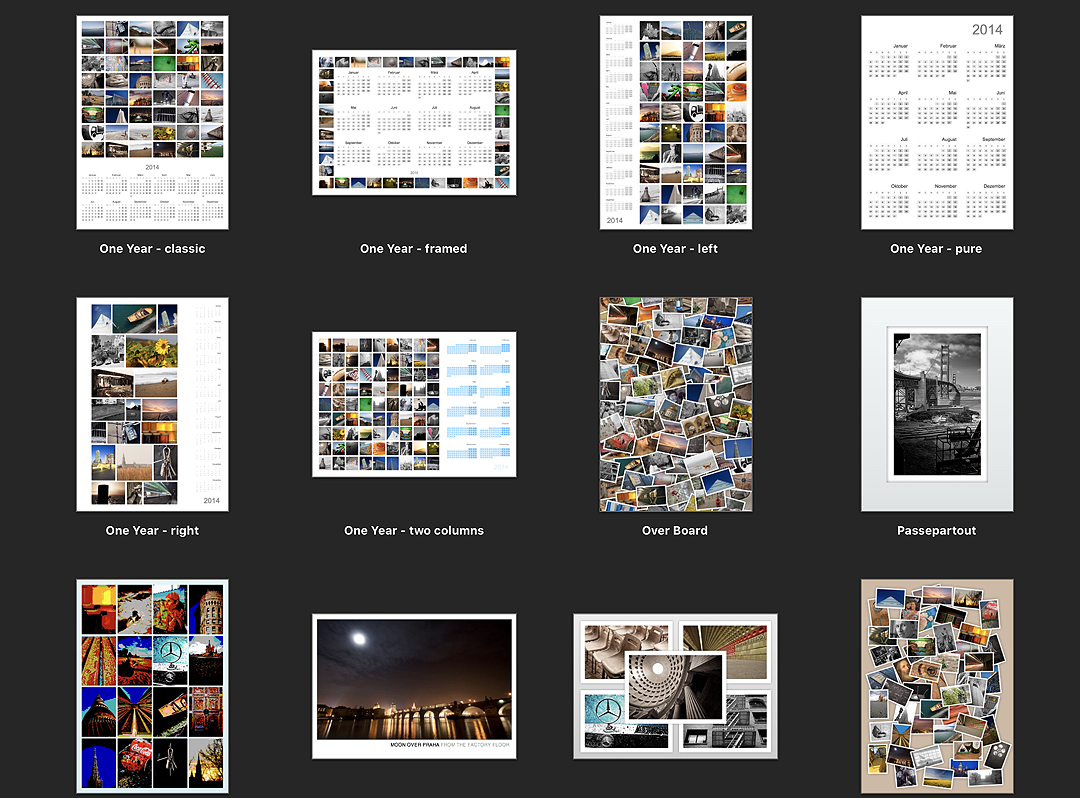 Some templates in Posterino 3

Once I had made a couple, the workflow allowed me to process new versions in a minute or so, but this template did not work with the two colour images I had. I reverted to the blank templates, and added image frames into which I dropped each photo. Unlike the pinstripe template, which has a clear limit, the white background needs a border for printing. I added a 1-pixel border using Graphic Converter and this will guide the cutting when it is printed.
I also selected one of the other templates in Posterino that allows the user to enter several images to a calendar format. I imported 50 images at random, then swapped about 10 for better ones in the library. I sized that at A2, with the other images at 18 x 24 (all at 200dpi), and saved the output as TIFF files.

I do not have a large enough printer, and certainly not one that has the quality output that these images would need. Nor do I have the paper. For this, there is no other choice for a user like me to use a specialist print shop and for years I have gone to Italia Design.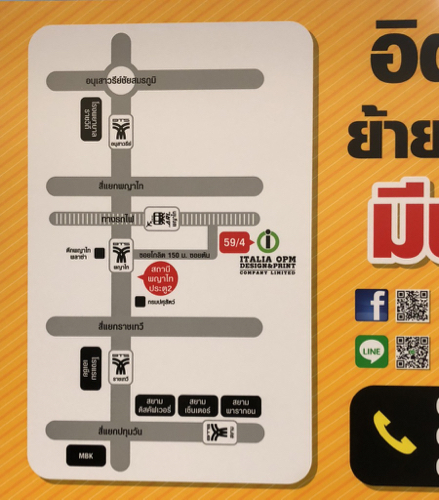 The premises have changed over the years, from three different locations in Siam Discovery to the current shop in Siamkit just across the road from Novotel. They are about to move again, to a location close to BTS Phayathai.
It was nice to go in and be recognised by many of the staff who have themselves been with the company for several years. I was surprised to finally discover the age of Ming, the guy who always does my work. He does use Adobe Photoshop and certainly, with the work he carries out, needs to.
Once we had discussed what I wanted (some of the images need 2 copies as 2 students were photographed) and all the images had been checked on his PC, the pricing for them was set and I paid (not cheap - but why would it be?) when I picked them up on Tuesday not long after I had collected the negatives from AirLab in Sukhumvit 81.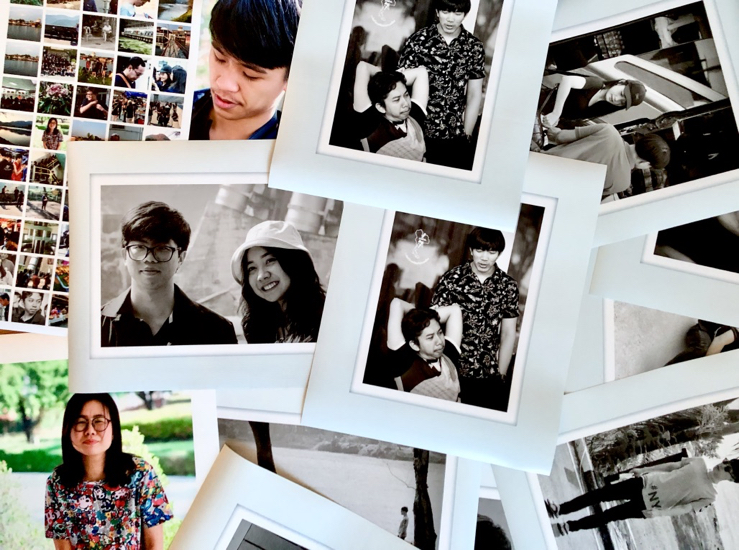 When I set out last weekend - and even when I began processing the images - I had not intended to consider printing. Over the week, however, I decided that, for a change, I would have some of the images printed and see them as such output should be viewed. I will be giving the printed photographs to the students and staff members in the pictures: just an exercise in revisiting the printed image. I may well do this again.
Graham K. Rogers teaches at the Faculty of Engineering, Mahidol University in Thailand. He wrote in the Bangkok Post, Database supplement on IT subjects. For the last seven years of Database he wrote a column on Apple and Macs. After 3 years writing a column in the Life supplement, he is now no longer associated with the Bangkok Post. He can be followed on Twitter (@extensions_th)