, 9to5 Mac) on WSJ speculates on the value of "an all-in-one monthly subscription to get access to services like Apple Music and extra iCloud storage alongside regular hardware updates". This would smooth out the budgets of users, who sometimes face large outlays (say when a new MAcBook Pro comes along), but it would also give Apple a guaranteed income.

While we are looking at comments from Dediu, he also released an annotated version of the remarks to investors in last week's conference call. He colour-codes the text to give background and promotional comments; strategy and signals of what management considers important including data beyond regularly reported numbers; financial data; commentry; and Dediu's own commentry (in blue). With the charts, some of which are a little complex and graphs, this provides a useful context in which the Q1 figures can be viewed.





Just before WWDC last June, I made some comments on the speculation that Apple was working on a blue light solution for blood-glucose monitoring. This was part of the general feeling around that time that Apple was developing some way to monitor body output with non-invasive technology. Despite the rumours, blue is not the colour that will be used because of its wavelength. We do have blue lasers for video disks, but even that was hard work and in the 1990s this was seen as almost impossible because of heat considerations that did not affect red lasers.

The problem with blood and glucose is rather different and the other end of the spectrum is realistic: in research, blue never figures. But even more of a problem for developers of blood-glucose solutions is the FDA. Even though solutions have been shown to have high levels of accuracy, they insist that the only sure way to analyze for glucose levels is using blood: the pin-prick. In that article I outline some of my own invasive checking: not painful, but inconvenient. There are also links to research and to a few possible solutions.

But what if. . . .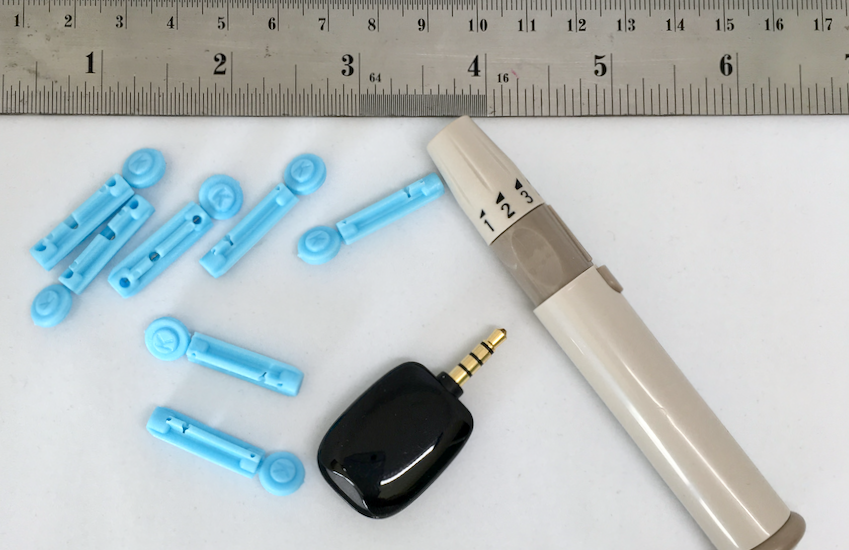 Invasive blood monitoring

The FDA concern is with accuracy in home testing for diabetics, but if other body fluids (e.g. sweat) can give a reasonably accurate picture of how the body is behaving - say after eating a salad, or scone - this could provide a guide to users and might improve awareness of just what dietary intake or exercise can do. If my Apple Watch of iPhone Health App were to show a spike after I ate that scone, I might think twice before my next visit to the baker.
Apple and Fitbit are apparently looking at some technology that takes this approach: the continuous glucose monitor. The Sano device highlighted by Erin Brodwin (Business Insider) that Fitbit is looking at still appears a bit bulky, but the road they are on has real possibilities. Apparently Apple and Google are also interested in this type of technology.
It is clear that many more people are becoming aware of their health. Many I know record data about themselves: often exercise, but some also include data such as blood-sugar checks, heart rate and blood pressure. I have a number of devices that help me stay aware of how unfit I am: even a morning weight check, using the Nokia scales, that is recorded on my iPhone reminds me of the need to change behaviour, along with a daily blood pressure check.
The Apple Watch allows me to monitor heart rate throughout the day and, using the Cardiogram app, I also check this while I am sleeping (the sleep apps also show how much real sleep I have). A while back, research being conducted by Cardiogram showed some correlations between data from the Apple Watch and certain conditions. Apple became interested and has created an Apple Heart Study with Stanford University, which is about to begin collecting data (AppleInsider). As with the ResearchKit use, rather than statistics from a few hundred volunteers, there is the potential for input from thousands, which can only improve statistical accuracy.

Taking this further, Romain Dillet (TechCrunch) reports that Apple wants users to take advantage of the Health Records section in the Health app so that we could have access to all health information wherever we might be. The article points out that some hospitals already email you Clinical Document Architecture (CDA) files or make them available on their website, adding that "Apple wants to automate this process" as part of the Health App data
This could be invaluable for tourists who fall ill while on vacation, or for those patients who may need to be treated at several hospitals. In the UK and here in Thailand there is no linking between doctors and different hospitals, each of which might have a different set of notes. In the UK, moving between a Health Region might just as well be a move to the Moon.
The UK is a little slow on the uptake with any use of digital communication, even though technology is highly important in many treatments these days. When I gave my mother a blood pressure monitor which allowed her to record the readings on her smartphone daily, when she told the surgery that she would be able to email the data, they replied, "We're not really set up for anything like this."
There is also the problem in the UK and Thailand that patients are not really supposed to know about the mysteries of illness and treatment: this is only for experts. The internet has put paid to that and it is easy to look up the symptoms of any illness or problem. In the USA health services are clearly more in tune with patients' rights. There are 11 major hospital systems (listed in the article) involved in the early stages of this, but let us hope that the door is being opened here.
As a late note, Dennis Sellers (AppleWorld Today) reports that "Stephen Friend, a health researcher and co-founder of Sage Bionetworks, has left Apple". He had been working on ResearchKit and CareKit. Sellers also reports that "Anil Sethi, also left the company at the end of 2017 to work on a start-up focused on gathering health information for cancer patients."

At the weekend and in the days following I had a look at the use of RAW images on the iPhone. I knew this was possible and have apps that are set up for RAW, but OI have no made much use of this type of image. I was able to put this into a better context after reading two articles by Sebastiaan de With, one of the developers of Halide: a camera app I use.

I took several images on Sunday at the Bangkok Arts and Culture Center, but as I was leaving work on Monday I passed a flowering bush near the gate. I was ready with Halide and started taking pictures, but heard a Yellow Sunbird nearby. This was feeding on the nectar and obliged me by not flying away while I took several good images. I later edited the RAW files in Darkroom and was quite pleased with the results.
Graham K. Rogers teaches at the Faculty of Engineering, Mahidol University in Thailand. He wrote in the Bangkok Post, Database supplement on IT subjects. For the last seven years of Database he wrote a column on Apple and Macs. After 3 years writing a column in the Life supplement, he is now no longer associated with the Bangkok Post. He can be followed on Twitter (@extensions_th)