Updates to Image Editing Software for iOS and macOS - (2) Luminar 3
By Graham K. Rogers
---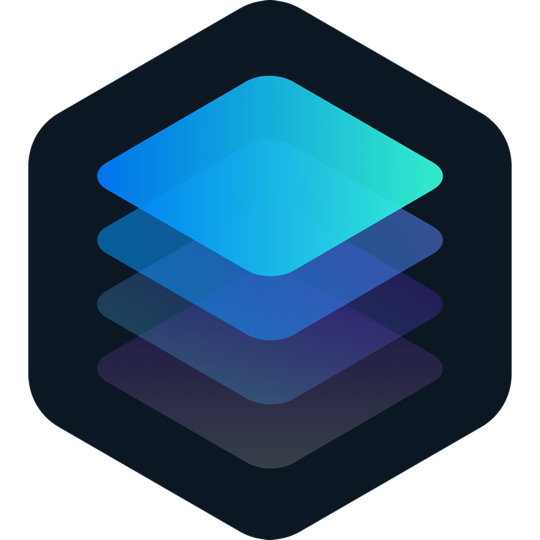 This week a couple of significant updates to image editing applications appeared. Luminar 3 for the Mac has improved editing tools along with the wide range of presets. It can be used as a standalone or a plug-in with several applications, including Photoshop, Lightroom and Photos - an extension.

This week saw a useful update to Darkroom on iOS with the new version optimised for the iPad. Apart from some teething problems this latest release will be a boon to productivity for those using RAW images. I have also downloaded updates to Olli by Tinrocket, following their update to Waterlogue, and to Polarr Photo Editor.
Also released this week was Luminar 3 which had been pre-advertised by Skylum. The company was Macphun but has changed the name to reflect its move to providing software for Windows as well as the Mac, where it made its reputation with some solid applications like Intensify, Tonality on OS X, as well as some useful iOS apps.
I have used Tonality Pro for a few years now and find its B & W output pleasing. Luminar and Luminar 2018 were apps that also provided presets but for colour output. The publicity for the latest release of Luminar showed considerable development as the app would allow the organisation of a user's images (like Lightroom, Aperture and others). I was also interested because we were told that Tonality presets could be used from within Luminar 3. It appears that Tonality will disappear and it is no longer shown on the Skylum main pages. My installed copy is still working.
When Luminar 3 was released I downloaded an installer file in ZIP form which then downloads the installation itself. I tried twice to install, but each time the panel reached 100% and stopped. After restarting the Mac - and more attempts - I found a note in a FAQ that suggested running the installer in an Admin account (I always work in a User account on my Mac). Once I switched accounts, the app installed and I was able to start work when I returned to the User account. It might have been useful if a warning had been included on the installation panel, or in a Readme file.
Installer panel stuck at 100%; and extensions panel in Photos

I will not be using the file organisation facility, so only looked briefly at that. I tried this in ON 1 and Capture One Pro, as well as an early version of Lightroom (first release), but with my reliance on iCloud for synchronisation to iOS devices, I will stick with Apple photos, for all its shortcomings and weaknesses. Where Photos scores for me is in organisation through folders and albums, which are matched on iOS devices. The other major plus is the use of extensions: from within Photos I can access third-party apps. Some only provide limited features, but Graphic Converter, Tonality Pro and Luminar have full features available.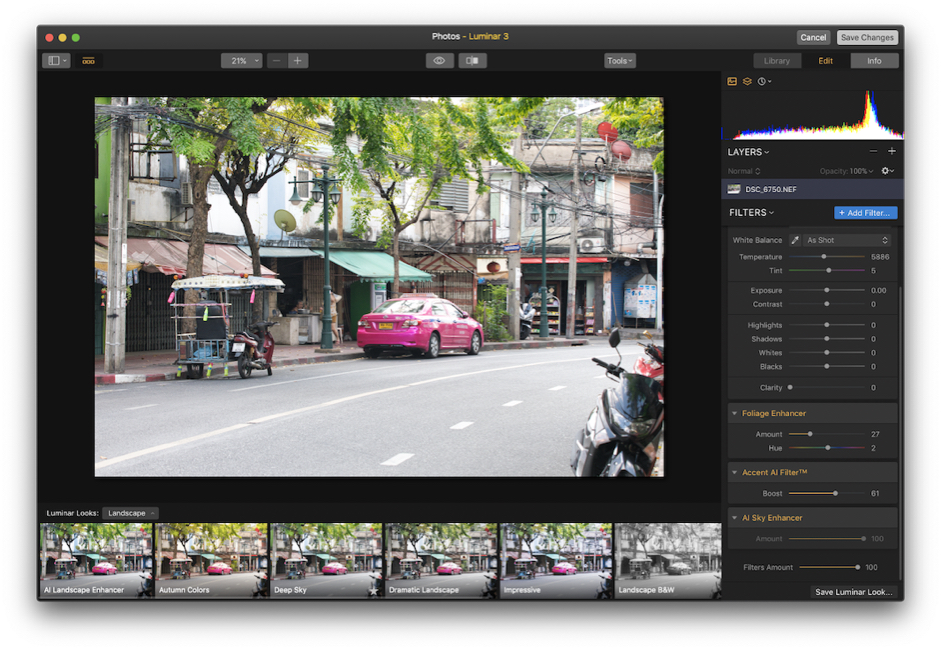 The tools panel in Luminar is on the right. Only a few editing apps allow the user to select left OR right for this. Being left-handed the right side is less convenient, but I am used to it now as so many apps offer only this. The panel is in three parts: Library, Edit and Info. The last section has only a basic display of metadata. Even Photos and the Finder on a Mac show more information and I sorely miss the wide-ranging displays of metadata in Aperture. Library needs images to be added if is this is to be used for workflow. I am skipping that, mainly due to the Photos extension, although I did try a couple of test imports.
The Edit tab is the most important for me, both in the standalone and the extension to Photos. There are some clever algorithms at play here and the Tool sliders (or filters) change depending on the preset in use and the contents of the image. Especially useful is the single slider Sky Enhancer (when available) as this provides a simple method to produce a deep blue sky (depending on the original image of course).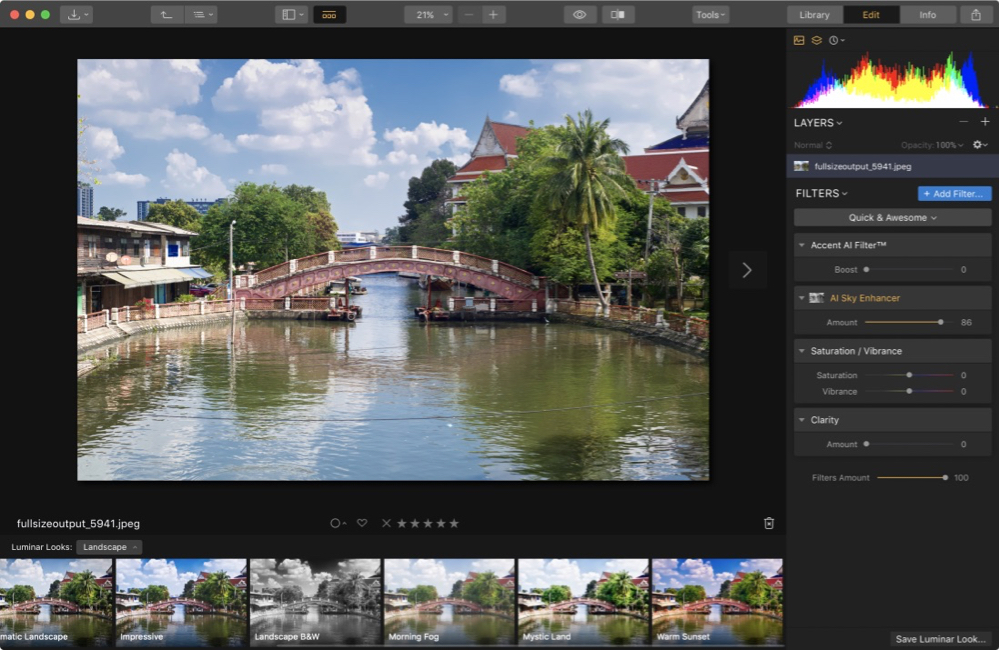 Sky Enhancer filter in Luminar 3

To produce a similar effect in Photos would need me to play with editing tools, then switch to Selective Color and adjust the Hue, Saturation and Luminance sliders for dark blue. Also available among the 50 or so filters are a foliage enhancer and sun rays. The more I looked, the more I realised how little of this application (in its recent forms) I had been using, and just how strong a tool it is.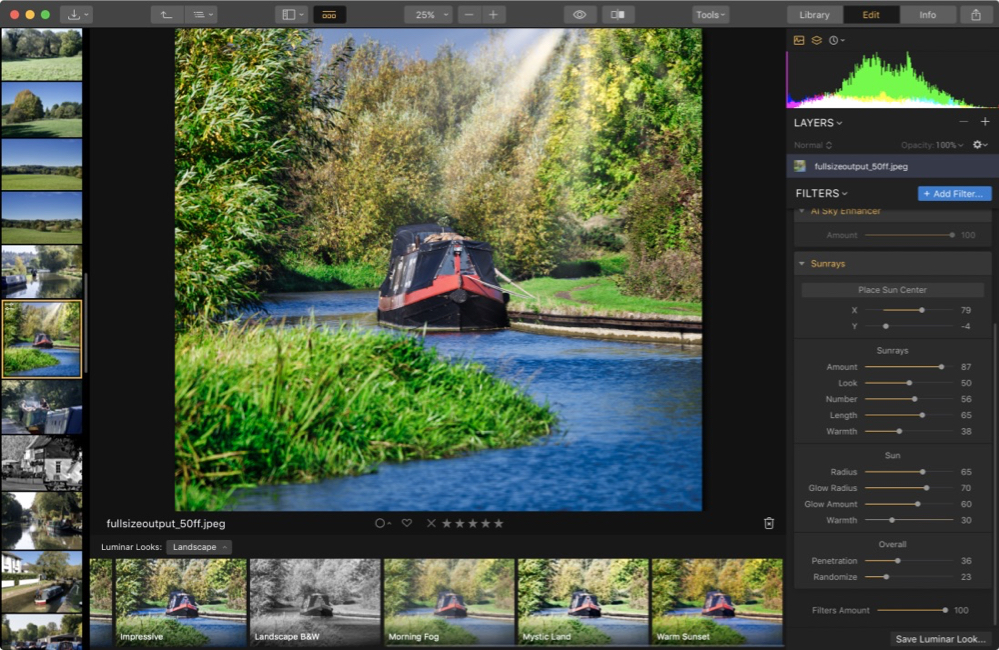 Sunrays filter in Luminar 3

Presets in Luminar 3 are called Looks. In Luminar 2018 they were called Categories; in Luminar and Tonality, Presets. Luminar 3 came with nine Looks preinstalled, but not my Tonality Presets. I had to download the standard set from the Skylum site (free), but have not been able to find some of the extra Presets I had acquired.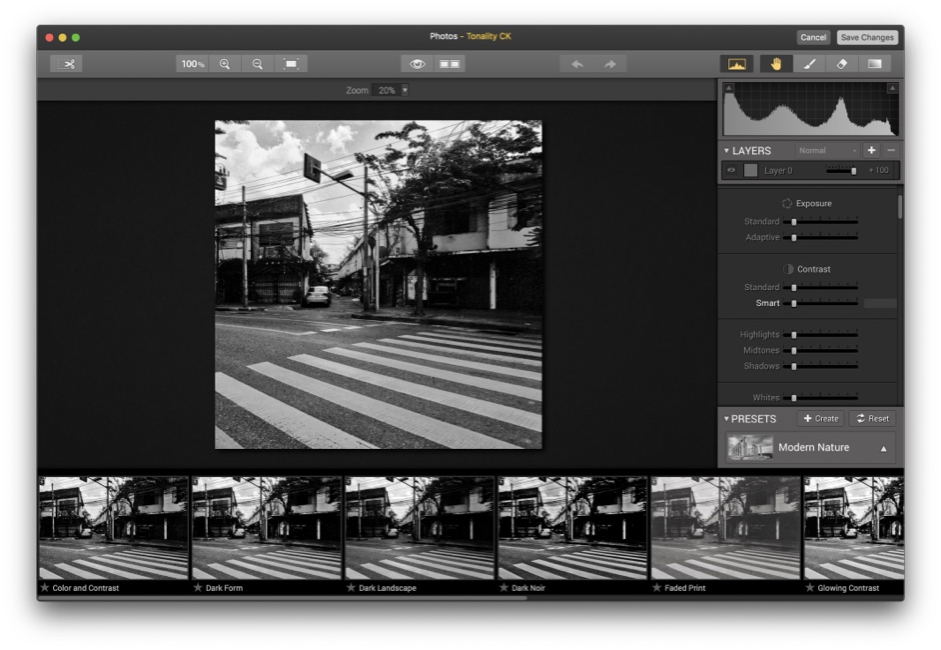 Presets in Tonality used as an extension in Photos

The preset files on the Mac for Tonality are a different type and do not just drop in as I had hoped. There are several other Looks sets available (both free and with a fee). I have already expanded the selection. The Presets page can be accessed directly from within the application.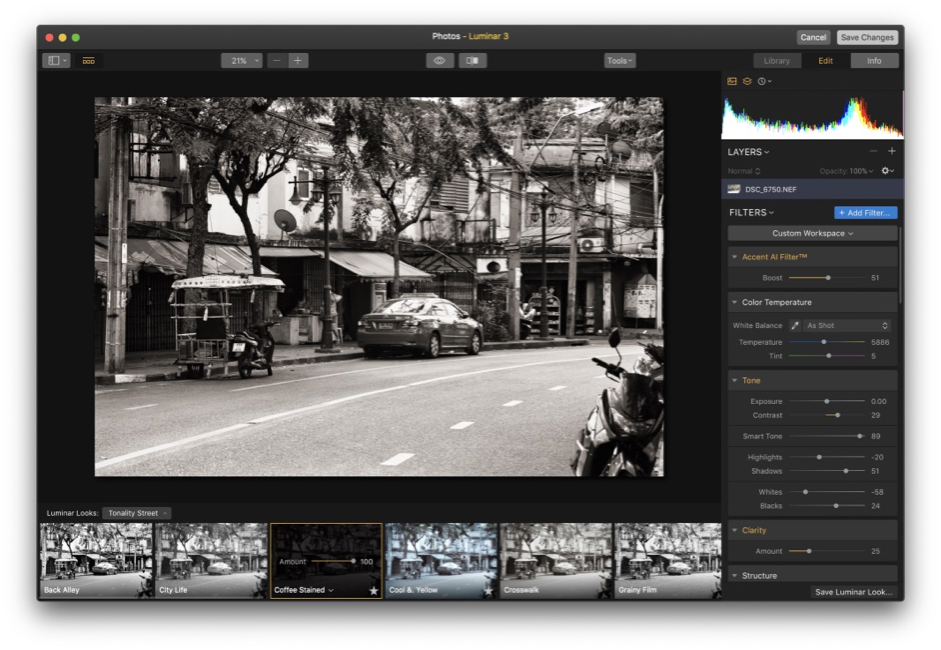 Looks in Luminar 3 used as an extension in Photos

In Tonality the thumbnail for accessing presets is at the bottom of the Tools panels (to the right), while in Luminar 2018 Categories is in the center, below the image and above the presets thumbnails. These are smaller in Luminar versions than in Tonality, so I find it less easy to gauge the effect before it is selected. It would be a nice if these were larger or the thumbnail display size could be adjusted.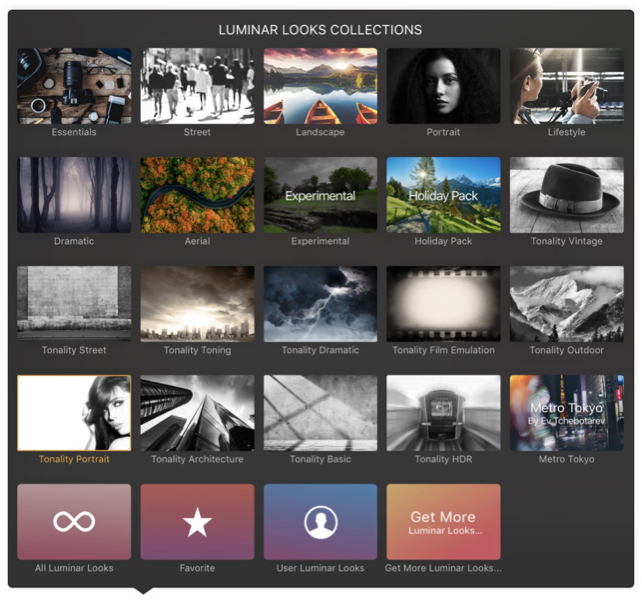 Looks available in Tonality

As an editing application, Luminar 3 is a solid update to the previous versions and has a good range of tools that allow users to make adjustments. Where it scores highly for me is the availability of multiple presets (or Looks here). These are a quick way to view possible alternatives for final output. Each Look has a slider (set to 100%) that allows some of the selected affect to be reduced, giving the user infinite adjustment possibilities for final output. I often access Luminar or Tonality with a general idea of how I want an image to look, but sometimes, when scrolling through presets I find something I did not realize I wanted and may go with that. It is also becoming clear in the 5 days I have been using this that the range of filters with their slider adjustments provide a really strong toolset: quite enough for many users.
I have to reserve my judgement on the Library feature with Luminar, although I did try a couple of test folder imports. I have looked at several alternative applications as Aperture does not work with my latest camera (previous output is fine for now) and each has idiosyncracies. For now I am sticking with Photos as a workable compromise.
Luminar's main value for me up to now has been as an extension for Photos where it works just like previous versions, with some added effects. However, when working in the extension a smaller JPEG version is used. An optimised version (about 10-17MB depending on the image) is also used if the image is imported from Photos. When I want to edit a full version using the RAW (NEF) file I can export the original or access the SSD on which all my original files are stored. This is slightly less convenient, but the output is larger, for example, while testing the standalone version of Luminar 3, I exported a TIFF image of almost 300MB from the original 95MB file.
Current pricing is $69 with a free trial of 60 days. I was able to download the update for free as I had bought Luminar 2018 earlier in the year. Skylum updates its applications often. Currently I can only see an earlier version of Luminar on the Mac App Store I access. Luminar 3 is highly recommended for the presets, its easy-to-use editing tools and its availability as a Photos extension, or as a plugin for major editing applications.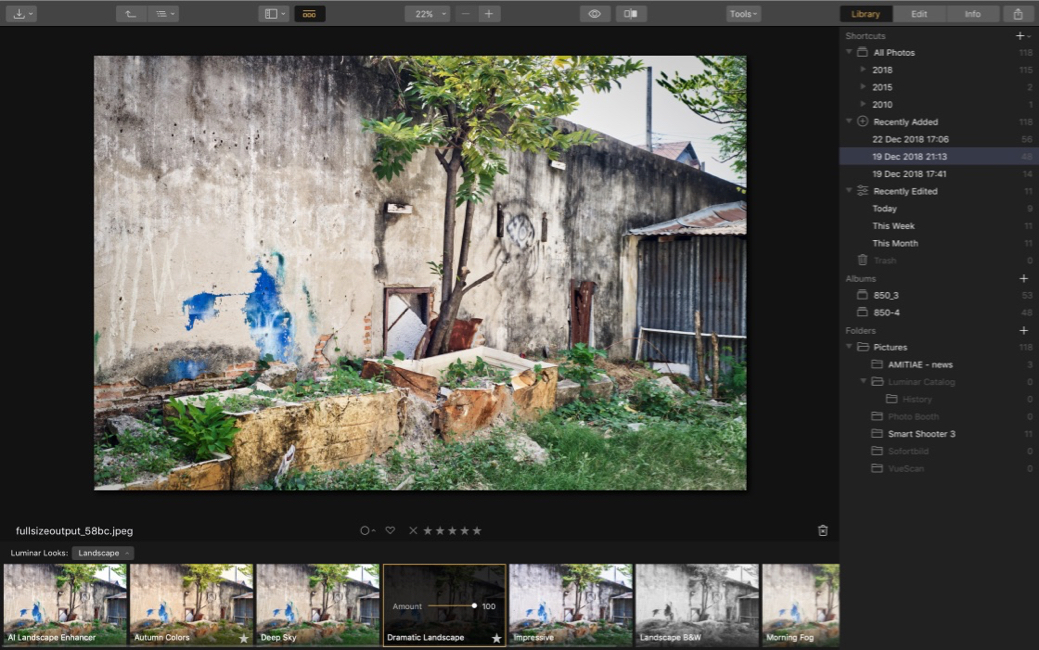 See also:
Updates to Image Editing Software for iOS and macOS - (1) Darkroom



Graham K. Rogers teaches at the Faculty of Engineering, Mahidol University in Thailand. He wrote in the Bangkok Post, Database supplement on IT subjects. For the last seven years of Database he wrote a column on Apple and Macs. After 3 years writing a column in the Life supplement, he is now no longer associated with the Bangkok Post. He can be followed on Twitter (@extensions_th)