Updates to Image Editing Software for iOS and macOS - (1) Darkroom
By Graham K. Rogers
---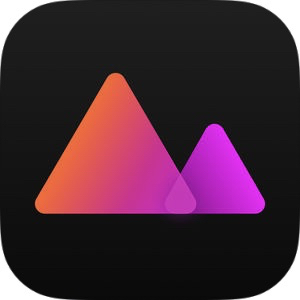 Among the updates this week were a couple of image editing applications: Luminar 3 for macOS and a significant update to Darkroom, with the new version optimised for the iPad.

This week saw a couple of interesting updates to image editing software for iOS and macOS. One of my favorite apps, Waterlogue, had a relatively mild update, while more significant changes appeared in the latest updates to Darkroom (by Bergen), which also now has a new logo.
This is one of the relatively few apps available for editing of RAW photographs. This cannot be done in Photos on an iOS device. I have used it on the iPhone since it first appeared, both for RAW images from apps like Halide and DSLR Camera (and others), and for photos produced by my DLSR cameras. These are available on my iOS devices via iCloud synchronization or when transferred to the device using the Lightning to SD-card adapter. The latest iPad Pro has only a USB-C port and Apple has also now produced an SD-Card adapter for this port. It is also possible to connect a camera using a suitable cable. I expect I will wait in vain for an adapter or the XQD card in my Nikon D850.
As it is possible to download and edit RAW images on the iPad Pro, Bergen (developers of Darkroom) have made a smart move by updating the app to be universal, rather than the x1 and x2 iPhone app, as it was before. They are also being smart by offering the same app for iPhone and iPad, rather than separate apps as some developers do.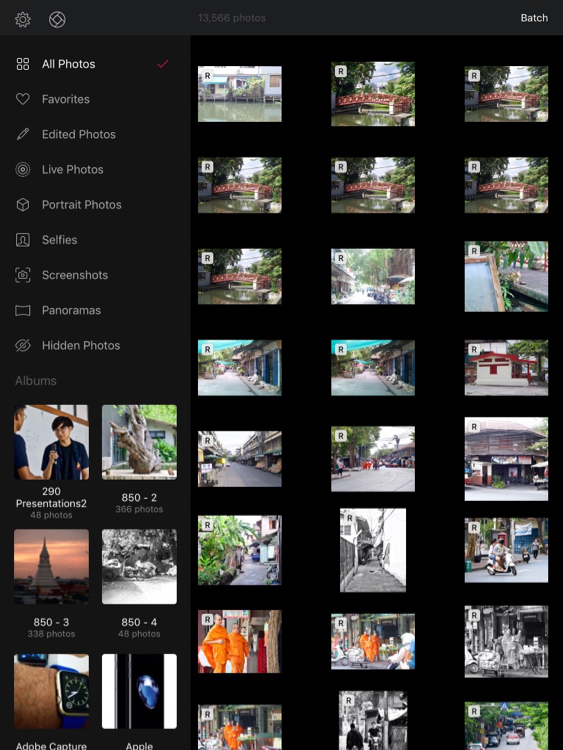 Darkroom 4 on the iPad

The update has been well thought-out and as I opened it for the first time I had a "wow" moment when I looked at the full screen display of images and libraries. This makes it far easier for a user to navigate through the folders and albums on the iPad. Screen space on the iPhone restricts this and a user needs to navigate through a listing system as before.
When an image is loaded, the same icons are shown at the bottom of the screen: crop/straighten/perspective; filters; editing; curves; color selectors; and frames. There is also a Revert control. For a full appreciation of why this app (and others that can process RAW files) is so important, see the articles by Sebastiaan de With who is one of the developers of Halide:

When I first switched to the Nikon D850, the files were far larger than the RAW output from my D7000 (95MB as opposed to 25MB) and Darkroom balked when downloading the files. The Photos app on an iPhone keeps a JPEG representation of the original, not the RAW file itself. That was fixed in subsequent updates and I am able now to edit these large files on my iPhone. This latest update produced a similar problem with the iPad app: these large files do not download fully and Darkroom is unable to display the assets.
I have found by experimenting in the last couple of days that retrying will then download the file fully and editing can then take place. This may take a couple of attempts (up to 4 times at my office using the Personal Hotspot), so this is more a file access problem. I have contacted the developers and provided a RAW (NEF) file for testing. As with the iPhone earlier, I expect this to be rectified soon. Other RAW files such as those from my D7000 or one of the iOS apps that produces RAW output, all load properly.
A day our so after the release there was an update to the app (now v 4.0.1) that covered some crashes, so like most other apps this is a work in progress. Editing on the iPad is perhaps easier than on the iPhone due to display size: the image display is larger of course, and it is far easier to manage the sliders with my fingers. I have found that with some RAW files, the sliders for color (Hue, Saturation, Luminosity) lag slightly, This is more pronounced with the D850 images. Other sliders (such as in editing) were not affected in the same way. This was the same on the iPhone and it had not been a problem in the past.
A further problem appeared when I used the filters. Although these were all available to me, the thumbnails that should display at the bottom of the screen were not shown and I was unable to restore these. Filter thumbnails were displayed properly on the iPhone. With earlier experience, I fully expect Bergen to fix these minor problems sooner rather than later.
Darkroom on iPhoneX: Crop, Filters and Selective Color Controls

This is a significant update for a number of reasons: the developer is continuing to improve a useful app; and the new interface makes it easier for those with iPads to work. This is also valuable in terms of the productivity aspects of the iPad Pro. Users can import files directly from a digital camera to the device and, if they are RAW files - preferred by professional photographers (and many amateurs) - these can be edited more easily without having to resort to a desktop or notebook computer.
See also:
Updates to Image Editing Software for iOS and macOS - (2) Luminar 3



Graham K. Rogers teaches at the Faculty of Engineering, Mahidol University in Thailand. He wrote in the Bangkok Post, Database supplement on IT subjects. For the last seven years of Database he wrote a column on Apple and Macs. After 3 years writing a column in the Life supplement, he is now no longer associated with the Bangkok Post. He can be followed on Twitter (@extensions_th)