By Graham K. Rogers
---
An unusually long WWDC Keynote presentation outlined expected updates to Apple's WatchOS, macOS and iOS. Although this was a developer's conference, there were some hardware updates, including a powerful new workstation-class iMac that will be available around December. The next iPhone and Apple Watch were not mentioned, leaving us guessing as to what is coming. Emphasis on AI, VR, AR and machine learning mean new powerful technologies for users are coming. There is new information in some Late Notes.
WWDC Expectations and Content
With the anticipation for WWDC this year, I decided to stay up and watch the whole affair via the Apple TV app for this, but I had not really expected the Keynote to take just over two and a half hours. While the presentation was taking place, I updated my site with comments several times with a timeline. The amount of information that was being thrown at me, and the pace, meant that I missed some of the details, many of which were couched in technical terms.

My first comments here are from impressions taken from that presentation, but there is more detail later. I watched some of the Keynote again. Apple also released a couple of new products silently, like a wireless keyboard with number-pad. This is shown as 4,500 baht in the Thai store, one version does have Thai keys but you need to tap on a button to select this. There is no date for shipping. Also shown in the online store are new Apple Watch bands, some new iPhone cases, and a case for the Apple Pencil. I ordered one of those in Midnight Blue (1200 baht).

This was primarily a developers' conference, something that Wall Street does not fully grasp. The Keynote sets the scene for the next few days when those attending will examine the new technologies in more detail so that they cash begin to incorporate new features into their apps. Apple also uses the presentation as a window on its direction over the next few months (and beyond). With the lack of updates of late, many were hoping for hardware announcements.

Apple obliged, but not everything that the rumors had predicted was shown. But then there were a couple of items that exceeded the rumours. Mac updates were outlined briefly, but (apart from what could be implied with OS updates) there was nothing on the next iPhone or Apple Watch.

Tim Cook briefly mentioned the AppleTV making much of the point that Amazon Prime is coming to the AppleTV app, which is almost useless in Thailand. There may be some good programs on this service, but the login process must have had lessons from Adobe. I tried; but I give this a miss. Cook did say that there will be much more news about Apple TV later in the year, which I take to mean a little more than just the release of CarPool Karaoke.



WatchOS
Software updates were overall as expected: WatchOS, tvOS, macOS and iOS. Kevin Lynch, sporting a new beard did the honors for the Apple Watch. The new features appear to be incremental, with emphasis on sports and performance, but there was a comment on linking with 3rd party hardware, like a blood-glucose monitor. This was made almost in passing. What look like minor changes to the WatchOS suggest a lot of work behind the scenes.

There are new watch faces, including a Siri watch-face which displays information intelligently, using AI. It provides dynamic updates throughout the day including from 3rd party apps. AI featured a lot during the presentations and it looks like Apple has been doing much work on this, starting with its Siri basis and incorporating algorithms into many aspects of the operations. Users will not see any evidence of this directly, but devices will work more intelligently: helping the user.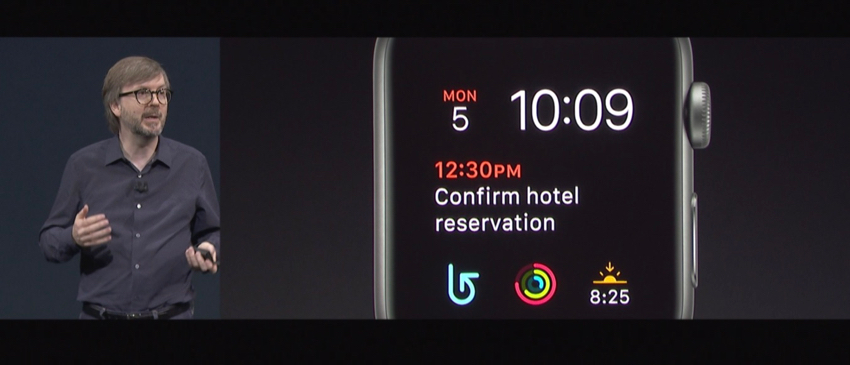 There was also a Kaleidoscope face which can use photos. With the popularity of Mickey and Mini Mouse, characters from Toy Story, including Buzz will be added. These are animated.
Personal activity updates will be based on user's own inputs. For example, Workout will be updated, including an enhanced Pool workout, and high intensity interval training. More tools will allow users to fine tune these, including working with gym equipment. This is supported by 3rd party manufacturers. Music on the Watch updates automatically and Lynch mentioned AirPods as integrated devices. I have yet to set these up with the Watch.
MacOS
This was followed by the outline of the next version of macOs, which is simply called High Sierra, as an indication that the update is incremental (in some ways) but does add some interesting features and technologies. A welcome change was when Craig Federighi announced that autoplay videos will be blocked, which I am sure is going to give advertisers nightmares. There are improvements to Mail, including a split-screen option. Photos has some additional editing options, some of which, like Selective Color look like they have been borrowed from Aperture. This makes this much more flexible.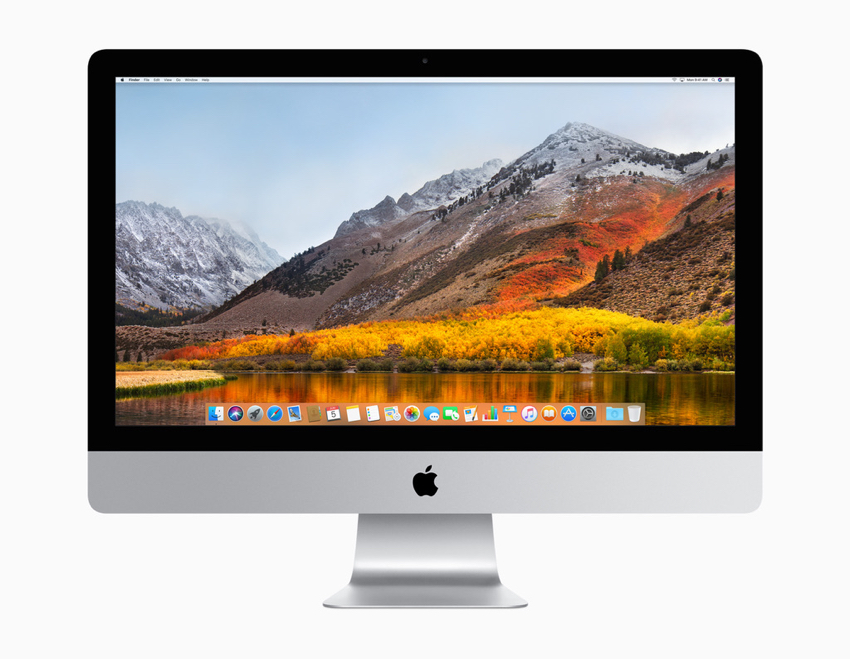 High Sierra - Image courtesy of Apple

The main change to macOS is the switch to APFS (Apple File System) from HFS (Hierarchical File System). A brief demo of this was well-appreciated in terms of the reduced time a formerly complex operation took. Of particular note is the use of the H265 video standard which allows much more (40%) compression, along with Metal2, both of which are built in to new Macs (the first intimation that there were new Macs coming - below).
iOS 11
The software introductions switched to iOS 11 and several changes were announced for this; Siri upgrade with new voices and with a translation feature: English to Chinese was demonstrated and this did go down well. There are 5 languages to start with, including French, Spanish, German and Italian, with more to be added later.

As part of its design the Control Center is reorganised with more use of 3D touch, and is now merged with Notifications. There is also a (small) Dock with room for a few app icons. One of the new features is Files, which is like a Finder for iOS, but included in this is iCloud, so that is not replaced. Changes to Maps are focused on US users, although malls for one or two other cities were shown, with airports for a few places outside the USA also available.

Like the Apple Watch, there was emphasis on AI and machine learning. New APIs for Vision and Natural Language were outlined as well as Augmented Reality with the ARKit. The demo that followed, from Alastair Coull of WingnutAR, was quite impressive and Apple stole the show - the market - with this new feature.

A number of the technologies like Photo editing, messages, maps and Apple Pay were featured but there are several new features and technologies that are to be included and will be part of the developer sessions during the week. Of particular interest were changes to the Notes app with some new tools. As it was being demonstrated these features reminded me of Notability, while others have suggested there is a similarity to Readdle.

Not that it was announced, but Apple has apparently dropped support for Twitter, Facebook, Flickr and Vimeo integration in iOS 11 (Mikey Campbell, AppleInsider): the system level integration that had been touted earlier, although one developer session implies there may be a workaround for this.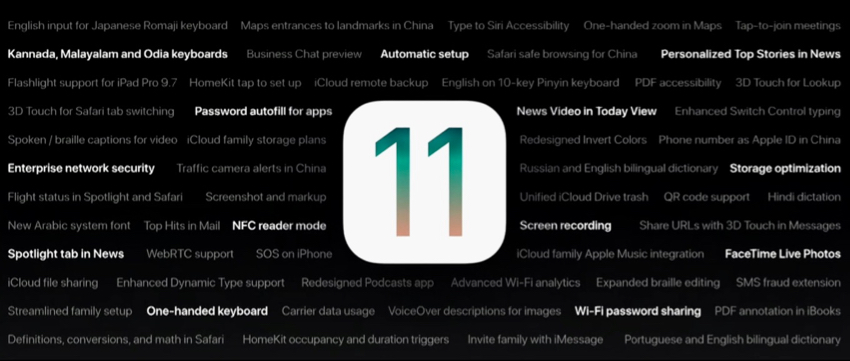 Hardware
There had been considerable buzz about what hardware Apple would announce at WWDC, but I reminded myself that the last two or three years have seen no hardware at all. Perhaps Apple felt it was under some pressure, but what was announced was in the main dealt with so fast that it was easy to miss some of the features. Despite the noises, despite the announcements about WatchOS and iOS, Apple said nothing about the next Apple Watch or the iPhone.

The first hardware announcement was about new iMacs. These have better displays (21.5" and 27") and use Kaby Lake processors. Up to 32GB RAM can be installed in the 21.5" iMac, and 64GB RAM in the 27" version. Graphics have been updated and boosted considerably. A demo from Visual Light & Magic using VR was quite stunning, showing the player inside the game: technology for movies is now available for the home user.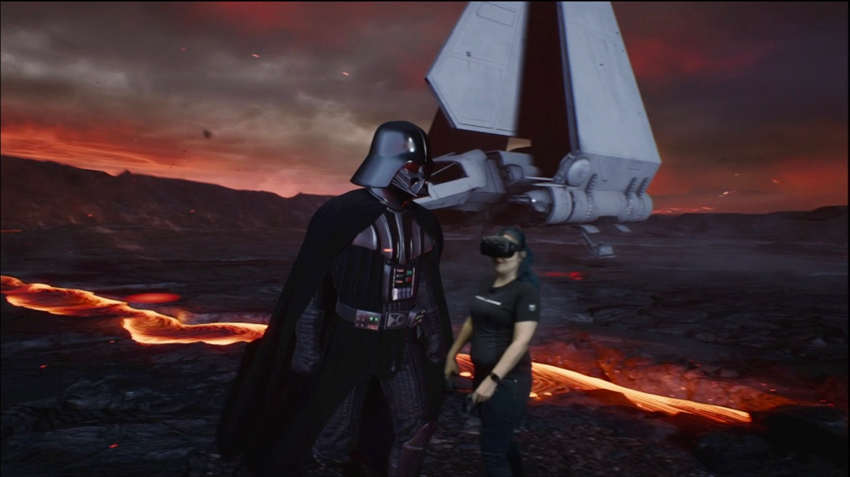 There was also a sneak peek of a new iMac Pro, although this was shown after the notebook updates. I am mentioning here as it seems better to place it following the standard iMacs. It has far higher performance and comes in a Space Gray finish with matching keyboard. It was described as the most powerful Mac ever, with workstation class performance.
A new fan solution was outlined and the specifications start with a 8-core Xeon processor or 10-Core Xeon processor and it can be configured up to an 18-Core processor. It has Radeon Vega Graphics with up to 22 teraflops of graphics performance and maximum ECC memory of 128GB. There is a maximum 4TB SSD configuration option, 4 Thunderbolt ports and 10GB Ethernet. There is lot of performance here. In a comparison with the workstation market the performance would cost $7000, but the start price of this iMac is $4999. Available December.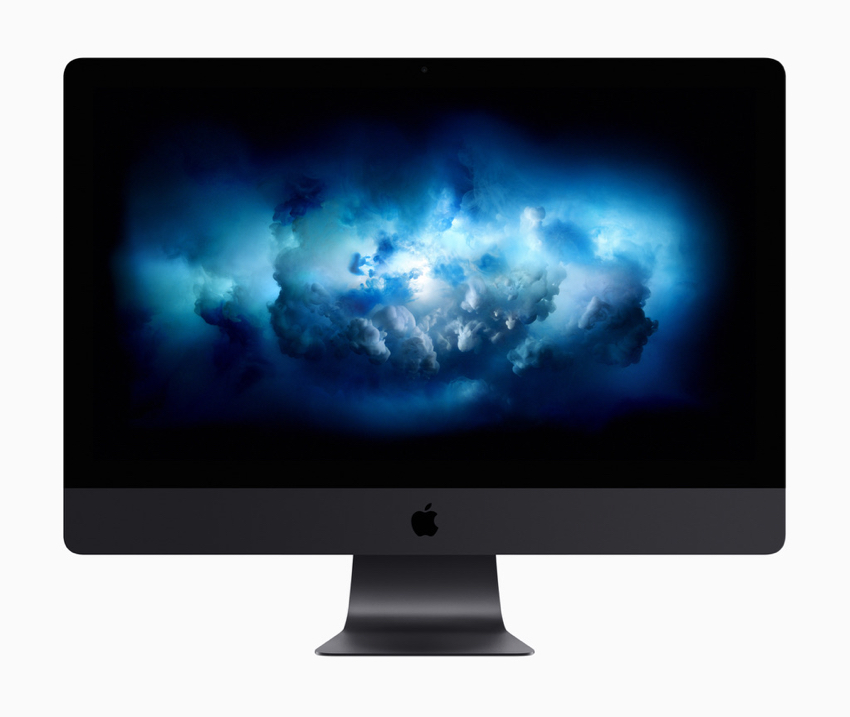 iMac Pro - Image courtesy of Apple

The MacBook Pro was updated with the Kaby Lake processors that had been unavailable last year and there are now 4 13" models. The two without the Touch Bar are $1299 and $1499, while those with the Touch bar are $1799 and $1999. That is 47,900 baht, 54,900 baht, 65,900 baht and 72,900 baht respectively. The 15" models are 85,900 ($2399) and 100,900 baht ($2799). There are also updates to the MacBook and there was half a sentence mentioning the MacBook Air which has also seen an upgrade (1.8GHz dual-core Intel Core i5). AppleInsider (Mikey Campbell) suggests that these are interim updates and buy time for Apple, with bigger changes expected down the road.

We had seen some updates to the standard iPads a few weeks ago and it was expected that the iPad Pro range would see changes. The 12.9" version has been beefed up, while the 9.7" iPad Pro is now superseded by one with a 10.5" display, although the case looks to be about the same dimensions. Both models have Retina display, but Apple has managed to come up with variable refresh rates of up to 120Hz. That is for high level graphics and games, but this will drop when not needed (I expect checking Mail would fit this idea).

In the middle of the iPad Pro introduction, there was a demo from Ashley Judd of Serif, whom I met last year when I went to Nottingham. He showed me then the planned Affinity Photo for the iPad which he demonstrated at WWDC this week. The core engine of the software was so well designed with the intention that it could be ported to other platforms. It started with the Mac and last year a Windows version came out. Now we have an iPad version. I put this on the iPadAir2 and the iPad Pro I have and it looks great.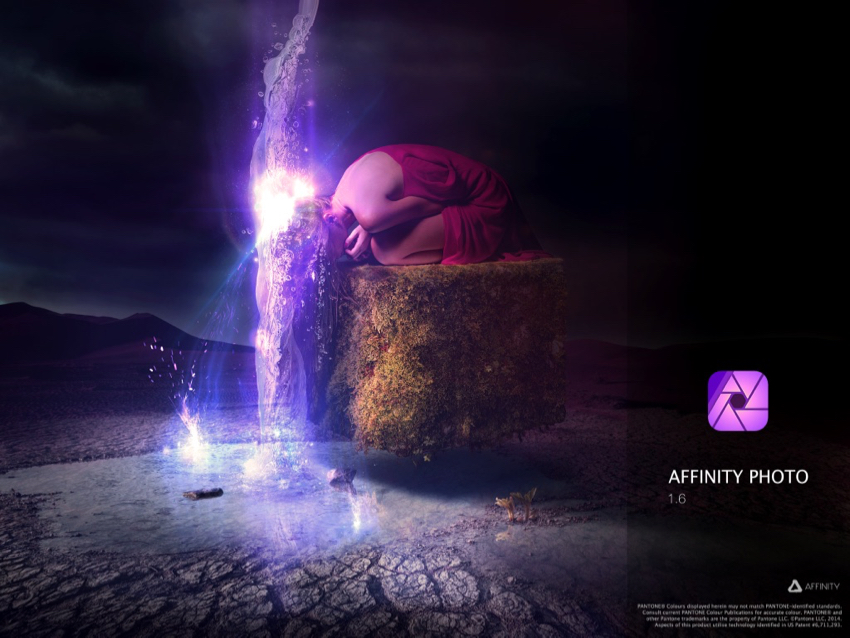 Affinity Photo for iPad

All those tools which provide users with amazing functionality that has been (rightly) compared to Adobe Photoshop. The price was 699 baht and that appears to be the introductory $19.99 (normal price US$29.99). I did try hard, but it will not go on the iPhone 7 Plus I am using. I noticed a lot of compliments during the day (Tuesday) as people started to download this and realised how good it is.

There had been rumours about a Siri speaker with or without a screen, depending on whose rumour you read. What Phil Schiller introduced near the end was a lot more than a supercharged Amazon Echo. He pitched the idea of a home speaker system, using a similar comparison method to how Steve Jobs introduced the original iPad: it has to be better at doing some things, or it has no right to exist.
It looks like a squat MacPro with a grille (fabric in black or white). Inside there is an A8 processor (same as the iPad), 7 tweeters, each with its own amplifier, and a 4" woofer that points upwards. It has spatial awareness and works with Apple Music subscriptions. It does indeed use Siri and as well as controlling music output this way, it can provide the user with information on demand (Hey, Siri) and can control home devices.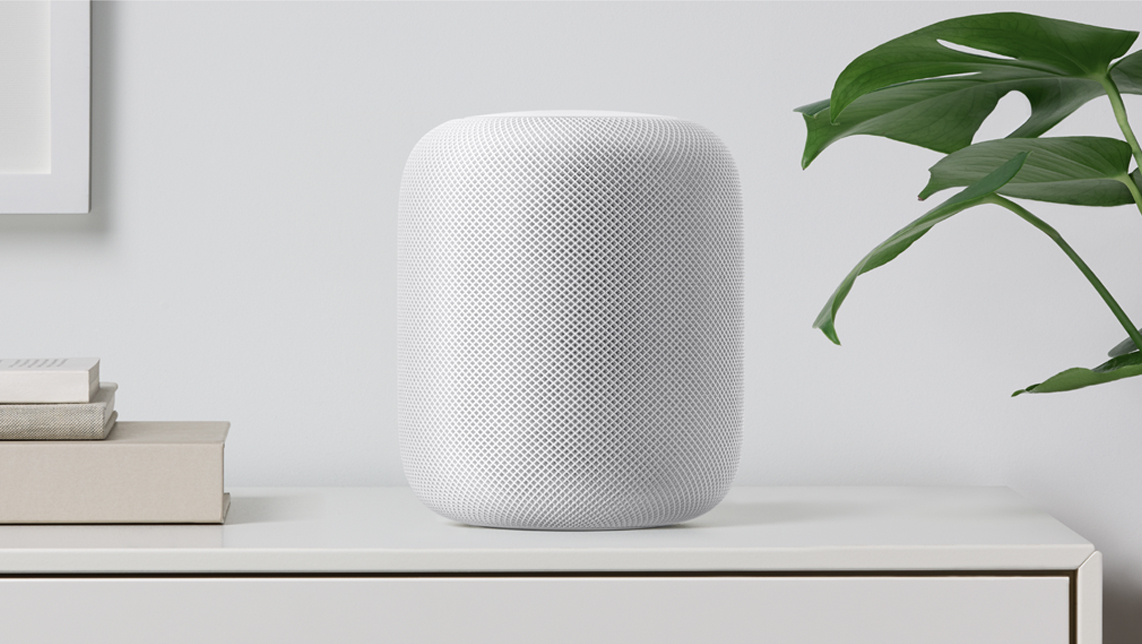 HomePod - Image courtesy of Apple

It is able to sense the size of the room and adjust output accordingly. It also has 6 microphones for input, so can pick up commands wherever a user is within a room. Communications are encrypted. It will be priced at $349 and will roll out gradually: initially in Australia, the UK and the US, then the rest of the world eventually.
We do remember a previous attempt from Apple of a speaker system: the 19,000 baht iPod HiFi which I looked at in May 2006. This was quite simple when compared to this latest HomePod and I would much rather have one of the new ones than the former Boombox.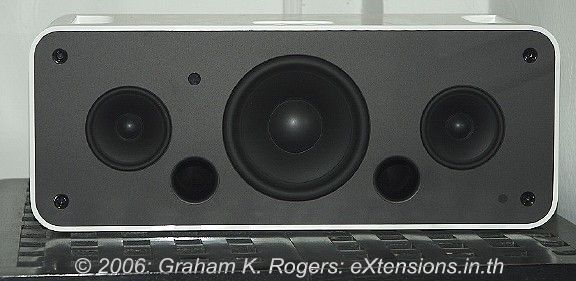 iPad HiFi
Comments
If you ignore the financial press - and I tend to glance at this and snort - a lot of people were happy with what Apple put out on Monday. The dam was broken for notebook computers now that suitable Kaby Lake processors are available, but there may well be more in this range. Both the MacBook and MacBook Air had minor upgrades, so we might expect some more with these early next year or late this year.

With the range of updates and releases around the end of the year, Apple may need to spread some of these out otherwise sales will be limited, in an either, or way; and they want the iPhone to be the major seller. Pro users may not car as they are not restricted by monthly incomes, so that iMac Pro could do well come December and January when companies have new budgets.

This is mainly a developers conference and this point is often lost to some. A a lot of the information is technical and those who cover news for popular sites may not realise the importance of certain APIs.

As well as the silent updates to hardware I mention in the introduction, Apple has changed storage plans for iCloud, removing the 1TB level, but pricing the new 2TB option at the price previously charged for 1TB. It is still a jump from 200GB. Plans now are 5GB free; 50GB, $0.99/month; 200GB, $2.99/month; and 2TB, $9.99/month.



Late Items
Some news has now begun to drift in and I saw a few items early Wednesday that interested me:
There is a new feature in iOS 11 that will allow users to play FLAC files (Chaim Gartenberg, The Verge). This is important from a quality point and may help those (like me) who download music from services such as Pristine Classical. However, according to the report this only works in the new Files app, not as part of Music, which seems odd to me.

It is reported (Christian Zibreg, iDownloadBlog) that there is a new feature in iOS 11 off by default that allows deleting of apps that are not used often. The idea here is that some download apps, use for a couple of days, then move on, but they take up space. Algorithms detect usage and delete. It is not known at this stage if there is a warning before the deletion (an app can always be downloaded again, of course).

We know that 32-bit apps will stop working on iOS 11 later this year or early next, but Mikah Sargent (iMore) reports that this will also apply to 32-bit apps on macOS, High Sierra.

I expect to be updating more in the next few days. . . .
Graham K. Rogers teaches at the Faculty of Engineering, Mahidol University in Thailand. He wrote in the Bangkok Post, Database supplement on IT subjects. For the last seven years of Database he wrote a column on Apple and Macs. After 3 years writing a column in the Life supplement, he is now no longer associated with the Bangkok Post. He can be followed on Twitter (@extensions_th)