By Graham K. Rogers
---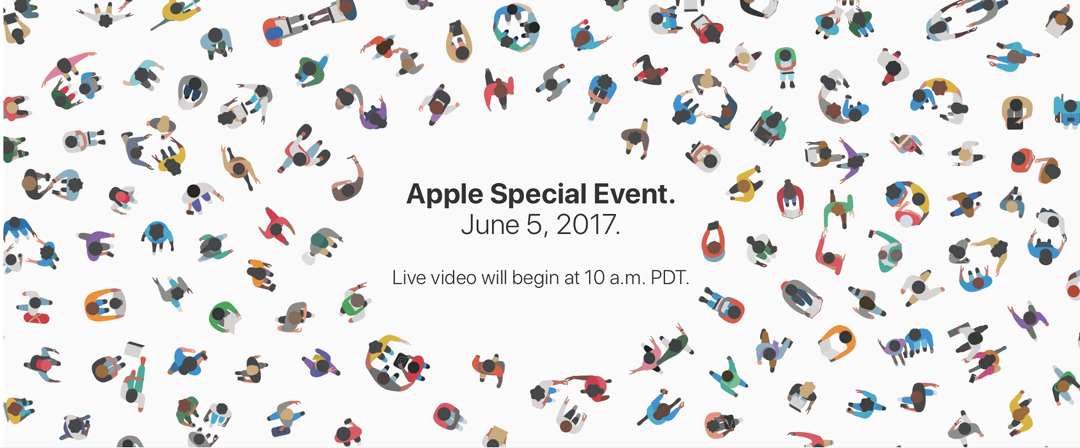 Apple's WWDC is about to start and we are looking forward to updates of macOS and iOS, with probable updates to WatchOS and tvOS too. Some of these updates are bound to include software changes. For example iOS 11 is sure not to handle 32-bit apps and these were removed from searches in the App Store not long ago. When they are opened in iOS 10, the user has a warning. When iOS 11 is released later this year, they will no longer work. During the day here a Files placeholder was found in the iTunes App Store (Eric Slivka, MacRumors), but this was later removed. Will Files replace the Finder in macOS: like the Chooser (for selecting printers), I think the name was always wrong.
During the day other snippets appeared like the possible inclusion of a Click & Drag feature in iOS; and the appearance of the TV App, that had been USA only, in other countries (but not here).
The update to macOS is a little tricky as certain parts will work with iOS (we had HandOff a while back) and there may be closer integration. I am expecting that Aperture may finally be dropped. I hope I am wrong as I still like using this and there is no proper alternative for me (certainly not Lightroom). With iOS and macOS updates I expect further improvements to Photos and I hope that the iOS version will finally have the long-overdue White Balance and Sharpen tools that should be available.
There have been few leaks about operating system changes, but despite this being a software conference, most are excited about updates to hardware and convinced that these will be announced by Tim Cook or one of the other Apple executives during the keynote presentation. With Apple, despite the huge number of assurances that there will be hardware announcements, I am never convinced until the music at the end. As well as rumors about updates to Macs and iPads, we are certain to have hints dropped about the next iPhone and Apple Watch (each depends on its respective OS). A couple of hours ago Apple stores worldwide went offline so the odds on having hardware announcements has changed significantly.
I would expect more on Apple TV as there is in-house content to be released although this will probably be through Apple Music and its app. Music is a grey area as eddy cue often makes an appearance although he never seems to me as in control as other Apple executives and this year Bozoma Saint John will not appear as news reports have her leaving Apple.

As the announcements are made I will try to keep up, but there are others who are more adept, like
The presentation is also carried live on the web and on Apple TV.
Anticipation. . .
Although I will try to put as much comment down here as I can, this depends on the speed of the announcements and the speed of my typing. I will also foillow this up in my Wednesday File this week with some more analysis. For ease of working at this end, I am using Thai time (the 10am Cupertino start is 12 midnight 00:00 here).

Are you sitting comfortably? . . .


23:54: The AppleTV WWDC feed is giving a good feed at this time, showing me some of the audience. Some of the developers are still filing in. The animated heading (see imnage above) has now changed to a grey Apple logo as the deadline approaches.

23:59:Nice views of some of the audio mixing equipment. Audience is still standing, so no signal to go has come yet. Music quietens. . .

00:03: Request for those attending to turn off devices. Almost there.

00:05: Music brightens up

00:07: TV image changes to main screen (above) and we are off with a video. Pulling the plug: is this a reference to the recent British Airways problem? App Apocolypse.

00:11: Tim Cook comes on stage. Great to be back in San Jose. 15 yaers since the last time here. Commitment to developer community: the best and biggest WWDC ever.

00:13: 16 million registered developers. 3 million added last year. Attendees form 75 countries. Most student developers ever. One of the youngest: Yuma from Australia. 10 years old.

00:14: Introduces an 82 year old developer from Japan. 4 platforms (ios, macOS, WatchOS, TVOS). No updates, straight into the conference. 6 important announcements. Starting with tvOS and the TV app (not here). Amazon is coming to the TV app and all Apple TVs with Prime Video.

00:16: Watch - growth good. Number 1 selling smartwatch. Nujmber 1 in customer satisfaction. Fitness, health, information. Updates to WatchOS - Kevin Lynch on stage. New beard.

00:17: Watch faces - using a Siri watch-face. Displays information intelligently, using AI. Dynamic updates throughout the day including from 3rd party apps.

00:19: Kaleidoscope face. Can use photos. Mickey and Mini: now adding other characters from Toy Story, including Buzz. These are animated. Activity, provides personal updates to assist, based on user's own inputs.

00:21: Workout updated. Enhancing Pool workout. High intensity interval training. More tools to allow users to fine tune these.

00:23: Works with gym equipment. Supported by 3rd party gym manufacturers.

00:24: Music on the Watch updates automatically. Mentions AirPods as integrated devices. Demo. . .

00:27: Watch OS 4 new flashlight. Updates with support for native core Bluetooth. Glucose monitoring mentioned. Surfboard connection and others. Preview available today.

00:28: Tim Cook returns to stage. Mac - much applause. Important to Apple. At the heart is macOS. Craig Federighi. . .

00:29: Sierra now. Outline of current macOS. What do we call it? High Sierra.

00:30: Refinements - Safari. World's fastest desktop browser. Javascript performance. Also gives good browsing experience. Mentions those horrible autoplay videos - autoplay blocking.

00:32: Purchasing privacy. Intelligent Tracking prevention. Online selling sites will hate this. Mail improvements: split view (looks like iPad). Uses less space for storing mail.

00:33: Photos. Filtering. Face recognition improved. Naming synchtonised across devices. Editing enhancements: Curves; selecting color (like Aperture). 3rd party integration. Books opened up to 3rd parties.

00:35: Data and the file system. HFS now to be APFS (Apple File System). 64-bit.

00:36: Demo shows a much faster file duplication.

00:37: Video - H265 standard. Saves up to 40% in compression. Mentions this is built in to new Macs. GPU performance: Metal. New version: Metal2. Faster (up to 10x). Better debugging and analysis tools. Metal also being used for machine learning. Metal2 for external graphics. Developer kit available.

00:40: Metal for VR in High Sierra. Final Cut Pro X improved to work with Metal2. More updates and working with game developers.

00:41: Beta available today. Public beta later this month. ZFull update in Fall.
00:42: Updates to Mac

iMac - display now 500 nits. 10-bit dithering up to 1 billion colours.
Intel Pabyt Lake. 21.5 up to 32 GB RAM, 27" up to 64GB RAM.
Fusion drive on all 27"
2 Thunderbolt 3 ports.
Graphics - 21.5 faster graphics (up to 80%). Radeon Pro 555 and 560 up to 4GB VRAM. Up to 3 times faster than previous.
27" iMac radeon Pro up to 5.5 teraflops.
Demo from Knoll from Visual Light & Magic. VR mode, 90 frames/sec. Technology used in film making can be available for home users.

00:51: Recap on iMac and VR.

MacBook and MacBook Pro - Kaby Lake. MBP starts and $1299. MAcBook Air also updated. Shipping today. Very brief on the hardware. More details online.

Sneak Peek of new iMac with far higher performance for Pro users. iMac Pro. Space Grey finish. New keyboard. Most powerful Mac ever. Workstation class performance. New fan solution. CPU: 8-core Xeon processor AND 10-Core Xeon processor and up to 18-Core processor. Radeon Vega Graphics. Up to 22 teraflops of graphics performance, Up tom 128GB ECC memory. Up to 4TB SSD. 4 Thunderbolt ports and 10GB Ethernet. I bet the price is going to be daunting.

A lot of performance here. Comparison with market the performance would cost $7000 but start price of this iMac at $4999

00:59: Tim Cook on stage - iOS 11. - Craig Federighi

01:00: Messages - redesigned app drawer. Messages in iCloud: synchronises messages across devices. Optimises storage.

Apple Pay - available in 50% of retailers by end of year. Person to person payments. Integrated into Messages as an app. Authenticate with TouchID.

Siri - 375 million devices, 21 languages. Upgrade with new voice developed using machine learning. New visual interface. Also now translation (beta) - Chinese demonstrated. 5 languages at the start, more later. Task management. Siri understands context enabling predictions: new on-device learning. Knowledge syncs across devices.

Camera - photos and video. Replace JPEG with HEIF for better compression.

01:09: Demo. Control center much better organised. 3D touch allows access to more controls. Lockscreen and Notification Center updated to be one. Photos: Live Photos can select the best image from the video and make that the main photo. Video effects.

Exposure effects. Memories can be sorted better. Picks best scenes. Reformats when landscape is changed to portrait mode.

Siri does more by offering recommendations - this does not always need speech to make these offers.

01:15: Maps - enhanced information about malls. Browse by floor. Mainly for US cities. Airports too. Again mainly US but some foreign. Lane guidance with directions. Car Play (200 models supported) - do not disturb when driving. Adding safety to driving.

01:18: HomeKit., Big list of accessory suppliers. Now adds speakers. Multiroom audio. Shared up Next - music.

AppleTV can control playback using Siri (where available I guess).

Apple Music. 27 million users. Find out what users are listening to in the app. MusicKit now available for developers.

So much information coming out here. . .

01:22: Phil Schiller - App Store.

Outlines some of the current ways in which users and developers are working. Trust for users and opportunity ofr developers. Faster app review times (applause). A lot of new features for devlopers on a slide that I will look at later.

Redesign of the App Store (on iPhone). A lot of this is aimed at the developers.

01:27: Demo. Monument Valley 2. How to Guide on VSCO. App of the Day., Game of the Day. Daily List (health).

Games tab in App Store. Tips and videos.
Categories. Redesigned app pages with videos.

Apps Tab brieflyt shown.

01:31: Phil Schiller hands back to Craig Federighi. Machine learning widely used by Apple on its devices and in apps. Vision API. Natural Language API (both built on core ML). Comparisons suggest this is faster than competitors.

01:33: Augmented Reality - ARKit. Demo. Stable motion tracking;Plane estimation; and other technologies (I will have to look at that slide for Wednesday).

01:36: Mentions IKEA, Lego and Pokemon Go working with AR. Wingnut AR (Peter Jackson - Lord of the Rings)

01:37: Alastair Coull from WingnutAR with demo. Oh, this is good. Rendered in realtime. Virtual battles in your own living room.

01:40: Makin skide of new features. Mentions China specifically.

01:41: Tim Cook. iPad. Changed the way we work, teach, learn and create. Pushing the boundaries.

01:42: [I missed the name.] Talks on iPad Pro. 13" and 9.7" (most popular). New version with 10.5: Retina display. Same size as before but reduced borders. Full size, onscreen keyboard. Full size Smart Keyboard. New languages. Both sizes have news displays with improved output. 50% brighter 600 nits. HDR video.

ProMotion: refresh up to 120HZ (twice the standard). Better with Apple Pencil. More responsive: 20 ms latency. Can dynamically adjust refresh rate (slower when high refresh rates not needed).

Faster A10X Fusion chips. 6-core CPU, 12-core GPU. 40% faster graphics.

01:48: Ash Hewson from Serif. Affinity Photos on iPad. I met him last year when I went to their offices in Nottingham. He told me then about the development of this iOS app. Appreciated by audience.

Affinity Photo for iPad (699 baht) )available now on App Store.

01:53: Memory for iPad Pro starts now at 64GB: $649 and $799. And other sizes.

01:54: Craig Federighi more on iOS and iPad. Dock like on macOS. Used for multitasking. App switcher. Drag and Drop (as predicted). QuickType keyboard.

New Files app (as predicted) able to see all files and folders. Supports 3rd party cloud services.

01:57: Demo. App switcher is going to add considerably to productivity along with drag and drop.

Hint in Photos demo about drone protection for the new Apple Campus.

Some of the files features borrow from macOS Finder with the way the files/folders can be manipulated and created.

02:00: Apple Pencil. Markup mentioned. Screenshot creates a thumbnail image. Notes: searchable handwriting; inline drawing. Notes has built in document scanner. Markup integrated in Mail on iOS too.

02:03: Toby Patterson - demo. Machine learning to identify writing and show in search. Some of the Notes look much like what Notability provides.

Document scanner - easy to use. Screenshot editing.

02:06: Craig Federighi. iOS 11 available today (beta at end of month).

02:07: Tim Cook. Video

02:09: Tim Cook. One more thing. Apple Music + AirPods. Home experience with music.

02:07: Phil Schiller - Reinvent Home Music. . . .

Smart speakers - with sound quality. Used the same style of specifications that were used to introduce the iPad in 2010.

Preview of the new speaker: video - short/squat Mac Pro with a grille? HomePod. I think I have pics of the earlier Apple Speaker.

7" tall. 3D mesh fabric. Lots of tech inside. Directional control. 4" woofer. Controlled by A8 chip - unusual power for a speaker.

Spatial awareness. Detects the space it is in to adjust the audio.

Musicologist - works with Apple Music subscriptions. User-specific. Uses Siri - is this the Siri Speaker that everyone predicted for HomeKit? Lots of commands possible.

Home Assistant as well. Siri works with other options to control the home and provide information directly to the user: reminders, news, music, homekit,

Privacy - Hey Siri should be used. Communication is encrypted.

Price - $349. Rollout in US and other countries. Worldwide later.

02:23: Tim Cook. Summary of WWDC. No mention of the standard (non-Pro) iPads. This was a packed WWDC keynote. There will be more information coming out in the next day or so.

Michelle Obama will be joining WWDC Tuesday to talk to those attending.


Bedtime for me. . . .



Graham K. Rogers teaches at the Faculty of Engineering, Mahidol University in Thailand. He wrote in the Bangkok Post, Database supplement on IT subjects. For the last seven years of Database he wrote a column on Apple and Macs. After 3 years writing a column in the Life supplement, he is now no longer associated with the Bangkok Post. He can be followed on Twitter (@extensions_th)