By Graham K. Rogers
---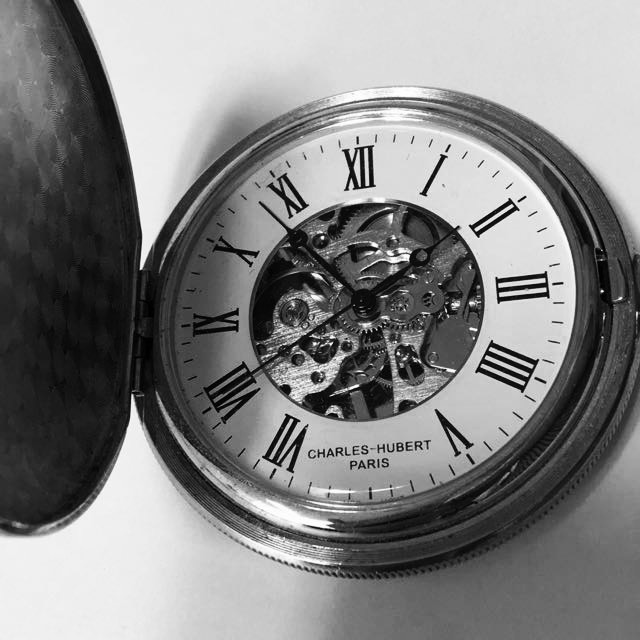 A few days ago I was able to find a really interesting Photography app in the App Store: DSLR Camera. It was quite by chance. I had been searching for something else and that appeared in a list. Although there are a couple of oddities about this Italian-developed app, there are some great features: manual and auto controls, RAW capabilities, Video (manual and auto), and an editing feature with a wide range of tools.
The Photo & Video section has grown to be one of the largest sections in the App Store. When these apps first appeared, they were a useful way to make more out of the iPhone camera which (on the 3GS) was OK, but not brilliant. Now the apps are building on some of the strengths of the newer camera features and, not for the first time, I see that this week a high quality magazine is using iPhone 7 Plus photos for its cover. Dunja Djudjic on Photography reports that Elle Australia used photographs from Georges Antoni who described the process as "liberating" because he didn't have to worry about all the usual gear. This is not the first magazine to have used input from iPhones.
Apple has pages that highlight the out put from iPhone users and early last year there was a display of posters in central Bangkok from the Apple World Gallery of iPhone 6s images. Now we have the iPhone 7.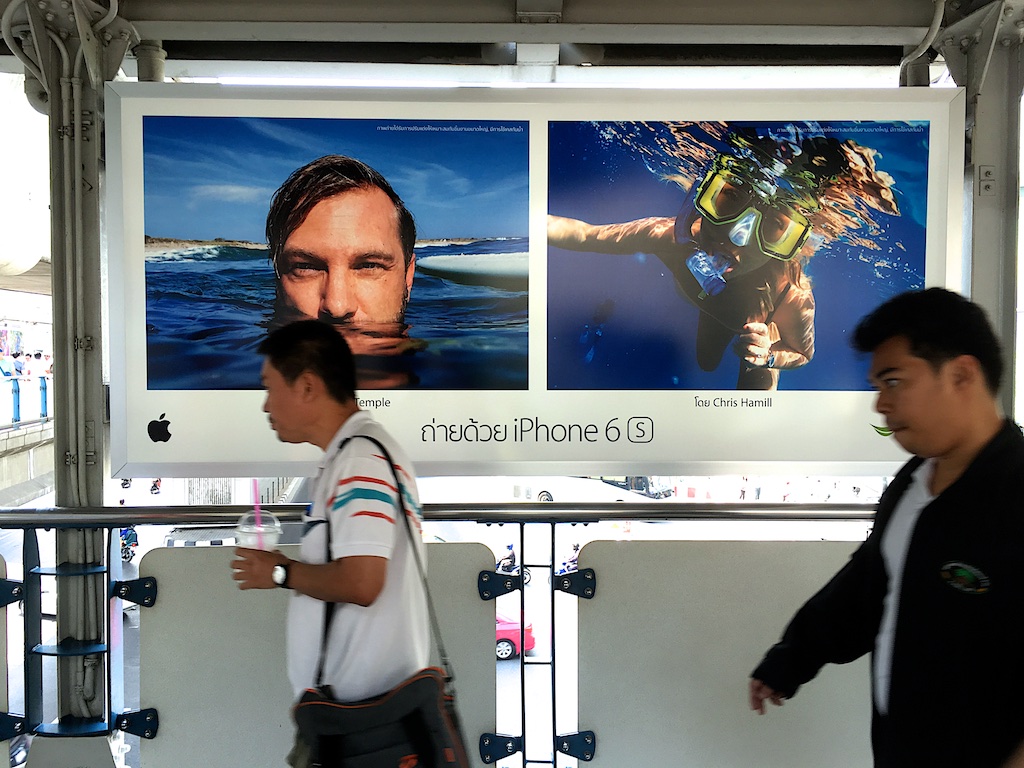 As new apps come out, many are highlighted in the app store display, but with more than an estimated 2000 in 2014, there are certain to be more now. In many cases some apps are just never seen even when they first come out. Many disappear from view shortly after release. A lot of apps do not really deserve to be seen, of course, but any developer should at least have a chance.
What I see in the App Store Video & Photo section display are apps listed under Discover and Share, Edit Your Photos, Make Great Videos, and Craft Collages. Between those sections. In between are small panels with links to specific apps, like Pixelmator, Flickr and Litely. Those last three classes also have a See All, link to the right, but when this is pressed the display is not extensive.
To the right is the list of Top apps: Top Paid, Top Free and Top Grossing. Pressing the link for each shows 198, 199 and 200 apps respectively. There are several hundreds more of course.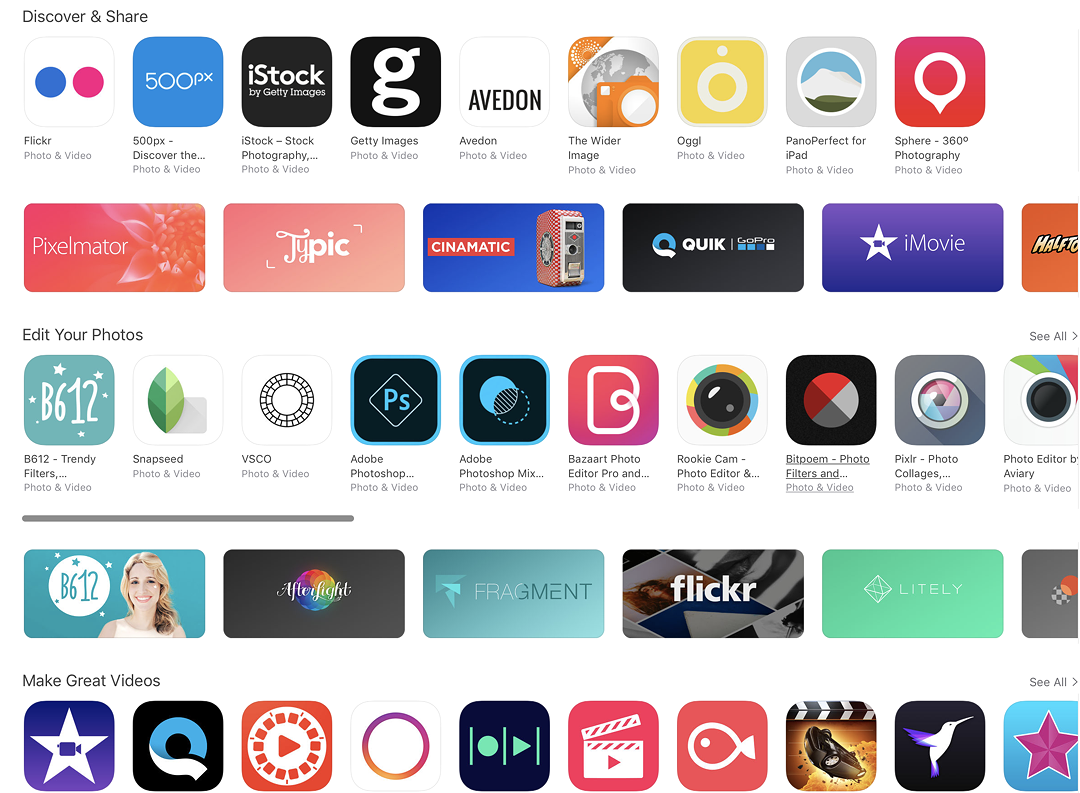 If memory serves me correctly, it was possible in the early days of the App Store to browse through what was on offer, but that would of course bring up an unwieldy list whether sorted in Name or Date order. Searching using the letters of the Alphabet (A, B) brings up 100 iPhone apps (and others) many of which are not photo apps.
The only way I have found to randomise searching is to look underneath an app and see what users also bought, clicking down through several levels of this type of access. This is time-consuming. It is apparently impossible to browse these days and this is sometimes one of the most useful ways to come across new (or old) apps that deserve a second look. But what a waste of time, especially as there is no guarantee that all apps will be covered in this way.

A similar situation is apparent on Apple TV. Not that there is a huge range of apps available here, as some of the major apps (for example, HBO) are not available for copyright and licensing agreements that exist here. True used to show HBO channels, but they lost that at the end of last year when negotiations failed and the channels were picked up by another provider. It simply means that with the monopoly conditions that exist here, several apps are not available.
What there are, however, are not easy to find. As with the experiences of Photo apps (above) several users have criticised the difficult of finding apps in the AppleTV store. There are the usual charts (All, Games, Food & Drink, Health & Fitness, and News). There are also Categories (Games, Education, Entertainment, and Lifestyle). A search facility is not particularly helpful as users have found this will not produce a result unless the exact name is entered and some apps have proved difficult, if not impossible to track down.

The Apple online stores have expanded dramatically in the last few years, but sorting of apps does not appear to have kept pace. Others have expressed criticism of iTunes because of its unwieldiness: doing far more now than it was initially designed for.
A complete overhaul of iTunes and related online stores is overdue. All many users want is to be able to find apps (as well as music and movies) without difficulty. This is currently not as easy as it should be.
Graham K. Rogers teaches at the Faculty of Engineering, Mahidol University in Thailand. He wrote in the Bangkok Post, Database supplement on IT subjects. For the last seven years of Database he wrote a column on Apple and Macs. After 3 years writing a column in the Life supplement, he is now no longer associated with the Bangkok Post. He can be followed on Twitter (@extensions_th)