By Graham K. Rogers
---
In about a week Apple releases its Q2 2017 results which Cupertino predicts will produce revenue of between $51-53 billion. The timing of the announcement is set for 5pm Cupertino Time which is around 5am here and that is my sleep time. IO will put some information online after breakfast. If you want to follow the announcements live, Apple will have a feed as always. Apple shares continue their recent rising trend with a price of $144.53.


Apple announced on Tuesday plans to launch scores of new educational sessions next month in all 495 Apple Stores. Topics will range from photo and video to music, coding, art and design, and more. The hands-on sessions - "Today at Apple" - will be led by highly-trained team members, and in select cities world-class artists, photographers and musicians, teaching sessions from basics and how-to lessons to professional-level programs.

The programs will be available across all skill levels and ages. Those iPhone users who are interested in photography can start with sessions that cover shooting, organizing, editing, and more. There will also be photo walks that cover techniques including light and shadow, portraits and storytelling.

There will also be programs for families and educators. On Teacher Tuesday attendees can new ways to incorporate technology into classrooms. Aspiring coders of all ages can learn how to code in Swift and families can join weekend Kids Hour sessions ranging from music making to coding with robots. Small business owners can engage with global and local entrepreneurs in the new Business Circuits program.

I have often commented in my online items about the poor availability of accessories for users in Thailand. The lack of 4K monitors, USB-C devices and HomeKit-capable equipment have particularly drawn my attention in the last year or so. This week I wrote some more on this, but this time because there was a chink in the door with the arrival of some HomeKit-capable devices in Bangkok shops.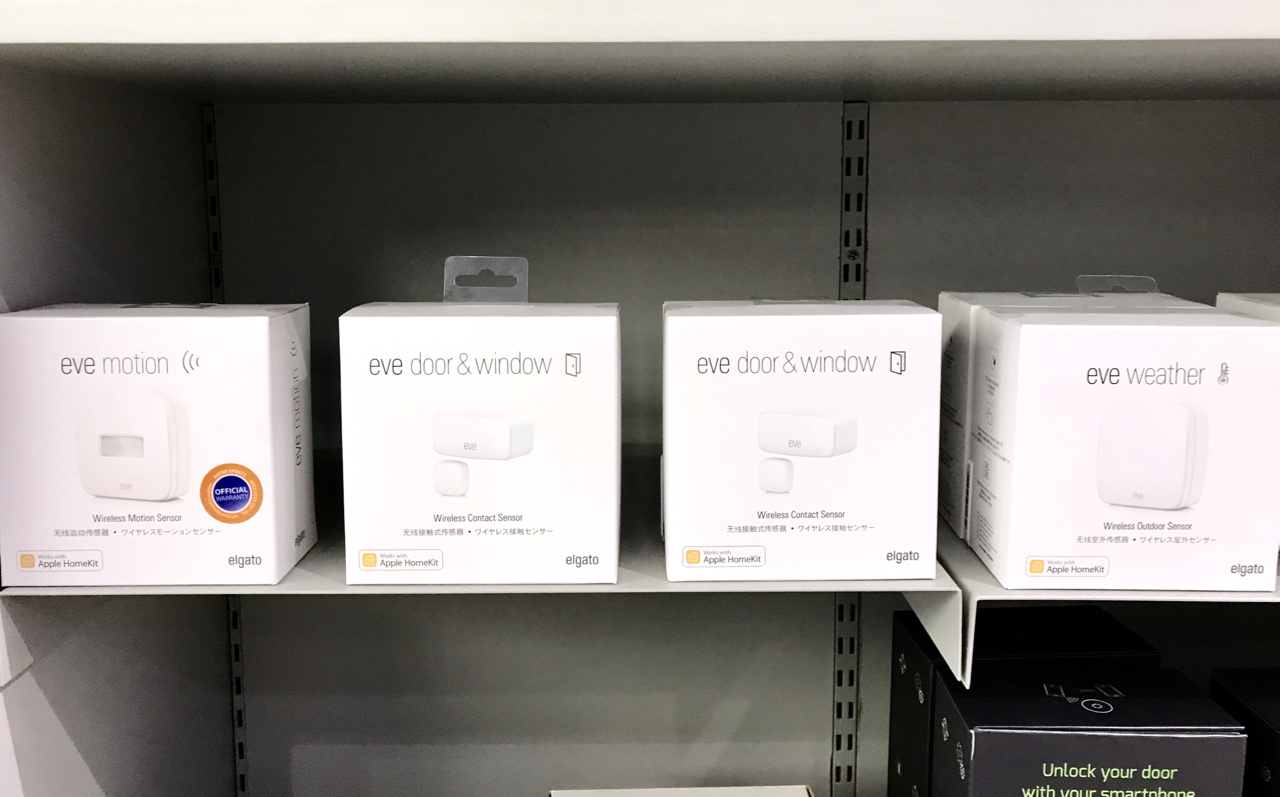 In the Apple reseller, Ai in Siam Discovery Center I found a handful of devices from Elgato. As I already have an Elgato Eve monitor, I know how reliable these can be. On Saturday I looked at the devices and compared the prices with those on the Amazon pages:
The Eve Room device does not ship here from Amazon, where it is priced at $79.95. That would be 2745.48 baht and 2937.67 with 7% VAT. The price here is 3790 baht.

The Eve Weather Outdoor sensor (like I have) is $49.95 with $49.17 shipping & Import Fees. That base price is 1715.28 baht and 1835.35 with VAT, while the retail price is 2290 baht. The Eve Motion which Amazon will also ship here is the same price (Amazon and here)

The Elgato Eve Door & Window does not ship. It is shown as $39.99 which converts to 1373.26 baht and 1469.38 with 7% VAT. The local price is 1790 baht.

I decided to try the Motion sensor as I already have a monitor and I am not sure of the value that the window lock device would have where I live. The Eve Motion will have a limited application in my current situation as I would need another HomeKit device, such as a switch or lock that could be operated by movement.
Think of Minority Report: as the Tom Cruise character moves through a store, his presence is detected and screens nearby activate. The current technology does not sense an individual, but any person moving in the range of the device can activate an operation once specific rules are set up.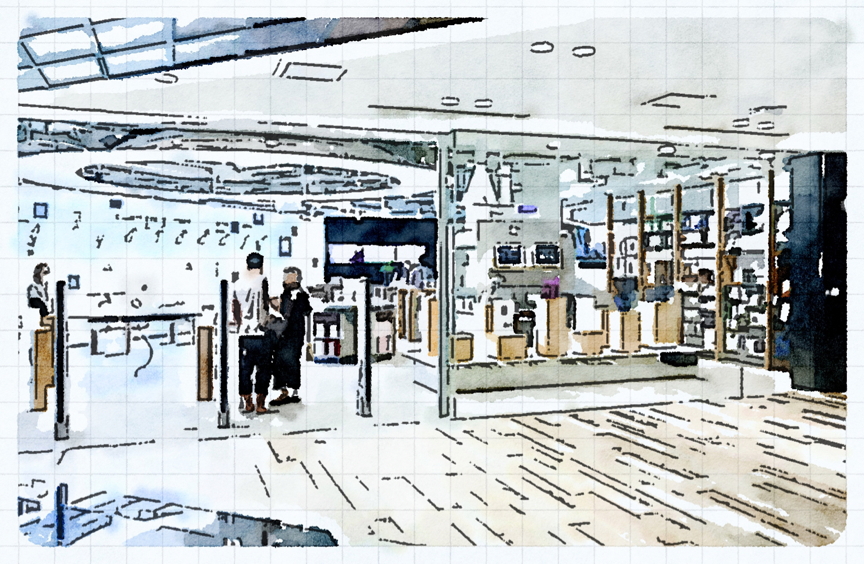 Although I had seen the Eve Motion at Siam Discovery on Saturday, I had a look at iStudio in Siam Paragon. This store is run by Copperwired, who also run the Ai store in Siam Discovery. Although the three other devices were available in Siam Paragon, the Eve Motion was not available. I picked it up at Siam Discovery later.
In the box I found the device with its small, opaque LED screen where the sensor is. Two AA batteries were provided, but not installed. A book of Safety Instructions was in the box along witha small set of "Get Started" notes. On the back of this, and on the underside of the device, was the all-important pairing number. I peel that off the device once it is set up and lock it away with the Notes in case I ever need the information again.
The Motion sensor itself has identical dimensions (as far as I can tell) to the Eve sensor device I bought in the UK last year. It has recorded data ever since I activated it in August, using the original set of batteries. There is no information in the Eve app about battery condition, although Apple's Home app does show this (57%).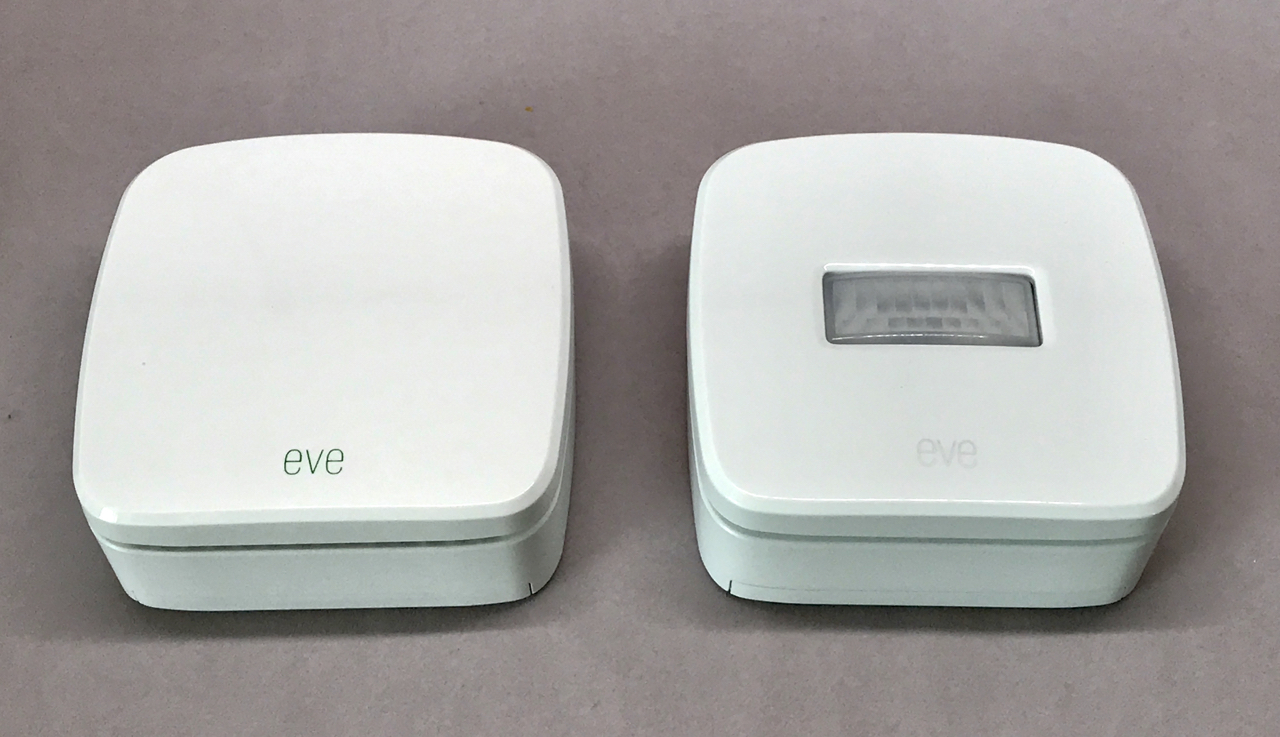 Elgato Eve monitor and Motion (right)

I remember that setting up the sensor device was quite straightforward once the Elgato Eve app had been downloaded and this was no different.
I put the batteries in first. There was no indication (like the monitor) if it was On or Off. In the app I pressed "Add accessory" to the setup location in Settings and the new device was identified immediately and I tapped the XXX-XX-XXX code panel. The camera is accessed and I placed the code (on the Notes booklet) in the frame. That code was identified and the pairing was complete. I placed the device in a suitable location ready for action.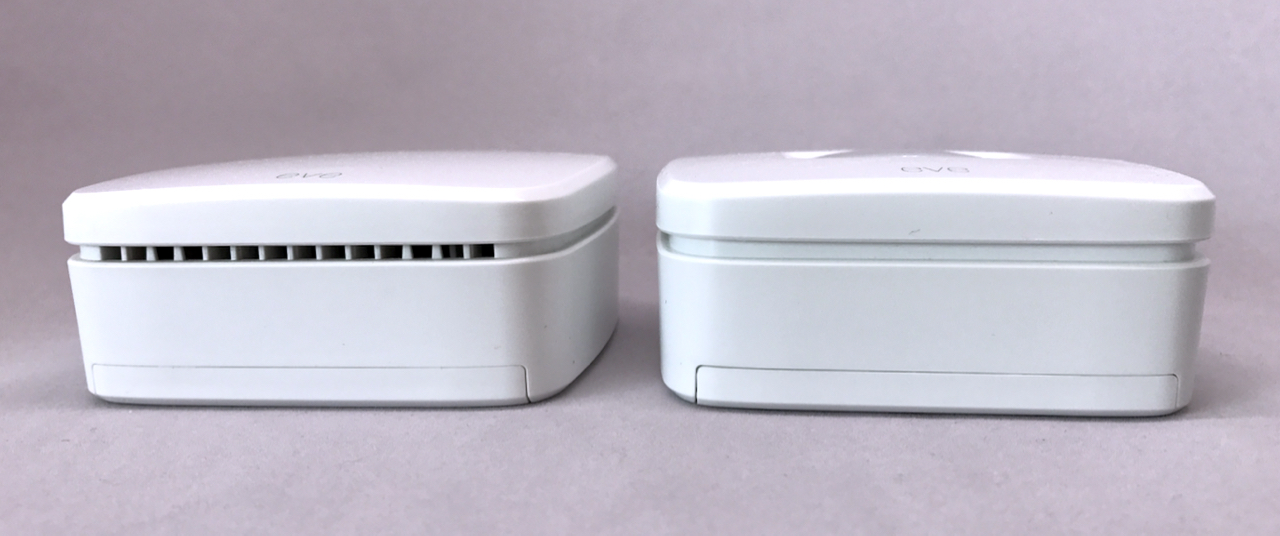 Elgato Eve monitor and Motion (right)

When the setup was finished, a message in settings showed that a firmware update was available (2.0.1) and I installed this. While I did, a series of screens outlined potential scenarios that could be set up using the device. What it needs of course are suitable HomeKit devices that will be triggered by movement - for example light switches, or my own favourite, the Philipps Hue.
The newly installed Motion sensor was also shown automatically in Apple's Home app, bot only on the iPhone which I used for the initial setting up, but also in the Home app on other iOS devices. Although I initially set this up as an accessory in the Bedroom, where I have the monitor, it would be more sensible if it were located in the living room. Using the Eve app I created a new location and allocated the device to that.

With Home I would be able to set up automated tasks, if I can ever acquire a suitable device: this may need a trip to Singapore or the U.K. where voltages are the same as in Thailand. Some suitable devices are available through Amazon, but these are not the latest versions, and the cost (that would also include shipping) makes this somewhat unattractive right now.

As an update to HomeKit information, Roger Fingas (AppleInsider) reports that Hubbell has bought out iDevices, a manufacturer of HomeKit devices. He writes, "In theory the Hubbell takeover could lead to many more commercial and industrial buildings taking advantage of Apple's platform, instead of just individual homes", although reasons for the takeover are unclear right now.
Graham K. Rogers teaches at the Faculty of Engineering, Mahidol University in Thailand. He wrote in the Bangkok Post, Database supplement on IT subjects. For the last seven years of Database he wrote a column on Apple and Macs. After 3 years writing a column in the Life supplement, he is now no longer associated with the Bangkok Post. He can be followed on Twitter (@extensions_th)