By Graham K. Rogers
---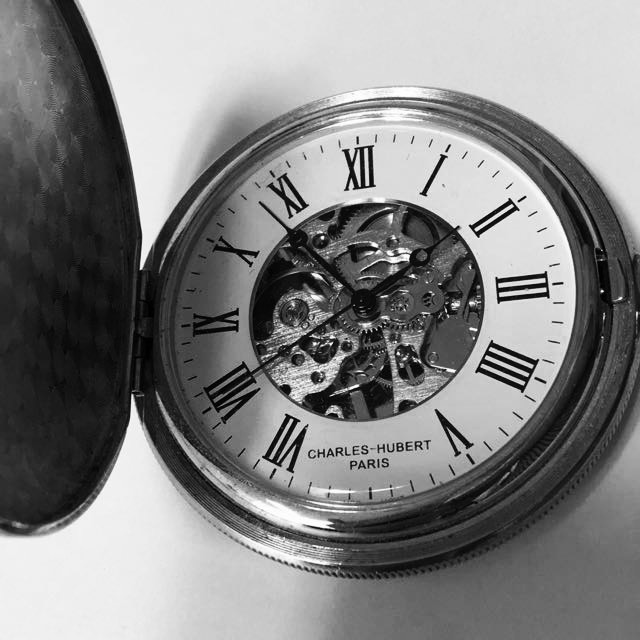 With the arrival of the new MacBook Pro I have been hunting round for suitable accessories in Bangkok - very poor here. I did manage to find one USB-C hard disk: a LaCie Porsche Design device, which was not cheap, but I bought it mainly because I wanted to try the USB-C with a disk.

There have been a number of quite good examinations of the new MacBook Pro, now that people have started using them in real situations and a particularly revealing article by Larry Jordan that I saw New year's Eve has some good observations. Despite the limits of the RAM (which did not affect his video-editing tests at all), the processor is rendering video at fast rates while only using a fraction of its power. Having used both models over the last few weeks, I knew that.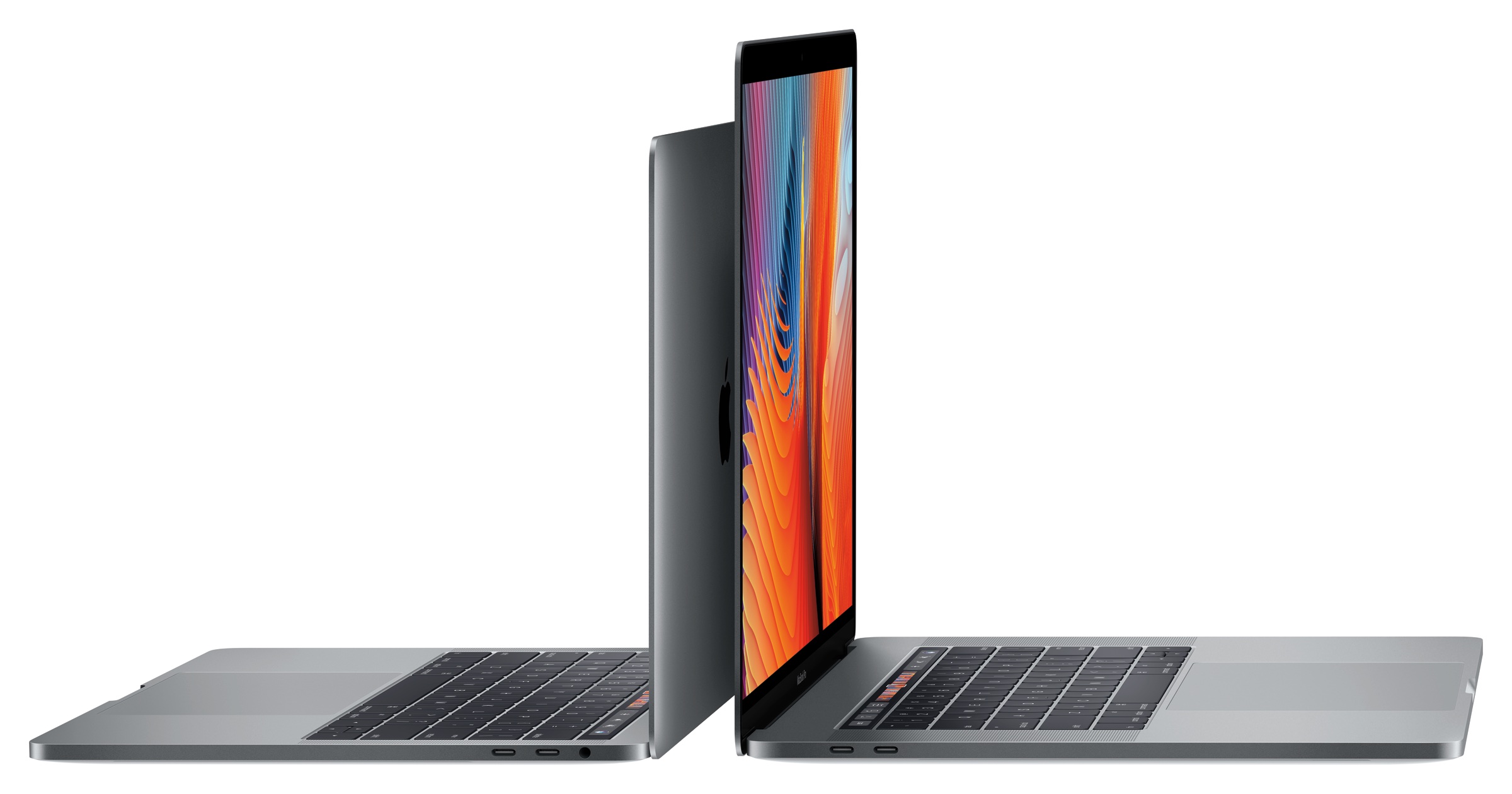 MacBook Pro models - Image courtesy of Apple

My big problem with the new Macs is nothing to do with Apple - indeed Apple are the good guys here - but my anger over the lack of suitable accessories for the USB-C ports in the MacBook Pro except for the four Apple-produced adapters. Despite a careful look in several places in Bangkok, there is nothing else: cables, hard disks, 4K monitors (just one - overpriced).
I did manage to find Belkin cables for the micro-USB at Amazon prices (shipping almost doubles this for users here) and that will mean I will no longer ned adapters for some of my hard disks; but why did I need to buy these from Amazon?
Every day over the last week or so, I have been reading reviews about suitable hard disks, both SATA and SSD, while I found nothing here. Then I walked into the iStudio in Pinklao (the Thonburi side of Bangkok) and did see a LaCie Porsche Design 2TB disk at 6,290 baht. It was only slightly cheaper on Amazon ($139, reduced from $159) and that was without the shipping costs, so I bought one. I have still to see this disk here, along with so many useful accessories, while the retail stores are decked out with hundreds of smartphone cases and overpriced internet flowerpots.
Late note: on ew Year's Day I went to iStudio in Central World and did see the LaCie disk there along with another no-name brand that was marked as USB-C capable.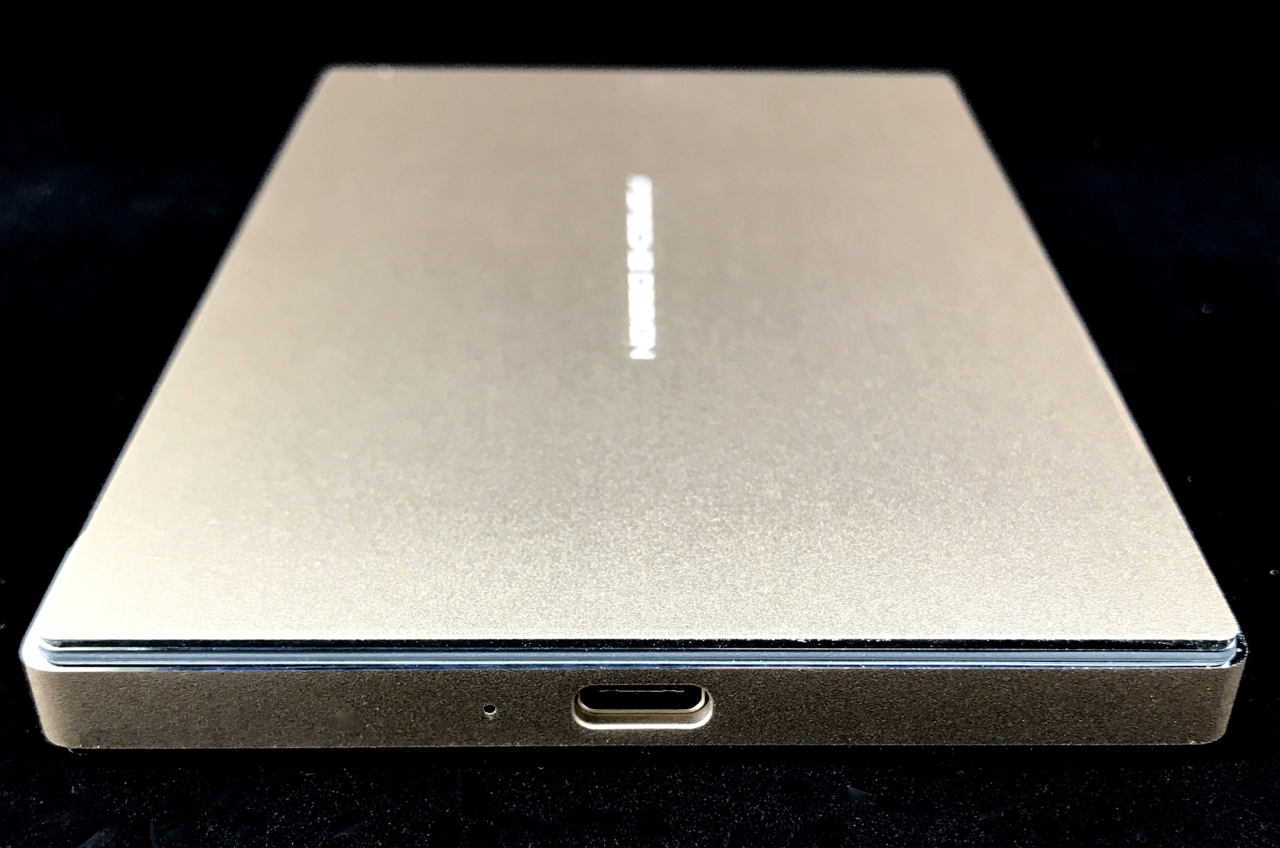 LaCie Porsche Design Disk with USB-C Connector

I had bought another LaCie Porsche Design disk when I went to San Francisco in June and visited the new Union Square Apple Store where it cost $119.95. Like the new disk it is USB 3 but connects to the Mac via a USB to micro-USB connector.
The new USB 3.0 disk connects using the USB-C cable in the box, although there is a USB cable that allows connection to devices with the more common USB ports, found on many PCs and older Macs, including my 2013 MacBook Pro.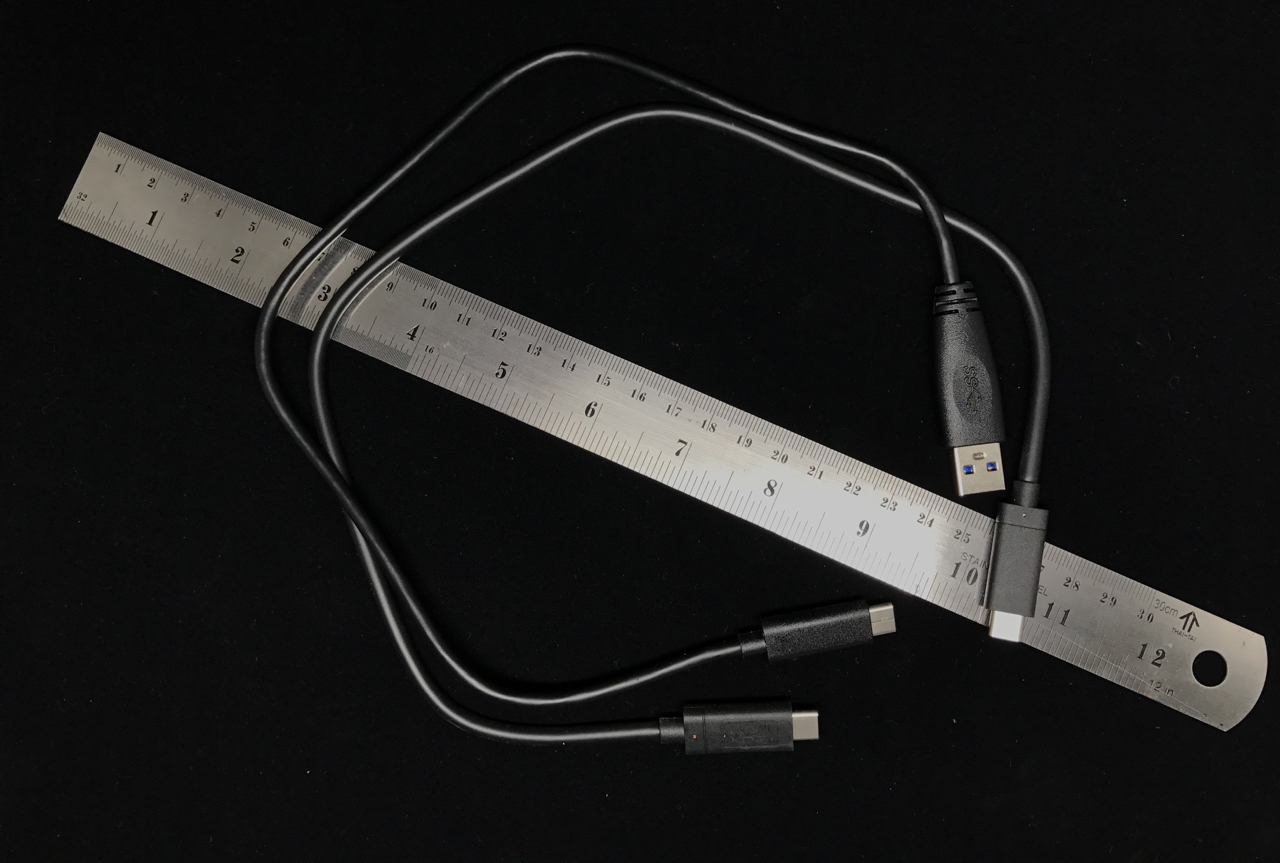 LaCie Porsche Design Disk with USB-C and USB Connectors
Installation
I connected the disk to my Mac (it takes its power from the USB-C) and the disk appeared on the desktop with the name "LaCie Setup". A double click showed me a setup application and a ReadMe file in several languages. The one-line English version read, "Before using your drive, LaCie Setup Software must be launched": whatever happened to Erase, Partition, or Format?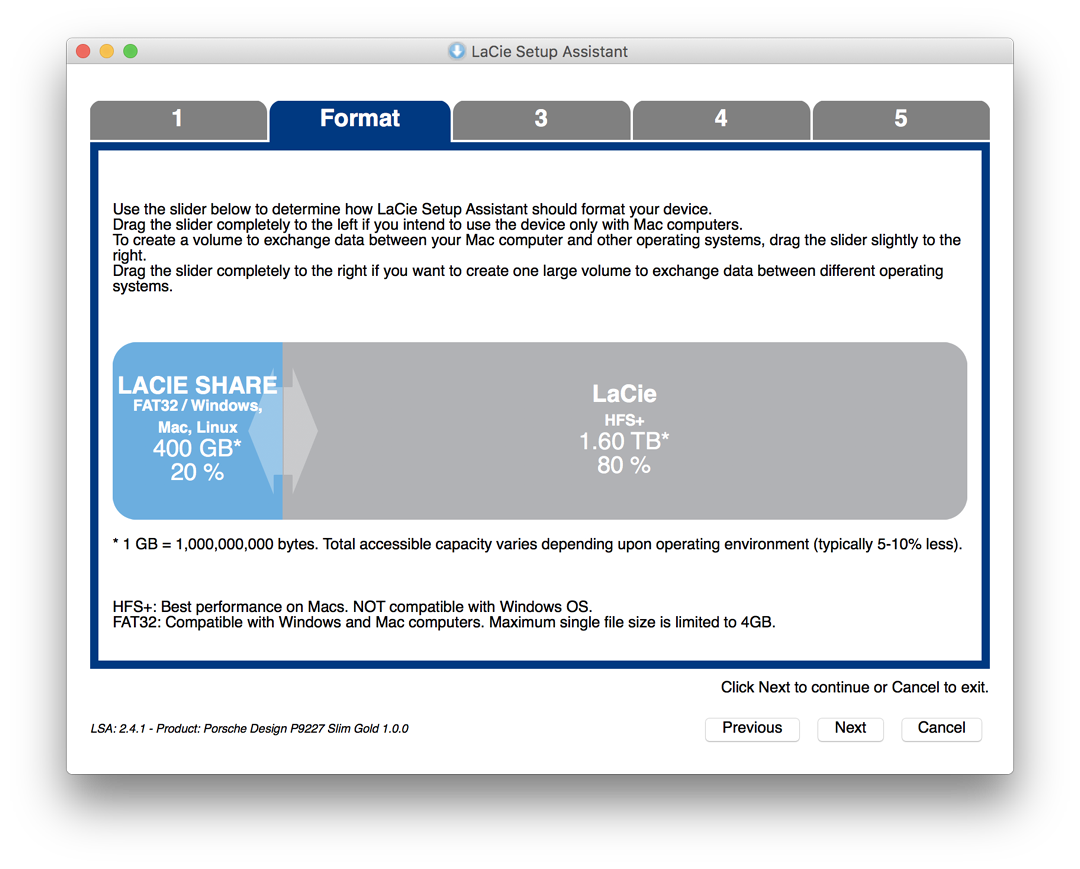 I ran the setup, choosing a language (Thai was not an option), checked for updates, then ran through a multi-panel assistant. I set the disk up Only for Macs and had to agree to a total erase. The first time there was an error, but the second time it diod the job. I ignored an offer to Register and unchecked the software (Intego Backup Assistant and LaCie Desktop Manager). I could not decline the user documentation.
The disk appeared as LaCie when this was completed, but I renamed it to Porsche 917, because I already have that other Porsche Design disk.
What'll she do. . .
I wanted to give this new disk a practical test, so as I was going to use it for picture storage, I used an Aperture library file (60.15GB) and dropped that into a folder on the new disk. That transfer took 10:36.

I followed that with the same file transferred to a Seagate disk that has the micro-USB connector and connected that to the Mac with the Apple USB-C adapter. That transfer took 15:03.

I also tried the USB 3 LaCie Porsche Design disk I had bought in San Francisco in June. That same file took 14:25 to copy across.

With a 4TB Western Digital My Book Thunderbolt Duo (formatted as a 2TB RAID) connected to the Mac via the Thunderbolt cable and an Apple adapter, the same file was transferred in 6:59, faster than the others.
I was hoping that the new LaCie disk would be faster, but that Western Digital disk is USB 3.1 and this disk is USB 3, so the maximum transfer rate is 5Gb/s (USB 3.1 and Thunderbolt connect at 10 Gb/s speeds). I must admit a slight disappointment here, but the latest technology rarely comes to Bangkok first: Apple scores highly there.
When I first bought the Western Digital disk in April 2014, I tested its performance against other disks I had at the same time.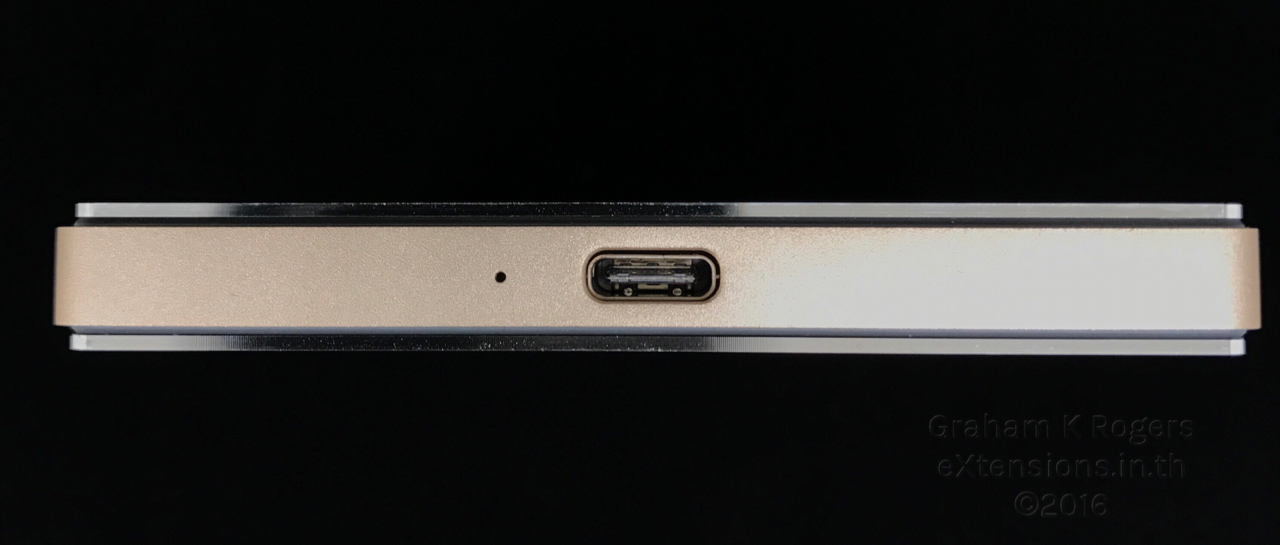 LaCie Porsche Design Disk with USB-C Connector
Comment
The main strengths of the LaCie disk over the Western Digital disk, for the tools in my workflow, are its design and its portability. I have several 2TB USB disks which run to about 2,500 baht here, considerably cheaper than the LaCie disk. These are light and easy to carry in a pocket.

This new Porsche Design is slower than the Thunderbolt-connected Western Digital disk, but quite a bit faster than the USB 3 LaCie disk with the micro-USB to USB cable. That in its turn is a little faster than the older Seagate disk with the same connector.

That MyBook Duo disk, which is not portable was just under 17,000 baht when I bought it in April 2014 (expensive, especially as these are probably made here), so there is an economic consideration here too as the 6,290 baht of the LaCie disk is far cheaper. The USB 2 disks which are widely available here are cheaper still, of course, but slower.



Graham K. Rogers teaches at the Faculty of Engineering, Mahidol University in Thailand. He wrote in the Bangkok Post, Database supplement on IT subjects. For the last seven years of Database he wrote a column on Apple and Macs. He is now continuing that in the Bangkok Post supplement, Life. He can be followed on Twitter (@extensions_th)