Photolemur: Photo Enhancement App for the Mac - Instant Improvements, with Limits
By Graham K. Rogers
---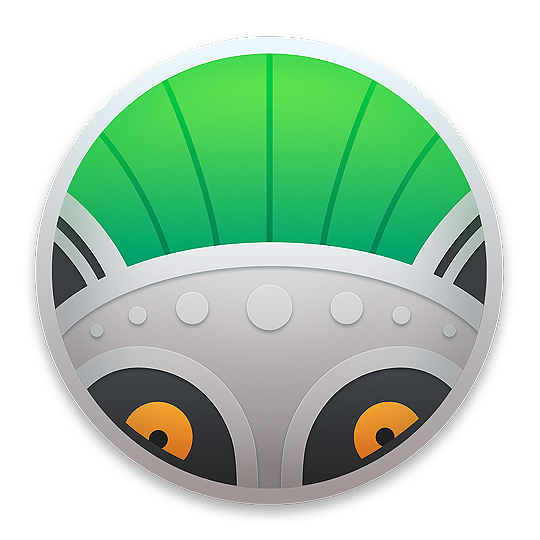 Many imaging apps are judged by their extensive filters and toolsets, but Photolemur quickly analyses imported images - singly or in batches - and applies enhancements, allowing the user to compare the originals as part of the process before exporting. Photolemur is available in the Mac App Store. A limited trial version is also available from the developer.

I like to keep my eyes open for new apps on the Mac, although there is nothing like an overwhelming cascade these days. I did notice earlier in the week a featured app in the app store that I had not seen before: Photolemur. As this was obviously aimed at those interested in photography, I had a quick look. It was priced at 529 baht here (estimated $15.99) and having just run through a review of Acorn, I put this on hold.
I had another look at Photolemur late in the week and noticed in the details that although this was billed as a fast and easy photo-editor, it did have RAW support. My interest was heightened and I looked at the support pages to check if my DSLR was listed. Not only was that shown, but the supported cameras included Hasselblad digital models (although not the most recent 6 series), and a number of brands that I am unfamiliar with, but also showed support for iOS devices (DNG).
The site also showed that there is a test version available for download although this will show a watermark on any images and batch-processing is not available. I downloaded this from the site and noted that it was shown as version 2.2. The Mac App Store lists this as PhotoLemur 2, but in the small print at the side of the panel, it is the same v. 2.2. The 159MB download was quick enough, but installing from the DNG file took a while, and seemed unusually slow at times.

I had the option to try a test image, but it was simple to open one that was on the hard disk. When this loaded, there were some angled lines shown briefly, then text on the screen informing me that certain aspects of the image were being analysed (e.g. Sky, White balance, Exposure, colors). After about 10-15 seconds the image appeared with a Before/After display, split by a white line that could be moved left and right across the screen.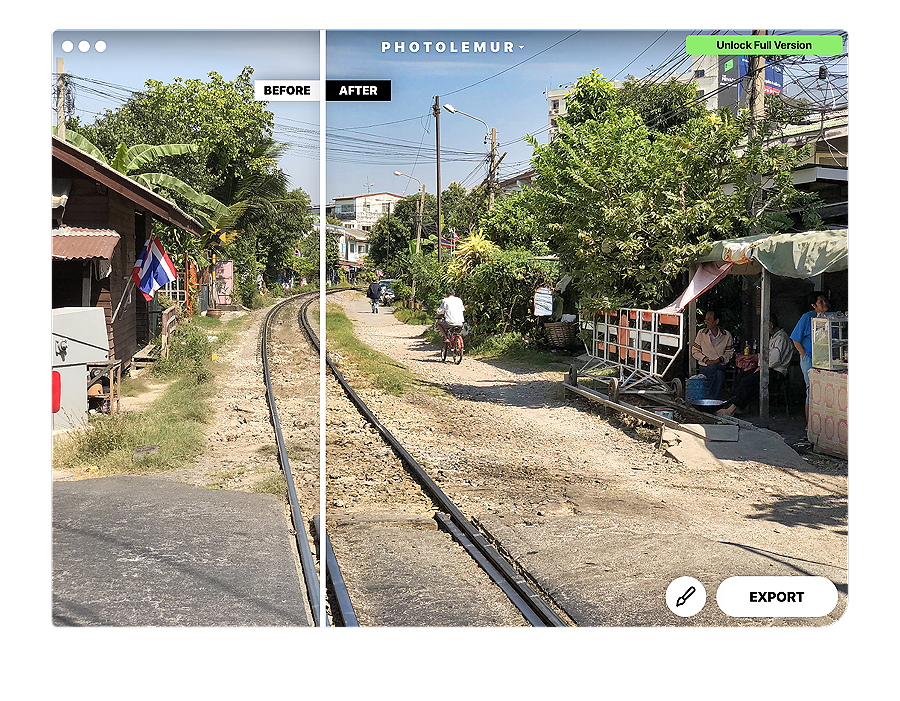 It was as simple as that. The sky was certainly a nicer blue, some greens were nicely saturated, and shadows had been adjusted. It was indeed a better image than the original input from the iPhone X I had used. I was offered three choices: Buy Full Version; Export; and a paintbrush icon. This icon revealed a slider that ran from Original to Boost.
There were no additional editing tools, and the only menu item that seemed interesting enabled Plugins to be installed. This was only for Lightroom which I do not use. Other menu items were concerned with file management and app support. A small arrow icon next to the Photolemur name on the main panel revealed a variation of what was in menus (Import more, Start over, Support, About Photolemur, and Quit).
Export gave several options to social networking sites, as well as email and the disk. JPEG, PNG, TIFF, JPEG-2000, Photoshop and PDF. An uncompressed TIFF (compression options were LZW and Packbits) produced a 50MB image, with the promised watermark, from a 3.3MB iPhone X photograph.

Using the Add Images menu item, brought in more photographs to a library screen. I could edit any of the images again. A couple of those were 20MB RAW images. The uncompressed TIFF exports varied in size from 16MB to 64MB. Email exports range from Small (42KB) to Actual Size (5.4MB) depending on the image and not necessarily if that original was the larger RAW.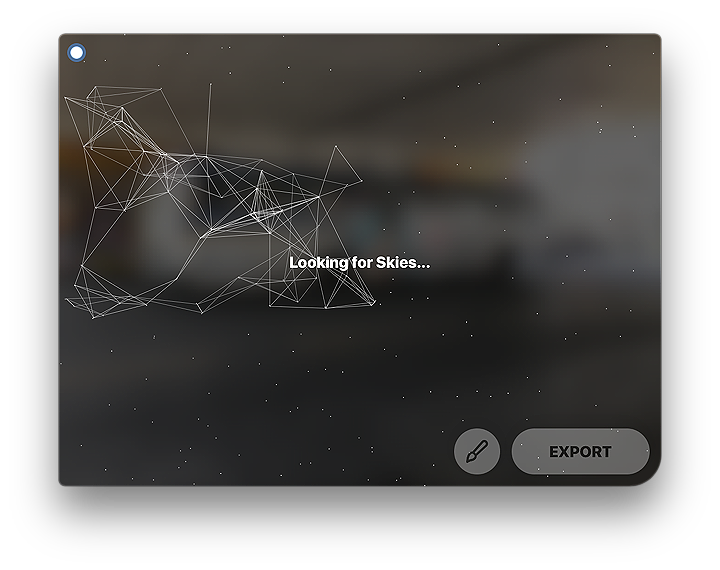 Image processing in Photolemur
The processing that took place in only a few seconds was able to improve every shot, although some that had been taken in poor light appeared a little grainy. Some of the color enhancements were nicely done, bringing out the richness that I had seen when I first took the shots. This was especially noticeable with the external shots where light was good and in the artificially lit gallery (BACC) of student work.
What I saw with the trial version was enough to push me to unlock the full version. I was not sure initially exactly how batch processing was working. I brought in two sets of images (17 and 40) which appeared in the main panel. I was not able to highlight all (or a selection) with the usual Command + A, but had to select one at a time with Shift + click. This was unnecessary. The process worked on one image I selected with the analysis I had seen before, but I was not sure if this was working on all, as some had been changed, while others were processed when I selected them. Then it all became clearer.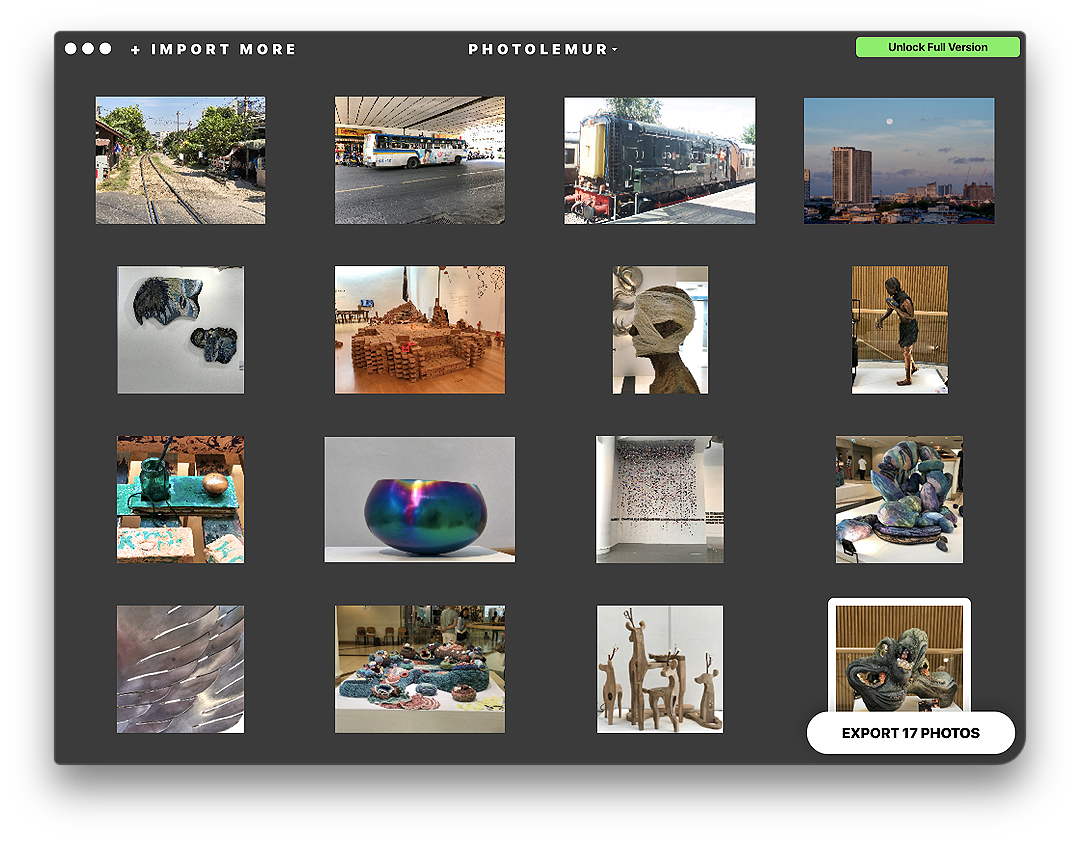 I imported another batch of 45 photos (this time from Aperture) and noticed that the thumbnails were being changed, so the analysis takes place on import with the batch selection. As I went through these, an odd one or two were re-analysed as I opened them, but most appeared with the white Before and After comparison line so had been enhanced.
There is no export of the processed image to Photos (or Aperture) so the original images remain unchanged. Images exported to the disk can be reimported to Photos of course and do not over-write the original. I was able to send a complete batch (40 photos) using email, although the images attached to a message will need adjusting (small - medium) to cope with data limits. Processing the images for such an export took a few minutes of course.

As a really quick workflow application, this has some promise: In, Adjust, View, Export can all be done in double-quick time, although there is no option for further adjustment. With a batch selection, the final images, particularly if they are a mix of times, light settings and exposures, did not all appear as I would have liked. The earlier one-by-one editing - when I had selected specific images for import - produced a better finished product.
I usually take a fair amount if time editing my photographs, but some of the quick results from Photolemur were quite acceptable. If a user is looking for a quick way to improve images, Photolemur will allow a fair finished product to be exported, within the limits as outlined.
Further editing may be needed in some cases, but with the options, I would be able to send a selection of student presentation images up to Facebook within minutes of taking them; or using email, a number of images could be sent so that (for example) a recipient might have an idea of the types of photos that could be expected after editing was complete.
Like Acorn that I reviewed earlier in the week, this would not be suitable for all users: the two are at opposite ends of a user spectrum, with Acorn providing a fair selection of editing tools and Photolemur standing as a quick image enhancement application with no real user input needed.
Graham K. Rogers teaches at the Faculty of Engineering, Mahidol University in Thailand. He wrote in the Bangkok Post, Database supplement on IT subjects. For the last seven years of Database he wrote a column on Apple and Macs. After 3 years writing a column in the Life supplement, he is now no longer associated with the Bangkok Post. He can be followed on Twitter (@extensions_th)