Acorn: Excellent Alternative to Heavy-weight Graphics Editing Apps for the Mac
By Graham K. Rogers
---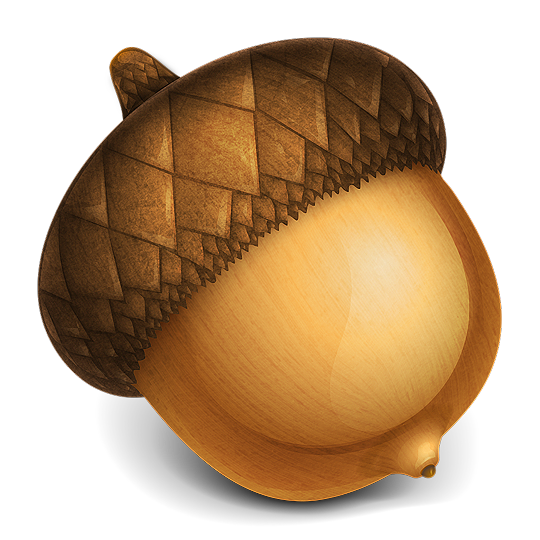 There are several applications for those using Macs that can be used to create and edit graphics files, without the need to use top-end apps. One I looked at a while back is Acorn. This is now at version 6 and has matured considerably, making it an economic alternative to some of the more lavish applications.

I am sometimes annloyed at the waste of resources some people inflict on themselves, with applications that have so many features that they are never used by most people. I am especially critical of those who insist on Microsoft Word, when all they ever do is write a letter; and I apply similar comments for those who install Adobe Photoshop.
I have made this point before and it is not that I am negative about this industrial-strength application, but because so many use it for little more than adjustments to exposure, brightness and contrast of photographs, with a little sharpening thrown in for good measure: you can do that with Apple Photos. Professional photographers and those working with high-end graphics do need Adobe Photoshop.
I wrote a number of times about this a few years back when many I knew (including students) had Photoshop installed, but had not paid. Like Microsoft, Adobe have learned that subscription models are more of a guarantee against software piracy, but for some this is a line in the sand. Some users are looking round for alternatives. I have several apps that would be suitable; and as I imply (above) full-strength applications may not always be needed.

I had a message over the weekend suggesting I take a look at Acorn, which was receiving some good comments, including from Daniel Eran Dilger. The name seemed to ring a bell and when I looked back, saw that I had reviewed this briefly for the Bangkok Post in 2008 when it was at version 1.1.1. It is now at version 6.0.4. Not only has the app, including the interface, been much improved, but the price has gone down. It was available for an unlimited time, but with a watermark. Now there is a 2-week trial period, with the Pro version at 1,050 baht.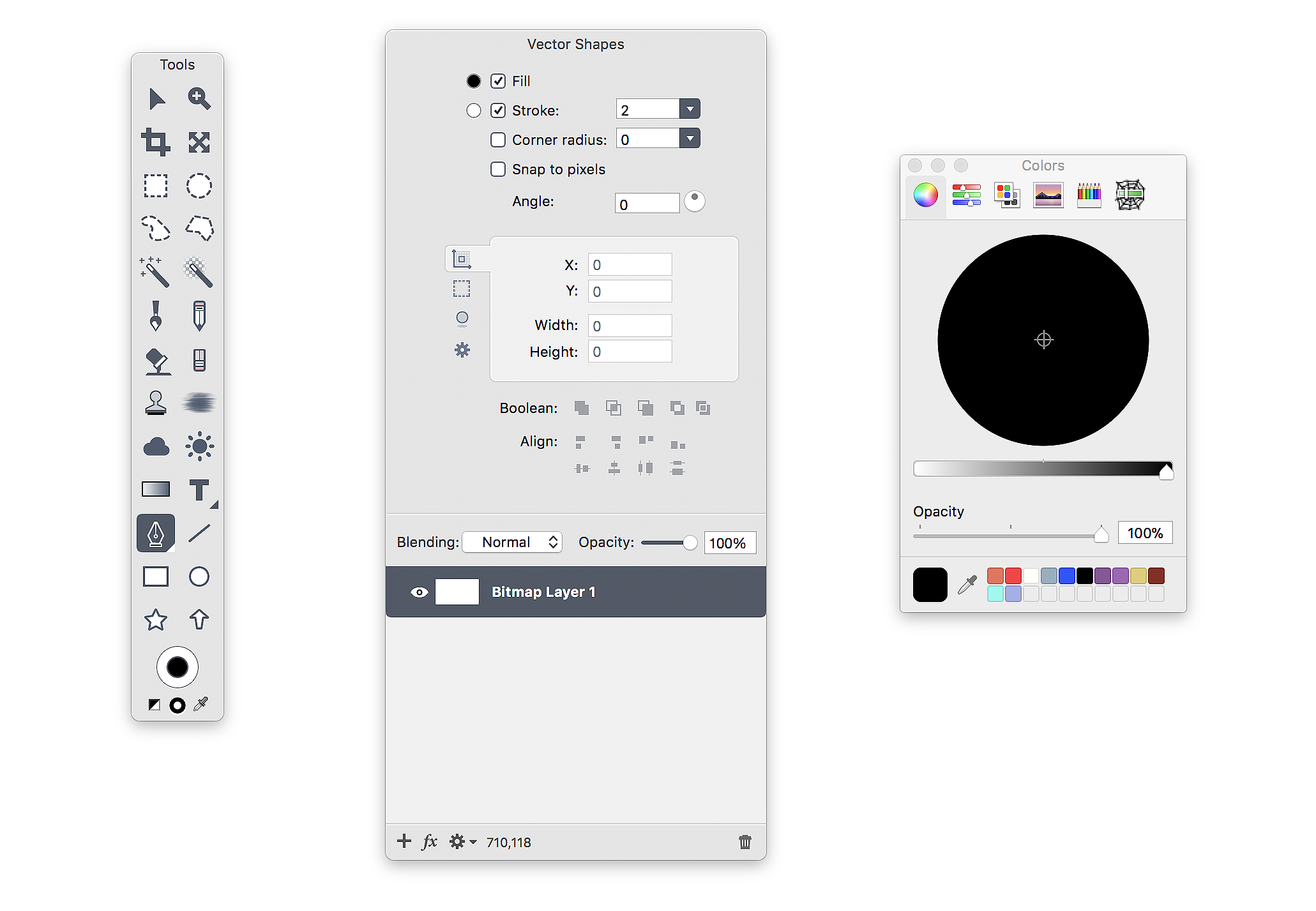 Users may either select an existing image or create new. When an image is opened (or created) two panels are shown: a tool set; and a blank panel for adjustments. When a specific tool is selected, the adjustments panel displays an interface for that feature. A color selector panel is also available for specific operations.
Some of the tools also have additional panels for fine-tuning of the operations. This was indicated by a gear-wheel icon on the adjustments panel. Particular examples were the Dodge and Burn tools, which were not simply a basic shape, but had multiple brushes, pencils, shapes and other methods to apply the effect selected, as well as different brush blends. Other tools also have multiple ways in which effects may be applied.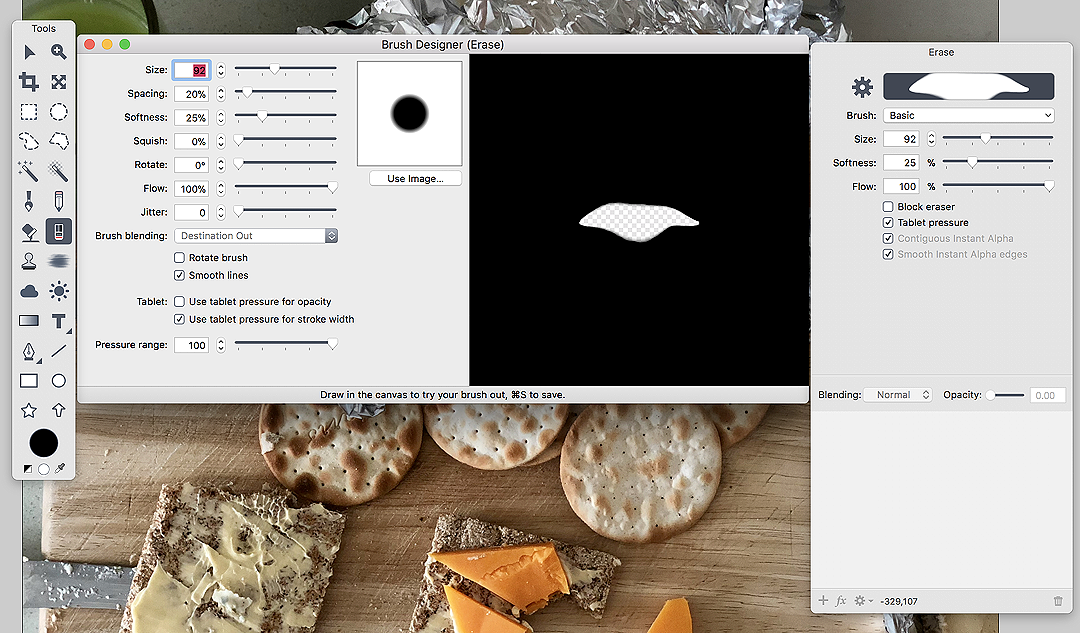 As tools are highlighted, so the respective key-commands are shown, making it easy for those who use this regularly to access the specific tool needed quickly and easily (e.g. Erase - e; Text - t). There was no support for the MacBook Pro Touch Bar.

A full set of menu items allowing considerable flexibility in how an image can be edited, includes Layers and Filters. There are 12 sets of filter types (including Presets). This doesn't quite match the wide selection found in applications like Graphic Converter, for example, but sometimes a limited feature set may be less confusing particularly for new users. There are quite enough options and tools for most users.

Even if I did not already have a good selection of applications (such as Graphic Converter, Pixelmator and Affinity Photo), this would be a welcome addition to the Applications folder. I bought the Pro version anyway. I recommend it particularly for those new to Macs, and for those who want to try adjusting images - more than can be done with Apple's Photos - without the need to buy (or subscribe to) a massive application with a feature-full tool-set, most of which will never be used.
Acorn has matured nicely, particularly with the interfacing and access to tools, as well as a wider range of tools than I remember from my earlier experience of the application. It can be downloaded from the Flying Meat website (worth a look anyway) or from the Mac App Store. The 2-week trial period is a far nicer way for potential users to familiarise themselves with Acorn as real work can be carried out without the nasty watermarking.
Graham K. Rogers teaches at the Faculty of Engineering, Mahidol University in Thailand. He wrote in the Bangkok Post, Database supplement on IT subjects. For the last seven years of Database he wrote a column on Apple and Macs. After 3 years writing a column in the Life supplement, he is now no longer associated with the Bangkok Post. He can be followed on Twitter (@extensions_th)