By Graham K. Rogers
---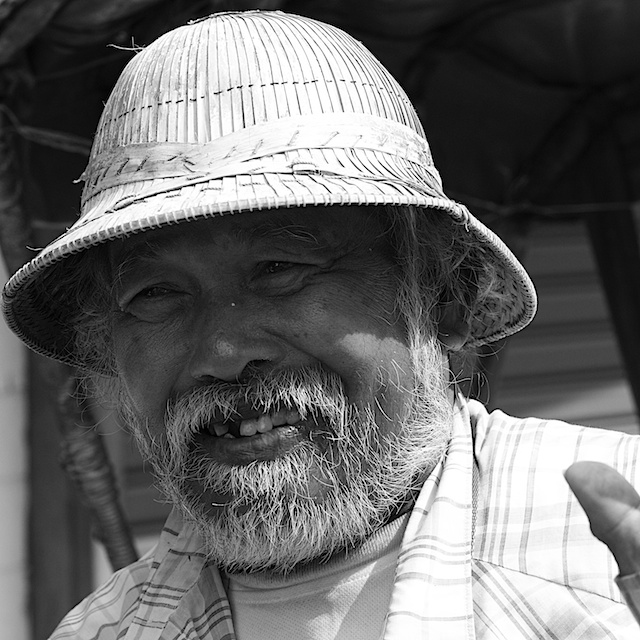 As well as the content of this week's Bangkok Post column, there is a lot going on around Apple, including an update to the MacBook. I have collected a selection of items, from my own contacts, from news sources and from Apple's own press releases. These are on another page, with a link shown after the text on the iPad Pro: the content of the eXtensions column in the Bangkok Post today.

Over the last few weeks, I have had some debate about the iPad Pro. I picked up the 9.7" version 2 weeks ago, but had been using the 12.9" version since November. Like others who have used these, I understand Apple's claim that this is the future of computing. Those I have debated with, do not. Their main difficulty is categorizing operating systems: this is OS X (or Windows), which is meant for work; this is iOS and it is not for serious people.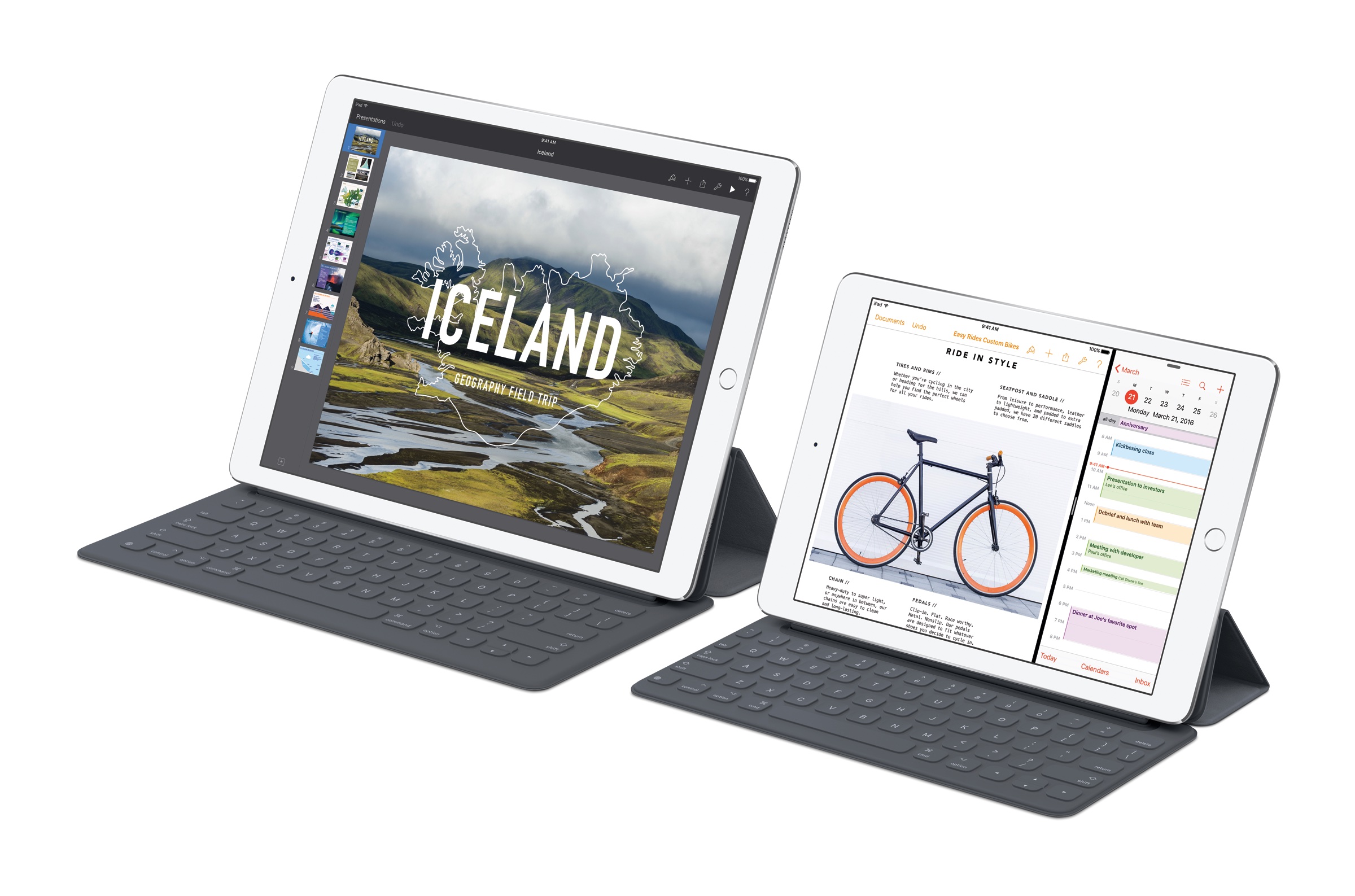 iPad Pro Models - Image Courtesy of Apple

When I taught in Illinois in 1985 a complete writing program switched to PCs, using WordStar. Most students had never used a computer. Once basics were outlined, they sat down and started work. Older people seek out problems that do not exist. We need to learn from children and teenagers: some whom I know do everything they need on mobile devices and hardly ever touch computers. This is as much social revolution as technological evolution.
In recent weeks, I have found that most of what I want to do is possible using the iPad Pro instead of a desktop computer, including loading and editing RAW images from my DSLR camera. There are problems: my scanner software; running my website; the related RSS software.
The first will not be solved: I am using old technology (film). I can live with that. Federico Viticci runs MacStories from his iPad, I am still trying to work that out, but this indicates such problems are solvable: at least for some people.

Developers large and small are recognizing the iPad pro as a productivity tool, among them Microsoft and Adobe. Both have released several good iOS apps of late, some specifically enhanced for the iPad Pro.
Among the Adobe apps is Adobe Capture CC that uses the camera of the device (this works on iPhones too) to record visual information for the app's Colours, Shapes, Brushes, or Looks. These may then be shared to other devices, other Adobe apps and exported. I particularly like how the Colours and Brushes features work.
Using the camera round my home, I was able to record colours from domestic products: a can of oatmeal, a yoghurt pot, the different greens from a can of beer (I keep one spare in the fridge). I was also able to record shapes that could be used as brushes. The trick here was finding suitable objects and my best results were from a leaf, a stone, a shoe-horn and the bellows of a camera.

With the tools in Adobe Capture, I could select a particular style of brush. These and the colours I had saved were then available in other Adobe Apps. I tested this using Adobe Sketch, which is free like Capture. These apps were installed on the iPad Pro models, but I also tred them on the iPhone. With the apps, once I had signed into the Adobe user account, the libraries I had saved in Capture, were available on all the devices. I am still trying out some other apps available, like Adobe Comp CC and Illustrator Draw.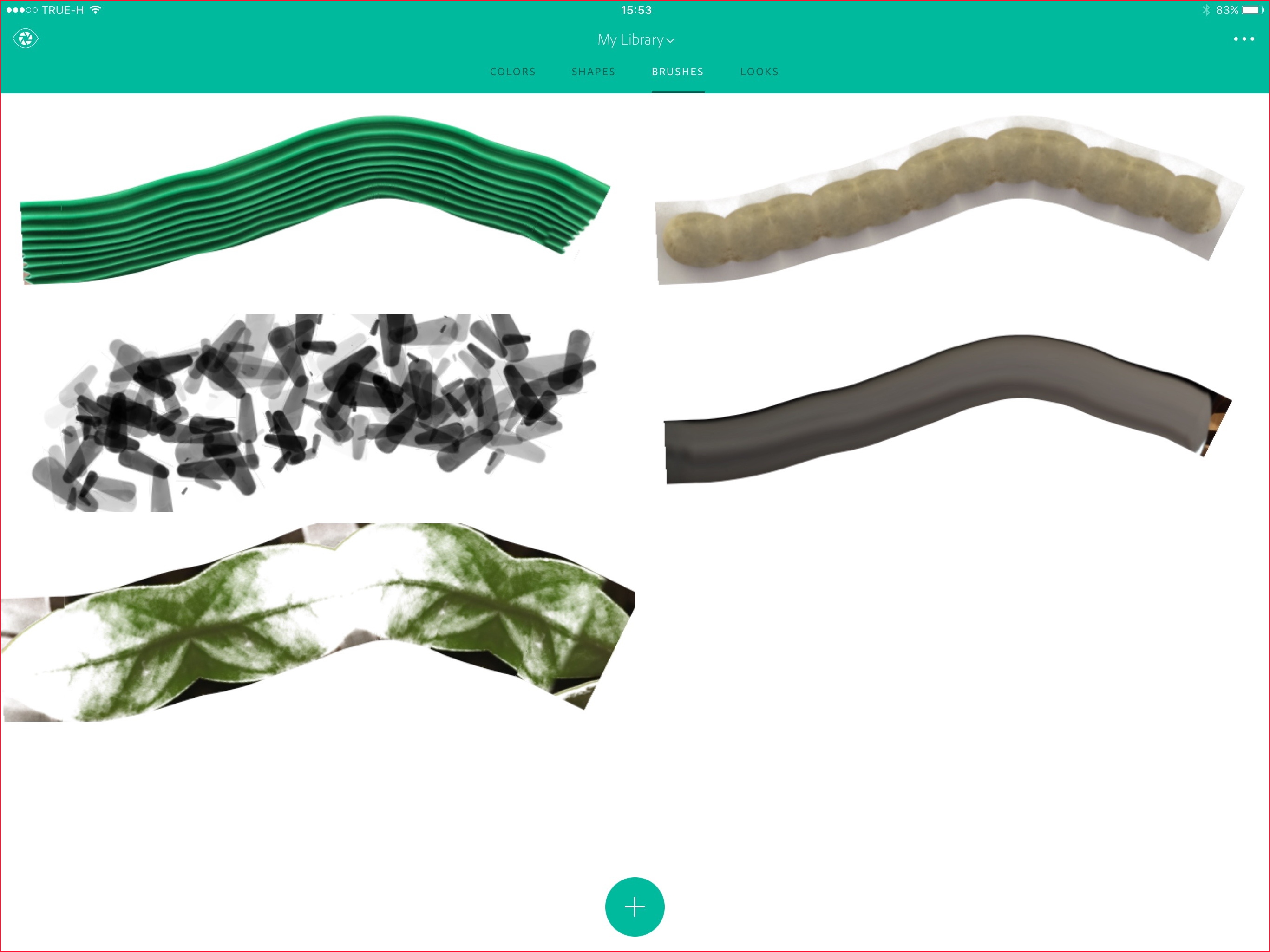 Brushes in Adobe Capture on iPad Pro

I have never been a user of Adobe software, relying on alternative software for my Macs (Photoshop had more features than I ever needed), but this recent expansion of apps, particularly for the iPad Pro, has me looking afresh and enjoying what I see.

For a few years on the iPhone I have used Genius Scan. This sort of software is a must, for example when proof of payment is needed. I added Scanner Pro to this when a friend showed me how it worked on his Android phone. I recently found a more sophisticated scanner app that has some value for business use: Scanbot.
As a free app, there are unlimited scans; but there are several in-app purchase options: for $5.99 (210 baht) the user can use OCR and search, with the ability to edit and sign documents. For $7.99 (280 baht), those features are available plus Auto-upload, TouchID, Folders, Color Filters, Smart naming and Themes. A $9.99 option allows extra apps and other benefits.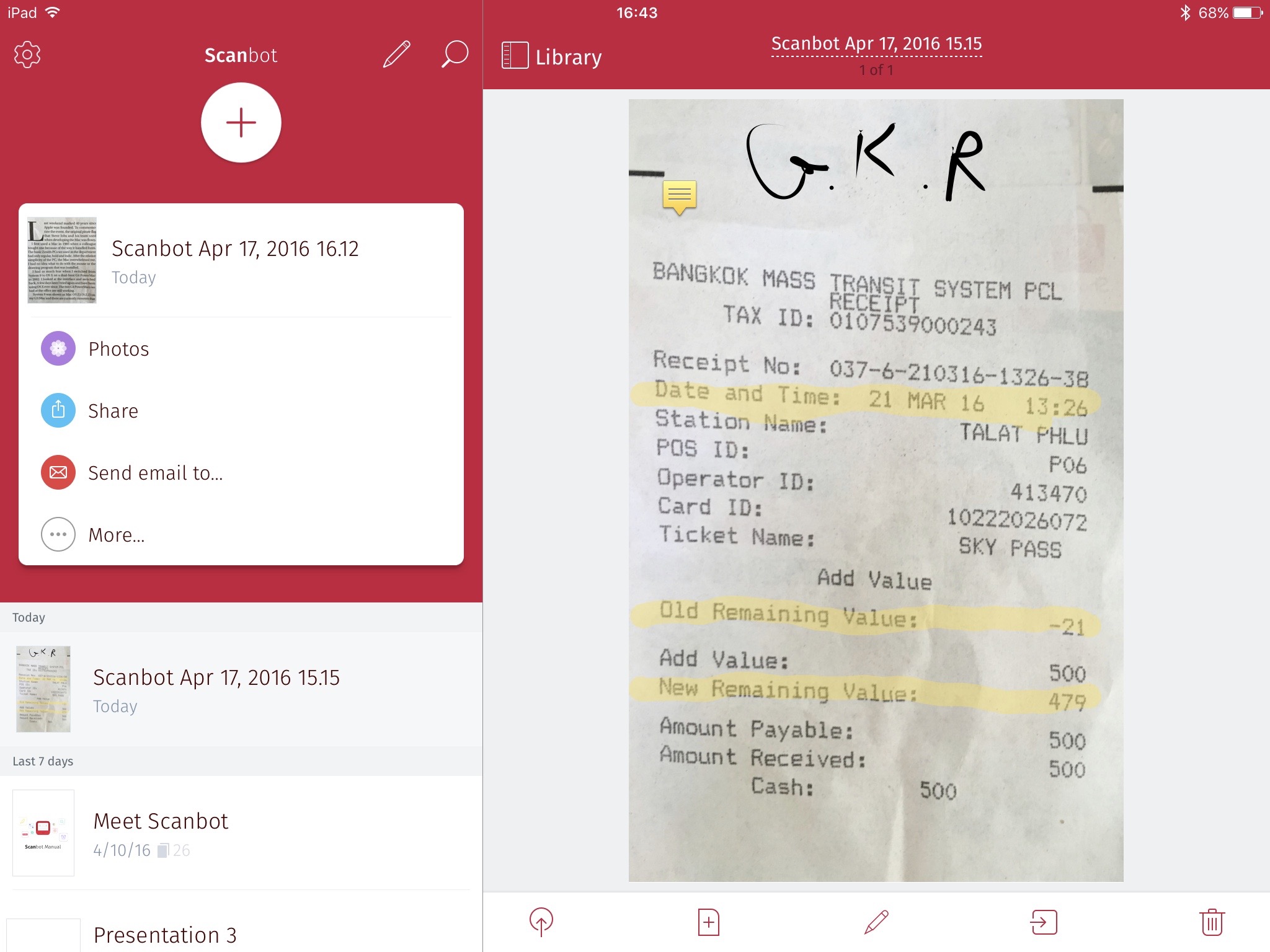 Scanbot on iPad Pro

I tried a bill from BTS first. This does not need the user to operate the camera: the software senses when the document being scanned is near, but gives an instruction, "Move closer" or "Don't move", after which the shot is taken automatically. With the iPad Pro I was also able to highlight and add notes to the scan. I also added a basic signature.
With the iPhone and with a newspaper article on the iPad Pro, the automatic function did not recognise the document, so I took the picture manually. OCR recognised most of the text: better light or flash would have improved this. Multi-page scans are also possible. I was able to export the text directly to other apps, while the scanned and highlighted bill was sent by email and to Notes as PDF.

Some commentators have queried the lack of 3D touch on the iPad Pro. It is possible that was not made available because it requires a specific type of flexible glass and the screen area may make this impractical or prone to fracture. Apple tends to choose materials that suit the specific device.
See also:
Cassandra: Apple News and Updates



Graham K. Rogers teaches at the Faculty of Engineering, Mahidol University in Thailand. He wrote in the Bangkok Post, Database supplement on IT subjects. For the last seven years of Database he wrote a column on Apple and Macs. He is now continuing that in the Bangkok Post supplement, Life.