By Graham K. Rogers
---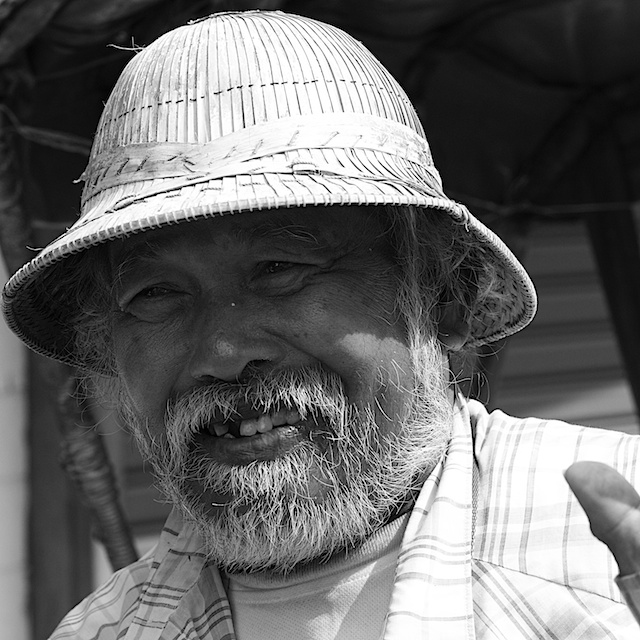 Apple announced its $159 AirPods at the same time as the iPhone 7, but the Bluetooth-connected device was not made available to customers until last week. There was much online speculation that a problem was found in the production models, so the release was put back. It would have been wrong to release a device with a known problem for a number of obvious reasons.

Technology updates may also be why the MacBook Pro update was delayed until almost too late. When it became clear that certain Intel chips would not be coming, Apple went with the Skylake processor. I have been happy with the 15" MacBook Pro I have been using, but my own 13" version arrived Thursday and I made that my main machine on Friday.
There was an update to the question of the delayed AirPods on Tuesday evening, when iFixit released its extensive teardown of the product. Near the end, they tackle the charging case and what they find inside leads them to the question, " Could issues with the AirPod case be what delayed release?" Their report has some useful technical insights.
When the AirPods were released last Tuesday, delivery was shown as before Christmas. Within two hours several people reported on Twitter that their orders were on the way. Later that evening it was reported that delivery estimates had already slipped to 29 December. It is now 6 weeks. Within 12 hours one pair was being offered on eBay for $1590

A few of these were available in Bangkok from Monday (6900 baht including VAT), but I expect they will be snapped up. I have been using a set since the weekend and am loving them. The demonstration in early September showed how easy it was to set these up. Everyone expects this is Apple hype, but it took me about 30 seconds while I was leaning against a parapet in Siam Paragon.
Pairing in Paragon and Charging in the Condo

I opened the box and a panel appeared on the iPhone: Done. They were ready to go immediately. What foxed me slightly was the lack of volume control. I tried stroking the sides, which works with my BeoPlay H7 Bluetooth headphones. Instead I have to ask Siri. As I do not use this feature often, it took me a few tries to make her understand, and I do not succeed every time. Critical commands here are, "Louder", "Pause" and "Quieter".
I also feel self-conscious about apparently speaking to myself in a Bangkok mall. It is just as easy to take the iPhone out of my pocket, but then within a couple of days I start getting used to it. The double-tap can be changed to Play/Pause or to Off, but as there is more potential with Siri, I am ging to stick with that (her?) for the time being.

That instant pairing uses the newly-developed W1 chip in the AirPods. Another trick was apparent when I arrived home. Each iOS device I picked up already showed the AirPods ready to go. My 13" MacBook Pro lagged slightly. Whether it was because I had only just set it up, I cannot say, but as soon as I opened the Bluetooth Preferences panel, the AirPods appeared. They can be paired with devices if iCloud is not used, but that is not automatic.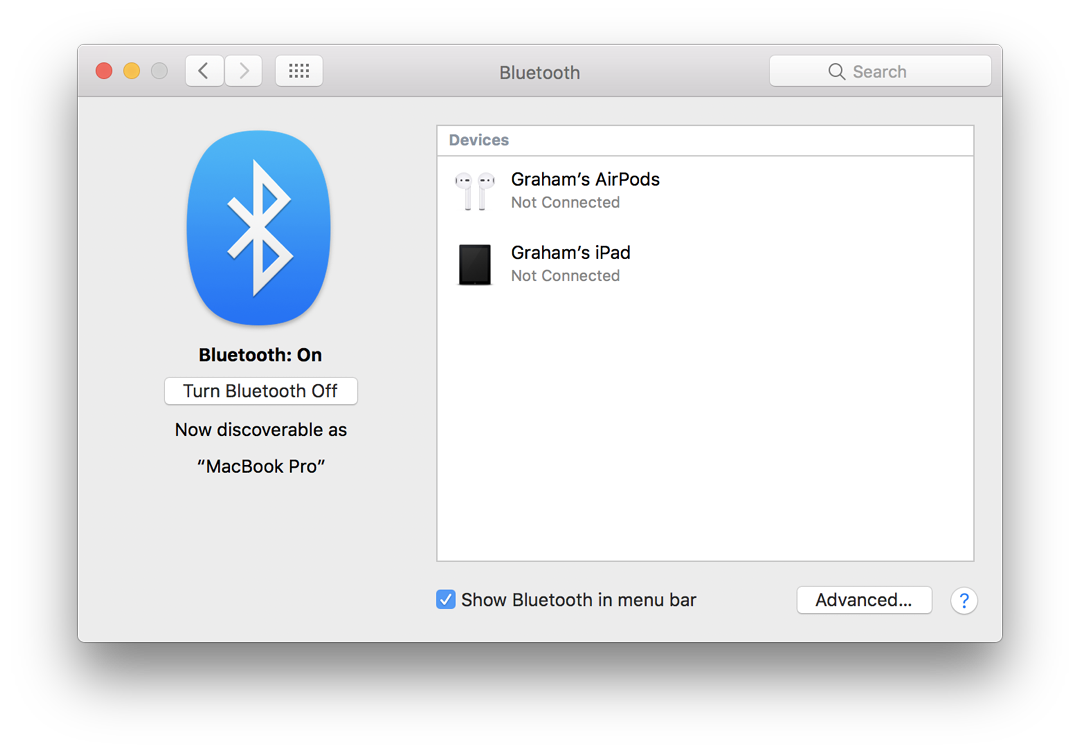 When I walked into my office on Monday morning and looked at the Mac mini I have there, the AirPods were already paired. I think there is considerable potential here, not just for entertainment devices but for home technology and for health applications.

Listening to music using the AirPods seemed fine initially, but i was in central Bangkok (hence the need for the "Louder" command) and these are not designed to cut out sound totally. Using the BeoPlay headphones is different. However, when I was in a quieter environment, the clarity (fingers on guitar strings) was impressive. As I was using Apple Music, Alternative Radio, I gave Siri the command "Opera". The switch was done in a couple of seconds. Clarity was also excellent here, with some quieter passages coming through nicely.
Siri did have trouble with my own collection and the conductor Wilhelm Furtwängler. I did that manually and the music sounded spectacular. Later, watching a series on iFlix, the quieter background sounds could be heard quite clearly with full stereo effects. A Skype call to my mother was reasonable: I could hear her and she could hear me (a major accomplishment).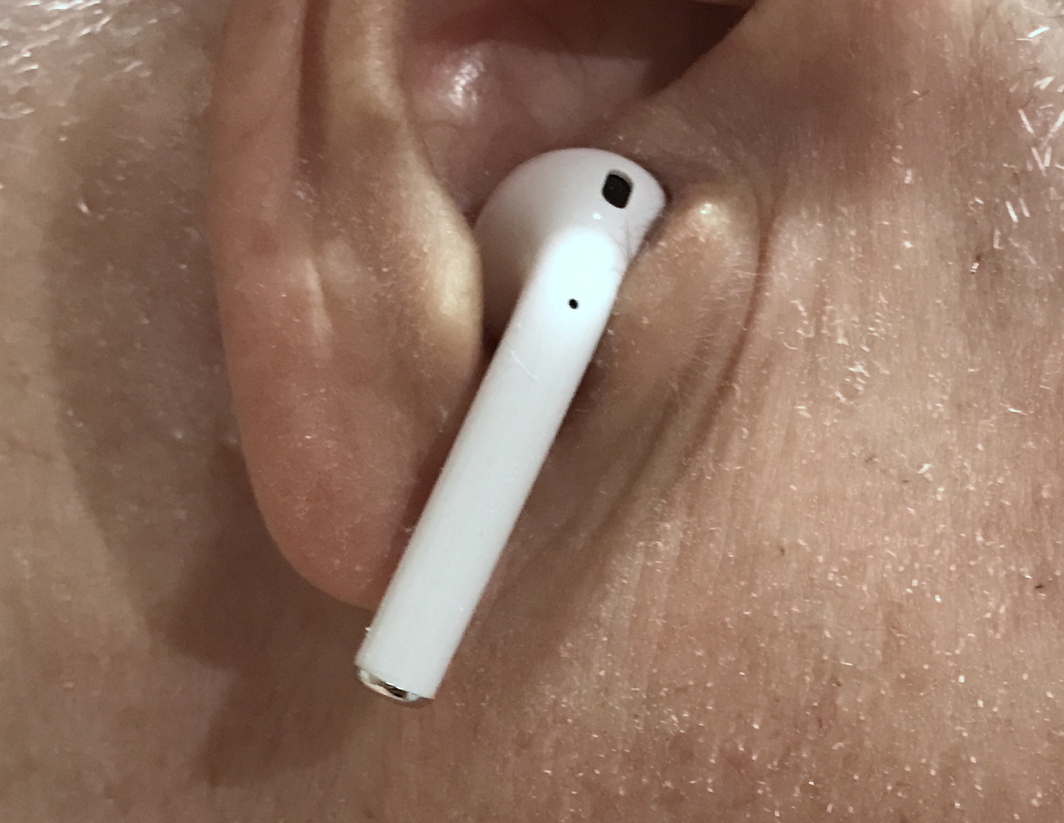 When the AirPods were first announced, everyone was sure that they would fall out and users would soon be buying replacements. Apple does anticipate some losses, but I expect this will more likely be from mislaying one. Replacement of a single AirPod is $69 (about 2600 baht with VAT)
The AirPods feel secure and fit into my ears even better than the AirBuds I usually have. Horace Dediu - the well-known commentator on Apple statistics - wrote that they had remained in the ear while he had been running, but he dislodged one when removing a sweater (upward movement). Putting the sweater on was not a problem.
On Twitter, Ben Bajarin, a sometimes strong critic of Apple, tried quite hard to dislodge them several times, writing later that he had played tennis and the AirPods stayed in. He added that this is "Likely not recommend by Apple but still!" A later article from Benjamin Mayo reported on a Marathon runner who tested the AirPods on a 10 KM run. In windy conditions, the Airpods stayed in his ears throughout the jogging and sprinting in windy conditions. I tried of course, but could not shake them loose, they fit so snugly; and even during a motorcycle taxi through Thonburi sois they never felt even slightly loose.
I also ran them all day on Monday and the battery lasted just over 5 hours without me using the case to recharge. I was able to repeat this on Tuesday, but noticed a sound like a soft double-click just before power was lost in the right AirPod. Like Monday, the left one continued playing for a while, so perhaps this is a failsafe. With the case, it would be possible to charge one, then the other, so a user would still have the ability to hear output. I am not sure if that is a smart little detail, or just luck.
A little more impressive was a test reported by Benjamin Mayo (9to5 Mac). Not that the AirPods are supposed to be waterproof, but after dropping them in the case three times from a height of 10ft (about 3m), someone put them through a full 30-minute wash and rinse cycle - detergent and all - but they still worked after that. How many times have we left things in our pockets? . . .

We are told that Apple's website shows that the new BeatsX wireless earphones will be coming February in several countries. I was originally they would probably be out here in November (Joe Rossignol, MacRumors).

As Christmas is in a few days, I wish you the best for the season.
See Also:
Cassandra: Apple AirPods in Bangkok - The First Few Hours out of the Box

AirPods review: The future of wireless with some present pain (Rene Ritchie, iMore)

AirPods Teardown (iFixit) - a close look at what is inside with some useful technical comments
Graham K. Rogers teaches at the Faculty of Engineering, Mahidol University in Thailand. He wrote in the Bangkok Post, Database supplement on IT subjects. For the last seven years of Database he wrote a column on Apple and Macs. He is now continuing that in the Bangkok Post supplement, Life. He can be followed on Twitter (@extensions_th)